07-Sep: Quarters, Take One ...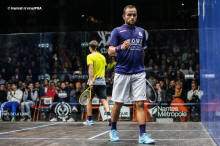 Good day for the top seeds Gregoire Marche and Millie Tomlinson who prevailed tonight to earn their places in the semi-finals.

Grégoire, the 2015 and 2016 champion, moved to within one win of a third successive final in Nantes after the World No.23 overcame Chris Simpson in a repeat of last year's final, beating the Englishman 11-6, 11-4, 11-7 in 46 minutes.

Marche will line up against Egypt's Mazen Hesham in the last four after the World No.70 defeated Finnish veteran Olli Tuominen 3-1.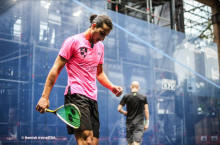 Hesham, a former World No.13 ,had been a regular Shot of the Month contender before a host of injuries over the last two years saw him tumble down the World Rankings but he was in full flow against Tuominen as he hit a series of outrageous winners to storm into a 2-0 lead.

A loss of consistency in the third game saw Tuominen come back to halve the deficit but Hesham responded by simplifying his game plan and playing the percentage shots and he was duly rewarded with a victory in the fourth to take it 11-6, 11-4, 10-12, 11-7.

Tomlinson will meet fourth seed Nele Gilis in the semi-finals of the women's event after they claimed respective wins over qualifying duo Sivasangari Subramaniam and Nouran El Torky.

Tomlinson was almost on the end of a shock defeat after going two games down to Malaysia's Subramaniam, who played with a maturity beyond her 18 years.

The World No.22 eventually found her range in the third though and a determined response saw her ease to victory before following that up by edging the fourth and fifth games to seal an 6-11, 6-11, 11-1, 11-9, 11-9 triumph.

Gilis, meanwhile was in complete control for the majority of her match against El Torky, claiming comfortable wins in the first and third games either side of a tight tie-break triumph in the second as she claimed an 11-6, 12-10, 11-5 victory.
Quarters, Top Draw

[4] Nele Gilis (Bel) 3-0 [Q] Nouran El Torky (Egy)
11-6, 12-10, 11-5 (35m)
[1] Millie Tomlinson (Eng) 3-2 [Q] Sivasangari Subramaniam (Mas)
6-11, 6-11, 11-1, 11-9, 11-9 (51m)

[3] Mazen Hesham (Egy) 3-1 Olli Tuominen (Fin)
11-6, 11-4, 10-12, 11-7 (39m)
[1] Grégoire Marche (Fra) 3-0 [5] Chris Simpson (Eng)
11-6, 11-4, 11-7 (46m)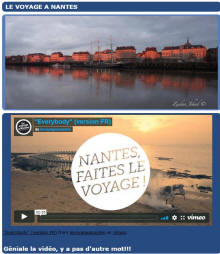 Follow the Green Line
Discover Nantes!