Well how do I sum up 18 years and 4 months on the professional circuit? Very hard to do but I will do my best!

I turned pro in august 1988 a very green 16 year old just so eager to get on the circuit and mix with the big guys. I had won every junior tournament there was to win and was tipped for big things.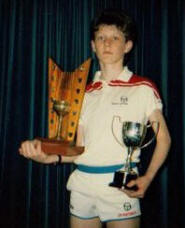 I had the confidence of youth and was afraid of no one. A few months earlier at the age of 15 I played my first world juniors in Edinburgh and I remember genuinely expecting to win the thing! Cocky punk.

As it happens I managed to make the quarters losing to 18 year old Aussie Anthony hill who continued to be a difficult player for me in the following years. I was gutted. Everyone around me said how good it was to do so well so young but I didn't care – I wanted to win.

The team event was also a disappointment as we ended up losing to Pakistan in the semis (and I lost 50 quid in a bet). I also realized how much the Scots despised the English when in the individual final between Del Harris of England and hilly the Aussie, they were shouting against our boy. I was Not impressed.


JUNIOR DEVELOPMENT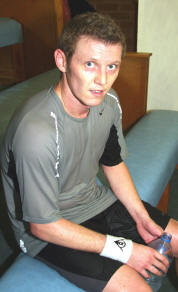 The next two years I spent picking up junior events as I always had but I also started trying my luck on the PSA (then ISPA) tour.

I expected to be successful but it is completely different when you are 16 and living out of a suitcase competing against seasoned pros. I had some bad losses, constantly made schoolboy errors with travel (like flying to the wrong country!) and basically had to grow up fast.

It wasn't how I expected it to be – it was very hard. The draws seemed to be huge in those days – I remember regularly playing $3000 events with 128 draw. Can you imagine how many points that was for a first round loss? There were no hotels paid either and there was one tournament I remember where Peter Marshall and I slept on Stephen Meads floor! It was freezing but at least he lent us his coat to keep warm.


COMING OF AGE IN PADERBORN
After a couple of years I had reached the world's top 24 and I had one more junior tournament to win. The world juniors in 1990 was in Paderborn, Germany and I was expected to wrap it up quite easily.

The two weeks there proved to be two of the best of my life – I managed to beat my mate David Campion in the final but England also had a clean sweep of the semis!

I turned 18 during the event and a whole coach load of supporters came over from Yorkshire and gave me a cake. The coach was driven by Malcolm Willstrop and included all the mums, Lee Beachill, 12, James Willstrop, 8 and a whole host of others. Fantastic! In the team event we were favourites and managed to beat Australia in the final 2-1 to cap it all off.

The following summer the Queen had a garden party to honour Britain's successful sports people and our team was invited plus ones so we all took our mums! It was a scorching summer's day and we got to meet all sorts of famous people including the 1966 England football team. What a day that was!


ON THE TOUR


The next few years I was a little patchy and couldn't quite get the consistency of my best friend and rival peter Marshall. We were always a barometer for each other right through the juniors and by 1991 he was world no2 and had usurped me from the England no1 position. I was doing ok but not well enough and felt I needed to catch up. I did some extra training leading up to the Dutch open at the end of 91 and managed to pull off the biggest win of my career beating Jansher Khan 3-0.

It was one of those days where I didn't need to think, everything was flowing and I basically played a blinder. This should push me up the rankings I thought when I win this event ... don't count your chickens another voice said.

As it happens I won my quarters and lost to underrated Finnish player Sami Eloporo in the semis. Still pushed me up though! It gave me confidence but although I had more wins like this against top players like Rodney martin and Chris Robertson I just couldn't do it consistently.


THE BREAKTHROUGH


I consider the breakthrough to be when I moved to Nottingham from Harrogate in 1994. I was regularly training with marsh, newly improved Alex Gough and Hadrian Stiff, Jason Nicolle and others. You couldn't go wrong really when you had such a varied but quality group of players to train with daily. It was also very good socially but we left most of that to Goughy and Stiffy!

By 1995 I was starting to feel almost invincible and was really up for it. I had a tournament win in France beating old foe hilly and then a really big win that summer beating Brett Martin 3-2 (for the first time) and Del Harris in the final.

These results finally pushed me into the top ten where I hoped to properly challenge Jansher and Marsh. Unfortunately, just as I was up there, Marsh was suffering with chronic fatigue syndrome and had to take a lot of time off. He was never really the same after that (although he did reach the semis of the world open from quals in 1997 and win the nationals in 2000 – unbelievable achievements considering!) and we never continued the rivalry I was hoping for.


WORLD TEAM CHAMPIONS

At the end of 1995 the England team were in Cairo for the world teams and without marsh it was going to be tough. We still had myself, Del Harris, Chris Walker and rookie Mark Chaloner and a great chance of winning for the first time. We had the mighty Pakistan in the final – first match del hammered Sara Johan Khan – Del was on fire. Next on Jansher beat me 3-0 – Jansher was on fire but it was my first loss of the week. It was all on chip Chaloner to win the world teams and beat the very tough Mir Zaman Gul.

Chip was on fire and even finished off the match with a backhand reverse angle flick from the back to make England world champions for the first time. We all ran on to the court to congratulate him and just started hugging each other. This was the proudest moment of our lives and it was great to be able to share it with your mates and I will never forget it.

THE WORST DAY

Not long after that day I was diagnosed with testicular cancer which was the worst day of my life. in the words of Ronan Keating life really was a roller coaster!

I don't really want to go into that too much as there was a lot written at the time but I got through the surgery and the chemo and within five months was back on the circuit. Don't ask me how!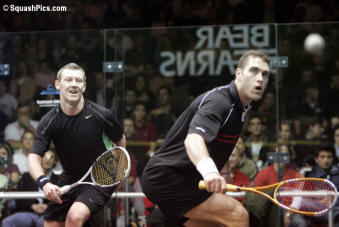 THE BEST YEARS

The next six years were probably the best of my career as we picked up another world teams in 97, I was British champion in 98, won the U.S. Open in 99 and reached a career high ranking of 3 in 2000.

They were both very proud moments and I remember being close to tears especially after beating both Nicol and Power in the U.S. Open as they were 1 and 2 in the world at the time and both matches were 3-2.

Around the time of Sep 11th I had my ankle in plaster after surgery and obviously had a bit of time off.


It took me a long time to come back – much longer than cancer – in fact I started dropping really swiftly and found myself in a lowly position of 45. A lot of new young players were coming through at this time and I think I had lost some motivation.

I got married in 2002, separated in 2003 and in the summer of 2004 I just thought RIGHT LET'S DO SOME OLD SCHOOL TRAINING! Back on the track doing 400s in all weather, in the gym, lots of work on court etc and I thought let's see how it goes.

I CAN STILL DO IT

The English open of 2004 was my last proper high on the circuit when I came through quals and beat Mark Chaloner, Nick Matthew and Pete Nicol before eventually losing to Lee Beachill in the final.

My mum was there to see every match which made me extra proud and spurred me on to a few more good results in the autumn. Unfortunately it wasn't enough to push me back into the top ten but it was really nice to know I could play at that level again.


WINDING DOWN

I started my coaching job at Heaton in June 2005 and I am really enjoying it and looking forward to a successful future helping others to improve their game. It has obviously not been an easy decision to retire from PSA but I would like to stress that I will still be around on the domestic circuit and
I am still available for exhibitions and invitation events!! Actually I have been invited to be master of ceremonies at the Windy City open in Chicago so see you there! You won't get rid of me that easily.


THANKS TO ALL


I would like to give a big thanks to all the coaches I have been involved with, and they are – Malcolm Willstrop, David Pearson, Jonah Barrington.

I would also like to thank my Dad Ian for all the carting around he did when I was a junior and for being my manager later on. I really wouldn't have achieved so much if it wasn't for you.

Thank you mum for always being supportive and just being a great mum.


And finally thanks to all the great friends I have made from this fantastic sport – you know who you are.



December 2006, Saudi Arabia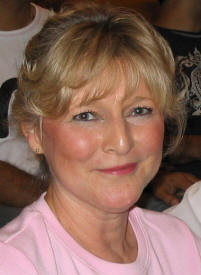 1972:

Simon was born in Oakham, Rutland, on 10th August 1972.
I remember it vividly!


He's always been lively, cheeky and inquisitive, to such an extent that sometimes we had to ask him to "please be quiet for five minutes!" (probably, on occasions, in not quite such a polite way).


Age 5/6:

I think Simon enjoyed school mostly. He also had a fascination with pencils and erasers - so much so that he stuffed his school trousers with them and brought them home. Without parental control we could have had a kleptomaniac in the house. One other time that sticks in my mind was when he filled his sock with grandad's pennies that we used for Newmarket at Christmas time. We all decided to go for a walk after a big roast and Simon hobbled around without complaint. I decided to check him out, and to everyone's amusement we found the cause - it was very difficult not to laugh!
Simon's best friend at infant school was called Geoffrey Butterfield. One day after school he told me that Geoffrey was going on a beza. It turned out that Geoffrey's family were going to Ibiza!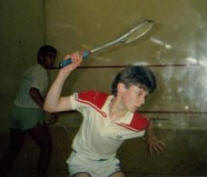 He also has a very soft side. Again, aged around 7 we acquired a kitten from the RSPCA. He was very taken with this ball of fluff but sadly it had cat flu and didn't survive the night. He was inconsolable ...


Aged 8/9

Simon was as keen as mustard to get onto the squash courts - so much so that he dragged his father Ian out of bed to practice before school! His father had been a county tennis player and had transferred over to squash very easily.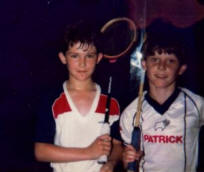 The fact that Pontefract Squash Club was on our doorstep made it far more convenient than travelling over to Halifax to get a good game of tennis so squash became the sporting interest in our family.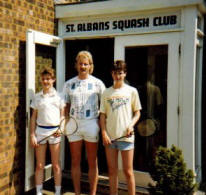 Another little story that amused us all at the time was when Simon, aged around7/8, received a football strip and boots for Christmas. When I went to say goodnight I found him in bed with his full kit and boots, he couldn't bear to part with them!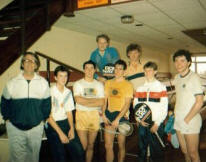 As Simon improved rapidly (I was only able to beat him until he was around 9, I think!), his father took him all over England to various tournaments, and he achieved many top results.
One disappointing match for us, but especially for Simon, was way back in 1982/83 when he played Susan Devoy in Marlow. She was the women's world number one and Simon was about12/13. He had the skills to win but probably didn't have the head at the time - I really only remember that he was so disappointed to lose.
At school his reports suggested that he kept his class amused, which was not always amusing for his teacher, but fortunately, on the whole, he came out with decent results.


School and tournaments did clash, I'm afraid, but his teacher was helpful and he managed to do well in his GCSEs ...
1990 - Proud moments

Simon became World Junior Champion in Paderborn, Germany, and England also won the team title. All the mums and dads attended, travelling there by coach.

He called his sister and I in Nottingham during the night so we knew he had won - we were so excited!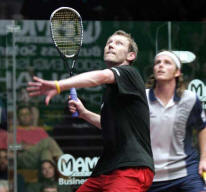 Mamut English Open, Sheffield - this was the best squash I have ever seen Simon play. He beat Chaloner, Matthew and Nicol to get to the final where sadly he lost to Lee Beachill. Nevertheless, his play was stunning.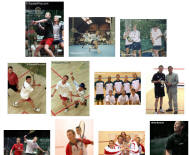 Parky's birthday Gallery
In his later professional years when overseas I have not been able to watch him play until recently when opportunities have arisen. I have been able to be a spectator in the splendid Grand Central Station, New York, in Budapest where he met up with his dad again, and most recently in Vancouver BC where it was wonderful to see him play at the same time as his sister Emma, who was playing in a parallel tournament.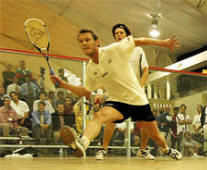 Simon's career has been outstanding, and as him mum I feel delighted that he has been so successful in his chosen sport and that it has given him the opportunity to travel the world and to develop his personality and circle of friends. But most of all, after the challenge presented to him in 1995 it is wonderful to have seen him regain his health and to have an exciting personal and professional career to look forward to.

Although Simon is retiring from PSA tournaments, I am sure there are many more exciting moments to come. I am truly proud of what he has achieved - he has shown great strength both personally and professionally. I often thank God that he does have that inner strength, as so often in your life you get knocked badly and it's up to the individual to sink or swim.

Simon swims ...