TODAY in Delhi - Saturday 17
th, SEMI-FINALS
[4] Gregory Gaultier (Fra) bt [6] Mohamed El Shorbagy (Egy) 12/10, 11/7, 11/1 (53m)
[3] James Willstrop (Eng) bt [5] Peter Barker (Eng) 11/4, 11/3, 11/4 (30m)
Gaultier & Willstrop impress in Delhi

Frenchman Gregory Gaultier reached his third major final of 2011 as he turned in a consummate performance in the first semi-final of the Punj Lloyd PSA Masters in Delhi, ending the run of young Egyptian Mohamed El Shorbagy.

Shorbagy, who reached his second successive World Series semi-final with victory over compatriot Karim Darwish - who had beaten him in that match in Kuwait - competed well in a first game that went point for point, but it was Gaultier who took the game on extra points.

The Frenchman was in control for the rest of the match, taking a good lead before closing out the second, and going 10-0 up in the third. Shorbagy raised his hands in relief as he took his first point of the game, but it was to be his last as Gaultier finished off the match in style.

In the final he'll meet James Willstrop, the in-form Englishman who has won the last two World Series events, in Hong Kong and Kuwait, and would become world number one should he make it a hat-trick of titles here.

Willstrop faced compatriot Peter Barker for the sixth time this year, and the tall Yorkshireman made it five wins in a row as he took control from the outset and never let an opponent who didn't appear to be at his best get a look in.

So in the final, Gaultier and Willstrop will meet for the sixth time in 2011. The Frenchman won the first three, in Australia, Qatar and Rotterdam, but Willstrop was the victor in Hong Kong and Kuwait - there was a lot at stake in those matches of course, but certainly from Willstrop's point of view tomorrow could be described as 'the big one' ...

Malcolm reports from Delhi ...
"Gaultier was simply too good for me today...it was fair match...

I like him a lot as a guy, he has always been advising me when I was just coming new into the tour... I have learnt from him a lot over the years and I am still learning from him...

I was able to keep up the pace with him in the first game and at 10/9 up, I really needed that point so much..

After losing the first I just couldn't push anymore, I don't know why... I wasn't tired physically but just mentally felt a little tired may be because of the pressure he was putting on me in the first game....

I am really happy with how the year ended: two semi finals in a row of a super serious tournaments...

This year has been really good with me, I do think that this is my best year I have had till now.. reaching 5 finals winning 4 out of them...

When I lost to Nick in 5 at the worlds, I put a target for me before this year end, which was beating one of the top players and I did that so I am really happy...

now I am going back finally to Alexandria, I miss my home, I miss my family, I miss my friends :) "


[4] Gregory Gaultier (Fra) bt [6] Mohamed El Shorbagy (Egy) 12/10, 11/7, 11/1 (53m)

Gregory Gaultier was in prime form against Laurens Anjema and Mohammed El Shorbagy had the best win of his burgeoning career over Karim Darwish.

To be competitive tonight, Shorbagy would have to put the excitement of his quarter final win behind him. There was every prospect of a high paced encounter. Gaultier hit a return of serve dead to open the scoring, but there was a profusion of lets early in the game.

There was never much in it, as Shorbagy held his own as the score went from 5 all, to 8 all, 9 all and he then played a brilliant acute backhand angle to have a game ball. Not to be, though, and a tiebreak it was. At 10-10 there was a review by Gaultier, which looked very harsh on Shorbagy and it was Gaultier who won a game that certainly had a damaging effect on Shorbagy.

The first game had not run very kindly for Shorbagy and things didn't improve in that respect in the second. Gaultier. More confident now, led 7-3 aided by errors from Shorbagy and winners of his own. At 9-6 Shorbagy unsuccessfully reviewed again and when, at 10-7 he was denied a let that he should have had it all became too much for him. Losing his composure he addressed the referee in such a manner that a conduct warning was issued for dissent.

Apart from being unbecoming, even though his frustration could be understood, it did his prospects in the third game little good. A series of errors quickly handed a 10-0 lead to Gaultier ,before Shorbagy, after a big rally, managed his first point.

In retrospect the first game was crucial to any prospects Shorbagy had and he was perhaps a little unlucky to lose it. Gaultier remains in very good form, as his recent record suggests.

It is no surprise that he and James Willstrop will contest tomorrow's final, since the pair have been the two form players of late.

For a 20 year old like Mohammed to be nearly in the top 5 is really impressive, I was only top 10 at that age. Only him and Ramy have done it that quickly. He played well against Darwish last night and he's had an amazing 2011.

I've a really good year but a poor first half of the season because of a hamstring injury. Since then I've found my squash again and I'm happy to have had a better second half.

I know both James and Peter really well so I won't watch the next match, maybe just have a look on squash tv at the hotel. I'll go back and relax and look forward to the final.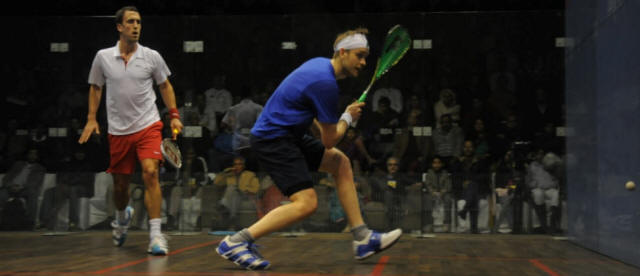 [3] James Willstrop (Eng) bt [5] Peter Barker (Eng)
11/4, 11/3, 11/4 (30m)

The second semi-final, all English, between James Willstrop and Peter Barker, promised plenty, but things didn't quite work out, for Barker, at least.

Willstrop, winner of the last two World series events in Hong Kong and Kuwait, had seen off strong efforts from Nicolas Mueller, Alister Walker and Daryl Selby, and Barker had repelled Indian no.1 Saurav Ghosal 3-1 and Ramy Ashour 3-1, Ashour unfortunately injuring himself again.

Quite early in the first game there were signs of Willstrop resuming where he left off, forcing errors out of Barker to take control of the game from 4-3 onwards. Playing with precision and accuracy and looking at ease Willstrop soon raced away to 10-3 and finished the game off with a delicate cross court drop.

He continued to play very well, delaying and putting Barker under all sorts of pressure and the second game was easier than the first, Barker also looking uncomfortable in some of his movement.

11-3 again and there was clearly no way back for Barker. Errors from Barker and winners from Willstrop combined to give Willstrop the third game 11-3.

It is likely that both players expected a closer match than this turned out to be and Barker will be as disappointed as Willstrop is pleased. He proved that after a rigorous first half of the season he is, like Gaultier, retaining his form.

The final promises much and it is hard not to see that promise being fulfilled.

People, and the media especially love to go on about the stats between me and Peter but I don't dwell on it, and I'm sure Peter doesn't. It's not a fair reflection of our matches because they're always really tough.

We're lucky in England to have such an amazing support system in place. Myself and Nick, Peter and Daryl, and the girls obviously get loads of help from the trainers, coaches, physios, nutritionists etc. at home and the success we've all had wouldn't have been possible without them.

It's great to have Malcolm here. He thinks because I won in Hong Kong and Kuwait without him that I don't need him but that couldn't be farther from the truth. It's a massive help to having him around at this tournament alongside the other people close to me.