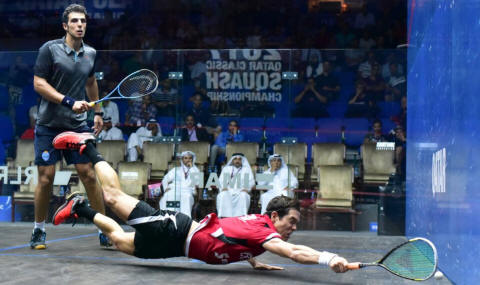 30-Oct, Day FOUR:
Round One, bottom half
Eight more matches today as the Round Two lineup was completed - no upsets but a number of narrow escapes and no easy wins on a long day in Doha,

Day Four Roundup & Reports
Round One, Bottom Half

Cameron Pilley (Aus) 3-1 [Q] Adrian Waller (Eng)
11/3, 11/13, 11/9, 11/6 (57m)
[8] Tarek Momen (Egy) 3-1 Mohamed Abouelghar (Egy)
11/4, 11/6, 7/11, 11/7 (43m)
Mathieu Castagnet (Fra) v [Q] Alan Clyne (Sco)
9/11, 11/9, 14/12, 11/3 (66m)
[4] Nick Matthew (Eng) 3-2 [Q] Raphael Kandra (Ger)
12/10, 11/9, 5/11, 8/11, 11/8 (64m)

Omar Mosaad (Egy) 3-2 Miguel Rodriguez (Col)
13/15, 11/5, 12/10, 10/12, 14/12 (108m)
[6] Marwan Elshorbagy (Egy) 3-1 Paul Coll (Nzl)
11/13, 11/9, 11/5, 11/6 (58m)
[2] Karim Abdel Gawad (Egy) 3-1 Borja Golan (Esp)
4/11, 11/5, 11/7, 16/14 (62m)
Simon Rosner (Ger) 3-1 [Q] Tsz Fung Yip (Hkg)
11/7, 11/2, 8/11, 11/6 (46m)

R1 Match Reports, Quotes, Photos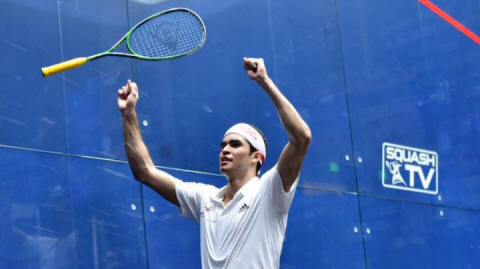 29-Oct, Day THREE:
Elias downs former champion Willstrop as round one begins

The first day of main draw play in the Qatar Classic 2017, the second PSA World Series event of the season, started with three consecutive upset results at the Khalifa International Tennis and Squash Complex in Doha.

Seventh seed James Willstop, the 2005 champion here, was beaten in straight games by Diego Elias, the latest in a fast-growing list of wins over top ten players for the in form young Peruvian.

The next two matches saw two qualifier progress, both in convincing fashion. Hong Kong's Leo Au came from a game down to beat Ryan Cuskelly, a semi-finalist here two years ago, and India's Saurav Ghosal continued his recent run of impressive results with a striaght-games win over Daryl Selby - the Englishman who reached the semis-finals here last year.

Normal service was resumed thereafter, as Egyptians Ali Farag and Mohamed Elshorbagy despatched qualifiers Karim Ali Fathi and Chris Simpson in straight games, Fares Dessouky ended home hopes with a comfortable win over Qatari wildcard Abdulla Al Tamimi, and top seed Gregory Gaultier made an impressive return to action after a few weeks of injured with a solid win over dangerous Mexican Cesar Salazar.

In the last match of the day Zahed Mohamed provided a fourth Egyptian winner as he came through an exciting five-setter with Gregoire Marche.
Round One, Top Half:

Diego Elias (Per) 3-0 [7] James Willstrop (Eng)
12/10, 11/5, 11/8 (46m)
[Q] Leo Au (Hkg) 3-1 Ryan Cuskelly (Aus)
7/11, 11/7, 11/8, 11/4 (63m)
[Q] Saurav Ghosal (Ind) 3-0 Daryl Selby (Eng)
11/4, 11/8, 11/2 (40m)
[5] Ali Farag (Egy) 3-0 [Q] Karim Ali Fathi (Egy)
11/7, 11/5, 11/1 (26m)

[3] Mohamed Elshorbagy (Egy) 3-0 [Q] Chris Simpson (Eng)
11/7, 11/9, 11/5 (36m)
Fares Dessouky (Egy) 3-0 [wc] Abdulla Al Tamimi (Qat)
11/6, 11/8, 11/5 (37m)
[1] Gregory Gaultier (Fra) 3-0 Cesar Salazar (Mex)
11/6, 11/2, 11/9 (37m
Zahed Mohamed (Egy) 3-2 Gregoire Marche (Fra)
11/7, 5/11, 11/6, 8/11, 11/2 (59m)