in Doha: Daily Reports from the World Champs
Fram reports, Steve clicks away
Sun 16th Nov:
Day FOUR,

We're down to the last 32, and today
with the top half of the draw in action ...

Upsets to start and finish as
Pilley beats Barker at the death


Alister Walker (Bot) 3-2 [16] Mathieu Castagnet (Fra)
11/6, 11/5, 8/11, 9/11, 11/4 (75m)
Fares Dessouki (Egy) 3-0 [13] Marwan Elshorbagy (Egy)
11/9, 11/2, 11/9 (40m)

[12] Miguel Rodriguez (Col) 3-0 Zahed Mohamed (Egy)
11/2, 12/10, 11/7 (40m)
[9] Omar Mosaad (Egy) 3-0 Karim Ali Fathi (Egy)
11/4, 11/2, 11/7 (29m)

[1] Gregory Gaultier (Fra) 3-0 Nafiizwan Adnan (Mas)
11/4, 11/7, 11/3 (31m)
[4] Ramy Ashour (Egy) 3-0 Adrian Grant (Eng)
11/6, 11/5, 11/9 (30m)

[6] Borja Golan (Esp) 3-1 [Q] Greg Lobban (Sco)
8/11, 11/2, 11/4, 11/2 (53m)
Cameron Pilley (Aus) 3-2 [7] Peter Barker (Eng)
12/10, 11/6, 9/11, 6/11, 11/5 (85m)

Round Two, Top:
Upsets to start and finish
as Pilley beats Barker...

The first match of the day proved to be a thriller as Botswana's Alister Walker eased into a two-game lead against Mathieu Castagnet, but needed to reassert after the French 16th seed had rallied to take two tight games to force a decider.

The second match was an upset too, as Fares Dessouki beat fellow Egyptian Marwan Shorbagy, the 13th seed, in straight games.

Normal order was restored as Miguel Rodriguez and Omar Mosaad, the 12th and 9th seeds, progressed in straight games at the expense of Zahed Mohamed and Karim Ali Fathi.

Top seed Gregory Gaultier, who was taken to five in the first round, had no such troubles as he breezed past Nafiizwan Adnan in straight games, and Ramy Ashour, the 2012 champion here, also impressed in a straight-games win over Adrian Grant.

Borja Golan dropped the first game against an energetic Greg Lobban, but the Spanish sixth seed dominated the next three games.

THe final match of the day produced the biggest upset as Cameron Pilley took a two-game lead only to see sixth seed Peter Barker pull back to force a decider. It was the Aussie who dominated that final game though, to finish the day with a flourish.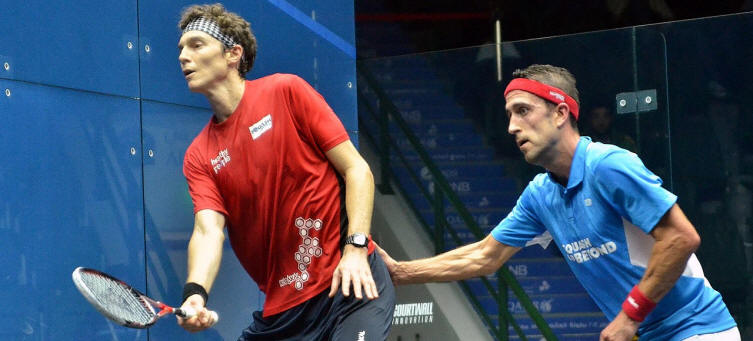 Alister Walker (Bot) 3-2 [16] Mathieu Castagnet (Fra)
11/6, 11/5, 8/11, 9/11, 11/4 (75m)

Bad day for MathieuÖ. And the RefsÖ

Only a quick stat: I counted 10 reviews. 7 overuled. Moving on.

As for the head to head, it was 2/1 for Ali, with their last encounter going his way, in 98m, in San Francisco in September.

What a joy to see Alister back at his best level. Perfect movement really, there was nothing wrong with his volleying, and his redrops both forehand/backhand just kept the pressure on the French, with the English/Botwani probably winning 95% of the front court battles.

On the other hand, Mathieu was not at his best, back troubles, had treatment this morning just before the match, and was getting it after each game with Florent, French Team physio.

First two games, body cold and an Alister on fire, Mathieu never got a chance to get in the match really.

It got a bit better in the next two, as Iceman is a bit of a Dog with the RacquetBone, back probably relaxed a bit, and dug in enough to put Ali under just a bit more pressure, forcing him to drop his length a fraction, giving him a bit less time on the ball, hence a few tins from Ali.

The 5th, adrenaline had dropped a bit for Mathieu, I could see his back frozen down and the boy having more and more trouble moving. Ali on the opposite, had found his quality squash, and like he did in the first two, never gave the Frenchman a sniffÖ.

Truly happy to see Ali back at his best. Squash needs his quality/style of play/excellent behaviour on court.




I did get through it eventually. I was just chatting with DP (David Pearson) and we were talking about what the fine margins can do to a squash match. You can outplay somebody for 2 games, and your length just slips away, and itís goneÖ.

Mathieu is on the rise, but it was still a good opportunity for me to try and get back in the best 16.

Feels good to be back in the 16 best players, and Iím very happy. I feel Iím back to my best level, which is good as I didnít have a good season last year, and I hope that Iíll manage to stay up there for a two or three years, as I wonít have much chance to come back there after that!!!

Next round the winner of Peter Barker Cameron Pilley. We have been playing each others since the World Juniors in Milan, Pete, Cam, Borja, Daryl, LJ, Greg. Itís good that we are all still kicking aroundÖ


Thank God.

It was very close at the end. At 10/7, I made the error of starting to think about winning, instead of thinking about playing good squash. I was lucky.

Iím truly happy with my performance, I think I played my best squash, especially against such a good player. He is very tricky, very smart on court, so Iím very happy with my performance.

Itís never easy to play somebody from your club (Samoa Club in Alexandria), and a good friend of yours. Last time we played, in Sky Open, I wanted to win so much, I was too nervous, and put too much pressure on myself. This time, I learned from it. And made sure I relaxed.

I donít think like, Iím going to reach the first round, the second round. Nobody nowadays can think like that. Even the top players can be under pressure, look at Greg against Andrew. You cannot allow yourself to think you are going to beat this one or that one, or get to that level. Youíve got to take a match at a time.



Fares Dessouki (Egy) 3-0 [13] Marwan Elshorbagy (Egy)
11/9, 11/2, 11/9 (40m)

Clinical Fares

I told you when I saw play him last in the British Open against Nick that I had great hopes for him. With Abouelgar and Mazen, they are pushing the Shorbagy Brothers and all the top ones.

Fares can be very dangerous when fearless. When he is in the zone, he is very hard to beat, as Lee Beach would say. He doesnít play such a high percentage game, as he possesses an excellent backcourt game on which he backs up his attacks.

On top of that, to add insult to injuries for Marwan, today, his shots found the nick nearly every time. And that made Marwanís life very difficult on a cold and dead court.

If Fares was relaxed, Marwan wasnít to say the least. The pressure was on him every minute. He is one of those players that can put themselves under tremendous pressure. I remember him in the first final of the World Juniors. He was sooooo tense, sooooo nervous. I feel that today, he was paralysed, and never got a chance to play his own game. On paper, he was the better player (14 vs 22), with his brother being the World Number 1, and in front both his parents.

That would be enough to paralyse me alright.

All credit to Fares, he played the right tactic, on a court that suited his game beautifully, with nothing to lose. Heíll be delighted to realise that at 20, he is now one of the best 16 players in the world.

12] Miguel Rodriguez (Col) 3-0 Zahed Mohamed (Egy)
11/2, 12/10, 11/7 (40m)

Rodriguez romps into round three

Speedy Colombian Miguel Rodriguez utilised all his deceptive skills as he beat Egyptís Zahed Mohamed in straight games to reach the last sixteen.

After a cagey opening, Rodriguez took control from 2-all in the first, winning the next nine points to take the lead. Mohamed wasnít doing a lot wrong - a couple of unforced errors aside - but the Colombian was buzzing around the court as he does, eager to pounce on anything that gave him a chance to attack.

Mohamed managed to get a grip on things in the second as he opened up a 5-1 lead, but Rodriguez bustled back, levelling at 6-all and leading 8-7 and 9-8. Mohamed was to earn one game ball, but at the end of a scrambling rally he put a simple drop into the tin and Rodriguez needed no second invitation as he took the game 12-10.

There was never much in the third, but Rodriguez always had the upper hand both on the scoreboard, and in the doubt he was able to put into Mohamedís mind with his fast retrieving and deceptions and feints whenever he was given time, and it finished with a typical deceptive crosscourt volley drop.

You know, I can be the fittest guy on the planet, but if I donít have the tactic in place, and if I donít choose the right shot at the right time, it wonít be much useÖ.

So I have been training very hard with my Dad all summer, both on the technical and physical sides of things, focusing on my offensive game. And Iím happy to see that itís working, as I had a few good results: I won a tournament in Colombia, 50K, then won my 4th Pan Am Champs in a row, got to the semis of 2 tournaments in Canada, so Iím feeling confidentÖ

Next round, looking forward to whoever I play. It could be Adrian Grant, I played him once in Canary Wharf, and it was a hard 3/2; or Ramy Ashour, the only top player I have never playedÖ


Itís the first time I played Karim in an official PSA tournament, but we train all the time, so we know each otherís game by heart. I tried and put in a place a plan today, changing a bit my game, getting tight to the walls and only if an opportunity occurred, then I would go for a shot.

Also, because he had a hard game against Abou in the first round, I thought he could be a bit tired, so I tried and made the rallies very long in the first game [note from Fram, 1st game was 9m!], and it paid off in the 2nd and 3rd, he was getting a bit tired in the end.

In the third, I thought he had given up, so I went for shots, but I made too many errors. So I went back to my initial plan, and it worked betterÖ.

[9] Omar Mosaad (Egy) 3-0 Karim Ali Fathi (Egy)
11/4, 11/2, 11/7 (29m)

Fathi just a bit too shortÖ

Nothing much between players these days, but I felt that Karim today didnít truly believe in his chances. I could be wrong, but I donít think he believed that he could beat Mosaad. Too much respect maybe? What do I knowÖ

Mosaad played an immaculate squash for the first two games, hardly an error. Karim was doing his best to stay in the rallies, but the winners kept hitting him one after the other.

Only in the third, he seemed to go for too much too soon, made four errors in no time, and somehow allowed Karim to cling in there.

The contender was very much in that game, as there were hardly a point between them up to 7/7.

At that point, Mosaad put the pressure on, and powered his shots up. It worked wonders, and he takes the match 11/7, in only 28m. Excellent performance for the Hammer of ThorÖ.
[1] Gregory Gaultier (Fra) 3-0 Nafiizwan Adnan (Mas)
11/4, 11/7, 11/3 (31m)

Greg on the Dot

The longest Greg stayed on court with Wan was 31m. Same time todayÖ. I think Greg wanted to make a point today, to his detractors, but to himself as well.

The Malaysian played a good attacking game, kept his errors rate down Ė which can be his weakness.

But the Frenchman was just on the war path today, first game 9m, second the longest, 11, and third, 9 again.

If two day ago Greg had no length and looked flat as a Chandeleur CrÍpe, today, he had a plan: stick his opponent to the back, twist and turn him, and kill him at the front.

He managed to do that perfectly in the first and third game.

In the second, Wan managed to play some exquisite drop shots that surprised Greg more than once. Excellent game that was.

Greg has ďput the clock right back on the right timeĒ, as we say in French. The first big test will be against the Hammer of Thor in two daysÖ


I put some skates on today, I was so pÖ off after my poor performance on the first round, no juice, no movement.

Today, I moved much better, and found a bit of accuracy. But Iím still getting used to the court.

I had trouble with my sleep, so I feel I had a jetlag syndrome after landing at 3am. Two nights with no sleep. But now, Iím back to normal. I just was asleep on the court on the first day!

There is a lot of positive, the fluidity in my movement is much better, but at the end of the day, as long as I win, I donít care, thatís what matters.

Iíll have a big ďhurdleĒ against Mosaad. He is always very consistent, he is a dangerous player. And you know, nowadays, everybody is a ďhurdleĒ! Look at me the first day. I didnít expect that. So nowadays, you canít take anybody for granted.


Itís always been a mental battle for me, and today was no exception.

Adrian is not an easy opponent at all, and if you get suck in his game, he puts the pressure on you big time. Haitham Effat told me the whole match, keep imposing your game from the first point to the last point. Itís all about having that mental lock.

As for the injury, I repeat what I said in the first round, I have a 30cm tear in my hamstring that has been there for about 3 years. It flared up and healed every time. So for all that time, my body has been adapting, itís been extremely clever. But it had been working so hard, that at some point it cracked up.

So that PRP treatment just helps with the healing and instead of taking 7 to 8 months, it took two and a half. What makes it great is that there is no chemical, itís your own blood thatís been treated and re-injected. Itís not intrusive. The doctor said itís almost healed. And told me I could play. Otherwise, I wouldnít, I wouldnít do anything without his authorisation.

You know, Iíve been rescuing my career since Iím 14. Every time, everybody around me tell me, itís the last time, itís the last time, and itís notÖ. Every time I get injured.

So, if itís a success, Iíll be leaving the competition without limping. Winning the title of course would be wonderful, but my real success will be to get out of court injury free.

Now, if itís not a success, Iíll go out, get depressed, and start all over againÖ



[4] Ramy Ashour (Egy) 3-0 Adrian Grant (Eng)
11/6, 11/5, 11/9 (30m)

Mirror from their last match

If you had a video of their last match Ė which was funnily enough on the same court here, during the same competition the Worlds, and at the same stage of the competition, you would probably have the mirror image of this one.

As in.

First game, Ramy all there, Adrian still a bit in the changing rooms as ever.

Then Adrian starts to wake up, getting used to the pace and angles, and pushes Ramy to make a few errors (4).

Third, Adrian is now completely in the match, and itís point per point, 4/4, 6/6, 7/7, 8/8, 9/9. Ramy, from 8/9 down, find three superb shots that Adrian cannot find answers to.

The end.

PS. Last time score, 6, 2, 9, 30m. This time, 6, 5, 9, 30m.

I rest my case.
[6] Borja Golan (Esp) 3-1 [Q] Greg Lobban (Sco)
8/11, 11/2, 11/4, 11/2 (53m)

Golan closes down Lobban

Young Scottish qualifier Greg Lobban really took the game to Borja Golan, the sixth seed from Spain, in the opening game of their second round encounter.

Full of energy, Lobban made the game fast, mixed up the speed and style of play, and got a little under Golanís skin as the Spaniard struggled to combat the assault.

From 6-all Lobban edged ahead, then earned himself three game balls and forced an error out of Golan on the second to take the game 11/8.

That was as good as it got for the Scot though, as Golan managed to keep a lid on the proceedings from the outset of the second game.

Controlling the pace and the play, try as Lobban might he couldnít break out of the shackles that Golan, who now looked unrushed and assured, was imposing

Golan had found the answer, and closed out the match 11/2, 11/4, 11/2.

The last two, I was a bit more in control, but in the first game, he surprised me and played very well.

Initially, I was trying to play very fast, but it was all coming in the middle, and he loved that, he is a big guy and a strong guy! I was not able to control him at all.

From the second on, I slowed down the pace and found my accuracy back, and it worked. It paid off I think in the 3rd and the 4th, and I think he started to tired off.

Next round Dessouki. I played him twice, beat him twice, not that it means anything nowadays!!! But itís the 3rd round of the world champs, Iím ready for the challenge.


Cameron Pilley (Aus) 3-2 [7] Peter Barker (Eng)
12/10, 11/6, 9/11, 6/11, 11/5 (85m)

No more Essex Boys

Charles Sharpes, Ben Coleman, yesterday the choc with the early exit of Daryl, and today, Pete. Feels a bit empty that draw..

Funnily enough, it just happens that this morning, Cam and myself happened to drive in the same car. We were chatting along, I was happy to learn that the earplugs have finally made their way to Australia Ė bless him Ė and he mentioned that the 6 or 7 last time they played, Pete won. That it was time for him to win nowÖ.

It started very well for Cam actually. Normally, the first game is all Pete. He controls it, makes it as long as possible, grinding his opponent to the core, and then spits him out in the 3rdÖ But none of that today. Yes the first game was still 25m, but it was Cameron that was dictating the rallies. Up 5/1, he got caught up 7/8, 8/8, 9/9. First game ball to the Australian after an immense ridiculous amazing rally, but he would need a second one, 12/10 Cam.

The second was much quicker, 11m, with getting frustrating with the refs at the end of the game ďGet it right thenĒ after what seemed to him a harsh no let Ė after a series of decisions that went against them. Again the game went to the Australian, 11/6.

Third was huge, and saw the awakening of the Pete we know and love. Back in the driving seat, he pushed his opponent to find the tin a few times, and from 4/4, dominated 8/4 then 10/5 game ball. Thatís when Cam decided to give it a big push and nearly managed to get a tie-break, but stopped at 9/11.

The fourth was all Pete, 4 errors from Cameron, 0 from Pete, and the game had 5 setter written all over itÖ.

And that 5th. I thought it was going to last forever. But it didnít. Cameron was in charge from the first rally, and as Cameron mentions in his aftermatch interview, Pete made uncharacteristic errors, that consolidated Camís advance on the board.

With all the matches those ones had on PSA (12 now), only 2 were 5 setter; although we all remember THAT match, the 88m match, that ended past 1 am in Rotterdam, on a very warm court. And that was only a 3 games oneÖ.

Very happy, it seems we played 4 or 5 times in the past 6 months. And he beat me every time!

Last time in Halifax, I was 2/1 down, and in the 4th, I was up 9/4. And he just shoot straight to 11/9.

So this time, pardon my language, I told myself not to ďfÖ it upĒ like last time. And thatís why even when I took a good lead in the 5th, I didnít relax, and he gave me a couple of errors he normally doesnít do, I take themÖ

Like I said in the first round after my win against Joe Ė he played exceptionally well, I didnít play well at all, I only got through thanks to my experience Ė I had a drop in motivation after the CWG, and then a good training with Palmer, same old things maybe, but different words, different pieces of adviceÖ

I thought that I would have to play again on the back court, so I was soooo happy to be playing on the glass court, I love the court, the other one I didnít like too much, but this one is very reward. Play loose, and youíll get punished. Play tight, and youíll be rewarded.

Who am I playing in the next round?? Do you know???