in Doha: Daily Reports from the World Champs
Fram reports, Steve clicks away
Tue 18th, Day SIX,
Round THREE:

Round three featured all of the last sixteen in action, with quarter-final places up for grabs.


Round Three:

Cameron Pilley (Aus) 3-0 Alister Walker (Bot)
11/7, 11/6, 12/10 (52m)
[6] Borja Golan (Esp) 3-1 Fares Dessouki (Egy)
11/8, 11/4, 6/11, 11/5 (60m)
[5] Amr Shabana (Egy) 3-0 Max Lee (Hkg)
11/6, 11/7, 11/4 (29m)
Stephen Coppinger (Rsa) 3-2 [10] Tarek Momen (Egy)
12/10, 9/11, 14/12, 8/11, 11/8 (85m)

[1] Gregory Gaultier (Fra) 3-1 [9] Omar Mosaad (Egy)
10/12, 11/5, 11/9, 11/9 (66m)
[4] Ramy Ashour (Egy) 3-1 [12] Miguel Rodriguez (Col)
9/11, 11/6, 11/5, 11/4 (47m)
[3] Nick Matthew (Eng) 3-1 [14] Saurav Ghosal (Ind)
11/4, 11/5, 6/11, 11/9 (52m)
[2] Mohamed Elshorbagy (Egy) 3-1 [11] Simon Rösner (Ger)
11/8, 9/11, 11/9, 11/9 (65m)

Round Three Roundup:
Unseeded Pilley and Coppinger
join the top six seeds in the quarters ...

The first player through to the quarters was Cameron Pilley with a straight-game win over Alister Walker. "I'm absolutely stoked," said the unseeded Australian after reaching the quarter-finals for the first time in 13 straight World Champs appearances.

Spain's Borja Golan was next, overcoming young Egyptian Fares Dessouki in four games which required the intervention of the referees perhaps more than would be expected or ideally wanted.

Amr Shabana was the first - but probably not last - Egyptian winner as the four-time champion beat Max Lee in straight games, looking very sharp.

A second non-seed reached the last eight when Steve Coppinger scored a sensational 85-minute win over 10th seed Tarek Momen. At 2-1 and 8-2 Coppinger looked to have it in the bag, but Momen took the fourth and led 7-4 in the decider before Coppinger closed out the match.

Top seed Gregory Gaultier came through an intense tussle with big Egyptian Omar Mosaad, the Frenchman losing the first game before taking the next three. Two-time champion Ramy Ashour also lost the first game before winning three-one in a hugely entertaining encounter with Colombia's Miguel Rodriguez.

Defending champion Nick Matthew looked to be cruising to victory against Saurav Ghosal, but the speedy Indian staged a fightback and looked to be taking the match to a decider before Matthew found something extra at the end of the fourth.

The quarter-final lineup was completed as Mohamed Elshorbagy edged past Simon Rosner in four intense games, coming from 3-7 down in the fourth to save having to play a decider.



Even if we haven't been playing each other for years, earlier in our career, we used to play quite a lot against each other, so we know exactly what to expect.

Ali is somebody that likes to take to step in front of you, volley a lot and use his physicality to control the T. So today, I tried to take that away from him by doing it more than him, and I did that to a T today.

Absolutely stoked to be in the quarters of the World Champs. I reached the British, but first time in the Worlds. Very happy indeed, especially after a bit of a rough patch this year….



Cameron Pilley (Aus) 3-0 Alister Walker (Bot)
11/7, 11/6, 12/10 (52m)

Ali Outplayed

Cameron made 5 errors the whole match. And that is probably the key to the match. Cameron didn't give a sniff to his opponent today, and Alister just wasn't able to play his volleying game. He didn't manage today to vary his pace enough, and only started to put Cam under pressure in the 3rd, by forcing a long and high paced rallies.

But Cameron had that "quiet/calm urgency" about him today. He just hit good length, his width prevented Ali from volleying, and he was planted on the T, having only a step to do to counterdrop Ali's attacks.

We thought that Ali was getting more into it, as the third was as close as it comes, and he took a good lead, 2/0, 4/1. Cam didn't let him run away with it, 5/5, 6/6, 7/7, but again Ali was much more pro active and dynamic. 10/8, game.

Cameron just scored the following 4 points. Just a big push, superb length/energy, great skill display. Ali will be very frustrated indeed by that ending…
[6] Borja Golan (Esp) 3-1 Fares Dessouki (Egy)
11/8, 11/4, 6/11, 11/5 (60m)

Confused? You will be.

Watching the match between Borja and Fares, I grew more and more confused by the hardness of the decisions that were given, not to mention the disparity of them!

Very quickly, Fares and Borja got penalised for not clearing the ball quick enough, and strokes out of nowhere were distributed as on Boxing Day (that's the Day after Christmas where family used to exchange gifts).

Of course, it didn't take long for the players to realise that, as long as they were standing behind their opponents, they would be rewarded a stroke. So they didn't have to make the effort to the ball anymore, they just stood, and got the stroke.

Ehhhrrrrr.

My confusion got even deeper when two lets, that at last meant some sense for me, were overturned by the Video Ref.

"You are confusing me", stated Fares at the end of the second game. "They are confusing me too" I said to myself….

What made it worse, is that the following game, Shabana/Max, we were back to the decisions I can actually understand….

Moving on….

Back to the match, Borja played superb squash, very controlled and powerful, and my gut feeling is that Adrenalin allowed young Fares to cling that third, as we could hear him "stroke"… "stroke" from the side of the court after that famous second game.

Fares shoot out at 7/1 before Borja got a bit of his Torrero feints into the Egyptian. Fares still takes the game, 11/6 in the shortest game of the match, 11m.

The fourth, well, Borja was just too good at mixing the attacking shots with some spotless/glued to the wall drives/crosscourt lobs. Fares was never in that game, Borja showing why he is WR7. A superb intelligent and measured squash. Just superb.

I had now two matches on the glass to get used to it, and I feel my squash is getting better. After the first match I was not happy with my short game, after the second match, I thought my length game was not good enough, but today, I'm happy with most of my game.

Most important thing, I only lost focus for a point, and then when it happened, I was able to come back right into it. Whereas sometimes, it can take me 2 or 3 points. That's definitely an improvement. Hopefully next match, I won't have any loss of concentration at all!

I can't really change my speed, but I can work on being a better squash player, that's why I work hard on my skills…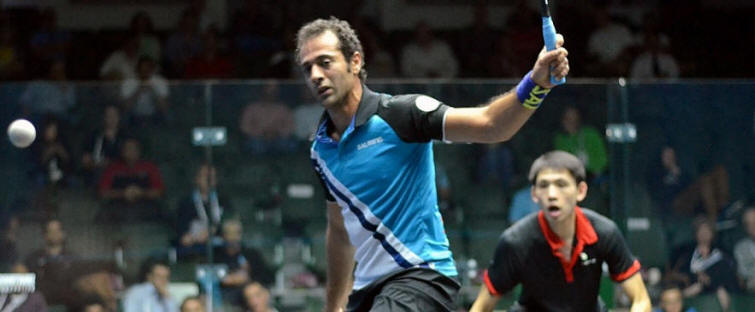 Very simple. If you don't control the rallies, you are going to find yourself at the end of it. So today, I had a game plan, I tried and implement it, then I stuck to it, and I felt good on court.

It's always a push and pull game, push me out, pull you in, but at the end of the second, I gave it a big push, but I was too excited, and being too excited is not good for squash. But somehow, I managed to stay in control. Maybe his movement was not the best today, maybe he could have done things differently, I don't know.

No, I didn't change anything to my game, I've just been training hard, and tried and stayed in shape.

With a short match, you keep all your energy, tomorrow, no excuses, you can't say, oh, I was tired…

Right now, I don't want to talk about Nick, I hope they'll have a long a very long match, and I hope he'll loose! Only joking. Whoever I'm playing, it will be a tough match, because they both have great qualities, Saurav is very good, very fast, and can tire you a lot, and Nick likes to attack from the middle and will volley a lot. I just hope they'll have a tough match!!!!



[5] Amr Shabana (Egy) 3-0 Max Lee (Hkg)
11/6, 11/7, 11/4 (29m)

Shabana, a Legend in Action

That match was a pure masterclass from Shabana. First time they played, I saw the match, and it was nip and tuck, 3/1 for Shabs.

But apparently, their last encounter in the US was absolutely superb, and went to 11/7 in the 5th, in 72m.

Needless to say that, like Max stated it, Shabana was ready. A bazooka he had today, not a racquet. He shot the poor Hong Kong player again, and again, the whole match. Lord knows the boy tried, but with no much success. 8m the first game, 11/6, 9 the second, 7, and 7 the last one, 4.

Max never put a foot wrong, never game up, and made only 2 unforced errors the whole match. He just couldn't do anything. Not sure that many people could have actually today.

This is a perfect match mentally for the Egyptian. 1. He gets to punish somebody that dared to take him to 5 last time they played. 2. It gives him confidence for tomorrow. 3. Sends a loud warning to the others.

You could say it's a good day overall for the 4 times World Champion…


When we shook hands at the end of the match in the US, Shabana told me "next time, I'll be ready." And I was sure that he would be!

Today, he was attacking from the start, whereas the last time he was more patient.

And I played far too many crosscourts, each time I was playing one, I would tell myself, stop it…. But I didn't…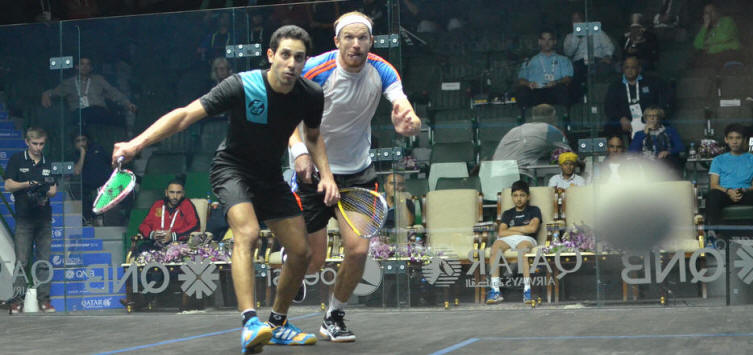 Stephen Coppinger (Rsa) 3-2 [10] Tarek Momen (Egy)
12/10, 9/11, 14/12, 8/11, 11/8 (85m)

Coppinger secures sensational quarter-final spot

South African Steve Coppinger became the second unseeded player to reach the quarter-finals in Doha after a sensational five-game win over tenth seed Tarek Momen.

There was nothing to choose between them for three games, Coppinger trying to keep the play controlled and steady, Momen trying to utilise his speed to inject pace and break up the play.

Neither could break free with hardly a point between them - Coppinger got the first opportunity at 10-9 in the first, taking it 12-10, Momen took two points in a row from 9-all in the second, and from 9-all in the third Coppinger again sneaked it, 14-12 this time.

Things changed after that though, with a vengeance - Coppinger pulled clear from 2-all in the fourth to lead 8-2, but just when the quarters seemed o be in touching distance Momen managed to impose his game, made it fast and furious as he took nine points in a row to level the match 11-8.

The fifth was up and down too - Coppinger led 4-2, Momen fought back to lead 7-4, but put the ball loose too mant times, giving the South African plenty of opportunity to punch in volley drops which helped him to draw level at 7-all and then reach match ball 10-8.

The final rally was one of the longest of the match, Coppinger just managing to keep Momen's scrambling efforts at bay until finally the error came and Coppinger raised his arms aloft.





"I lost in five to Tarek in the first round of the World Open here two years ago, so to play again in the third round shows how I've come on a bit.

"It's totally mental when you get involved in that type of match, if you don't have the drive you won't get fit, and in the match itself it's 99% in the head, you can't let things like losing big leads get to you.

"I was just a few points away from a win and then had to start all over again but I did the same thing in the first round so I had the belief that I could do it.



"Considering the setting, the circumstance and that this is the World Championship, this is without a shadow of a doubt the biggest win of my career.

"I'm in the quarters now and I don't think any player gets there easily, we've all had our own battles. It was another remittal battle today and I've come through a few of those so I'm mentally in the right place so lets see what happens tomorrow."

"I've been working with David Palmer in Orlando, he got me into the top sixteen then I dropped a little, but now I feel I'm back and can start pushing towards the top again. I've beaten three guys who have been in the top ten here this week, so something seems to be working!"




He is so big anybody would be afraid of him! If I was that big, I wouldn't be afraid of anybody….

His forehand is amazing, and today, I lost a bit of accuracy, but at least I was moving well.

That kind of match will actually help me for my next match, it puts a bit of fighting spirit in me, and I needed that.

I may be a bit stiff tomorrow, but I have a great team around me, and I've worked so hard to get through those matches, and the wins get you some adrenalin and make you forget the pain.



[1] Gregory Gaultier (Fra) 3-1 [9] Omar Mosaad (Egy)
10/12, 11/5, 11/9, 11/9 (66m)

Mosaad will kick himself from here to…

Talk about a lost opportunity. The Egyptian today really managed to put the Seed1 under a heck of a pressure today from the first game to the last, but was basically his own worst enemy as he tinned crucial points, again and again, the second in particular, 6 tins in that one alone.

He had Greg under hell in the first game, forcing 4 errors out of him, managing to stay with him 2/2, 6/6, 8/8, 9/9, transforming the second game ball, 12/10 in 18m. The numerous Egyptian crowd was going wild!

The second is in my mind where he lost the match, as he exposed his weakness to Greg, who from that moment knew that he would be able to force tins out of him as long as he would push long enough. …

Third was as close at the first game, the crowd pushing both Greg and Omar, a lot of decisions, no lets flying around like mad, the two players finding some superb shot games. A long and intense rally at 9/9, but that ends yet again in a tin, and before he could say Boast, Omar was down 2/1, 11/9 for Greg, 17m.

Terrible start for the Egyptian in the 4th, or best start for Greg, whatever you choose to look at it, 4/1, but Omar is still in the match, 4/4. Greg flies with the score again, 7/4, again, Omar is on his hills, 7/7. 8/8. 9/9. And a Tin, yet again. At a crucial time. All credit to Greg for making him doubt and go for just too much. And a stroke later, a very relieved Greg can walk towards his team support – a lot of his friends have come to take the boy to the Title et rejoice.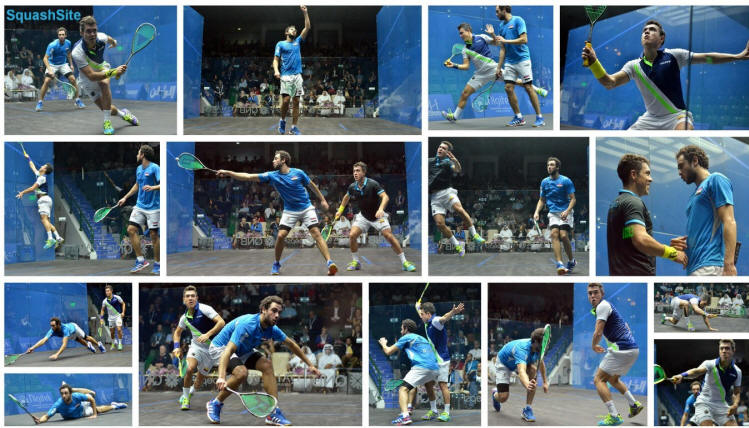 [4] Ramy Ashour (Egy) 3-1 [12] Miguel Rodriguez (Col)
9/11, 11/6, 11/5, 11/4 (47m)

And Ramy starts flying again ...

What a refreshing match that was. Bless Miguel, Bless Ramy, we had a NickMaster and a RubberBall having a squash Party out there. Just to give you an idea, not one decision in the first game that went 11/9 for Miguel. Not one.

HOW REFRESHING!!!!!!

Ramy started well, 3/1, but Miguel was not there to just nurse him to the quarters. He was attacking splendidly, and was covering the four corner, as ever. Ramy, talking with his Usual Demons, was struggling to keep his mind on the match, and Miguel run away with the score form 7/7 to 10/7. Ramy then started to lob everything that he could put his racquet on (if you were watching the semi-final between Ramy and Nick in 2012 here, the same), and managed to claw back to 9/10. But with a superb drop shot, Miguel took the game, 11/9 for the great pleasure of a few loud supporters – we love you crowd!

The second didn't start well for the Artist, as quickly we were at 4/4, Miguel's 4 points being Ramy's gifts. That seem to quieten the Demons a bit, and Ramy then score 4 points in the row (I'll alert the Media), to take the game 11/6 in 9m.

And from that point on, Ramy had gone back into the Reflex/Volley/Nick Roll that is typical of his game. It didn't prevent my RubberBall to give a great performance, run the court about 3548 times, and delight the crowd by his movement, shots and good personality.

What a joy that was…

He is the most talented player I ever played, and I want to congratulate him.

I played an exhibition last year with him, so it doesn't count, and tonight was my first competitive match with him.

I have been working very hard lately and I had some good results, I had a good tournament here, so, so far, so good…





Yes, could we talk about something else than my body, everybody is talking to me about my body, let's talk about something else!!!!???

Sometimes, you have a lot on your mind, so much going in your head that you've got to take yourself out of the dark place, and take it back to the light, and force yourself to enjoy it.

It's good that I could perform even not on a good day. But at least, I know I have pushed myself, on every match, that I gave it 100%. If I didn't I would hate myself. It would be worse than losing.

In the first game, I was a bit flat, and against somebody like Miguel, you just cannot move slowly, it's just an impossibility. I love the way he plays so much, he is quite unique, he has got a completely different perspective on the ball. And I knew we were going to have a great match.

His logic toward the ball is just like nobody else. I love watching him play, the way he sees the ball, is quite unique. And you could actually learn a lot of subtleties watching him play…





"After the first two it was a bit of me stepping off and a bit of him stepping it up! He gave me a lot of volleys in the first two, which is my strength, but he started using his brain in the next two games.

"At the end of the second, I thought that Saurav was not moving as well as he normally does, so that was maybe something there, and I just got ahead of myself, which you should never do, I starting thinking about tomorrow, and that's a big mistake.

I'm annoyed at myself, but I'm so lucky I got out of jail there. And I was annoyed about that volley from Saurav, but if Saurav says the ball was good, I take his word for it. But it's good sometimes to use that frustration, that fire to fuel yourself. And as long as you can channel it the right way, it's helping you. And if I didn't have that fire, we wouldn't be talking right now, I would be playing a 5th game!!!

Although we played 4 games, it was not too long of a match, 50m something, so because the first two games were pretty quick, it's not the end of the world that I dropped one game. I was lucky all around really…"



[3] Nick Matthew (Eng) 3-1 [14] Saurav Ghosal (Ind)
11/4, 11/5, 6/11, 11/9 (52m)

Matthew finds the Tiger in the end

For the first two and a bit games it looked as though defending champion Nick Matthew would be booking himself a quarter-final spot in double quick time.

Yes, Saurav Ghosal had takes a 4-1 lead in the opening game, but from there Matthew reeled off 16 points in a row to take the first 11-4 and a 6-0 lead in the second, with Ghosal seemingly unable to do anything about it.

The Indian staged a recovery, started mixing up the rallies and took a few points with crisp winners, but it was too late for that game as Matthew took it 11-5 to extend his lead.

A 3-0 start in the third didn't bode well for Ghosal, but to his credit he continued his improvement, started to make inroads and, with a few helpful unforced errors from Matthew, came back to lead 5-3, 8-5 and took the game 11-6 as Matthew owned up to a dropshot that just clipped the top of the tin.

Ghosal was into the match now, and led for the best part of the fourth too - never by much, but now he was getting the better of some scrambling rallies and from 5-all he moved 8-5 ahead, then 9-6 with a winning return of serve.

That was probably a turning point as Matthew, who was convinced that the return had clipped the tin, made reference to his own admission and was clearly unhappy.

"I used that to find a bit of the tiger in myself," he admitted afterwards, "and managed to channel that aggression to use it effectively - I had to, I would have been in big trouble otherwise."

It certainly was effective, as Matthew took the next five points, Ghosal cursing himself for an unforced error and a missed opportunity on the final rally.


[2] Mohamed Elshorbagy (Egy) 3-1 [11] Simon Rösner (Ger)
11/8, 9/11, 11/9, 11/9 (65m)

Simon, Night and Day

If you think of how poorly – sorry Simon – the German played yesterday, and you compared his performance to what he did today, it's how we say in French, "le jour et la nuit". Night and Day….

First game was as close as it comes, even if Mohamed shoot off the blocks 5/2, he is soon caught up 5/5. 7/7. 8/8. Spreading winner like only Egyptians can do, Mohamed is putting Simon under pressure, but we are already having a great match. Mohamed seals the first one, 15m, 11/8. Close.

The second, Simon is up for it from the start. 3/1 for the German , 3/3, 4/4, 6/6, it's neck to neck, great rallies, quite a slow pace compared to what we've seen today really. 7/7. 8/8. 9/9. Basma Shorbagy is getting louder and louder in her support, and so is the Egyptian Majority Crowd. A tin – uncharacteristic at the crucial times like that and a gigantic mammoth rally ended by a backhand crosscourt winner, 11/9 for Simon, in 17m.

The third is looking terrrrribly bad for the Shorbagy Clan, as the German is flying, 5/2, 7/3. That's when Mohamed decides to speed up the game, shoots at will, twisting and turning his opponent as much as he can. Back at 8/8. 9/9.

But this time, one out of court – called out by Simon, at the moment of the match, it's got to be stressed, and a tin coming from the German's racquet this time, 11/9 Shorbagy, 13m. I could hear Basma breathing out from where I was, as in the other side!!!

Simon was mentally down and physically spent in the 4th. But did it stop him?

Never. He just dug in, and dug in, always 2 points behind, but not more. Still, Mohamed, match ball 10/7.

The Egyptian will have all the troubles in the world to close it out. Simon, running on fumes since the beginning of the game, is still fighting, and it's only a backhand kill drive from Hell at 9/10 that will finally give Match to the Egyptian.

You know, I never thought that Mohamed could lose before the later stages. But at 7/3 down, it dawned on me that he could actually have lost in the 3rd round.

Yes. Simon was THAT good tonight.

It was a high quality match, he has put so much pressure on himself for the past few months to get himself in the top 10, but he has proved in the US Open against Greg and here against me that he is worth much more than that.

And if he stops thinking himself as only a top 10, he'll may be surprise how high he can go.



Actually, I feel I had the toughest draw of the Last 16, and he was unlucky too because out of the 4 matches we played, 3 were in the World Champs. And I truly believe he deserves to go much further in the tournament.

He surprised me today, I played how I normally play against him, but it was not working and it's the best he's ever played against me. I had to change my game, I picked up the pace, which I normally would keep rather slow, I started to hit more randomly.

I'm glad I manage to get through though, because even in the 4th, I could feel he was tired, but he kept pushing and pushing and pushing. That's why when I got those 2 points lead, I kept pushing to make sure I'd keep them.

The match was 65m, but come on, I'm 23, and if someone can handle playing those matches in a row, I should be the one!!.