in Doha: Daily Reports from the World Champs
Fram reports, Steve clicks away
Thu 20th, SEMI-FINALS

It's unusual for the top four seeds to contest the World semi-finals - it hasn't happened since 1988 - but that's what we had in store tonight at the Khalifa International Tennis & Squash complex.

Semi-Finals:

[4] Ramy Ashour (Egy) 3-0 [1] Gregory Gaultier (Fra)
17/15, 11/7, 11/5 (57m)

[2] Mohamed Elshorbagy (Egy) 3-0 [3] Nick Matthew (Eng)
11/9, 11/5, 11/8 (60m)

Lots of good stuff on our Twitter feed


Egyptian Champion Guaranteed

An Egyptian 2014 World Champion was guaranteed as Ramy Ashour and Mohamed Elshorbagy won their semi-finals in straight games tonight in Doha.

Ashour beat top seed Gregory Gaultier after taking an astonishing first game 17/15, while Shorbagy beat defending champion Nick Matthew to set up a repeat of the 2012 final here.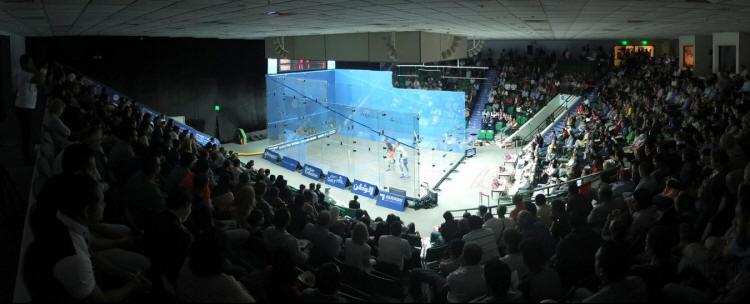 First game was of course crucial. Greg wasn't able after that to find the mental resources to restart the fight from the beginning of the second game. That weakness is the "fil rouge" the "running sore" of Greg's career: in the heat of the battle, he gives up too easily. He is of course working hard on it, but it's a hard load to carry.

Apart from that, Greg's attacks were not sharp enough, and Ramy, only too glad, jumps on the opportunity. Greg couldn't find his length, was too passive, not pro active enough.

One thing is sure though, he is and always has been completely committed to his career. That, you can't take away from him.



[4] Ramy Ashour (Egy) 3-0 [1] Gregory Gaultier (Fra)
17/15, 11/7, 11/5 (57m)

Ramy through to the final

Never ever ever ever ever thought Ramy would win.

I can honestly swear that when we did predictions with the Boys (Press, Officials), nobody, I mean NOBODY came out with Ramy winner. Not one. It was all 3/0 Greg.

I mean. COME ON!!!! Who does get a 30cm tear in his hamstring, get two injection of PRP, as in you are on crutches for 10 days, then you gradually can walk, then swimming, then light hit, then heavy lower leg work, and hop, you do it all over again, last injection about 4 weeks before the Worlds. No competitive match since the semis of the British, against Greg, where his hamstring was damaged was tore. No tournament. Nothing.

And makes it to the final of the Worlds.

SERIOUSLY?????

When James (we miss you mate) told me back in 2006 that squash was such a mental game is was a joke, he just foresaw Greg/Ramy's semi-final. It was all in the first game, 37m. And it was all in Greg's mind, and Ramy's Bionic Leg.

Ramy has done a crash course in Squash Tactic/reflex. He had like a gradual coming back to world front stage manual, and please, I mean that with all the respect I have for the noted players. First game, Yvan Yuen, testing his shots, leg. Game 2. Adrian Grant. Testing his mental strength/speed. Miguel? Having a ball, RubberBalling like him, testing movement. Borja? Tactic, speed of the ball, reflex, vision of the ball and mental strength BIIIIG time. In one word, Ramy has ADAPTED to each situation that was thrown at him, like layers of memories that kept flashing back in his mind.

What I find amazing, is the level of Squash he reached in this first game. "Greg inspired me" he said. And he meant it. He just raised his game to Greg's. And Greg was playing beautifully in that first game. Truly. I'm still stunned that Ramy – slow starter in anything, who normally raises his game during the match – was at Greg's level right from the start.

Started well for Greg, though, 3/1, 6/3, Ramy catching him up 3/3, 7/7. Won't be more than a point up to 17/15. Can you BELIEVE IT? Ramy, 6 game balls, Greg 2.

A point that was important for Greg's mental state. At 13/13, Ramy got rid of the plaster he had on the right elbow – when he dove the previous day, scratched it. Healed enough not to bleed (I've seen it close), but as safety, he asked the permission to get out of court to the Central Ref.

Greg immediately questioned the ref "Isn't there a rule for that???" "Mr Ashour has 3 minutes for a self inflicted injury".

Apparently, I'm told that actually no, Ramy didn't have 3 minutes, because it's an old injury. I'm told he should have just get rid of the plaster, and get on with it. Had it bled again, Game should have been awarded to Greg, I'm told.

It must have played on Greg's mind, as he told off the Central Ref when he lost the game. "It's in the Rules", he shouted. "C'est la règle", he repeated in French.

When my compatriot came back in the 2nd, his head was not on the court anymore. He made 4 tins in the first 9 points, opening a door that Ramy was only too happy to rush into. 6/3, 10/5. Greg gave a big push but too little too late, 11/7 in 8m.

Third, same amount of tins, four, Ramy did a few too mind, but at 7/1, I guess you can make 2 tins in a row… 10/4 match ball, 11/5, in 7m.

Contre toute attente, against all odds, Ramy, that flew under the radar the whole week – "stop asking me about my body, my body is fine, let's talk about something else – was in the Final of the worlds.. Against…?

Greg is such an amazing player, that first game was crucial, and I thought it would actually go on forever and forever. It was back and forth, back and forth, I'm just glad it went my way.

Greg was desperate to get that game, I could feel how desperate he was, and I understand, because I just arrived from nowhere, and he deserves it more than me. But on the other hand, I've been through a lot. I mean, A LOT. So I went on the there, and I was always going to fight for every point, and make sure that I would give 100%. I had to make sure that deep inside, I would give all what I could, and push away all the demons….

Also, I want to thank all the people that came today for their support, such an amazing crowd again. They really carried me again tonight.

As much as yesterday was a bad day, today was a good day. I don't want to take anything away from Borja, who played an amazing match, so strong, so superb athlete, but my head was not there yesterday. But that match gave me such a boost in confidence, because I had to fight for every shot, for every point. And when you can play like that on the worst day, when you are not 100%, and still push through, it gives you confidence in your head.

And again, no offence to anybody, but the first two rallies with Greg, it was a different pace all together. And I was like whooooo, that is different! Such a step up, a different league, in which I didn't play for 6 months! Since my last match with Greg in the British, I haven't played anybody like Greg! Completely different. And it's when you go away from it that you realise how fast it is when you come back to it.

Yes, my movement was probably freer, but it all goes together. If you are freer in your mind, your movement is freer too.

At the end of the day, playing Greg was an inspiration. Because when you play somebody at that level of play, you cannot not respond in the same way. Such explosiveness he has, that edge. That game that went on, and I thought it would never end, never end. I kept doing my best. Maybe the difference tonight was that I was even more desperate than he was….


[2] Mohamed Elshorbagy (Egy) 3-0 [3] Nick Matthew (Eng)
11/9, 11/5, 11/8 (60m)

The Pharaoh on the Fast Train to the final

"Too much pressure. Too quick"

I heard somebody behind me say at the end of the match to explain the 3/0 result. Yes, summarise the match pretty well. "He was on a roll, tried to stop him, but could" commented Nick.

Like for the previous match, first game was paramount ('I needed that first game to be honest' admitted Nick afterwards) and as well, started well for Nick, 5/1, too good from the English, but it all changed from a review, Stroke for Nick overturned to Let.

Within seconds, Shorbagy managed to equalise at 6/6. That was not like Nick at all to let anybody string points like that.

7/7. 8/8. Nick takes a slight advantage, at the "business end of the game" as Joey would say, it could be crucial. There goes a bit of well, not sure how to call it except "A confusing moment" that Cubs explains pretty well.

We are now back at 9/9. Nick, not losing his head – and that must not have been easy – but Mohamed is now in full Pharaoh Mode, and he closing the game on a massive rally, 11/9 in 29m.

As Nick said "totally outplayed in the 2nd" I'm sure the 8/9 thingy must have still been on his mind.

Third, the World Champion is back in contention, and like in the first game, dominates a Shorbagy that maybe started thinking about his final. 7/2 Nick was. A bit of breathing in the Matthew camp, but again, Shorbagy just take point after point after poin, 7/7 we are.

Nick from 6/7, will make three unforced errors, completely uncharacteristic, 9/7 Shorbagy. Some superb squash will come out from their two racquets yet again, but Mohamed is in front and Nick on the backfoot. 11/8 Egypt, in 20m.

Crowd went slightly wild…

It feels great to get that win because I came here today and I really wanted it and I gave it everything I had. We were both really fired up for the match…

I'm very happy with the fact that I managed to play at a very fast pace, and still didn't lose my focus. I was 90% concentrated, and that's really good, because normally, when I go very fast, I can lose my focus quite a lot.

There was a lot of talk and mind games before the match but what people have got to realise is that there is a huge respect between us as well. And actually, at the end of the match, I said to Nick 'if I win tomorrow, it will be honour to put my name on the trophy after yours'.

When we saw each other after the whole "passed my peak" story, we just laughed, and went on practice together. People say that we have the same style, I guess that yes, we are both fighters, we don't let go of anything. On court, it's war. But once it's over, it's all forgotten. What's happens on the court stays on the court. And the respect stays.

Tomorrow, we'll see each other at breakfast, we'll have a laugh about what happened, and just have a chat as if nothing happened.

Nick is an inspirational player and I have learnt a lot from him during my career so far. He gave me the hope, the belief I can play and win another 11 years. I owe him a lot. He inspires me, and he is one of the players I really look forward to watch playing.

Ramy. What to say about him. What Ramy has achieved on this tournament, and what he did today is nearly a miracle. After having not a competitive match in 7 months, wining against Greg 3/0 is just incredible.

Two years ago here, we had an amazing match together in the final, so I expect another exciting one tomorrow and I'm really looking forward to it.



Before the match, I was asked by Robert Edwards, MC to the event [aka the Voice of Squash] if I could predict the winners of those two matches. But I replied that with the level of quality of those four players, predictions were impossible.

Ramy tonight played an incredible match, probably one of the best of his career. His come back is good for Egypt, and good for the Game in general. Shorbagy as well, what a match. What an amazing athlete.

I'm here with two hats, one as the Vice-President of the WSF, and one as a representing Egypt. So of course, my heart was hoping for an all Egypt final. But I'm sure that Greg and Nick will be back next time and getting their revenge. I have the utmost respect for those two warriors, such amazing players.

I wish the best of luck to both Egyptians for tomorrow. Whoever wins, it's good for Egypt, and it's good for our sport in Egypt.


Egyptian WSF Vice-President

I tried to make a big statement in the first as he had won the first game the last few times we had played.

If somebody can explain to me what happened at 8/9, I would be grateful. I don't want to make a song and dance about it because there was more to the match than that but have you seen anything like it???

I am a fair player, so I don't play a loose shot like that for no reason, it just landed in the middle of the court! So I can understand a let, fine, and if the video ref is not sure that it's a stroke, that's stays as a let. But how can it be a no let????!!! Actually, it was so confusing I actually went "let, for whom???" Real question mark on that one.

First game, very close, second game, totally outplayed, but first and third, I was disappointed how quickly I lost those points when I had the lead.

You kow, when you've got the talk, you've got to back it up. And he certainly did that tonight. He was on a roll. I tried and take him off that roll, but I just couldn't.

I don't know how many I've got left but I want to end my career on a high, I don't want to embarass myself!

Lost out to the better player tonight. Disappointed to lose the title of World Champion but proud that I'm still in contention for the World title at 34 when I'm past my peak!