01-Mar-09:
SCHOOSH FEVER
the latest Italian emotion!

Franca Sella is a former Hong Kong champion and Masters champion, who played for many years in the same team - "The Birds" - as Heather (Mrs HK Squash, now WSF Vice-President) Deayton. She is now happily retired in Camerino, Italy, and happened to hear that the university there was planning a squash court in their new sporting complex, the first University in Italy to do so.

Well, there was no holding her back - one court and one lady and we have Squash Fever in Camerino!

Franca has been providing a "free introductory trial offer" to all and sundry (three one hour lessons to get the keen ones into games, one hour sessions to straighten out anyone already booking court time of their own accord, and all into mini-round robin boxes as soon as they can start).

Franca's target was to touch 50 people in two months but it seems she will have contaminated more like 70 in that short space of time.

What next for Franca? A squash summer camp for youngsters comes readily to mind, but we simply need more courts around ... watch this space!


Squash - lo sport della passione! Indeed.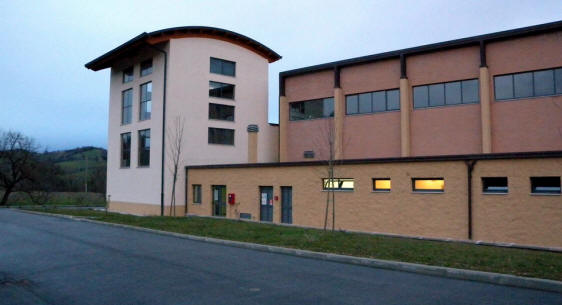 17-Feb-09:
Squash Eyes 2016
Olympic Dream
From Around the Rings

The sport of squash yesterday moved a step closer to its goal of becoming one of the sports included in the Summer Olympic Games, as the World Squash Federation (WSF) submitted its response to the 80–question Olympic Programme Review questionnaire.

Squash, played in 175 countries by over 20 million people, has made a strong case for itself by virtue of the fact that it can be easily integrated into the Olympic Games, wherever held. Requiring just two glass courts that can be located anywhere, it is an extremely cost effective and highly exciting spectator sport. Few can doubt the skill and fitness required to play at the top level.

Squash can also state with certainty that an Olympic medal would be the highest honour in the sport, bar none. This is further endorsed by the fact that all of the sport's top players have signed a pledge to compete at the Olympic Games if selected.

The questionnaire responses highlight how Squash can help take the Olympic Games into new markets; many of the sport's top players hail from countries which do not traditionally produce Olympic medalists. The World Champions come from countries which managed just two Olympic medals between them in Beijing (Egypt and Malaysia).

Surprisingly squash has never been an Olympic sport, though it narrowly missed out in the run-up to the London 2012 Games. Squash will be competing against six sports for one of two possible places for new sports in the Olympic Programme for the 2016 Games.

Scott Garrett, Squash 2016 Bid Team Manager said, "We are delighted with the case for squash which we have put forward in our questionnaire responses and we are confident that we are able to present strong arguments in all areas.

Added Mr N Ramachandran, President of the World Squash Federation, "Our questionnaire response is a document of which we can all be very proud."

The IOC Executive Board will meet to review all of the seven sports' submissions in June and will put their recommendations to the remainder of the IOC who will vote on which sports to include in October.



Olympic Ambassadors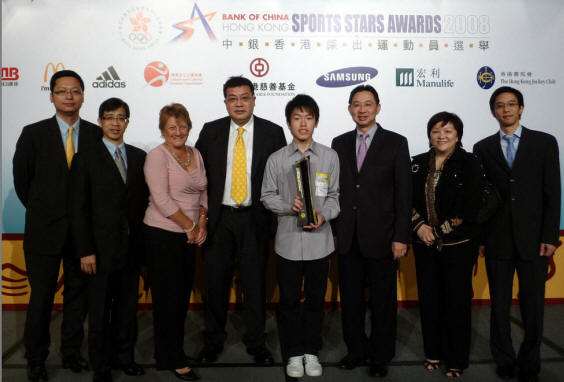 17-Feb-09:
Leo scoops top HK award

Congratulations to Leo Au Chun-ming who won his first "Hong Kong Junior Sports Stars Award" organized by the SF&OC HK, China.

Leo who is the Hong Kong Junior no. 1 and Hong Kong Senior no. 4, performed extremely well throughout 2008 winning his Asian Junior title in Korea, winner of the National Junior Series 1 & 2 in Australia, Hong Kong Junior Open BU19 and the HK Junior Closed BU19.

Well Done Leo!


05-Feb-09:
Simcock & Norman
honoured in New Zealand

Squash achieved a notable double in New Zealand this week when Susie Simcock and Ross Norman were honoured at the annual Halberg Awards dinner in Auckland.

The established awards event – shown live on national television – recognises outstanding achievements by New Zealand sportsmen, women, teams and coaches over the previous 12 months.

Susie Simcock, a National Olympic Committee board member for more than 20 years, became the first woman to receive the Leadership award.

President of the World Squash Federation for a maximum six-year term from 1996, Ms Simcock is Chairman of the WSF's Olympic Affairs Committee and is playing a leading role in the sport's bid to join the programme for the 2016 Olympic Games.

Ross Norman was inducted into the New Zealand Sports Hall of Fame. The 1986 World Open champion is the second squash player to receive the honour, behind the legendary Dame Susan Devoy, who was inducted in 1993.

Indeed it was Devoy who attracted much of the media attention associated with the sport in the mid 1980s, when Norman upset world number one Jahangir Khan to grab a piece of the limelight for himself. Khan had not been beaten in five and a half years, before the kiwi world number two's 9-5, 9-7, 7-9, 9-1 victory in the final of the World Open in Toulouse.

It was the highlight of a sensational year for Norman, who scooped several other titles in 1986 including the French Open, Irish Open, European Open, German Open and the New Zealand Open. Norman represented New Zealand at the World Team Championships no less than six times, never finishing outside the top five, with the best result second place in both 1985 and '87.

Norman now lives in England, but had no hesitation in returning home to accept his induction into the hall of fame. "It is an honour and a privilege to be recognised in this way, and it is truly the icing on the cake as far as my squash career goes. Some incredible athletes have been inducted in the past, and it is humbling to be honoured along side them.

"When you are playing sport at the top level, you are aware of the possibility that awards may come your way - but I haven't been competing internationally for some 15 years, so this is a bit of a shock."



31-Dec-08:


Rebecca in HK top 20



On the day that the UK's New Year honours list is announced, which includes awards for all 19 gold medalists from Beijing, news that Rebecca Chiu has been included in Hong Kong's "20 Best Athletes of 2008", organized by the HK Sports Press Association Ltd (HKSPA).

HK's top athletes past and present were honoured at a ceremony marking the 20th anniversary of the HKSPA. There were 73 candidates from 23 sports who had great achievements in representing Hong Kong from 1998 to 2008.

The winners were voted by the HKSPA committees, and the other 19 winners were from sports such as table-tennis, badminton, fencing, cycling, soccer, triathlon, windsurfing, wushu, basketball, snooker and bowling.

Well done Rebecca ...


31-Dec-08:


Jansher's father passes away in

Pakistan



Air Chief Marshal Tanvir Mahmood Ahmed, President Pakistan Squash Federation, Air Vice Marshal Asim Suleiman, Senior Vice President PSF and the staff of Pakistan Squash Federation conveyed heartfelt condolence to Mr Mohibullah Khan, Mr Atlas Khan and Mr Jansher Khan on the sad demise of their father today.

In a message of condolence, President PSF and other PSF officials prayed for the departed soul to rest in eternal peace and for his family to have courage and strength to bear this irreparable loss.

The PSF officials also offered condolence to Aamir Atlas, Farhan and Mr Mehboob Khan.

BADMINTON England scoop £20.8million
Sport England award ...

BADMINTON England today took a giant step towards delivering its promise to develop the game at club level like never before after receiving a Sport England award of £20.8m spread over the next four years.

The funding, which is an increase of £7.5million on the previous four-year period, comes just two weeks after receiving £8.6m from UK Sport's Elite Funding Programme geared to producing Team GB badminton medallists at London 2012.

The Sport England award is crucial in helping BADMINTON England achieve its goals in getting more people playing the sport at school, club and community level as well as at the Elite end of the game.

Just a week ago badminton emerged as the most-played racket sport in Sport England's Active People Survey. Now BADMINTON England have the chance to push even further forward.

Full story and more badminton news what about squash, we say ...

| | | | |
| --- | --- | --- | --- |
| Shorts #25 | Shorts #24 | Shorts #23 | Shorts #22 |