TODAY daily reports from St George's

Wed 21-Oct, Day THREE, Round One:

[Q] George Parker (Eng) 3-0 [8] Olli Tuominen (Fin)
11-7, 11-9, 12-10 (40m)
Charles Sharpes (Eng) 3-2 [7] Nasir Iqbal (Pak)
11-5, 7-11, 8-11, 11-9, 16-14 (80m)

[Q] Kristian Frost (Den) 3-1 [5] Raphael Kandra (Ger)
6-11, 11-6, 11-9, 11-7 (61m)
[2] Chris Simpson (Eng) 3-1 [Q] Peter Creed (Wal)
11-4, 11-4, 9-11, 11-6 (57m)

[1] Daryl Selby (Eng) 3-0 [Q] Ben Coleman (Eng)
11-8, 11-9, 11-5 (51m)
[4] Lucas Serme (Fra) 3-0 [wc] Charlie Lee (Eng)
11-4, 11-6, 11-9 (35m)

[3] Tom Richards (Eng) 3-2 Henrik Mustonen (Fin)

Jens Schoor (Ger) 3-2 [6] Joe Lee (Eng)
11-6, 8-11, 11-6, 5-11, 11-6 (66m)

Four seeds toppled at St George's
(but top four through ...)

Qualifying complete, it was on to the main draw of Surrey's biggest ever squash tournament today, with plenty of home interest, and while the top four seeds ae it through to the quarters, all four 5/8 seeds were beaten.

The day started with three successive upsets as George Parker, Charles Sharpes and Kristian Frost all took seeded opponents.

Qualifier Parker outplayed veteran Finn Olli Tuominen to win in straight games, Sharpes produced 'the best win of my career' in a tempestuous five-game (and 77-decision encounter with Nasir Iqbal, and Frost, also a qualifier, came from a game down to delightedly beat Raphael Kandra.

Second seed Chris Simpson became the first seed to progress as he subdued lively Welshman Peter Creed in four games, followed by top seed Daryl Selby, who ended the run of qualifier Ben Coleman in straight games.

Wildcard entry Charlie Lee, one of two sons of promoter Danny Lee in the draw, put up a good show against Lucas Serme, and fourth seeded Frenchman was relieved to get through in three games.

A fourth upset looked on the cards penultimate match of the day as third seed Tom Richards faced two match balls in the fifth against Henrik Mustonen, but to the delight and relief of the crowd Richards took four points in a row to get through 12-10.

There was no great escape for St George's Joe Lee in the final drama of the night though, as Germany's Jens Schoor knocked out the sixth seed in another five-setter to finish the day as it started, making it four upsets out of eight.

[Q] George Parker (Eng) 3-0 [8] Olli Tuominen (Fin) 11-7, 11-9, 12-10 (40m)

GEORGE: A VERY MATURE PERFORMANCE

Impressed with this young player, I have to admit. Today, the young 19 year old WR 98 played a superb and accurate squash against 36 years old ('I'm two months older than Shabana') Olli who is just coming back on the PSA Tour after a poor season due to a recurring calf injury.

"It's a bit of everything really", said Olli. "He played very well, and I was not early enough on the ball, a bit slow to move and loss of confidence."

Yes, Olli was not at his sharpest today, but it's probably a lot of credit to the "I'm taking you to the throat and not letting go" from Parker to be fair. Olli could have gone away with a lot thanks to his experience and height variation, but George was picking up a lot of good shots, lobbing superbly and moving pretty well, forcing Olli to go for a bit too much from a bit too far away.

First game was all Olli to start with, 4/1, 6/3 only to see George closing the gap 4 points in a row. 6/6, 7/7, Olli seems a bit tired, goes for too much tin, tin, and it's the first game for Georges, 11/7.

The second will be point for point from 2/2 to 7/7. There again, a big push from the young Englishman, game ball 10/7. Olli uses his experience, a bit of nerves and afraid to win and lead 2/0 from George, 9/10…

But still, a good drop shot that forces Olli to hit the ball out of court, and it's 11/9…

The third is a close really after a good start 4/1 for the Englishboy. 4/4, 5/5, Olli uses a little drop of energy from his opponent mid game to get ahead, 8/5, 10/7 game ball.

It was not going to be. George, now with his second wind, just scores the following 5 points, helped by 4 tins from Olli… Match to the underdog…

"On the whole, I think my length was just much better today, not sure if it's because there are more people watching and it's warmer.

Also he was not volleying as much as James Earles yesterday, that helped too, and I just managed to get the ball to the back better.

Yes, like you said, it was a mature performance I thought, I didn't feel I had to go for too many winners, just play some solid squash although I could have gone for a few more volleys in the middle.

I had a bit of a tired legs in the 3rd, I had an hour and a half match yesterday, but luckily enough, he made 5 tins that really helped me back in the game!"

George Parker
Charles Sharpes (Eng) 3-2 [7] Nasir Iqbal (Pak) 11-5, 7-11, 8-11, 11-9, 16-14 (80m)

A 'FEW' DECISIONS….

As Tournament promoter/organiser/courtcleaner/tournament Ref/food provider Danny Lee stated in his aftermatch interview, "this is the kind of squash we are trying to step away from".

"It's one of those things that cannot be avoided sometimes, a bit of traffic problems in the 5th, because we both want it sooo much. It's not easy or nice for the spectators I know".

Yes. Not that pleasant of a match at times with sooo many decisions [77], conduct warning for dissent, physical squash, etc. You name it? We had it. Far too many unforced errors as well, especially from Nasir, who was pushed to make the error as he run out of solutions when BullDog Sharpes would just lengthen the rallies and pick up/redrop everything….

Rewind …

First and second game, Nasir 5 unforced errors in each game, with Charles completely dominating the long rallies, 0 UE from Charles in the 1st, but creeping in 4 in the second. 11/5 Charles, 11/7 Nasir. Ball in the centre, we start again….

The third is a much better game from Nasir. Only 2 unforced errors, Charles is a bit tired from the hard work he has produced picking up short game during the first two games, despite a good start, 4/1, then a solid 8/5. Suddenly a big drop of energy, and the Pakistani scores 6 points in the row, 11/5!

We all think that's it, a good run for Charles, good effort, but the difference of ranking (44 to 61 is starting to show), especially as Nasir is leading 9/5 and very close to match ball! But this time, it's Nasir that loses the mental finishing post, losing the exact same number of points, 6, to lose the 4th, 11/9.

During that fourth, the commenting from Charles is getting a bit too present for his own good, and he is warned by John Massarella to calm down, even getting a conduct warning for dissent, then for using of excessive force. It's all happening…

The 5th couldn't have been closer, intense rallies, but so many stoppages, soooo many decisions, including 4 No Lets for Nasir, and 5 for Charles! Maybe the difference comes from the number of mistakes, 6 for the Pakistani, 2 for Charles…

In that 5th, Nasir got more and more frustrated, both with his opponent and the ref, even getting an "conduct warning for descent" after he started "Why, is it a stroke? Because I'm Pakistani, that's why", only to see Charles getting penalised the next point with a conduct stroke for pushing his opponent, so we jumped from 7/9 to 9/9, Nasir to serve!

From that point on, we had a looooot of decisions, a few no lets, testosterone, drama and emotions, plus 4 match balls for the Pakistani, while Charles clinches the win on his second match ball.

So, not the fluid of matches, with Nasir leaving the court without shaking his opponent's hand, but where we still had some very intense/fast pace squash, with both players being extremely fair, Charles calling his ball down at 11/11 in that 5th, only to see Nasir doing the same on match ball, 13/12. In the middle of it all, they both were very good and honest, bless them.

It's probably the best win of my career, although it's not the best squash of my career by far.

But I've learned to win matches like that, when I'm not playing at my best, it's all about consistency, and knowing I can play better, which is a good thing.

It's not that pleasant for the spectators, but sometimes, it cannot be avoided, especially in the 5th, we just both wanted so much, and with the tiredness, the movement can be a bit laboured.

Very happy to get a win today.

Charles Sharpes
[Q] Kristian Frost (Den) 3-1 [5] Raphael Kandra (Ger) 6-11, 11-6, 11-9, 11-7 (61m)

Frost steps up

After dropping the first game to opponent who able to dictate the pace of the match through his accurate play, Denmark's Kristian Frost upped his game, upped the pace, and stayed on top for the next three games to become the second qualifier in three matches to make the quarter-finals.

I'm really happy I found a coach I can really relate to, he reminds me a lot of myself actually, he loves the game so much he is so keen… We are both a bit direct sometimes, we say what we think not much of a filter!

Today, I think I gave it away a bit too easily in the first game, my shots wouldn't come off, he was volleying too much and I couldn't get it pass him. So in the second and third, I hold the ball a bit better, and created a few opportunities especially on the forehand corner.

I'm truly happy with the way I played, especially with the fact I'm playing shots I didn't before.

I'm more dangerous at the front, which means that my opponent has got to keep guessing where the ball is going and having to anticipate going to the front, whereas before, I just stayed at the back! It makes it more difficult for them.

Of course, happy with the win, but the tournament is not over yet, got to refocus for tomorrow's match…

Kristian Frost
[2] Chris Simpson (Eng) 3-1 [Q] Peter Creed (Wal) 11-4, 11-4, 9-11, 11-6 (57m)

ENTERTAINING MATCH!

A bit of a strange match that one, but so entertaining, with Chris controlling pretty much the first two game, 11/4 twice, Peter running a lot, retrieving everything, and volleying nicely, but Chris just too accurate in the back corners.

A complete change of momentum in the 3rd, with Pete going quite fast to 5/1, a very fast pace, Chris having to visit the 4 corners again and again, lots of volleying and height/angle variation from the Welsh LittleDevil.

Chris comes back way in it, 6/6, 7/7, 8/8, 9/9, but tins the last three points from 9/8 to lose the 3rd 11/9.

The 4th, Chris in back at the helm, 4/1, 6/2, 8/3, thanks to a few errors from Peter, who is now probably paying the efforts produced the two previous days plus the start of the match. Chris weathers the last shoot out from the Welsh, and finally takes a truly nice match 11/6 in the 4th, very few decisions, no discussions, just hit, run, volley, and retrieve.

Quite refreshing.

I don't think the third has anything to do with me and what I did or didn't do, but it was all down to him. He came back on throwing caution to the wind, two love down, nothing to lose and maybe a bit disappointed with the way I was controlling the game in the first two games.

He volleyed much more, and when somebody changes his game completely like that, it take you a while to adapt and react to it. I think I was a bit unlucky not to snatch it at the end, but I tinned three shots!

In the 4th, I tried not to panic and just came back to playing at my own pace.

We've been playing since the juniors and in a lot of league matches, he beat me in practice, but never in an event. But I know how dangerous of a player he is, he is quick and small, and if you play in a certain way, he just loves it.

You've got to stop him playing that running game. Because I won't beat him at that game. Some people might, but not me!

Chris Simpson
[1] Daryl Selby (Eng) 3-0 [Q] Ben Coleman (Eng) 11-8, 11-9, 11-5 (51m)

BEN QUIET

"What have you done to the Real Ben" I smiled with David Campion who was sitting next to me during the match. Well, the other Ben I know can be a bit chatty and losing his focus. But tonight, none of that. A very focused young Ben, that truly pushed Daryl who just couldn't relax until the last shots in the third game.

Ben is inspired by Daryl's game, and it made it a nice fluid flowing match, with lovely drive kills, feathery volley drop shots and a lot of twisting and turning, as it happens when you know somebody's game quite well.

If the first was dominated by Daryl, 8/4, 9/6, with Ben pushing hard at the end to only lose 11/8, the momentum was with the contender in the second, 6/2. But Daryl never panics under any circunstances.

He just kept finding his targets at the back, and created opportunities that made Ben run a heck of a lot. 6/6. 7/7, 8/8. 9/9.

A very hard long rally there, where Daryl gave a let as he was not sure about one of his pickups, 10/9 eventually then game Daryl 11/9, that was the turning point mentally and physically for Ben, who suffered physically and mentally in the 3rd, 9/4, 11/5, two tins to finish for the young man.

A truly lovely match, truly and utterly enjoyed it.

"It's fantastic to play on the glasscourt, it's good for the UK young players and players like myself to have another glasscourt to train on, there are very few in the UK, so being able to play events on there is a good preparation for the big tournaments in the world that are now all played on the glass.

This one is a bit different, I couldn't explain why, but I just enjoyed winning on it!

I'm like a big brother to Ben, he knows he is playing better when he is keeping quiet, he is working on it, we've all been there when we were young, in time you learn, I was the same when I was a younger player, I've learned, he is, and he is improving.

It's the kind of tournament, you look at the qualifying draw, and you think you are going to end up playing each other because it always happens somehow, the Egyptians that train together play each other, the French, so because Ben and I train together, we were bound to play against each other!

He pushed me very hard for two games, that's really good. He just won a 10k a few days ago, and that proves how well he can play, an I had to be on my guard. Getting a 3/0 win at the beginning of the tournament is a big bonus too.

So good to have a $25k in the UK, there are so few of them, we need more of those, there are a lot of young players from the UK, and from Europe more generally that can come and play, so well done to Danny and his team, and everybody involved for organising such a tournament. I feel happy just to be part of it."

Daryl Selby

He is really a good friend of mine, and he has helped me a lot, with his professionalism, his approach to the game, I am still learning from him, he helps me to keep quiet, and I owe him a lot, but tonight, I'm just disappointed I lost to him…

Ben Coleman
[4] Lucas Serme (Fra) 3-0 [wc] Charlie Lee (Eng) 11-4, 11-6, 11-9 (35m)

CHARLIE RELAXED.

I would second what Lucas said. Charley is one to watch. I love the way he moves on the court, and how free his arm is. He goes for shots, without being silly and junior about it, he thinks well, has got a good game plan, and lovely shots.

He needs to get a bit of padding bless him, a bit too lean still, although it didn't do Jansher any harm to be fair. But once he gets a bit stronger - he got a bit out of breath in the middle of each game - I feel he may hear a lot of him, as he has a good sense of where the ball has got to go to hurt his opponent!

Really, happy with the young English boys I saw this week. A lot of potential there.

As for Lucas, he was a bit lucky to get away with a 3/0 there, Charlie was pretty close to taking that 3rd, at 9/9, it's anybody's game, we had some pretty hard rallies, and it's on a stroke that the French boy takes the match…

From what Ross [Norman] was saying after the match, when you play against those top players, the opportunities get less and less, so when you managed to have some, you've got to be more aggressive, whereas I managed to only hit the ball back to him.

In the third game, I managed that, to be more aggressive from the start, and it surprised him a bit I think, it worked for me. I was close in that game, pity I didn't manage to snatch it.

What I learned today? That I need to get fitter and stronger! My shots were quite accurate, I'm happy with that, and I'm fit, but not enough to match that level…

Charlie Lee

He played very well I thought, but I was lucky he didn't have much experience at that level, that probably made the difference tonight.

I went for too complicated, I crosscourted too much, the court is a bit bouncy, and I was struggling to find my marks to start with, eventually I managed to get a better length and some width to some extend, but I'm lucky he made a few errors at the end.

He is really one to watch… And closely…

Lucas Serme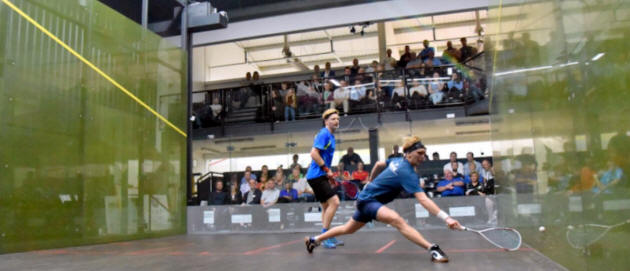 [3] Tom Richards (Eng) 3-2 Henrik Mustonen (Fin)
7-11, 11-6, 8-11, 11-7, 12-10 (51m)

SHOOT OUT!!!

Not sure we had more than 10 rallies that went over 10 strokes the whole match! Ok, maybe I'm slightly exaggerating – as if it was my style – but honestly, it was a bit of a ridiculous squash out there, length and up and down the wall, are not commands that either player have in their vocabulary to be honest!!!

It was great, although the pace they were playing at forced them to make a large amount of errors (Henrik made 7 in the second game only), but they both worked extraordinary hard out there, moved both extremely fast – not to say they flew from one corner to the other one – hit very hard indeed, and found/retrieved sublime little attacks. I think the walls will remember a long time the beating they took tonight!!!

The fifth is a classic, 2/2, 2/2, 3/3, 4/4, 5/5, 6/6, 7/7, 8/8. Henrik gets his first game ball after a tin from Tom, 10/8. The pace is getting even higher, didn't think it was possible, and Tom just goes for it, Henrick is giving it all too, but it's the Englishman that will score the last 4 points, clinching the match 12/10 in the 5th.

Never in doubt…

He is so dangerous in the middle, he volleys everything. I didn't find my length the whole match, I felt I was all over the place and that I mishit everything! I had to dig deep mentally, not physically, and I feel I stayed strong mentally.

Maybe 4 or 5 years ago, I would have thought, well, where do I go from there, this time, I knew that I had to change my game completely, it's never a nice thing to do, but it had to be done.

Good to get a blow out!!!

Tom Richards
Jens Schoor (Ger) 3-2 [6] Joe Lee (Eng)
11-6, 8-11, 11-6, 5-11, 11-6 (66m)

THE PRESSURE WAS ON

Yes. Joe was having to deal with a lot today, as he was playing in his club, on "his" glass court, with his dad organising – brilliantly I might add – the tournament, with his brother just having performing extremely well against Lucas Serme a few minutes before.

Not an easy task.… And to be fair, it could have gone either way, like Jens said; there was nothing between the players right until the end, very few unforced errors from either player, both moving very well, attacking at will, retrieving beautifully, very fair, good spirit, a really good match to watch.

At 6/6, it's anybody's, and that's when Jens plays his best squash really, all the shots came off, Joe just couldn't stop the run of points, and it's the German that scores 7 points from 5/6 all the way to 11/6.

A huge shout from Jens, that victory truly meant a lot for him… Probably as much as the defeat means to Joe…

It was tough for sure. He played very well, it was a fair match, and a good win for me.

It's the first match of the event, playing on the glasscourt, we were both looking for our marks on there, trying to get used to the conditions, the court, the pressure. But I still feel we played well, both of us.

From the start, I knew he had more pressure than me, playing in front of his home crowd, where I was pretty relaxed. That played a big part today, the fact I was unseeded, and he was expected to win.

In the fourth, Rafa warned me he would come out blasting off, but I didn't expect it that pumped up and 100%! So I was 4/0 down, and I could never catch up that gap really. He played too well, too consistent.

In the 5th, it was very close, even, 5/5, 6/6, then he gives me two easy points at the front, then I get 2 overhead winners, that gave me extra confidence. And at 10/6, you don't want to lose points, so you try and win on the first match ball.

The whole match was a battle, back and forth, the 5th was really the decider, and there was nothing between us up to 5/5, 6/6. Truly delighted with that amazing result, and as it's the first time ever I beat him, it makes up for all the matches I lost!

Jens Schoor