Great times at St George's ...
You've got those tournaments where everything goes perfect. The organisation, the venue, the matches... This first ever Clic Sargent PSA Classic at St George's is one of them.

To be fair, the club is a dream. Situated in the very exclusive St George's Hill area, with heavy security and stunning villas, the Club has been supporting squash for years.
I remember coming here for several qualifying events for major events like Qatar or Kuwait, and their PSL team is one of the best in the country - they played this year's semi-final here, a match they actually won only to bow to Duffield in the last hurdle. Next year for sure!

There are several reasons why the club is such a success in the Squash World of course, but one of those reasons is certainly the presence of Danny Lee, the squash pro here, father to Joe and Charlie Lee, both young players well known to SquashSite readers of course.


Danny is also - and very few people know this - one of only 7 people who managed to take a game off Jahangir Khan during his 555 match winning streak.

Yes. You read well. Only 7 people managed to take 8 games out of King Khan in over 5 years, and only 1 British, that was our Danny.

Needless to say he knows a bit about squash, and he knows as well how to organise a great event. Honestly, this is a $25K, and it feels like a World Series! SquashTV is here, we are here, that is already a credit to Danny's sponsoring skills bless him.

OK, there was a little hicup at the start of the event as the internet had a firewall intended to block people from downloading videos that actually blocked SquashTV (and us) from uploading our files! But it was quickly resolved, and since, everything has been running like a dream.


The club has a lot of facilities, including a glasscourt - obviously - but also lawn, indoor and outdoor tennis, a heated indoor swimming pool, a splendid SPA, gym, you name it they have it.

And the food is purely delicious. As Celia, the Squash Manager, has given us access to the menu, I've been sampling the "carte", and I cannot not mention the Bangers and Mash - well, it's not called that way, still, that's what it is - made with sausages made by a Surrey Sausage Maker that exists for 200 years! It's just one of the best food I have had in my 23 years of England...


Danny is the soul of the place as far as squash is concerned, he's been doing everything really.

From booking and organising the refs, the hotel, the sponsoring and the main organisation, he is also MC-ing the event, cleaning the court, bringing us food and drinks, labelling the VIP seats and making sure that all us involved, players, officials, PSATV, media people like ourselves have everything we need. So, thanks my dear Danny, you made this event a superb event.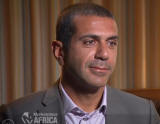 Of course, OF COURSE, this event could not have seen the light with our main sponsor, Bassim Haidar, CEO of Channel IT Group, whose daughter Talia is suffering from Leukemia.

Mr Haidar, a prominent businessman, is helping raise awareness of Clic Sargent, a Charity that helps babies, children, young people and their parents to fight against that monstrous disease we've more or less all lost a dear one to.

Please, make sure you let people know about Clic Sargent. If you don't have much to give, you could buy your Christmas Cards from the shop online, or give as little as you want. Every gesture counts. Merci pour eux.


We have got to thank Laurent Cossa and the PSASquashTV for their help this week, as they allowed us to use their internet connection, and that was an immense relief for us, so cheers guys.

Also, thanks to Howard Harding, who let us have access to his priceless SquashInfo data during the event. Couldn't do without you mate.

A big thank you to Celia, who has been looking after us all week, sorting out our troubles, printing our infos, pdfs, etc. She has been a gem really. Can't thank her enough, she made the difference between having to improvise bad solutions and working in perfect conditions.


And a huge thanks to the Refs, John Massarella (see you in Qatar next week my friend), Wendy Danzey and Malcolm Whiteley for their endlessly un-rewarded work...

As for us, this has been a fantastic time here in Surrey, and we cannot wait to come back next year....