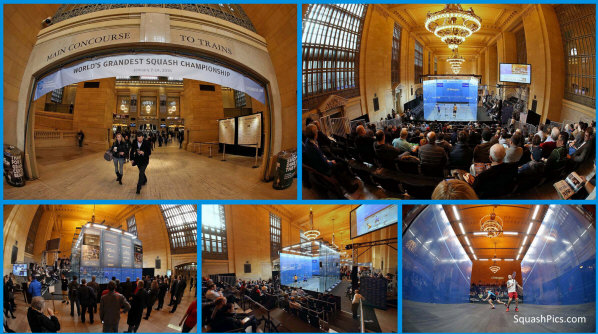 Fri 8th Jan, Men's Round One (bottom):

[3] Gregory Gaultier (Fra) 3-0 [Q] Ramit Tandon (Ind)
11-4, 11-6, 11-3 (32m)
Fares Dessouki (Egy) 3-1 [wc] Todd Harrity (Usa)
11-6, 8-11, 11-6, 11-8 (52m)
James Willstrop (Eng) 3-0 Alister Walker (Bot)
11-7, 2-0 rtd (12m)
[6] Simon Rösner (Ger) 3-0 Tom Richards (Eng)
11-8, 11-7, 11-1 (40m)
[8] Marwan Elshorbagy (Egy) 3-0 Cesar Salazar (Egy)
11-5, 11-1, 11-3 (30m)
Ryan Cuskelly (Aus) 3-1 [Q] Nasir Iqbal (Pak)
11-6, 9-11, 11-7, 11-7 (68m)
Karim Abdel Gawad (Egy) 3-2 Daryl Selby (Eng)
11-7, 9-11, 11-4, 3-11, 11-8 (75m)
[2] Nick Matthew (Eng) 3-1 [Q] Diego Elias (Per)
11-5, 8-11, 11-3, 11-8 (65m)

Plus women's qualifying finals

Thu 7th Jan, Men's Round One (top):

[1] Mohamed Elshorbagy (Egy) 3-0 [Q] Adrian Waller (Eng)
11-5, 11-8, 11-2 (30m)
Cameron Pilley (Aus) 3-0 Tarek Momen (Egy)
11-4, 11-3, 11-3 (36m)
[5] Omar Mosaad (Egy) 3-0 [Q] Lucas Serme (Fra)
11-8, 11-6, 11-4 (52m)
Nicolas Müller (Sui) 3-1 [Q] Raphael Kandra (Ger)
11-6, 8-11, 11-5, 11-1 (45m)
[7] Mathieu Castagnet (Fra) 3-1 Stephen Coppinger (Rsa)
7-11, 11-4, 11-7, 11-6 (59m)
Max Lee (Hkg) 3-1 [Q] Farhan Zaman (Pak)
8-11, 11-6, 11-4, 11-9 (43m)
Borja Golan (Esp) 3-0 [4] Miguel Rodriguez (Col)
11-6, 11-6, 11-5 (34m)
Leo Au (Hkg) 3-0 [Q] Grégoire Marche (Fra)
11-6, 11-9, 11-7 (55m)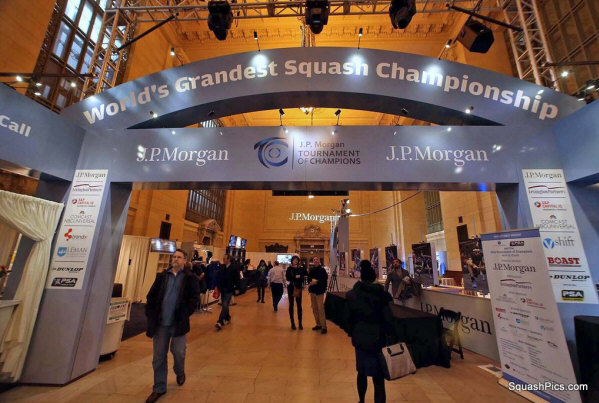 08-Jan, Round One (bottom):
Seeds stamp their authority

The second day of first round action in New York saw local favourites Todd Harrity and Ramit Tandon crash out at the first hurdle as the competition's top seeds stamped their authority on proceedings inside the iconic Grand Central Terminal.

Wildcard Harrity, the highest ranked male American player # at #52, produced one of his most notable performances to-date on the sport's grandest stage but, despite taking a game and frequently dominating proceedings during a back-and-forth encounter, couldn't find enough in his locker to overcome 21-year-old Egyptian Fares Dessouki.

"It's my first ever time here at this tournament and I enjoyed being out on the court here today," said Dessouki. "The crowd is amazing and it was good to hear them being loud and vocal today.

"I think that he probably played better than me today but I am happy to win and I need to work hard now and try and come back better for the next match."

Harrity said: "It's always special and exciting to play here and it was great to have so many friends and supporters behind me. It's always a bit edgy when playing on a stage like this and while the loss is disappointing there's lots of positives to take."

Indian World #255 Tandon, the former Columbia University student and current New York native, defeated Harvard graduate Ali Farag, the World No.22, in qualification to book an unexpected place in the main draw against World Champion Gregory Gaultier and acquitted himself with pride in front of vocal support during a 32-minute encounter.

While never true troubling Gaultier, the 23-year-old, who as a part-time athlete was playing in just his 40th career match, managed to notch up a series of points courtesy of some intelligent play, while for Gaultier it was back to business as usual as he bids to begin 2016 by winning one of the sport's most iconic titles.

"I have never played, or even seen him play before, so I had to go on YouTube to see see footage of him playing in order to prepare for the match," said Gaultier.

"I saw he was talented and I spoke to some of the guys on tour who told me the same thing so I prepared myself to make sure I was careful on court and put the ball away when I was given any opportunity.

"I had a good break over Christmas and New Year to recharge. I was tired towards the end of last year having played so many matches during the second half of the year but I feel star and fresh here so I'm looking forward to the next round an playing in front of such a great crowd in this amazing venue."

World #3 Nick Matthew, Gaultier's seeded semi-final opponent, began his campaign by navigating a tricky encounter with Peruvian teenager Diego Elias, the current World Junior Champion, who showed just why he is billed as a future World #1 as he stuck with Matthew throughout the 65-minute battle.

It was Matthew's unrelenting physical style and his ability to retrieve and extend rallies that made the difference in the end as the exertions took their toll on the youngster during the latter stages of the match as Matthew pulled away to secure his place in the second round 11-5, 8-11, 11-3, 11-8.

"I've seen him play and I've trained with him before but he surprised me tonight with how well and how long he managed to stick with the pace and hang in the match," said Matthew.

"He showed a very mature all-round game and the quality of his play on the back foot was impressive. In the next round I need to make sure that I step on the gas when I'm ahead in games and not allow the opponent a chance to get back into it.

"All credit to him for how he fought back, especially in the second, but certainly a few things for me to work on ahead of the second round."

Elsewhere there were wins for Simon Rosner, Marwan Elshorbagy, James Willstrop, Karim Abdel Gawad - taken to five by Daryl Selby - and Ryan Cuskelly.

And as various New York clubs women's qualifying concluded with significant upsets for Mariam Metwally and Deon Saffery

results and updated draws

07-Jan, Round One (top):


Golan downs Rodriguez in round one upset

On the opening day of action in the iconic setting of New York's Grand Central Terminal it was Spaniard Borja Golan who stole the headlines as he knocked adopted crowd-favourite Miguel Angel Rodriguez out of the World Series tournament at the first hurdle.

World #5 Rodriguez, returning to the scene of his 2015 heroics when he downed Gregory Gaultier en-route to a maiden World Series semi-final appearance, found himself on the receiving end of a performance of clinical precision from 33-year-old Golan.

It took the World #19, who wasranked as high as #5 just 18 months ago, 35 minutes to complete the straight-games win against an under-par Rodriguez who cut a dejected figure as he left the court in front of a subdued crowd who had taken the 'Colombian Cannoball' to their hearts twelve months ago.

"I'm really happy to win today," said Golan. "This is one of the biggest tournaments on the circuit and the first event of 2016 so to start by beating a player of Miguel's ability is a good confidence boost for me.

"I'm very pleased to be in the second round and I'm just going to focus on the next match and not look too far ahead."

Golan will now take on Hong Kong's Leo Au in the second round after he and compatriot Max Lee impressed during first round wins over Gregoire Marche and Farhan Zaman

Defending champion Mohamed Elshorbagy began his bid to retain the title with a comfortable straight-game win over England's Adrian Waller in just 30 minutes.

"Adrian is a good player and we have had some very tough matches in the past so I knew I had to play well today and I'm happy I was able to do that," said Elshorbagy.

"I started 2015 in great form here by winning this trophy so I'm hoping to start 2016 in the same fashion and look forward to playing in front of the fantastic crowd here in New York once again in two days' time."

In the opening match Australian Cameron Pilley, who lost out to Elshorbagy in Hong Kong in his first ever World Series final, continued his recent resurgence with a comfortable win over Egyptian Tarek Momen.

"I finished 2015 in some of the best form of my career and with three of the biggest wins I've ever had," said the 33-year-old from Yamba.

"I'm not really sure exactly what is going on but I made some changes to my game and things just seem to be going well for me. I didn't have a long break over Christmas and New Year. I tried to keep in shape and I'm delighted that I was able to play so well today and turn the tables on him, because he normally beats me 3-0!"

Elsewhere there was success Nicolas Mueller and fifth seed Omar Mosaad, both beating qualifiers, while Mathieu Castagnet was the only one of three Franch players to progress as he came from a game down to beat Steve Coppinger in the longest match of the day at 59 minutes.

No sweat for seeds in Women's qualifying

Meanwhile the women's event got under way with ten first round qualifying matches at various clubs in New York. All the seeded players won through to the qualifying finals although Canadian pair Nikki Todd and Hollie Naughton were both taken to five.