As-it-happened reports 2015

we're not there, but we can watch some matches on SquashTV ...
Semi-Finals
Quick impressions
Massaro / El Welily
A few nice winners from both girls, Laura very accurate at the back, and Raneem at the front - nothing new there. Up to 6/6, very close but Raneem finds her groove at the business end of the game, 11/7 in 8 m.

Second game is 4m, 9 winners for Raneem for 1 Laura, the Egyptian really run away with the game, impressive so far. Is Laura paying for her hard match yesterday against Cam? Or is she going to repeat her amazing come back? Stay tuned...

Well, she should well be! After leading the whole game, she is overtaken at 8/8, then saves 2 match balls at 10/8, and takes the game on her second game ball... Nailbitting stuff...

Well, not tonight Josephine. A very good start for Laura, after a nice hiccup from the Ref that kept calling Laura "Massero" bless him - a few years ago, he massacred the name Elriani in Chicago until Laurent exploded - that confused Raneem and everybody in the audience. Still, from 3/0 down, Raneem found the groove she had in the first two games, and if the game was pretty close, we could feel she was not as nervous as she was in the 3rd. 10/6 game ball, ending on a stroke, confirmed with the 4th official.

El Sherbini / Waters
A very good and balanced/close first game, don't believe the score, nice rallies, with Alison finding some lovely wrong footing, but Nour making the court very big for her opponent. A few errors - it wouldn't be Nour if she wasn't making those - but more winners for now. 8m, 11/8.

Double time for that second game, 16m with again not much between the players but the errors (4 for Nour, 1 for Ali, 8 winners each). A beautiful game, hard hitting from both ladies, and varied height and angles. Nour had a chance to take the game after a huge rally at 9/9, but it's Ali that takes it 12/10. Nice game truly!

8m third game, dominated by Nour, and Ali having to cover soooo much distance poor mite. Nour just seemed to relax after the loss of the second, and Alison never really put a foot wrong, just kept fighting at all time. 11/5 Nour.

11 minutes, far too many errors from Nour, that led Ali to set up a few game balls at 10/5. That's when Nour decided to cut on the errors, and claws back to 9/10. Alison finds a superb backhand drop shot to close it 11/9... That was close....

The 5th will be an amazing game, with I'm afraid to say some extremely poor decisions at crucial times. Still, beautiful come back for Ali who was down and out 8/5, manages to claw back 8/8. Nour gets three match balls, 10/8, 9/10 and 11/10, but it's the Battling Ali that makes it to the finish post, second upset in two days... 13/11... Stats wise, 31 winners each, 14 UE for Ali and 17 for Nour..
Day Eight
Quick impressions

Massaro / Serme

Blimey, the time I went to the kitchen to make a cupper at the start of the match, I heard, game ball!!!! Apparently, game lasted 6m, a few errors from Laura, only 1 for Camille on her first game ball at 10/2.

If the second is a bit longer, 10m with longer rallies, Laura still doesn't seem on court yet - wrong choice of shots, errors - while Camille plays a clinical squash for now. Much better for the English lady in the 3rd, more assertive, less errors, and dominating the middle of the court at last. Cam lost her power and accuracy in the game, fought to save 2 game balls, but serves out at 7/10...

At 3/0, 6/2 up, Camille seems like walking away with a 3/1 victory, but a few errors from the French, a bit of fistpump from Laura, the English lady being more assertive, and a nice turn around 11/7 for Laura.

Fifth is a superb demonstration of squash intelligence and guts for the English lady, leading by at least two points from the middle of the game. As they say, it ain't over until the fat lady sings...

El Welily / Sobhy

In 6 minutes, game sor'ted Raneem, plenty of winners (7) for only 2 errors. World number 2 looking good so far.

Same story in the second, Welily dominant for 11/5 again.

Complete turnaround in third, Sobhy dominant for 11/2, but Raneem reasserted in the fourth, starting firing in the winners again, was soon 10/2 up and after just under half an hour of play finished off the match 11/4.
El Sherbini / El Tayeb

Not easy playing one of your best mates, but Sherbini very solid in this opening game, with El Tayeb opening the court a bit too much, 6m, 10/3, 11/5.

Amazing second game, don't think I ever saw women hitting that hard that consistently!!! So disputed, and yet, nobody blocks or run into the other's back, spotless squash. El Tayeb was cruising 9/5, Sherbini found some amazing rallies/winners, scored 6 points, 10/9, but a crucial error, 10/10 and El Tayeb closes it out 12/10. Whaaaa, what a great match.

No messing about for Sherbini, 6m, 8/0 and 11/3. Powerful and impressive. The 4th is just ridiculous of stunning squash, 21m of pure joy, with Sherbini again up 8/3, and El Tayeb just get in 7th gear, exhibition stuff at time, good length, 7 points in a row to get to 10/8 game ball. Sherbini forces extra points, will get a first match ball at 11/10, saved.


11/11, Tayeb concedes a not up that gives her opponent a second match ball, but a tin sorts that one out! And the finish, game ball for El Tayeb, 13/12, and recovering from a split, she gets a stroke as she is still on her way up, confirmed by video ref! Exhibition, amazing, LOVING EVERY SECOND...

Fifth about the same caliber, with El Sherbini zooming 6 points to reach 7/3, but as ever, Gutsy Diving Tayeb clawing back to 8/9. Sherbini gets her 3rd match ball at 10/8, but will finally close it down 11/9 on her 4th. Superb match, watch the replay!!!!
Matthew / Rosner

Those two start with heavy hitting, fast pace squash for this 22 minutes opening game. A few uncharacteristic errors for Nick, very close the whole way. Nick has a game ball 10/9, but it's the German that finds the winner on his own game ball, 12/10.

Superb response from the 3 times World Champ, 8 minutes, making every point count, faster, harder, more accurate. Simon just didn't have much to say/do in that one, too good. 11/4. And the work pays off dividends in the 3rd for the Englishman, as he manages to score 7 points in a row, to reach game ball 10/5 - Simon giving him 7 tins bless him. The German fights but finally bows 11/7.

The 4th will see Simon fighting in the middle of the game to try and stay with the score, from 2/7 to 5/7, but Nick is on the war path/taking no prisoner and it's soon 11/6, 3/1.
Day Seven
Waters / Teran
Alison was leading 3/1, Sam came back, quite a close middle of the game, but from 6/6, it's all the Mexican, planted in the front, with a few errors from Ali, 11/6...

And funnily enough, it's the reverse in the second! If there wasn't more than 1 point up to 6/6, this time, it's Ali that steps in front, and within seconds, she is walking out of court, 11/6.

Third, just too good for Ali, 8m, 11/3 and pretty much the same in the 4th, with maybe Sam getting a bit tired.


Shorbagy / Golan
A very relax and focus Egyptian, 13m, dominating throughout, with Borja still fighting coming back from game ball 10/5, but Mohamed too relaxed, 7 winners, 11/7.

Second is much better for Borja in this one, with Mohamed making 4 errors at the start of the game that kept Borja in the loop and confident. If Mohamed goes 7/4 up, Borja found his game there, 7/7 - only to be hard done by with some strange decisions (in my opinion), Mohamed lucky to get away with it on this occasion, 11/9 in 17m.

Third is as fast and disputed, Borja really finding some amazing shots (particular backhand), Mohamed found some truly great squash - he had to to beat Borja today. Great also no chat with the refs and very few decisions. Good advert for the game.
Day Six

Tayeb/Lust

Tayeb took early control, pouncing on anything short from Lust to take the opener 11/5.

The English qualifier started the second well, leading 4/0, but Tayeb recaptured the initiative and started finding those winners again to double her lead 11/6.

There was no let up in the third, with Lust struggling to find any depth or penetration and Tayeb's shots still going in as she closed out the match 11/2.


Sherbini/Au
A quickfire first game, with nor rallies of any significance, plenty of powerful hitting from Sherbini and a few errors from Au as the Egyptian takes it 11/3.

A rapid start for Sherbini in the second for 5/1, Au starts to get into it as she levels 5-all, but Sherbini reasserts to take another quick game 11/7.

A more competitive third game, with Au taking the lead 6-4, but Sherbini powers back, striking the ball well to close it out 11/7.


Low /Sobhy

Very contrasting styles, with winners of Amanda (8) making the difference for now, 11m game, with the American was leading from 3/3 9/4, 10/5, 11/7.... Contrasting second game, where the style/lines from WW prevented Amanda from attacking. The Malaysian dominated from start to finish, 11/5.


Third was a "retournement de situation", turn around, where the American was down 5/1 to overtake her opponent at 6/6 and went straight to 11/6, by moving Amanda much more than she was able to before. 10m. Annnnd anything you can I can do better style, Amanda made the same turn around - 9 winners for Amanda - where she looked lost at the start of the match, but from 7/7, it's all about the American, 10/7, 118.

It will be the Turn Around match that one for sure, as again, Wee Wern was up, comfy it seemed, 7/5, but 3 tins out of nowhere really in a row, and confidence grew for HomeGirl, who walks away with the next 6 points, 11/7, match USA.

El Welily/Kawy

A very short first game, with Omneya making a bit more errors, and very short rallies, Raneem led the whole way, 5/2, 9/4, 10/6, 11/7. If the first was 8m, the second was doubled, 16. Longer rallies in the tie-break, with Raneeem eventually taking the game on her 5th game ball, Omneya having had none...

Far too many errors from Omneya in the last game allowed Raneem to close it out nicely, 3/0.

Rodriguez/Barker

A gruelling encounter and a big upset as Miguel Rodriguez outlasts fifth seed Peter Barker. The Colombian took a long opening game but Barker fought back, taking the lead on extra points in the third.

Rodriguez opened up 4-0 in the fourth but Barker pegged him back, and at 9-7 appeared to have the match under control. But three unusual errors from Barker gave Rodriguez a chance, which he took.

With Barker starting to struggle physically in the fifth - he asked if he could see the physio for his 'tight back', then at 7-all took three minutes break after Roidriguez's head clipped his chin, but to no avail as Rodriguez quickly took the last four points to clinch a marathon win.
Serme/Defrawy

Superbe squash from the Trinity Egyptian, with the support of the crowd. She played an extremely accurate/tight squash, nothing to lose, diving already, and just immaculate squash. 11/9 in 12m. In 9m, Camille put the clock right back at the French time in there, 4/0, 9/1 and although Kanzy found some exquisite winners at the end, too little too late, 11/3. Third, Camille has got her game plan spot on, moving Kanzy a lot and making the court very big, 11/5 in 10m.
Round Two
Shorbagy/Mueller


If Mohamed was imperial - with Nici didn't do much wrong - in the first game, 11/3 in no time, a classic case of "you shouldn't talk with the ref situation", where Mohamed completely lost his focus at 2/4 down after a ref call, and made 7 unforced errors in the game. Nici just rushed into there, kept patient and matched Mohamed's frantic shots, to take the game 4/1, 9/4, 11/5.

Third was a beauty, and lenghtwise 1st and 2nd together, 23m! Sublime squash from both, Nici leading the whole way, had 5 game balls, just finding the tin at crucial times (6UE). Mohamed only needed 1, 15/13...

Fourth saw Mohamed back in control and although he made a few errors, Nicolas was mentally broken, as you would expect, 11/6 on first match ball.
Momen/Ghosal

6 m game where Momentator took full advantage of a bit of a loose Saurav.... Much better for the Indian in the second, 11m, close the whole way, 7/8, 8/9 although Tarek was always in front, 11/8, Tarek 2/0 up...

Third is all about Saurav attacking a very dead ball, and moving extremely fast on Tarek's attacks. 9 minutes where the Indian managed to keep his early lead, 6/0-, 9/4, 11/6. The fourth is beautiful, 8 winners from Tarek in particular one at 7/8, bless him. Saurav hang in there at 10/7, saved 3 match ball, but had to bow at 12/10...
Round One
Mosaad/Abou
First game, doddle for Omar, Birdsbrain not showing up, 11/3... Annnd Abou finally wakes up bless him, not a point between them up to 9/7, Mosaad comes back with the stroke, 8/9, but it's the youngest that levels it out, 11/9, 1 game all.

Third, Mosaad reacted well, 7/1, 9/2 - a bit of help from Birdsbrain showing his ugly head again at the start, 5 UE, and 11/3. Long Blood injury for Abou at 4/2 Mosaad in the 4th but Hammer of Thorn was just too perfect in the lenght dept, whereas his opponent kept looking for front corners, 11/4...

Matthew/Selby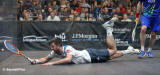 24m 1st game, long rallies, intense and gruelling, typical of those two when they play each other. A few too many lets at the end of the game, but both players giving it all, 12/10 for Nick on his second GB. But in the second, Daryl dropped his level while Nick soared, 10/2 and 11/3 in 7m.

And as he often does, Daryl comes back in the game against Nick from 2/0, taking the 3rd 11/7, very accurate squash. Is he going to do it again (Kuwait x2 comes to mind..) Close, but Nick was watching him closely as Daryl was on his heels up to 6/7, then Nick finds his groove, 11/6.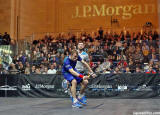 Nick
"It was a very tough match against Daryl today. When he moves well is a top ten player without any doubt. He's had a few problem with his body over the past year but he's been moving well again recently so I knew it was going to be a hard one.

"In the first game it took me a little while to find my range and I felt like he was in front of me. He came out with an aggressive plan and he was tough to break down.

"The first game was crucial. If he'd snuck it then it would have been a very tough ask as he always seems to counter me well, so I was pleased to get off in four at the end.

"The tour is incredibly tough at the moment and there's opportunities for lots of players at every tournament. We're seeing a couple of different quarter-finalists at every event now and I'm just glad to be sneaking my way into those positions and I'll rest up tomorrow ready to return on Monday."

Richards/Walker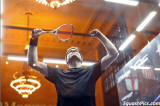 A superb performance from the Englishman, riddled with injuries for months, and who outplayed the Botswanan today, hardly an error from Tom.

Rosner/Coppinger
Long opening game, 29m, good quality squash, long rallies, accurate, Steve was up 9/6, Simon closed up and forced a decider, but it's the South African that take it 12/10 on his second game ball. The second is very different, 11m and Simon attacking at will, fast pace and short game, taking Steve on the backfoot, 8/2, 11/4...

Frantic third, even if Simon was always in front. Mad pace, and Steve making a few errors at the "business end" of the game, crucial times, 11/7 Simon. Fourth was tense from start to end, Steve had 2 game balls, but the German grits it out in the end, 87m, 12/10...

Simon

"There were a lot of very tight decisions today and it was a tough match for both of us. Stephen is a top the quality player and we've had some very tough battles in the past so I'm just really pleased to get through and win.

"I tried to play the match point by point and keep my focus all the way through and I'm just pleased to still be in the tournament."

Castagnet/Elias
A very solid first game for the French against a very nervous Elias in his first ever appearance here. 5 UE make it difficult for the contender, IceMan in control 11/3. Second sees Diego in much relaxed form, he'll lead 3/0, 5/3, but experience and long rallies allow Mat to lead 11/7 2/0... No idea what happened in 3rd and 4th, poor image quality.
Pilley v Gawad
Karim from 8/8 went 10/8 only to lose first game 12/10... Second is a catch up game, K up 4/1, 5points for Cam, 6/4, 6/6, 8/8, 9/9, 10/10, 11/11, and finally Karim levels it 1/1 13/11.

Third is all Cam, 10/5, and even if the Egyptian claws back, the Australian finds finally a winner in the right front corner 11/8.
Fourth is a waste for Karim, up 9/6, he'll lose the game/match on Cam's second match ball, 12/10.

Simpson v Salazar
A 13m first game, with Chris dominating the whole opening game, 6/0, 9/2, 10/3, 11/5. Opposite for the second, with the Mexican dominating 8/4, 9/6. Chris fought hard, good attacking squash but still Cesar on top, 11/8, level 1/1.

22m third game, 9/6 up for Cesar, superb battle from Chris, 10/9 game ball, but Cesar gets in front again, 12/10 Mexico. Salazar leads the fourth but can't convert match balls at 10-8 and 11-10 as Simpson levels. In the fifth it was the Guernsey man ahead throughout as he goes through to round two.

Ghosal/Clyne
A superb start for Saurav, 6/1, 8/3, and if Alan starts to find his game at the end coming back close 7/8, but it's a good finish for the Indian, 11/7. It's only 26m game after Saurav closes the second game, dominating again the second game, 8/1, 9/4, 11/5....

Big push from Alan who comes back at 5/5 from 5/1 down, then gets a game ball 10/9, but Saurav manages to close it down 12/10 for a three love...

Mueller/Grayson
Solid performance from Campbell, close at the start, but he is the one in front, and makes the Swiss do all the work... 11/9 on his second attempt. But Nici just finds his rhythm, 8m for 11/3...

And the third is mirror to the second, 10m, 11/4. Much harder in the 4th, Campbell actually led 7/5, but Nici kept him in view at all times, 7/7, 8/8, match ball 10/8, one saved but Swiss takes it 11/9...