ToC EN BREF 2009 ... Issue #7

Everything you never knew you needed to know about the ToC ...

SHABANA IS ALIVE AND WELL …
AND LIVING IN CAIRO
Part two of the Shabana Interview PART ONE



How do you feel about Ziad being heavily involved in the Governing Body?

With a few other players, we were pushing Ziad to get involved in the PSA board, we were pushing him to take the Chairman's position, because we knew Squash needed somebody of his standard.

Up to now, the people that were in place were incapable of reaching the plateau we wanted to reach. And Ziad has been loving squash for years, he was already involved with Brett Martin a few years back, so I don't seem him leaving the world of squash, there is no risk of that.

The great thing about Ziad is that he is always thinking about the players. And a lot of people thought about promoting the game, but not about promoting the players, and he is the only one – with you Fram – that envisages squash evolution with that angle: working on making the players famous, not just the game…. And that's the right attitude in my view.



Now, what about your future "after-being-a-squash-legend"?...

I've got a few projects in the pipeline, but the most advanced at the moment is my squash camp this summer, 20th June to 2nd July, and 14th July to 26th July, in Maadi, in the Wadi Degli Club, which I hope will become an annual project.

We are aiming at the 14/18 year old players from all countries but who need the "champion's mentality". We are really looking for keen juniors, who wish to spend time training with "Champions", not just me I mean, but top players, top Egyptians junior.

Do you enjoying coaching then?

I don't like doing long hours of coaching like you do sometimes in clubs, no, but training top juniors in a structured camp, I just can't wait!



And I remember when I was young, my dad used to spend time with Jahangir, with Qamar Zaman, and I would hang around with them, and they would play with me for 5, 10mn, and that helped me so much in my career later on. That's what I want to offer to the kids, that possibility to spend time around top players.

What does it change to be a father?

Everything. It just changes everything to have a family, to be able to say, "how is my family" when you call or text home. Not just, "how are you", or even "how are we", but "how is my family"…

We are now living near the Pyramids, outside Cairo. That allows us to be within 20 minutes of my parents, and the same for my wife, well I mean 20m, but you know Cairo traffic, can be 90m! But it's a great neighbourhood, we are all about the same age, and it's really great for raising a family

My wife and daughter had an immense impact in my life, I was always going somewhere, I was living a bohemian life.

They grounded me really, they made me realise about the future, I was living for today, for now, but they made me realise that there is a tomorrow, and how to make the day after tomorrow even better…

They ended up making my life better, my days better…
PUTTING THE RECORD STRAIGHT

It was brought to my attention today that my article about the match Nicol D/Omneya A.K. back in HK had upset some of our Egyptian readers, who felt it was unfair of me to only name the Egyptian players to be injured and still playing.



First of all, when I wrote about "something in the Australian water" back in 2005, David and Anthony had a good laugh, as they realised that I wasn't attacking the whole of the Australian continent, but only winking at them, and make a little joke about those two well know fiery tempers.



So, I never meant to attack the whole of the Egyptian players by that remark. I meant that, again with a wink, that it was quite remarkable that so many squash players were injured at the moment, and still playing. It was just a coincidence that on that particular tournament, most of the ones I was aware of happen to be Egyptian.

I actually wanted to do a little round up in NY of the players who were suffering from hamstring injuries, which I believe include Egyptians, Americans, Australians, Malaysians etc. I do that sometimes, trying to have a more general look on the game, what I call the Big Picture. No attack on anybody, just a different angle on what's happening on the tour…

That "infamous" article was written in that spirit, and I'm sorry if that observation was perceived as unfair. But when I'm told that I seem to have a rather "racist view" of the issue, then I cannot not clarify my position. I may be accused of a lot of things, having a short, abrupt and bad temper. Of having no patience nor diplomacy. Of being a bit of a drama queen and far too emotional. Of being too loud, too opinionated, too stubborn. Yes, I accept that.

But to have a racist view on squash in particular, or on life in general, no.

That one, you won't pin down on me.


HELPING HANDS…

John Nimick knows how to keep everybody busy here.

Well, after all, he is doing the ushering himself, making sure that every patron is welcomed and seated at the right place, so, from that angle, I guess that it's not exactly surprising to have, on top of the CitySquash and StreetSquash Boys who kindly clean the court, a ref – Wayne Smith – to sweep the court – and a photographer, Set, to help out with the towel when the kids have gone to bed.



So far, John hasn't asked me to pick up the broom, but the tournament isn't over yet…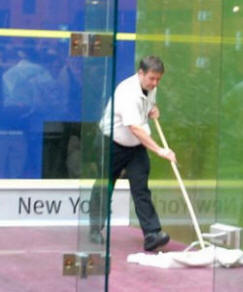 SO IT WAS YOU…


When John Nimick told me that "an honourable member of the squash community" had passed him the purse the I dropped on the concourse a few days back, I would have never imagine her to be Jack Herrick's daughter, Katherine [who got married last year].

For those of you that have short memories, or just arrived on the squash circuit, Jack was PSA Chairman for years, and has always got a box at the US Open Tennis (he's been heavily involved in the sport) and here, at the ToC.

So, thanks Katherine, for saving my life, take two !!!!

ToC EN BREF ... Issue #6

Everything you never knew you needed to know about the ToC ...
RAMY ON DIET

As I was chatting with Shabana for the interview, Ramy just woozed in. "Do you mind if I sit here while you are talking?", he says. "No, course not". He flies to the buffet, and in less than 15, he is back with a little bowl of cereals, and a banana.



"Fram, look, Hisham and I are on diet, we have decided that for the whole tournament, that's what we are eating at breakfast for the whole tournament. I feel great, much better than when I used to eat more!!!"

He swallows the mixture in about three seconds and 10", and zoom, he's off.

Seems to work fine for him, doesn't it? So, when people say to you, I don't know what Ramy's on, but I want some ... well, now you know…!!!
SHABANA IS ALIVE AND WELL …

If you thought that the Prince of Egypt died – mentally or motivation wise - when he lost his world number one status, you couldn't be more wrong. Now is not the time for a "funeral oration" for Shabana, but time to step up to the next gear.

I met up with him in one of my "breakfast chats" in the Roosevelt Hotel in NY where we are staying during the tournament. Shaabz was relaxed, yet focused, happy, yet hungry. And yes, his knee is bothering him a bit. But he's got the motivation of a junior.



How does it feel to lose the top spot, Shabana?

It hurts… First, it was David who was on my tail for a few months, then it was Ramy, and then it was Karim, who just passed me at the start of this year. I had a very slow start to the year then lost my motivation at the end of it, and I paid the price.

In 2008, I got too comfortable with what I had, with what I achieved, with my family, and I lost my drive, which is, everybody who know a bit about me, knows that it's not like me, I always want to win, to go forward…

So, you sort of fell asleep, didn't you?

Funny, you hear all those stories about the people who get to the top of their sport, take Federer - not that I compare myself with him in any way, shape or form - but we just see it happen all the time. Once you are at the top, it's like you stop being hungry, you start to dabble. Then somebody gets close to you on a tournament, and you get a rush, so you are excited again, but then, you just go flat again, till the next rush…

And then, I lost my number one position, and for five minutes, it hurts. It really hurts. And somehow, it was a good thing. As far as I remembered, I always wanted to be number one, and losing it reminded of that.

So, what now?

Well, I want to do things differently, I can't go and play at 100mph for ever, I have to train and play more efficiently, I want to be better, and now it's time to reach my peak, and maintain it for a while… But it's strange, in 2008, I didn't want it, and I got everything, and now, I'm hungry again, I really feel much much better and I cannot compete… My body won't let me…

But the most important is that I'm enjoying my squash again, I'm happy to play again, which I didn't do for quite a while…

There are a bunch of great Egyptians at the moment. How do you deal with friends being at the same time competitors?

Of course I give advice to my fellow Egyptians, but you keep a few things for yourself, you don't give away all your secrets, and you don't tell them everything…



But what's great on the squash circuit at the moment, is that it's a good group.

When I arrived on the tour in the '90s, there were several groups, who hated each other, and wouldn't talk or mingle with each other. But now, you play some exhibition or invitation tournaments together, everybody is closer.

Of course you need the competition, you need the "hate", but that's on court. Off court, that's completely different. Now, we can seriously consider each other as friends, and that makes the game better.

Part two tomorrow ...
BIG BUTT, MOI?????

Since the area I was allocated to put my chair has been condemned, I moved to the other side, next to the left side ref, or when he is assessing, World Ref John Massarella, with who I get on extremely well, and with whom I learn day by day a bit more about refereeing.



But John is not only a great teacher, he is also a good laugh. As I was moving my chair the first day, he goes: "so, I hear that you are creating trouble again, Fram, that Big Butt Fram has made the whole place collapse?!!!!"

"It wasn't me!!!!" I whinged, "I wrote an en bref about that, that's not fair! And by the way, you can talk, you are not exactly slim, are you".

"That's so true" says John. "And at least, I'm taller than you!" I add.

"Well" John laughed, "that's no achievement, everybody is taller that I am!!!!!!"

What can you say to that…


Now, the thin end goes over the thick end, then pull it under the .... mmm ...
I caught the Ball !!!
ToC EN BREF ... Issue #5

Everything you never knew you needed to know about the ToC ...
DARYL'S BETTER

As I was coming back from getting a large tea from the diner right in front of the hotel (sorry, but 40 dollars for a breakfast at the hotel, I really can't justify every day!), I met in the lobby Peter Barker, who I hadn't seen since his defeat the day before. We chatted a bit, and as I was about to go, who turns up at the top of the stairs, Daryl Selby.

Well, when I say "turn up", only half of him turned up! Exactly like James Willstrop in the 2006 worlds in Cairo, Daryl has lost I would say 8, 10 pounds.

"The doctors think I may have had a viral and food poisoning gastro-enteritis combined," he explained.

And it was a tough ride for the poor boy. After emptying himself for four hours after his match against Greg, he finally called a doctor when he realised that he was vomiting blood.

Taken to hospital, he was released a few hours later by a doctor who told him "well, you look better now, and we are busy, so, just go home, and sleep it off."

As soon as he arrived back at the hotel, he had the worst stomach cramps you could imagine, and he started being sick again. Ambulance take two, hospital, and that's when they put him on a drip and morphine. "I'm not exactly sure of what happened after that", apologises Daryl – yeah, how come! – "but I eventually came back to the hotel, slept 17 hours, and I just woke up."

He seemed back to his old self, as in discreet, not making a fuss, and behaving as if this was no big deal really, and let's go back to normal business typical English attitude…

Another good kid, Daryl is…


A STROLL IN EAST VILLAGE

I was quite happy the first day I spent in NY to meet with my first drama teacher, who's been living here for 15 years now, and lives in the East Village.

Despite the cold, we went for a stroll in the street of that great part of the city, and I must stay I was completely seduced by what I saw. So far, I hadn't been anywhere away from the Grand Central area, which is a bit like if you would only visit the Champs Elysées in Paris I guess.



Plenty of funny shops, originals windows, I couldn't stop taking pictures, despite the cold that was really piercing through me.



But I was rewarded when we finally got to our destination, the 'Flea Market', on 131st Avenue. Very original setting, warm welcome, genuine French staff and food, at an affordable price. Loved it.



Only problem was that we had to walk all the way back to Astor Place, where my friend lives. Brrrrrrrrrr…..

GREAT SPORT LJ…

LJ Anjema is not only a gentleman on court, but off court too. After his memorable match against the World Champion, which may have been fantastic entertainment for us, but let's not forget, a pure heartbreak for him, he showed yet again his great sportsmanship.

As I was interviewing Ramy right after the match, who had basically frenetically got rid of his shoes, massaging his feet very energetically to get the blood back into it – he couldn't feel his toes, period – the Egyptian was asked to go on court to play with a junior. Ramy tried to get on his feet, but he really couldn't walk anymore, let alone put his squash shoes on!



So LJ was asked if he wouldn't mind replacing Ramy for that one, and the Dutchman didn't hesitate, and went straight on court with young Eliza, to the delight of the crowd that gave him another standing ovation…

Yop. As Ramy's dad said, LJ is a true champion…


WHAT TO WEAR???

Listen, it's hard enough to dress smart and yet be comfortable enough to wander around all day, but if the elements are against you…

When we go to a Middle East country, we are boiling hot as soon as we step a foot outside, and freezing cold when inside watching the games, because of the aircon.

And here, it's the same, in reverse! We are virtually ice lollypops in the streets of New York, and cooked well done while inside the venue.

Please, could somebody somewhere starting thinking of a poor French woman, who is desperately trying to keep a sense of style here?

ToC EN BREF ... Issue #4
Everything you never knew you needed to know about the ToC ...
JOHN'S SAVED MY LIFE

Oh John, how will I ever be able to thank you.

Not only you print my players info sheet that lovely Mr PSA Press Howard Harding sent me, not only you keep on paying for my Diet cokes at the Hotel Bar, not only you give me the greatest seat of them all, next to the Ref, central position – a bit like the one I got in Hong Kong, thanks Tony – but also, you pick up my purse – with all my credit cards – from the floor where I dropped it rushing from one player to the next…

Your mum can be proud ...

HISHAM BEFORE
AND AFTER...

You don't need to be a clairvoyant to figure out Hisham personality.
You have him after his defeat, not a happy bunny. And zoom, two
gorgeous ladies come along, and look how much better he feels...

You see, it not difficult to make a young man happy....

BOZZA'S EATING HABIT

You may wonder what happened to our Bozza, who was supposed to play yesterday against Nick, a match we were all looking forward to really.

Well, as he was practicing with mate Cameron the day before, he hurt his groin. He thought nothing of it and thought it would pass, but alas, it didn't, and he had no choice than to withdraw from the tournament.



Bad news from him, but as life is kind sometimes, girlfriend Vicky had come to support him, so they are actually enjoying a nice holiday together. "I just love the event," Vicky said, "so I just came to see him play, and end up having a nice break from it all…"

We were, as ever, discussing about that at breakfast, and I was chatting with Vicky – Bozza ain't the bubbly type – I could notice that he was picking every raisin from his cereal bowl.

"What are you doing," I asked, laughing my head off. And before he had a chance to reply, Vicky commented "Yes, this is going to be a long breakfast, turning into lunch!!!!"

And Bozza, as ever, didn't say anything, went on smiling with his heartbreaking cheeky smile, and kept on picking the raisins, one after the other, impervious to our nagging….

He'll make a great husband.

DON'T YOU DARE…

HOLD THE PRESS…. You remember when I told you a bit earlier that John gave me the best seat in the house? Well, today, as I was trying to get back to it after the break, I found Brad – ref and John's team member for donkeys years – putting some barriers over it.

"The floor is actually giving way, so we have to condemn the area.

I think it's one of my competitors that must have come with a saw during the break to sabotage my place.

No, IT HAS NOTHING TO DO WITH MY WEIGHT, you cheeky bugger…

ToC EN BREF ... Issue #3

Everything you never knew you needed to know about the ToC ...
LOVE FROM TUSSLE...

Have a look at Omar Abdel Aziz. He looks mean and fierce, doesn't he?

Well, according to lovely Andrea, whose been billeting all the Egyptian players for years now, that tough, loud, strong young man, is not a great fan of cats....

well, it's not that he doesn't like them, but he is just, well, afraid of them.

"One day, I heard a huge scream in the kitchen, I never heard anything like it.. It was Omar that just found himself face to face with Tussle, my cat". said Andrea, laughing her head off.

I was calling Omar a Drama Queen before that, I tell you, I'm not changing his nickname that soon...

PS. He is a good sport though because he didn't mind me telling you the story... Don't you just love him?
LOVE THAT STREET

If diamonds are a girl's best friends, I sure would like to have a few mates in that street!

It's virtually seconds from the Roosevelt Hotel where we are staying, and as I was walking about, to send Steve a few pics before our photographer arrives, my eyes were attracted by those funny shaped lights...

I started walking in, and it was so weird. Only diamonds and jewellery shops, one after the other. Not a newsagent, or a café, no, just jewellery shops.

I'm not that much of a fan of those precious stones myself, but there were some stunning pieces, and if I was to be given a few, I wouldn't mind you know... Oh well, you can't blame a girl for dreaming...

FROM HONG KONG TO...

Funny thing. After Hong Kong, I didn't download all my photos, and when I downloaded them from my first day here, look what I found!

And as I keep chasing all the Chinese restaurants I can find around here - found a lovely one right next door - it feels like I never really left HK, doesn't it?

WHERE AM I???

I'm not in Egypt or in India, that's for sure. Come on, for those who've been in those countries, can you imagine the fortune those governments would make if they were enforcing notices like that???
ToC EN BREF ... Issue #2

Everything you never knew you needed to know about the ToC ...

STREETSQUASH

I don't like tubes, ok? I do like buses, but I don't like tubes. So from Grand Central, I had decided to take a taxi to go to the StreetSquash facilities, off the 5th Avenue, but far far away from the 5th Avenue that your mind is picturing.

But Simon Rosner was on his way there to play the second match, and he insisted for us to take the tube. All right I said. "You'll see, it's simple!". Yeah right, I had to go upstairs, downstairs, change lines, with my three tons bag, and my bad knees… I was cursing him, bless him, and he was laughing his head off.. Boys….!!!!

Still, we arrived very quickly – I give him that – and were welcomed by Sat, one of the staff members. I was immediately impressed by the light and the intelligent construction of it all. It's such a modern building, so bright, so easy to circulate.



WHAT DOES IT DO?

Well, make no mistake. It's not a recreational place for kids to come round whenever they feel like it. No, it's an academic place, where attendance is the Key Word, and where school primes on everything else. But, on top of their schooling, or of their summer schooling, they play and learn about squash.



StreetSquash participants have a varying range of academic aptitude and performance. They select participants based on commitment and effort, rather than on performance. They look to work with students who are diligent and committed to learning and improving, and offer middle school, high school and one-to-one tutoring.

The rules are strict, and followed by all. The place is spotless, no food or drink (except water) on the premises, no messing around, and yet, you can feel the kids having the time of their life: they are busy, they are learning, people are caring for them, for their education, for their welfare.

For their future….



WHAT CAN YOU DO?

Needless to say people that all what they provide is free for the kids, and they basically give a chance who those that don't have any. Needless to say StreetSquash needs money to do that. Needless to say they need you, SquashSite readers, and all the people that you can think who could help that great project.

I just loved the place. I loved the concept, and the thought behind it. These people believe in those kids, they believe that they can have a bright future. And to be able to do so, they need to be supported.

Maybe you squash players can organise exhibition matches there, to really get them enthused. Maybe you can help with getting public or sponsorship money to them? Or simply, maybe you can click on their donate page. And help them.

Whatever you'll do, thanks.

BRRRRRRRR…

Just tell me something people. I normally live in the South of France, where the temperature is during the day, around 14, 15°C (around 60°F). And normally, when we travel for SquashSite, we go warmer.



As we landed in JFK, we heard that it just snowed, that it was below freezing, and slippery everywhere, please take care while leaving the airport, bla bla bla…

And I thought, can somebody explain to me what came through my brain to say, yes, let's go to NY, Mick…

But hey, the sun is shining all day long, the light is stunning, the air is crisp and sharp, and it's so nice to be able to walk, to take pictures, to look at yet again a different way of life to the previous travel, or the previous one, or the previous one.

And thank God I like walking, because I wanted to go to Broadway – you can't take the Actress out of the Frog – and found myself at the United Nations building. For those who know NY, that means that I simply went the complete wrong way!!!!

Still, the best of all, snow does make everything look good, even dustbin bags look Christmassy…

A FAN IN HARVARD

If the Gentleman in the photo didn't have a clue of who I was, and never heard of SquashSite, bless him, Janet Parkes - who knows more about Squash than I do I tell you - was actually kind enough to say how happy she was we reopened the site.

"I actually sent you a note while you were off, and I'm so grateful you are back online... thanks to you guys for your hard work".

I know, it sounds a bit self congrats, but hey, doesn't happen often, or often enough to have us ignore it!

Thanks Janet.

FUNNY SIGHTS

A garage door for the Kuwait Embassy ...

A bicycle that seems ready to fly ...

Two Big Bottles you probably don't want to have under your windows or near your car ...

And a stunning wall out of nowhere, on a pavement ...

Only in NY City ...
ToC EN BREF ... Issue #1

Everything you never knew you needed to know about the ToC ...
THEY DIDN'T KNOW
IT WAS IMPOSSIBLE….

I couldn't have timed it any better.

For once, I had decided that I would actually arrive a day before the start of the event, to allow myself to SEE the city I was in, to be able to walk, and watch the snow melt. I didn't realise I would arrive THAT day…

I wonder how many people in America, how many people in the world actually, were not glued to their TV, moved to tears by all those people, by that New American Figure, that Symbol that shines and reminds the world that everything is possible in America.

And when President Obama said "it's time to pick ourselves up, dust ourselves off, and begin the work to remake America," I just couldn't help feeling that those words could apply to any country in the world, mine included….

As Ibsen "nearly" said, "He didn't know it was impossible, so he did it".

Oh yes he did… Oh yes he could.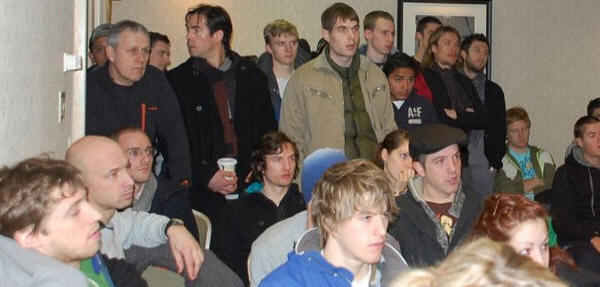 DIFFERENT WAYS

I must say I like the way John Nimick did the draw today. First, he had all the players in the meeting room – I must say we could have done with a larger one, that's for sure – he introduced the Key people who were there, Mike Riley, Tournament Ref, Keri Crowe, in charge of "fulfilling the needs of the players" as John said himself, how spoiled are they! - Beth Rasin, not only the Press officer, but also heavily involved in the making of the film on Hashim Khan, whose viewing is tomorrow in NY.

Then he made the roll call, all but one (Shawn Delierre who just withdrew this morning) of the players were there, and my God, what a draw that is… Then a group of players, along with the Refs, representatives of the Clubs where we are playing the qualifiers, and little meself went into John Nimick's room to do the draw.

John typed everything into his computer, names as they were coming out of the hat into Lavigne and Shabana's hand, then matches were shared into four groups for each club.

We then came back to the room with all the players, who had the typed draw all photocopied and available to them. They each were told in which club they were playing, and went with each club rep to be explained how to get there and all relevant details…

Is that organisation, or WHAT? Well done Mr Nimick, to you and your team.

The time has come! ...
Five years in the making ….

Keep Eye on Ball:
The Hashim Khan Story
"An Evening with Hashim Khan and Friends"
Thursday, January 22, 2009
Reception: 6:00 – 7:15 PM
Director/Producer Preview: 7:15 PM

Florence Gould Hall, 55 East 59th Street,
New York, NY 10022
Framed by the history of squash and Hashim's improbable life journey as a world champion and Pakistan's first national hero, this film offers an intimate glimpse of Hashim's Pashtun heritage and Islamic religion, Pakistan's history and the cultural juxtapositions of a Pakistani-American family.

Please join Josh Easdon and me for a very special evening this Thursday as we have our first full screen preview of the Hashim Khan documentary that Josh and I have been working on for the past five years. Hashim, who is now 95, will be with us, as will Sharif and several other members of his family. Please join us as our guests for this very special evening.