The Final:

[6] James Willstrop (Eng) bt [5] Ramy Ashour (Egy)
12/10, 11/5, 9/11, 11/3 (49m)
JAMES, AT LAST…

Sorry if I'm bluntly honest, but tonight was not about James. I know, people are going to jump in the air and scream that James played superbly well. Of course he did. He was perfect from start to finish, played the perfect game, except for a few rallies at the start of the third.


But as ever when Ramy is on court, it was all about what the Egyptian did, or better, what he didn't do.

Ramy and James alike, are mental players. They need to be confident, with nothing bothering them, to perform at their best. If James was a bit worried with slipping on the previous matches, tonight, nothing came to disturb his confidence and focus.

Ramy, well, his movement impaired by a pain in the ankle and a problem on one of his toes – no he didn't tell me, he wouldn't use that excuse – meant that the boy was not at his top mentally. And that is, and will stay, Ramy's weakness…

In front of him, he had a starving for victory player, as in James, who kept having heavy and great matches, but without getting a big title for a while. Was Ramy hungry for victory tonight? Yes of course, but probably not as much as James. He had a pretty good run, and it wasn't a matter of life and death was it.

For James, it was.

The Egyptian tonight, taken from the first rally by the throat, never really had a purpose in his shots. He was a lot at the back, and on the backfoot, returning the ball "as it came" more that really meaning to send the ball somewhere in particular. As in, not putting James under enough pressure, not getting him out of his comfort zone by twisting and turning that tall boy….

Of course, Ramy was still brilliant, and found great shots, and fantastic angles. But as James kept his head for the whole duration, never getting frustrated, never giving him easy rides, the Englishman kept him under control with his tight lengths and inspired short game.

James was so happy you couldn't help feeling happy for him. And I guess it was not too bad of a tournament for him, beating Shabana, Karim, and Ramy, night after night.

Yes, that was not too bad, was it…
James, on the spot


Ramy is such a great sport to play, he is so young, and he has achieved so much. It's such a pleasure to play against him, and getting a win over him is just amazing. And I was the better player on the day….

This title means so much to me. The players value this tournament, and we keep coming back, it's an unbelievable crowd, unbelievable atmosphere. And we'll be coming back as long as this tournament is on…

A victory like that is the result of a tremendous amount of work, from an awful lot of people. And as I didn't much chance to thank them for a while – as I didn't win anything for a while – I would like to try and remember a few of the people that have worked so hard around me, and I apologise if I forget anybody…


On the physical side of things, Alison and Mark back in the UK, who helped me to recover after my surgery a few months back, Caroline who was here; Then we have Damon, who had many many input in my squash career, DP, Stafford and Peter Nicol, all with the ES setting, whose support and funding makes it all possible for us, my brother David, who worked to hard with me, my manager, Mick Todd, Ponte's owner, I'm so grateful he's been here all week with me, and my father, I'm so glad I'm able to repay him, although that's not the right word, for everything he's been putting in. You can't imagine the amount of conversations, time those people spent with me.

And of course, my girlfriend Vanessa, who had to fly tonight back to the UK, for all the support she's is giving me every day of my life.

Yes, I know, sorry to be long, but I don't know when the next chance I'll get to come to thank them!!!!!

Ah, I couldn't not thank JP Morgan and all the sponsors, you do not realise I'm sure how grateful we are for your support.


James, one hour later…


I did get a bit excited, didn't I!!! The emotions went just pouring out… Oh well, if I can't get excited after what I've achieved tonight, I'm not sure when could I…

Ramy burst onto the scene, with a squash completely different from what anybody had seen before, he is a one off. It takes some adjustments from the other players, we have to get used to his speed with the racquet and his shots and his pace.

It takes a few years of hard work, and a lot of thinking, calculation to be able to prevent him from competing, from playing his shots, he really nailed the drop shot…. So the plan was there, but I still had to execute it!

In the third, he came back strong, and maybe I didn't stepped off the wall either, I didn't do much, but I stayed positive, you can't be at your top all the time during a match, but the fact I still came back strong at the end, may have created a bit of doubt in his mind…

Ramy was not his most blinding tonight, but maybe I'm might have prevented him to do that…

Is it my best win? Yes, I think so. The fact I was able to beat three outstanding world number ones in three days, including the current one, that's really special to me. Not to mention that this event may not be the most prized event, but it is certainly out there being one of the most prestigious ever…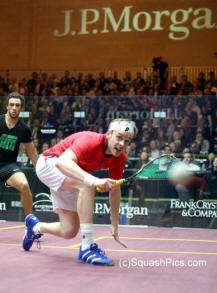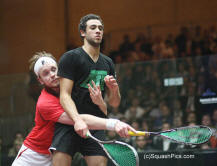 He played so much better than I did, and he deserve to win.

I would like to think all those people who've made this tournament possible, the sponsors, John Nimick, Ziad my sponsor, and Hisham my brother, who's been at my side on most of the tournaments.

I'm glad I'm doing well without the support of any coach, of any physio, no nutritional help, except at home, I have my physical trainer, Memes, who I thank, and my brother, Hisham, that is so close to me, travelling with me, supporting me when I need him. He is a great brother, and a great guy to have in your corner.

For a while I was thinking about having a coach, but now, I realise that no coach will push me as hard as I push myself. And I'm proud of what I've achieved on my own…

And don't worry, I'll be back next year, to win it!!!