November 2005:
SQUASH SITE™ : MOVING FAST…
As we are approaching our first anniversary, we thought we should have a roundup on SquashSite™.

If we were quite happy with our stats up to the summer break, with figures of 193,000 unique visitors, 800,000 pages and 8.5 million hits in May, we are stunned by the start of the new season where we reached unprecedented figures for the internet squash world of 350,000 unique visitors, 1.3 million page impressions, and 14.5 million hits for October.

As far as our coverage goes, we are read in 65 countries, with 70% of our visitors from outside the UK, and SquashSite fans in North America increasing from 20% to 30% since May.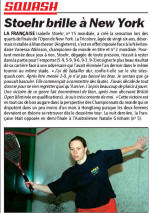 We also believe we won our "badge of honour" when the world famous l'Equipe quoted our articles and referred to us as "le site de reference" a few days ago…

Also, after designing and managing this year the official websites for the British Junior Open (ES), The Nationals (Manchester), The Premier Squash League (ES), Head UK Grand Prix (BSPA), Super League (GB), the English Open (Eventis), the Berkshire Open (USA), the Hedonism II Open (Jamaica), the Dunlop British Open (iSport Marketing), we have been asked to handle the brand new five star ISS Canary Wharf Classic on behalf of Eventis and SquashUK.


Another achievement we take pride in, we've finally laid to rest the "Vicky Botwright" record. During the 2001 British Open where the gorgeous girl was in all the National Papers, 52,000 people clicked on to view in a single day, a record that stood until now. Well, we broke that record several times during the Dunlop British Open, and established a new record of 92,800 on finals day. Sorry Vicky….

We are also very happy to have welcomed on our pages some advertisers, PokerRoom.com, FeatherSports.com, Puresquash.com, and our last arrival, David Palmer, who have been kind enough to trust us to promote their products, helping us to develop our journalists and photographers in more and more countries, and to report onsite from around the world.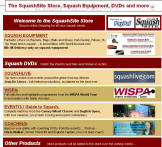 As well as all this, our shop has just been launched, with DVDs from Eventis/Guide-to-Squash, WISPA events, Chris Walker and the famous Jean De Lierre, and in the "Sports Goods" section, special deals from SportDiscount.com that will allow SquashSite™ readers to get some pretty interesting bargains…

And there's much, much more to come, starting with the maddest enterprise we've ever attempted, the Big Four, as we call them, as I've been invited to the Qatar Classic, the Hong Kong World Opens, the Islamabad World Men's Team Championship, and the Saudi International ...

So, thanks to you all to read us, day after day. Your support is incredible, and Steve and I are grateful beyond belief...

Internet and squash, a winning combination?
Bet your racquet it is…

Framboise


Squashsite™ Editor

International Site




French Site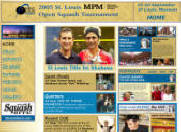 St Louis Open




ISS Canary Wharf Classic




Dunlop British Open




Promote Your Tournament
on SquashSite