Thu 28th, Team Final: Individual Event

Egypt 2-0 Great Britain
Ramy Ashour 3-0 Alan Clyne 11/8, 11/8, 11/7
Tarek Momen 3-0 Joel Hinds 12/10, 11/5, 13/11
Raneem El Weleily v Emma Beddoes not played

3rd/4th: Malaysia 2-0 Canada 2-0 5th/6th: Austria 2-1 Switzerland 7th/8th: Australia 3-0 USA
Egypt add Team Title in Cairo

Having already taken both individual titles, hosts Egypt made it a clean sweep when they collected the World University Team title, beating defending champions Great Britain 2-0 in the final at Cairo Stadium.

World number four and men's individual champion Ramy Ashour got the hosts off to a good start as he beat Scot Alan Clyne in straight games.

The title was wrapped up when Tarek Momen, individual runner-up, won a close three-game match with Englishman Joel Hinds.

Momen recovered from 2/7 down in the first to take it 12/10, eased through the second and won the final game on extra points, 13/11 to give the Egyptians the title they last won in the fourth edition in 2002.

Malaysia, the second seeds who lost out to Great Britain in the semis, collected the Bronze medal, the more experienced Adnan brothers holding off strong challenges from the young Canadian pair of Colin West and Frederick Reed.

"I'm certainly proud of the team's efforts and both Colin and Fred left everything they had on the court. If we could have managed a win in the first two games we would have been in an excellent position to win the match with Alana Miller playing third."

Canadian Coach
GB upset Malaysians to make the final


While hosts Egypt, as expected, cruised through to the team final, defending champions Great Britain upset second seeds Malaysia to reach the final again.


Emma Beddoes beat Lim Woke Yah in straight games, and Alan Clyne clinched the win, coming from 0-2 and 6-10 down against Nafiizwan Adnan.

For Egypt individual champions Raneem El Weleily and Ramy Ashour completed 3/0 wins to put Canada into the bronze medal match.

Semi-Finals:
Egypt 3-0 Canada
Malaysia 1-2 Great Britain
5/8 Playoffs:
Australia 1-2 Austria
USA 1-2 Switzerland
9/11 Round Robin:
Germany 2-1 Czech Republic
South Africa 1-2 Czech Republic
Germany 2-1 South Africa
Great Britain reach World University Final!
Team GB Diary from Jon Tate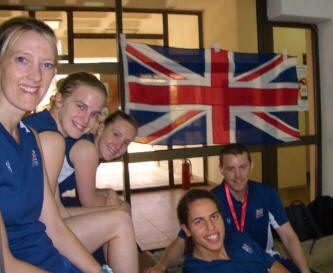 As expected Great Britain met up with the higher seeded Malaysians in the semi-final of the World University Championship Team Event, however hopes were high that they could overturn their seeding and reach Thursdays Final against probable opponents Egypt.

Emma Beddoes was first on court for GB against strong Malaysian girl Lim Yoke Wah. Lim who twice defeated Lauren Siddall 3-2 in the 2006 championships was obviously going to be a tough test for Emma, however Emma has been in excellent form all championships despite illness, and defeated her opponent 11/7, 11/9, 11/7 to give GB an early advantage.

Next up was Team Captain Alan Clyne in his match against the number 1 Malaysian player Mohd Nafiizwan. Mohd had finished fourth in the Individual competition after losing 3-0 to Omar Mossad in the Bronze medal match up and this was always going to be a close affair.


The first two games were evenly contested, and despite Alan leading at times in both he was unable to close out and went 2-0 down losing 15/13, 12/10. It looked as if the tie was going into a deciding rubber because Alan was behind throughout the third and found himself down 10/6 match ball. The Scot is nothing if not determined however and after saving five match balls he took the third game 13/11. The fourth remained tight but towards the end of the game Alan took the initiative and pulled away to win 11/7 and level the match at 2/2. The momentum was now with Great Britain, and as Mohd began to tire Alan closed out the match 11/2 to take GB into tomorrow's final.

With the tie now safe Joel Hinds took to the court in a dead best of 3 game rubber with Mohd Nafzahizan. Mohd had already lost to Alan Clyne 3-0 in the Individual competition, and Joel was determined that he would not be the only player to lose for GB in the tie. Playing his usual high paced style of squash Joel did just that winning 3/0 to give GB a 3-0 victory.

"I was pleased with how our players performed today. I think that we are all looking forward to having a match up with the Egyptians, and we definitely believe we have a chance. Obviously as number 1 seeds they are favourites, and their performances in the individual competition support this, however in team squash anything is possible."


Team GB Coach
Tue 26th: Team Event Pool Stage
A: Egypt 3-0 Australia B: Malaysia 3-0 South Africa C: Great Britain 3-0 USA
A: Germany 1-2 Australia B: Switzerland 2-1 South Africa C: Czech Rep. 1-2 USA
A: Egypt 3-0 Germany B: Malaysia 3-0 Switzerland C: Great Britain 3-0 Czech Rep
D: Canada 3-0 Austria





Pool A Pool B Pool C Pool D
Team GB Diary, Teams Day One:


GB make the semis


Jon Tate reports

Great Britain got off to the perfect start this morning, defeating Team USA three nil.

Team captain Alan Clyne was first on court, and he set the team up for victory with a comprehensive 3-0 defeat over Alexander Charles. The Scot was simply too strong for his opponent and blasted him off court 11/2, 11/4, 11/5 in quick time.

Next on court for GB was Sarah Bowles against number two American player Amanda Siebert. The first was a close tentative affair from both players, however Sarah led through most of the game and won it 11/9. Having the lead seemed to settle the nerves of Sarah and after that she looked comfortable winning the next two 11/3, 11/2.

Last on court was Joel Hinds in his match against John Fulham. Joel was not looking to hang around on court any longer than needed and took the initiative from the start. After leading throughout every game he went on and closed out the match 11/6, 11/7, 11/4.

Great Britain secured a place in tomorrows semi-finals with a comprehensive afternoon victory over the Czech Republic.

The Czechs had suffered a surprise defeat at the hands of USA in the 2pm matches, and were no match for Great Britain. Alan led from the front again defeating Pavel Sladecek 11/4, 11/4, 11/4, and the match was made secure by Emma Beddoes who defeated Olga Ertlova 11/5, 11/6, 11/4. Joel was left to play his second dead rubber of the day against Jaroslav Cech and ran out a comfortable winner 11/8, 11/8, 11/5.

GB can expect tougher opposition tomorrow in a bid to reach Thursday's final and all players will be looking to raise their games in a match up against the number two seeded Malaysians.



Australians guaranteed
a top eight finish
Andrew Dent reports

Australia is guaranteed a top eight finish at the World University Teams' Squash Championships in Cairo after they defeated Germany 2-1 on Tuesday.

The Australians will now meet Austria to determine whether they play off for the 5/6 positions or 7/8.

Earlier in the day the Australian team of Nathan Turnbull (University of Queensland), Rex Hedrick and Melody Francis (both Deakin University) went down to an Egyptian team featuring three players inside the top 50 in the world professional rankings.

Francis said the conditions took some getting used to.

"We had to play Egypt at 10am and then Germany at 2pm on the three-wall glass court, which has hardly any air-conditioning," she said. "That meant we had extreme heat conditions."

Turnbull was first up against Egypt, taking on world No.23 Omar Mosaad – the Egyptian proving too good for Turnbull winning 11-2, 11-7, 11-4.
Francis then took on Omneya Abdel Kawy, the world No.10.

Francis put up a great fight, taking the challenge right up to the Egyptian before falling 12-10, 11-5, 9-11, 11-7.
In the final match Hedrick played Tarek Momen, world No.48, and again fought hard in an 11-6, 16-14, 11-6 loss.

"Personally, I think the team did exceptionally well against the Egyptians," Francis said.

In the afternoon matches against Germany, Turnbull beat Markus Voit 11-8, 11-6, 14-2 before Francis went down to Kathrin Rohrmuller 12-10, 11-7, 11-9.

Hedrick then put Australia into the top eight with a thrilling 11-6, 11-5, 11-9 win over Moritz Dahmen.
The next World University Squash Championships will be held in Melbourne in 2010, with Monash University the host university.

INDIVIDUAL EVENT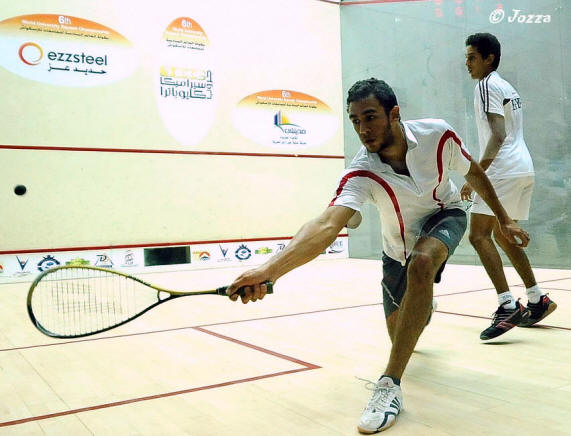 Mon 25th, Individual Finals:

[1] Ramy Ashour (Egy) bt [3/4] Tarek Momen (Egy) 11/5, 11/7, 7/11, 11/6
[2] Raneem El Weleily (Egy) bt [1] Omneya Abdel Kawy (Egy) 3/11, 11/5, 4/11, 11/9, 11/9

Men's 3rd/4th: [2] Omar Mosaad (Egy) bt [3/4 Nafiizwan Adnan (Mas) 11/3, 11/3, 11/2
Women's 3rd/4th: [3/4] Alana Miller (Can) bt [3/4] Emma Beddoes (Gbr) walkover
It's Ramy and Raneem

It was always likely to be an Egyptian double - the first in the six stagings of this event - the one remaining question was who would take the gold and silver medals, and in the event it was Ramy Ashour and Raneem El Weleily who collected the World University Championship golds at the National Stadium in Cairo.

Ramy, a student at the Naval Academy, was pushed hard by his fast-rising compatriot Tarek Momen, who had upset second seed Omar Mosaad to reach the final, but the world number four prevailed in four games.

The women's final was contested by the players who between them have won the last three world junior titles, and it was the current holder of that title Raneem who prevailed in five games, twice coming from behind to record her first win (according to WISPA records) over Omneya.

Both having won the world junior title twice, it seems fitting that Ramy and Raneem should add the World Universities title to their growing collections.

Omar Mosaad made it a clean sweep for Egypt on the men's podium as he eased past Nafiizwan Adnan in straight games, while the women's bronze went to Canada's Alana Miller who was awarded a walkover against an exhausted Emma Beddoes.
| | |
| --- | --- |
| | |
Team GB Diary, Day Four:


Finals and Playoff matches


Jon Tate reports

Great Britain still had two players competing on finals day with Emma Beddoes and Alan Clyne lined up for action.

Unfortunately however the sickness bug that has struck down everyone in the camp was too much for Emma and after being sick immediately after her match with Omneya, and after another interrupted nights sleep the decision was made to withdraw from the Bronze medal match up. A disappointed Emma spent most of the day in bed trying to recover in preparation for the team competition that starts tomorrow, and as a consequence the medal went to Alana Miller of Canada.

As a consequence Alan Clyne was the only person to have a match, up against Mohd Nafzahizam from Malaysia to decide the 5th / 6th play off position. Alan was in dominant form and led from the front taking the match 3-0 in 21 minutes. Although in many ways a dead rubber, this match was still of interests to the GB players not least because it provided an insight into the possible strength of Malaysia whom they would have to face in the semi-finals should they defeat USA and the Czech Republic in the group stages.

Tuesday marks the start of the team competition, and after missing out on individual medals the GB Team are in determined mood to make sure they will not leave Cairo empty handed. So long as the team can keep the dreaded sickness at bay they will have an excellent chance of fulfilling this ambition.




Beddoes under the weather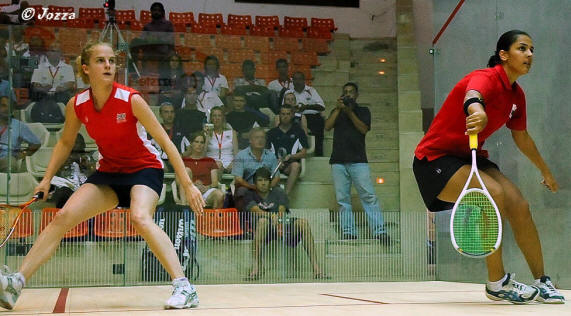 Day Three, Semi-Finals:

[1] Ramy Ashour (EGY) bt [3/4 Nafiizwan Adnan (MAS) 11/3, 11/5, 11/6
[3/4] Tarek Momen (EGY) bt [2] Omar Mosaad (EGY) 7/11, 11/8, 11/5, 12/10

[1] Omneya Abdel Kawy (EGY) bt [3/4] Emma Beddoes (GBR) 11/9, 8/11, 7/11, 11/2, 11/5
[2] Raneem El Weleily (EGY) bt [3/4] Alana Miller (CAN) 9/11, 11/4, 11/8, 11/4
All-Egyptian finals in Cairo


The semi-finals of the World University championships in Cairo produced the result the home crowd wanted, with four Egyptians winning through to the finals.

Top seed Ramy Ashour won easily enough, but in the other men's semi Tarek Momen produced an upset to beat his higher-ranked compatriot Omar Mosaad in four games.

World junior champion Raneem El Weleily reached the final with a four-game win over Alana Miller, while top seed Omneya Abdel Kawy, had to recover from 2/1 down against Emma Beddoes to secure the all-Egyptian lineup.

Team GB Diary, Day Three:


Semis & Playoffs


Jon Tate reports

First on court today was Sarah Bowles in her match up against Stephanie Edmison from Canada. Sarah was the favourite going into the match however another night of sickness had left Sarah looking pale and ultimately struggling for form. She lost the first two games 15/13, 11/2 and looked like she was heading for a quick 3-0 defeat.

Sarah rallied in the third however and after staying with her opponent throughout the early stages, she moved ahead late in the game and snatched it 11/9. The forth was much the same and could have gone either way, however two mistakes from the tiring Canadian gave Bowles the game 12/10. An unlikely victory was now possible however a spent Bowles took to the court in the fifth and quickly found the match moving away from her before losing 11/4 and the match 3/2.

This marked the end of competition for Sarah in the Individual event as she promptly retired from her last match choosing to save herself for the team competition and as a consequence finished the event in a disappointing 16th position.

Joel Hinds was next up against Ho Fai Chiu from Hong Kong. Joel controlled the match throughout and was always ahead in every game winning 11/9, 11/8, 11/7. This put him in the 9th / 10th play-off position to play Colin West from Canada and again Joel came out on top winning 12/10, 11/8, 11/9.

The big match of the day for GB was the Women's semi-final match between Emma Beddoes and number one seed Omneya Abdel Kawy. A poor start from Emma ended up with her quickly going 5-0 down in the first game, however a good forehand drop winner helped her to settle down and she then stepped up and started to play the better squash.

Unfortunately the head start was too great to overcome and she ended up losing the first 11/9. No such early mistakes in the second and third however as Emma led from the front in both games and took a well deserved 2/1 lead winning 11/8, 11/7. At the end of the third it was evident that Emma was starting to tire and that the sickness bug that has hit every member of the team was starting to become a factor.

The GB team were still hopeful that Emma would not ultimately pay for her slow start in the first as with the exception of the first 5 points it was not unfair to say that Emma had been the better player and could have justified a 3-0 victory. Unfortunately it did come back to haunt her however and a fading Beddoes went on to lose the next two games 11/2, 11/5 in quick time and the match 3-2.

Emma will now be the only GB player in action on the final day of the Individual competition, and faces a tough match against Alana Miller from Canada to decide the Bronze medal.




Momen makes the upset


Kawy v Miller


Beddoes receives advice
Opening Ceremony Magic ...

23-Aug, Day Two:
Tops seeds progress on Day Two


Two rounds of action in Cairo saw the men's and women's draws reach the semi-final stage with the top seeds all coming safely through.

Day Two Results:

Men's Quarter-Finals:

[1] Ramy Ashour (EGY) bt [5/8] Aqeel Rehman (AUT) 11/3, 11/6, 11/5
[3/4 Nafiizwan Adnan (MAS) bt [5/8] Nafzahizam Adnan (MAS) 10/12, 11/9, 9/11, 11/7, 11/7
[3/4] Tarek Momen (EGY) bt [5/8] Alan Clyne (GBR) 11/5, 11/7, 12/10
[2] Omar Mosaad (EGY) bt [5/8] Jethro Binns (GBR) 11/5, 6/3 rtd


Men's 3rd round:

[1] Ramy Ashour (EGY) bt [9/16] Joel Hinds (GBR) 11/5, 11/5, 11/3
[5/8] Aqeel Rehman (AUT) bt [9/16] Devon Hendrikse (RSA) 11/4, 11/3, 11/7
[3/4] Mohd Nafiizwan Adnan (MAS) bt [9/16] Rex Hedrick (AUS) 7/11, 11/8, 11/5, 11/8
[5/8] Nafzahizam Adnan (MAS) bt Chiu Ho Fai (HKG) 12/10, 7/11, 12/10, 11/7
[5/8] Alan Clyne (GBR) bt Markus Schwartz (GER) 11/4, 11/6, 11/2
[3/4] Tarek Momen (EGY) bt Colin West (CAN) 11/7, 11/9, 11/7
[5/8] Jethro Binns (GBR) bt Fred Reid (CAN) 11/8, 11/7, 11/4
[2] Omar Mosaad (EGY) bt [9/16] Benjamin Fischer (SUI) 11/4, 11/4, 11/2

Women's Quarter-Finals:
[1] Omneya Abdel Kawy (EGY) bt [5/8] Lucie Fialova (CZE) 11/3, 11/6, 11/6
[3/4] Emma Beddoes (GBR) bt [9/16] Birgit Coufal (AUT) 11/3, 11/3, 11/9
[3/4] Alana Miller (CAN) bt [5/8] Siti Munirah Jusoh (MAS) 11/7, 11/7, 11/7
[2] Raneem El Weleily (EGY) bt [5/8] Lim Yoke Wah (MAS) 11/7, 11/9, 11/9

Women's Round Two:
[1] Omneya Abdel Kawy (EGY) bt Sarah Bowles (GBR) 11/5, 7/11, 11/3, 11/2
[5/8] Lucie Fialova (CZE) bt Kristen Lange (USA) 11/5, 11/6, 11/7
[3/4] Emma Beddoes (GBR) bt [9/16] Melody Francis (AUS) 11/7, 11/5, 11/3
[9/16] Birgit Coufal (AUT) bt [5/8] Stephanie Edmison (CAN) 11/4, 12/10, 11/7
[5/8] Siti Munirah Jusoh (MAS) bt [9/16] Olivia Hauser (SUI) 11/7, 7/11, 9/11, 11/7, 11/8
[3/4] Alana Miller (CAN) bt [9/16] Kathrin Rohrmueller (GER) 6/11, 16/14, 11/9, 11/7
[5/8] Lim Yoke Wah (MAS) bt [9/16] Olga Ertlova (CZE) 11/6, 11/6, 11/3
[2] Raneem El Weleily (EGY) bt Gaby Schmohl (SUI) 11/9, 12/10, 11/5

Team GB Diary, Day Two:



Mixed fortunes for GB players in Cairo!
Jon Tate reports

First on court for team GB today was Sarah Bowles in her match against Omneya Abdel Kawy. With nothing to lose Sarah gave it her all and played well looking at all times to take the match to the Egyptian.

In the first Omneya showed her class by punishing any lose width or short length with some excellent drop shots and took the game 11/5. In the second however Sarah tightened up her game and displayed some excellent shots of her own to lead 5-1.

Despite Omneya coming back at Sarah to level at 7-7 Sarah continued to hold her nerve and went on to level the match at 1-1 taking the game 11/8. Unfortunately that was as good as it got for Sarah in this match however because after being up all night with sickness she began to tire and Omneya stepped up to punish anything loose. A short time later Sarah had lost 3-1 with
Omneya taking the last two games 11/3, 11/2.

Sarah said afterwards 'I'm really pleased with the way that I played, and I am going to take confidence from that match. I proved to myself that I can play well against a top player in the world and now must look to take that belief into my other matches.

Better luck for Team GB in the other ladies singles match however as Emma Beddoes opened her account in this tournament with a comprehensive 3-0 victory (11/7, 11/4, 11/2) over Melody Francis of Australia. Overall Emma looked comfortable in this match and now moves on to face the much improved Birgit Couval of Austria in the last eight.

Joel Hinds was the other GB player to lose today going down 3-0 to number 1 seed Ramy Ashour. Like Sarah, Joel had spent the entire previous evening not sleeping due to sickness and had spent the morning visiting the tournament doctor. This less than ideal preparation to play the World number 4 quickly showed in this match as a rather weak looking Joel struggled to contend with the vast array of shots coming from the Egyptian racket. Ramy took control in every game and ultimately ran out a comfortable winner 11/5, 11/5, 11/3.

"I'm absolutely gutted said Joel afterwards. Its not every day I get the chance to play players in the top 10 and I wanted to see where my game is at right now. Unfortunately I was so weak it was almost a waste of time. I just hope I can start to feel better this afternoon as I have to play again this evening!'

Alan Clyne is through to the last 8 however with a comfortable 3-0 win over German Markus Scwarz. Controlling the match from the start Alan took control of the T and rarely let the German player take the initiative ultimately winning 11/4, 11/6, 11/2. He know faces the in form Tarek Momen (3/4 seed) and will have to be on top form if he is to reach the semi-finals.

Jethro Binns also progressed to the last 8 with a 3-0 win over Frederick Reid of Canada. Playing in a relaxed and confident mood Jethro led in every game and ultimately won the match 11/8, 11/7, 11/3. Like Alan and Joel, Jethro now faces Egyptian opposition in number 2 seed Omar Mosaad.

Speaking about this match Jethro said 'I am looking forward to playing a player on the verge of breaking into the top 20, and using this game to test my own playing credentials. I'm feeling confident and hope I can perform to the best of my ability in this match.

Quarter Finals and Play Offs

Emma Beddoes kicked off the afternoon with a win that now takes her through to the semi-final stage to play Omneya Abdel Kawy. Up against the now full time Birgit Coufal of Austria, Emma controlled the match from the start and went on to win the match 11/3, 11/3, 11/9. Like Sarah before her Emma is now looking forward to a crack at the number 1 seed and hopes to provide a serious test for the World number 9.

'I try not to think too hard about my matches in advance, however I'm feeling pretty good and I'm going to give it my best!

Sarah Bowles and Joel Hinds were next on court playing in the 9/16 play off places.

Sarah was up against Kristen Lange from the USA and was hopeful of repeating some of the form she showed in the morning match. Sarah started the brightest taking the first two games 12/10, 11/5 however in the third Sarah seemed to lose her concentration and allowed the American into the match. This was to prove costly as Sarah never seemed to regain her composure and began trying to force the play. This played into the hands of the gutsy American, and despite having match ball Sarah went on to lose the match 3-2 (12/10, 11/5, 8/11, 9/11, 11/13).

Joel was up against Devon Hendrikse from South Africa. Still feeling the effects of a lack of sleep and sickness Joel was not quite his usual self however he got off to a good start taking the first two games 11/9, 12/10. Starting to flag Joel took a rest in the third and lost the game 1/11, however a big last push in a fourth game that was short on quality but high in tension resulted in Joel taking the game 16/14 and the match 3-1.

'I'm just relived to get off to be honest. I was really struggling by the forth and the last thing I needed was a fifth game. I managed to save a few game balls in that one and I had to dig in to come through. Hopefully I will be feeling stronger tomorrow.'

Alan Clyne was up against 3/4 seed Tarek Momen from Egypt. Struggling to get up to the speed of the game Alan was pressured into mistakes by the quality of the drops and length coming from the Egyptian and lost the first two 11/5, 11/7. In the third however Alan led throughout the game and had game ball before ultimately losing 12/10 and the match 3-0.

Worse was still to come for team GB in the match between Jethro Binns and number 2 seed Omar Mosaad from Egypt. Jethro was clearly lulling his opponent into a false sense of security as after losing the first 11/5, and trailing 6-3 in the second disaster struck when Jethro lunged for a ball in the front left corner, slipped on the court and was forced to retire with a suspected tear of his right hamstring.

'I'm gutted said Jethro afterwards. Not only did I have him just where I wanted him but it looks like this injury could mean its the end of my involvement at these Championships! I'm going to see the doctor now, but I can't put any weight on my leg at all and I definitely felt something go! I can't believe it!'



Binns on
Day Two ...

The mood in the camp is far from bouyant as the majority of the squad have been damaging the doulton for the past 48 hours.

Coach Worth is the latest member of the squad to be struck down by the joys of Egyptian food. He has spent the morning sweating in bed in a room where the air conditioning no longer functions. He was last heard mentioning something about the eye of a needle, I don't know what he meant.

Joel is now feeling a bit better and managed to win his playoff match this morning and moves into the 9-10 playoffs later on today. This is an impressive feat as he has no water left in his body and is sweating pure crystals.

Sarah (blasting the) Bowles is struggling with a dicky tum and has now withdrawn from the individual event in preparation for the teams.

Alan is now in the unusual position of being the least miserable person in the group. A special achievement for a Scotsman. Obviously relieved at now not facing fellow celt Jethro in the 5-8 playoffs he can enjoy a day of rest from competition.

A practice match is in progress with manager Jon Tate as we speak who has been preparing for such an eventuality by stealing physio time from the players and requesting feeding sessions from Joel in between matches.

Jethro is probably the most miserable person in Egypt, if not the whole world at present. Struggling to even put his own shoes on he, now faces 5 days of hanging around as a change of flight will cost in excess of £900. He awaits assessment from team physio Rachel Calver to diagnose the extent of his injury.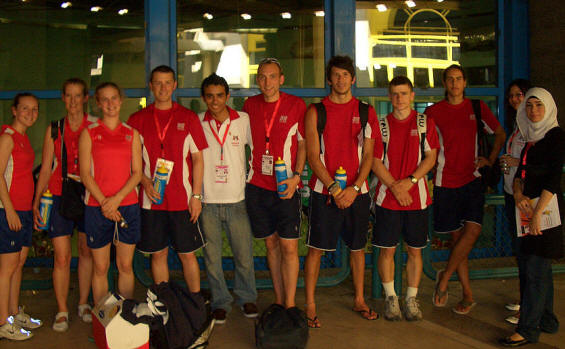 TEAM GB DIARY
Day 1 of competition, by Emma Beddoes

An early morning start after shared spoils of previous night's rummy with manager Tatey still complaining that Beddoes didn't reveal all the rules early enough in the game and therefore was unable to fulfil his obvious potential.

First on court Bowles faced Greek opponent Eliza Kargioti and won through 11/ 3, 11/4, 11/4 in 17 minutes. She faces a somewhat tougher proposition tomorrow in the form of 9 in the world Omneya Abdel Kawy. Not one to be daunted Bowlesy is looking forward to the challenge while assistant to the manager Worth is looking forward to a few more "stroke Balls" from the referee in the morning!

Shortly before lunch Hinds got off to a flyer 11/3 11/4 before promptly forgetting the location of the side walls, preferring instead the more spacious centre of the court. He battled to a 12/10 win over German Markus Voith in 27 minutes.

Play was temporarily suspended while all players and officials were transported over to the stadium for the official opening of the 2008 World University Championships. The 2000 noisy supporters who greeted the walk-on of the Egyptian team had obviously taken inspiration from that other lesser-known world sporting competition going on at the moment somewhere in China. Dancers, women with candlesticks on their heads, break-dancers and a chicken were among the highlights of the quite spectacular televised show.

The excitement had only just abated before Clyney took to the court and the crowd struggled to contain themselves again early in the first as he slotted in a filthy backhand back corner nick. Known for his flamboyant Egyptian inspired playing style, a mere 40 minutes later he had ground out the 11/7 13/11 11/4 win against South African Richard Colburn.

Final match of the day after Beddoes's hard won bye was Welsh boy Binns. A favourite with our adopted helper Eddie, Binns did not disappoint with 11/9 12/10 11/2 win over Czech Jaroslav Cech. When asked for a quote on his performance all he could muster was a miserable "fold" as Clyney gladly stole most of his poker chips.

He will have to raise his levels of concentration tomorrow if he hopes to proceed further in the competition as well as the squash tournament.



So Far So Good for Team GB in Cairo
Jon Tate reports

Day one and so far its been a successful start by all of the GB Team in their first round matches. Sarah Bowles kicked off with a comprehensive 3-0 win over Greek girl Eliza Kargioti and now faces tough opposition in the form of number 1 seed and current World Number 9 Omneya Abdel Kawy.

Sarah commented I'm pleased with how I played today and now I'm looking forward to what will definitely be a tough test tomorrow. I've never played her before but believe that I am capable of giving her a good test.

Joel Hinds played German Markus Voith. Always in control of the first two games he won 11/3, 11/4 however a lapse in concentration in the third gave the German player a big lead and Joel had to fight from behind and save 2 game balls before finally going on to win the game 12/10 and the match 3-0.

Next up is top seed Ramy Ashour and Joel is hopeful he can stretch the young Egyptian. I know he has been struggling with injuries recently and has pulled out of his last two tournaments so I'm not sure what shape he is in? My plan is to play hard, try and push him in the early games and see how he holds up, I've certainly got nothing to lose!

Alan Clyne and Jethro Binns completed a good day for the GB Team both winning their matches 3-0. Alan played South African Richard Colburn and won 11/7 13/11 11/4 whilst Jethro played within himself and beat Czech player Jaroslav Cech 11/9 12/10 11/2.

Both can expect tougher matches as they progress through the draw, however both are determined to meet up and play the higher ranked Egyptians Tarek Momen and Omar Mosaad in the quarter finals!

First however the must concentrate on the matches in hand, with Alan up against Germam Markus Schwarz , and Jethro facing Canadian Frederick Reid.


World University Championships Boast World Class Fields

Home successes are predicted in the 6th World University Squash Championships which are underway at the Cairo International Stadium in Cairo, Egypt - boasting the strongest fields in the event's 12-year history.

Players from a record 20 countries - representing all five continents - are competing in the individual events which will reach their finals on Monday, followed by the team event from 26-28 August.

Ramy Ashour, the world number four and a record two-time winner of the Men's World Junior title, is top seed in the men's individual event. The 20-year-old from Cairo beat Switzerland's Kevin Villiger 11-5, 11-4, 11-6 in the second round - and will now face Great Britain's Joel Hinds for a place in the quarter-finals.

Hinds, a 9/16 seed representing Birmingham University, beat German Markus Voit 11-3, 11-4, 12-10.

In Monday's final, Ashour is expected to face fellow countryman Omar Mosaad, the 20-year-old world No23 who is also from the country's capital. Second seed Mosaad began his World University Championship campaign with an 11-6, 11-4, 11-2 second round win over South Korea's Se Hyun Lee.

Chiu Ho Fai (Hong Kong), Markus Schwartz (Germany) and Colin West (Canada) produced notable upsets in the men's second round with victories over 9/16 seeds Ondrej Ertl (Czech Republic), Nathan Turnbull (Australia) and Pavel Sladecek (Czech Republic), respectively.

A former world junior champion is also favourite to win the women's crown for the first time. Cairo-based Omneya Abdel Kawy, ranked 10 in the world, won the world U19 title in 2003. The 23-year-old is expected to face reigning World Junior Champion Raneem El Weleily, the second seed, in another all-Egyptian final.

But 19-year-old El Weleily, from Alexandria, may first have to beat the reigning World University Champion Lim Yoke Wah, a 22-year-old 5/8 seed from Malaysia who is in El Weleily's quarter of the draw.

While all three players received byes into the second round, Switzerland's Gaby Schmohl claimed an unexpected place in the women's last sixteen following an 11-8, 11-6, 11-5 victory over Melissa Meulenbelt, a 9/16 seed from the Netherlands.

Egypt dominate World
University seedings ...

Hosts Egypt dominate the seedings for the 6th World University Championships to be held in Cairo next week.

Egypt's 2006 World Junior team champions Ramy Ashour, Omar Mosaad and Tarek Momen top the men's list, while Omneya Abdel Kawy and Raneem El Weleily, winners of the last three women's world junior championships, are top seeds in the women's draw.

The draws will be made on Thursday 21st August ...


Women's Seedings


Men's Seedings
15-Aug-08:


Great Britain Students looking forward to Cairo ...


Jonathan Tate reports

GB students travel to Cairo next week for the team and individual World University Championships and the players are excited at the prospect of challenging for and bringing home some medals.

The team consists of the 2006 Men's Individual Bronze Medalist Joel Hinds (Birmingham), Alan Clyne (Edinburgh), Jethro Binns (Loughborough), Emma Beddoes (Nottingham), Sarah Bowles (Leeds) and is in the fortunate position of retaining two of the players (Joel and Emma) who brought home the Team Gold last time in Hungary (Chris Ryder also took individual gold).



In 2006 the GB team was an all English affair, however this time round the team has a different mix with a Scotsman (Alan), a Welshman (Jethro) and an Englishman (Joel) joining the two English girls.

These players have a lot to live up to, not least because they will arrive in Cairo as the defending team champions. All are aware that repeating that success of 2006 will be extremely difficult, as all of the other nations continually seem to go from strength to strength, and playing the hosts Egypt in their own back yard is never going to be an easy task for anyone!

Despite this, Head Coach Keir Worth commented that he is looking forward to the challenge of trying to retain the team title, and is confident that after a hard summer of training and matches the players will put in some good performances in both competitions.

"All of our players have now almost finished a hard summer training programme, and with three of the players having recently turned professional and with Joel due to do so next year this should be a good test of their professional credentials.

"This group of players have all beaten and competed well at times against some top world professional players, however it is the concentration, application and consistency of performance that holds the key to the next stage of their development."

Keir Worth

Jethro Binns is one of those players who Keir is referring to as he has recently finished his degree at Loughborough University and having decided to turn professional this competition marks the start of a very busy period for the young Welshman.

Currently in Bogota, Columbia competing at XI Abierto Colombiano, he will have just one day back in England before heading out with the GB Team to Cairo.


From there he is heading to America for a series of events in Chicago, Houston and Baltimore, and after that its Wolverhampton, Saudi and then the World Open in Manchester. Jethro, who is a member of the Welsh Performance programme, has been working closely with the sports science and a strength and conditioning coaches in Cardiff, and has been training most days with coach Greg Tippings and the other Welsh Players.

Like Jethro, both Alan Clyne and Emma Beddoes are also now training professionally. Alan is the current 2008 Men's BUSA Champion, is a key member of the Scottish Performance programme coached by Roger Flynn, and is the current Scottish number two behind John White.

Emma on the other hand was the BUSA Champion in 2007, and since graduating from Nottingham last summer she has continually and steadily moved up to number 9 in the Under 23 WISPA rankings, and to number 44 on the main WISPA tour.

Currently training at Nottingham Squash Club with a number of up and coming young English players, Emma is also a member of the Nottingham PSL team.

Joel Hinds and Sarah Bowles are the two players who are currently still studying at university, and both are currently funded by the UK Talented Athlete Scholarship Scheme (TASS).

Joel is a member of the Birmingham University team that has won the BUSA squash team championships for the past five seasons, and Sarah is the 2008 BUSA Champion and an influential member of the Leeds team that has reached the BUSA Team final for the past two years.

Joel has been a key member of the Birmingham PSL team that has reached the semi-final stage on both of the past two seasons, and Sarah is a regular member of the Pontefract Ladies Team that are the current European Club Champions.

GB Team Manager


www.squash2008.com


Dutch Return
in Cairo

For the first time since the mid-nineties there will be a Dutch delegation for the World University Championships.

Heading for Cairo are Melissa Meulenbelt, the Dutch Under 19 champion, and with her brother runner-up in the mixed doubles and champion of her club, Squash Almere, in the Dutch club championship.

Melissa was a member of the Dutch team which last year competed in the Junior World
Championships in Hong Kong.



The second member of the squad is Lisa Kho from Utrecht. She is several times Dutch champion in
the juniors and plays Ere Divise for squash Apeldoorn.

These two girls are representing the Netherlands in Cairo, we hope they
have a good time over there and play well for the "rood-wit blauw".




2006 Event

"We have all been working really hard this summer and we're looking forward to taking our increased level of fitness into a sustained period of playing tough competitive matches.

"We all realise that we will certainly get that at these championships and I know all of us are really looking forward to performing well at this competition.

"Roll on Cairo!"


| | | |
| --- | --- | --- |
| Joel Hinds | Bowles & Beddoes | Alan Clyne |
18-Jul-08:


Australia chooses first ever university squash team


Andrew Dent reports

Deakin University pair Rex Hedrick and Melody Francis will join the University of Queensland's Nathan Turnbull in the first ever Australian squash team to compete at a World University Squash Championships.

The championships, which are held every two years, will take place this year in Cairo from August 22-28.

The decision to send a team to Cairo came after Squash Australia and Australian University Sport began working closely together to promote squash in the university sector.
All three Australian players had successful junior careers and all have played tournaments on the men's and women's professional tours.

The 22-year-old Turnbull said he was unsure of the level of competition he would face in Cairo, but predicted a very strong home team.

"It's hard to know, because we don't know who are university students and who aren't," he said. "Egypt will probably have a really strong team because they have so many young guys hanging around the top 50 in the world."

Turnbull combines his psychology degree with coaching a Brisbane junior team and his own personal training for the men's professional tour. He said the decision to send a team to these championships would boost squash in universities.

"A lot of the younger guys I coach are already talking about it and thinking they have a chance to play for Australia if they go on to university," he said. Hedrick, 19, a scholarship holder, with the Victorian Institute of Sport, is in his second year studying sport and exercise at Deakin University.

"I'm really excited about going to Egypt – I think it'll be a really good experience," Hedrick said. "I know some of the players from Canada who are going, and they are pretty good so I know it's not going to be easy."

Francis, who is also 19, won the Czech Junior Open in 2007 and represented Australia at the Women's World Junior Championships in Hong Kong last year.

She played her first tournament on the main women's professional tour earlier this year, reaching the semi-finals of the Top End Open in Darwin.

Australian team
Nathan Turnbull 22 University of Queensland
Rex Hedrick 19 Deakin University
Melody Francis 19 Deakin University

Reserves:
Nathan Kam 20 Macquarie University
Rebecca Jones 20 University of Canberra


www.squash2008.com


2006 Event