22-Sep-07:
Squash Coaches Learn From
The Best To Be The Best In Canada
Squash coaches from established and squash-developing countries from all five regions of the world attended the 8th WSF Coaching & Development Conference in Canada this month.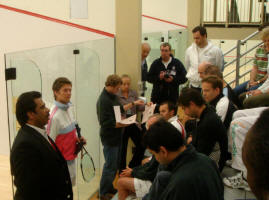 Hosted by Squash Canada in Calgary, the conference featured an outstanding line-up of seventeen presenters, including former world number one Canadian Jonathon Power - who captured everyone's full attention with his on-court demonstrations and question and answer sessions, along with world-renowned coaches Gene Turk, Shaun Moxham and Mike Johnson.
A broad range of topics, offering new and innovative ideas for coaches, were covered - including "Early Learning of Squash Skills", "Creative Drills, Deception, Tactical Session, Pressure Drills for Advanced Players", "Development of a Programme-based Vs Levels-based Coach Education System", together with presentations on Sports Science and Sports Psychology, and a variety of Sport Technology & Training Aids.
The session started off with an excellent review of the Long Term Athlete Development (LTAD) model by Stephen Norris, who is based at the Canadian Sport Centre in Calgary. Dr Norris followed up his presentation with a field trip to Canada Olympic Park and a review of the bobsled and luge training facility. Additionally, 12 brave coaches did the zipline from the top of the 90m ski jump!
Later, Dr Jim McAuliffe, a past President of Squash Canada, joined with England Squash Director of Performance and Coaching Peter Hirst and Squash Australia's National Coaching Manager Jeff Wollstein to discuss implications of LTAD for world squash.
The increasing influence of technology in sport led to a prominence of technology presentations, including: Dartfish (biomechanics); Squash Cannon (ball machine); Footworker (on-court footwork trainer); and AMOS (a software program for high performance training, currently in development).
WSF President Jahangir Khan, the six times World Open champion, congratulated Joe Hattori, President Squash Canada, and CEO Linda MacPhail and her Organising Committee at the closing of the conference in successfully taking up the initiative to support the development of the sport in every region.
"It was exciting to see coaches from all corners of the world enthusiastically gathering new initiatives and sharing different levels of experiences from such a wealth of highly qualified presenters," explained WSF Vice-President Heather Deayton. "I am confident that much of the knowledge gained at the conference in Calgary will add tremendously to the on-going development of squash globally."