Rejected again ...


Now that the initial hurt of yet another rejection has waned, perhaps it's time to look at Squash's relationship with the Olympic movement and ask the question, what next ?

On the face of it squash's failure this time was even more disappointing than in 2005 - then we had few expectations but were very close to getting in, whereas this time after an active and expensive campaign hopes were high, so the fact that we came nowhere near, in voting terms, is a bitter blow.

There's no point harping on about the unsuitability of Golf and Rugby Sevens though, the IOC made it clear that "added value" was the main criteria, and that's sure to be the case next time an opportunity comes around - whenever that may be.

It's all very well for Jacques Rogge to urge the discarded sports to "think quietly and analyze why there were not selected and have another go," (GamesBids story) but if the IOC's main concern is the amount of money a sport will bring to the games, squash would be better off forgetting about the Olympics forever.




World Juniors denied a chance of a medal in their prime years

The signs were there, WSF bid co-ordinator George Mieras's post-Berlin report makes for depressing reading, reporting that after that well-received presentation in Lausanne the word was "you do know that the decision is made, it will be rugby and golf", and that before the Berlin vote an IOC board member revealed that "we hope to reach consensus on the sports before voting".

Was it really as depressing as "5 sports provided a veneer of respectability for a process in which 2 sports, pre-ordained to emerge, duly did so" makes it sound? Probably, yes.



So what next ???


The options appear to be:
The first two are self-explanatory, but let's look at the last two ...


Make a point in 2012 ...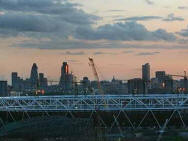 There have been suggestions from several sources that squash should muscle in on London 2012, either by staging a major tournament during the Olympics to try to catch some of the media frenzy, or possibly as a 'demonstration sport'.

Demonstration sports aren't supposed to exist any more, and England Squash chairman Zena Wooldridge believes such a move would be impossible (Telegraph article).

Anyway, since we're definitely out for 2016, and probably longer, what's the point of that?

The legal route to 2012 and beyond ...

Then there's the legal argument.

Some believe that the IOC broke its own rules in that controversial final vote in Singapore in 2005, when Squash and Karate, having been voted onto the 2012 programme, failed to get a two-thirds majority in a subsequent vote to become 'Olympic Sports'.

The argument is a long one (full report from Gordon Kerr) but the basic assertion is that Squash and Karate had already been granted 'Olympic Sport' status in the first vote, that the second vote was unconstitutional, unnecessary, and therefore invalid.

The upshot of pursuing this line, in a possibly costly court case, is that Squash and Karate would become part of the 2012, and subsequent, Olympic programmes. Job done.

The various squash authorities have known of this for a long time, but kept it under wraps while the 2016 bid progressed. Now it appears to be the only way of possibly making the Olympics, so upsetting the IOC by taking them to court may not be such an unthinkable proposition.

Additionally, a 'seriously eminent' London QC reportedly says that the case has 'stone legs' and is ready to take up the challenge if required.

What do you think ?

Cast your vote >>>>>
and fee free to use the "Share This" link to garner more votes ...

and make your comments on the forum


Top players'
Olympic Pledge

Lausanne Presentation
"The weighting of the IOC's criteria happened to favour rugby and golf. If the same were applied to the 26 sports currently in the Olympics then a majority of them would fail to lift the bar. We just happen to be on the outside."

The Case for
2012 Inclusion
Gordon Kerr

World Squash Day 2009