ALI IS 30....

Comme le temps passe.... How time flies...

First time I saw Alister, Manchester 2004, February to be exact, for the British Nationals. First round, he plays Johnny White - who'll go on and win the tournament representing Scotland - and gives him a hard time, 15/8 15/12 15/10.

What struck me at the time was not his game but his spirit. There he was, on a main stage, glass court and all, and was he apprehensive? Did he give too much respect to John, like so many younger players do with their idols? Nope, not for a second. Ali was on the court to win. Not to play his best.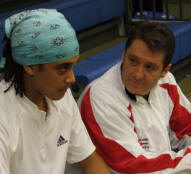 Ali is a strange bird. You see the locks, the rasta look, and you think... mmm, trouble. But in fact, an angel in disguise he is. The boy goes to Church every Sunday, and like a David Pearson or a Thierry Lincou, is a very religious person.

I remember his face when he was asked to hide the cross around his neck once in a rather strict Muslim country. He was not happy, my Ali was...

Ah, he is very shy too, contrarily to the image he wants to give of himself bless him.

His sometimes loud attitude again some refs and straight talk got under the skin of a few, but I for one absolutely adore the boy. He is a true human being. What you see is what you get. He is faithful in his friendship, a hard worker indeed, and he loves the game, a very attacking squash, fast and physical - Shabana once stated that he was playing like an Egyptian, how's that for a compliment.


After a few ups and down, he now lives in the States, in New York to be exact, and has now found a true balance in his life. He is back in Manchester at the moment for the British Grand Prix, it will give him the opportunity to catch up with a few mates of his, "Secret Coach" David Pearson, Nick Matthew, and his manager, Paul Walters, among others....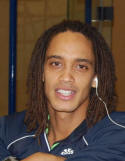 Thanks to the Social Networks and a few tournaments here and there, I still stay in contact with my Botswana number 1 player (he changed allegiance a few years back from England back to his native country) once in a while.

I miss him.

Happy birthday son....