January 2010:
NEW KIDDIES ON THE BLOCK...

When Players embrace a new career by caring for others ...
LUCAS BUIT



A new column on SquashSite, with the spotlight directed on retired players who have decided to coach squash. We all know how important a true relationship between a player and his coach is for the development of a true champion. Rahmat Khan and Jahangir, Neil Harvey & Peter Nicol, Shawn Moxham & David Palmer, Malcolm Willstrop and Lee Beachill/James Willstrop, to name just a few...

And we have a few faces, like Lucas Buit. Lucas, I've mainly seen him play in the European Teams Championship. He was always the one players dreaded to play against, as his ranking didn't reflect his talent, I remember...

Today, he is still in Amsterdam, and wears two hats. Both National Coach and private coach, he works with a few names like LJ Anjema, Natalie Grinham, Orla Noom, Bart Ravelli, Sebastiaan Weenink, Gilly Lane.

Come and discover that "new kiddie" in the Magical World of Coaches....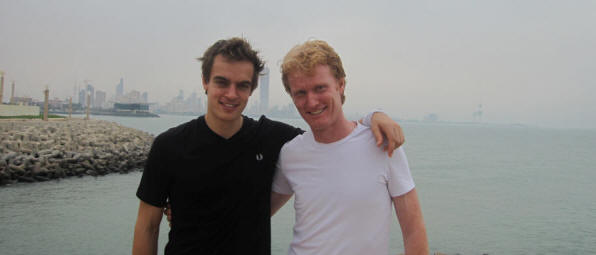 Where are you based?
"I am based in Amsterdam and coach nearly every day in the Frans Otten Stadion."

Do you have sentences you keep repeating to your players?

"I am sure I sometimes repeat sentences to players but what I say depends on who I am coaching.

I try to coach with passion, not so much on auto pilot. I think you will reach a player better that way."

Did you always fancy coaching, or is it something that grew in you?
Coaching is definitely something I grew into, I have been coaching a long time already, something like 20 years, because financially I had to do it, especially in the beginning of my career. I always liked doing it although I had to make sure I didn't do too many hours because it would have had a negative effect on my game.

What motivates you to coach?
Since I stopped playing squash fulltime, I really went into coaching and then I started to coach professional players. What motivates me to coach is to see if I can help a player to achieve his/her goals.

It is great to work with a player day in day out and see improvement on whatever we are working on, and if that happens I think I am on the right track to become a good coach.

What do you expect to achieve as a coach?
As a national coach, I would like achieve that Holland in the future is going to be a nation that has a steady position in European/World championships.

As a private coach I hope that I can get the most out of each player that is possible whatever position that may lead to in the world rankings.

Do you try to make your players play like you, exactly NOT like you, or a bit of both…?
I don't try to make my players like me, I think you have to look at each player separately and look at their strong/weak points and work on them.

I am learning that more and more as I go along. In the beginning of my coaching career, I was still too much a player instead of a coach. I do think that a few things that made me as a player are essential for any player to become very good: passion, discipline, 100% effort.
Little words about each player you have under your wing?


LJ Anjema:
Natalie Grinham:
Orla Noom:
Bart Ravelli:
Sebastiaan Weenink:
Gilly Lane:



strong, fit, power, disciplined, intelligent, funny
fit, fast, creative, strong minded, smart, pregnant
talented, technically strong, touch, casual, nice
strong, fast, friendly, Monday mornings...
talented, creative, future, study, promising
keen, fast, strong, inquisitive, kind
Your life is ....
"Interesting, healthy, inspiration"

Squash is...
"Passion, chess, mental"