Australian Open 2012
11-19 August, Canberra, $70k+$50k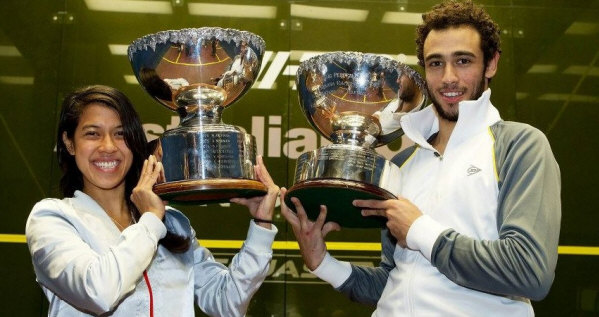 19-Aug, Finals:

[1] Nicol David (Mas) bt [3] Laura Massaro (Eng)
17/15, 11/2, 11/6 (44m)

[1] Ramy Ashour (Egy) bt [2] Omar Mosaad (Egy)
11/9, 11/9, 11/6 (53m)

Still the Champions

Top seeds and defending champions Nicol David and Ramy Ashour successfully defended their Australian Open titles with straight-game wins in the finals .

David wins second Australian Open
Andrew Dent reports

Defending champion Nicol David of Malaysia won her second consecutive HI-TEC Australian open when she beat a gallant Laura Massaro in an enthralling women's final in Canberra's Royal Theatre on Sunday.

David saved six game points in the crucial opening game then overwhelmed the Englishwoman in the next two to win 17-15, 11-2, 11-6 for her 62nd title on the women's tour.

Playing in front of legendary champion Heather McKay and with squash greats Vicki Cardwell and Michelle Martin also looking on, David showed why she is considered the greatest player of the past decade as she absorbed everything the Englishwoman threw at her before turning the screws on her opponent.

Massaro played almost perfect squash in the first game, slowing the pace down and keeping David pinned to the back of the court.

She moved to 10-8 but couldn't convert, then had four more chances in the tiebreak, all of which David saved.

David eventually took the first game on her second opportunity then came out firing as Massaro went away from the game plan that had served her so well in the first.

The Malaysian dominated the front of the court and volleyed superbly to race to a 10-0 lead before closing it out.

Massaro regrouped in the third and again slowed the pace, but at 4-4 David won four points in a row to put herself in an unbeatable position.

"It was hard to get Laura off my back, I had to really get stuck in there, it was mentally and physically tough," she said of the first game.

"In the second I started to get in front and was able to start serving and gaining control. I just knew I wasn't letting that first game go, it was close, I'm just so glad to win it three-love."

Massaro said she hadn't done anything wrong in the first game: "I just think I was a bit unlucky at the end of the rallies, I'd done everything really well the whole game trying to keep her at the back," she said.

"I just went a bit crazy trying to finish the rally too soon on those game points. I was trying to think it was just one game when I went back on but obviously the way the second turned out it affected me a little bit more than I thought.

"It was probably a little bit more crucial than I thought at the time."

Brilliant Ashour wins Australian Open final

Defending champion Ramy Ashour was at his brilliant best as he downed fellow Egyptian Omar Mosaad in straight games to win his second HI-TEC Australian Open crown.

Ashour took 53 minutes to see off the tall and powerful Mosaad 11-9, 11-9, 11-6, thrilling the big crowd in Canberra's Royal Theatre with the audacity of his stroke play.

Mosaad was also in superb touch but Ashour always had the edge over his countryman, sneaking the first two games then stamping his authority on the third, clinching victory with a devastating drive down the forehand wall.

Ashour had to survive two gruelling matches to make the final, first downing Nicolas Mueller in five games in the quarter-finals then Cameron Pilley in four in the semis.

But there were no signs of weariness in the final, the 24-year-old choosing to keep hitting the ball during the game breaks rather than having a rest.

He said he found it difficult playing against Mosaad, someone he grew up with in Egypt.

'We both know each other's games very well, we've both seen each other's shots so we're at the place where the ball is going even before it's been hit," Ashour said.

"It's more of a mental match as a matter of fact. If you're not 100 per cent accurate, the other person is going to string a lot of points together in a row, especially if you're playing who knows your game."

Ashour said he had been pushed hard throughout the tournament: "Every match was tough this week, the further you go in the tournament the more pressure is on you, the more you are worried and the more you don't want to let go of what you have done."

The Egyptian has made no secret of his wish to return to world number one and also used his win to push the cause to have squash included in the Olympics.

"It's very healthy, you burn a lot of calories. This game can be very, very good for human beings in general - not just as a sport," he said. "We have a portable court that can be put anywhere in the world. It's very fast, very interesting, very exciting and everyone whoever watches squash always comes back.

"I don't mean to be disrespectful, but I've seen a lot of other sports that don't belong in the Olympics when squash isn't in there."


Winners of the U21 Championships:
Greg Lobban and Sarah Cardwell

Photos by
Bob Givens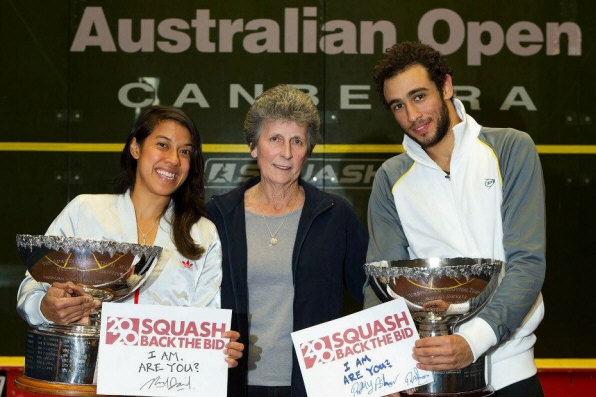 The champions with Heather McKay
Australian Open 2012
11-19 August, Canberra, $70k
Round One
13th/14th Aug
Round Two
15th/16th Aug
Quarters
17 Aug
Semis
18 Aug
Final
19 Aug
[1] Ramy Ashour (Egy)
11/6, 11/6, 11/6
[Q] Kashif Shuja (Nzl)

[1] Ramy Ashour



11/7, 11/5, 11/7 (26m)



Olivier Pett

[1] Ramy Ashour

10/12, 11/4, 9/11, 11/8, 11/1 (66m)

[6] Nicolas Mueller

[1] Ramy Ashour

8/11, 11/7, 11/7, 11/7 (52m)

[4] Cameron Pilley

[1] Ramy Ashour

11/9, 11/9, 11/6 (53m)

[2] Omar Mosaad

Olivier Pett (Eng)


11/4, 11/5, 11/7 (29m)




[Q] Dick Lau (Hkg)

Leo Au (Hkg)
11/7, 11/7, 10/12, 11/6 (38m)


[Q] Aqeel Rehman (Aut)

Leo Au



4/11, 11/4, 11/2, 11/2 (34m)



[6] Nicolas Mueller

[6] Nicolas Mueller (Sui)
11/5, 11/7, 11/6 (47m)
[Q] Aaron Frankcomb (Aus)
[8] Nafiizwan Adnan (Mas)
11/7, 11/5, 11/5 (25m)


[Q] Gonzalo Miranda (Arg)

[8] Nafiizwan Adnan



11/3, 11/9, 7/11, 11/6 (63m)



Omar Abdel Aziz

Omar Abdel Aziz

11/9, 9/11, 11/7, 4/11, 11/6 (85m)

[4] Cameron Pilley

Omar Abdel Aziz (Egy)


11/3, 2/11, 11/7, 11/7 (52m)


Campbell Grayson (Nzl)
Zac Alexander (Aus)


11/8, 7/11, 11/2, 11/3 (51m)


Rex Hedrick (Aus)

Zac Alexander



11/6, 9/11, 11/9, 7/11, 11/3 (62m)



[4] Cameron Pilley

[4] Cameron Pilley (Aus)
11/7, 11/5, 11/7 (34m)
Matthew Karwalski (Aus)
Kamran Khan (Mas)
11/7, 11/7, 14/12
[3] Tom Richards (Eng)
[3] Tom Richards



11/7, 9/11, 11/4, 11/4 (63m)



Ryan Cuskelly

[3] Tom Richards

11/7, 11/6, 11/4 (37m)

[7] Alan Clyne

[3] Tom Richards

9/11, 11/3, 11/3, 11/3 (45m)

[2] Omar Mosaad

Muhd Asyraf Azan (Mas)
11/5, 11/9, 11/8
Ryan Cuskelly (Aus)
Martin Knight (Nzl)
11/5, 11/9, 9/11, 11/4
[Q] Justin Beard (Aus)
Martin Knight

11/7, 7/11, 11/8, 13/11 (83m)

[7] Alan Clyne
Siddarth Suchde (Ind)
11/7, 11/5, 11/8
[7] Alan Clyne (Sco)
Ivan Yuen (Mas)
12/10, 11/8, 11/7
[5] Ong Beng Hee (Mas)
[5] Ong Beng Hee



11/9, 8/11, 11/7, 11/7 (60m)





Amr Khaled Khalifa

[5] Ong Beng Hee

13/11, 11/5, 12/10 (43m)

[2] Omar Mosaad

Amr Khaled Khalifa (Egy)
12/10, 11/5 11/8
[Q] Evan Williams (Nzl)
Jan Koukal (Cze)
11/5, 11/2 11/4


[Q] Mike Corren (Aus)

Jan Koukal

11/7, 11/8, 8/11, 13/11 (50m)

[2] Omar Mosaad
Max Lee (Hkg)
11/2, 12/10, 11/4
[2] Omar Mosaad (Egy)
12-Aug, Qualifying Finals:

Dick Lau (Hkg) bt Paul Coll (Nzl) 11/9, 7/11, 6/11, 11/8, 11/6 (66m)
Aqeel Rehman (Aut) br Mahesh Mangaonkar (Ind) 9/11 3/11, 11/5, 11/8, 11/8 (77m)
Gonzalo Miranda (Arg) bt Kevin Moran (Sco) 11/1, 11/9, 11/9 (38m)
Aaron Frankcomb (Aus) bt Joshua Larkin (Aus) 11/5, 11/3, 11/4 (31m)
Kashif Shuja (Nzl) bt Nathan Stevenson (Aus) 11/9, 9/11, 11/8, 11/5 (52m)
Justin Beard (Aus) bt Sunil Seth (Aus) 11/4, 11/5, 11/5 (29m)
Evan Williams (Nzl) bt Jamie McErvale (Aus) 11/8, 11/5, 11/8 (31m)
Mike Corren (Aus) bt Greg Lobban (Sco) 1 3/15, 11/7, 11/9 ,12/10 (60m)

11-Aug, Qualifying Round One:

Dick Lau (Hkg) bt Thomas Calvert (Hkg) 11/7, 11/7, 11/5 (18m)
Paul Coll (Nzl) bt Luke Sims (Aus) 11/0, 11/7, 11/7 (24m)
Mahash Mangaonkar (Ind) bt Lance Beddoes (Nzl) 11/6, 11/9, 11/5 (36m)
Aqeel Rehman (Aut) bt Josh Southwell-Nobbs (Aus) 11/6, 11/9, 11/8 (35m)
Gonzalo Miranda (Arg) bt Joseph Watts (Nzl) 11/9, 14/12, 11/5 (40m)
Kevin Moran (Sco) bt Tarek Salah Shehata (Egy) 11/9, 14/12, 11/5 (39m)
Joshua Larkin (Aus) bt James Skiffington (Nzl) 11/4, 11/7, 11/5 (22m)
Aaron Frankcomb (Aus) bt Matthew Brindle (Aus) 11/1, 11/2, 11/0 (15m)
Kashif Shuja (Nzl) bt Daniel Wright (Aus) 11/6, 11/2, 111 (19m)
Nathan Stevenson (Aus) bt Daniel Jones (Aus) 11/6, 11/2, 11/1 (16m)
Sunil Seth (Aus) bt Chris Lloyd (Nzl) 12/10, 11/8, 5/11, 11/7 (42m)
Justin Beard (Aus) bt Joshua Stack-Masula (Aus) 11/4, 11/6, 11/6 (13m)
Evan Williams (Nzl) bt Rhys Dowling (Aus) 11/2, 11/7, 11/4 (21m)
Jamie Mcervale (Aus) bt Wesley Cusick (Aus) 11/8, 11/1, 11/5 (26m)
Greg Lobban (Sco) bt Ben Takamizawa Harris (Jpn) 11/7, 11/5, 11/7 (23m)
Mike Corren (Aus) bt Song Young Kim (Kor) 11/4, 11/6, 10/12, 11/6 (36m)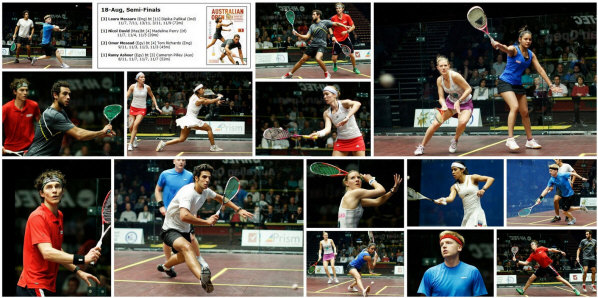 Australian Open 2012
13-19 August, Canberra, $50k
Round One
15th Aug Woden
Round Two
16th Aug
Quarters
17 Aug
Semis
18 Aug
Final
19 Aug
[1] Nicol David (Mas)
11/3, 8/11, 11/4, 11/8 (40m)
[Q] Tesni Evans (Wal)
[1] Nicol David
11/4, 11/1, 11/6
[10] Low Wee Wern

[1] Nicol David

10/12, 11/1, 11/7, 15/13 (68m)

Alison Waters

[1] Nicol David

11/7, 11/4, 11/5 (39m)

[4] Madeline Perry

[1] Nicol David

17/15, 11/2, 11/6 (44m)

[3] Laura Massaro

[10] Low Wee Wern (Mas)
11/3, 11/2, 11/8 (19m)
Liu Tsz-Ling (Hkg)
[5] Annie Au (Hkg)
11/5, 11/2, 11/2 (19m)
[Q] Lisa Aitken (Sco)
[5] Annie Au
11/7, 11/6, 11/8
Alison Waters
[15] Delia Arnold (Mas)
11/8, 11/6, 11/3 (30m)
Alison Waters (Eng)
[4] Madeline Perry (Irl)
11/3, 11/9, 11/1 (21m)
Siti Munirah Jusoh (Mas)
[4] Madeline Perry
11/8, 13/11, 11/2
[16] Emma Beddoes

[4] Madeline Perry

11/4, 11/5, 11/6 (33m)

[8] Kasey Brown

[16] Emma Beddoes (Eng)
8/11, 11/2, 8/11, 11/4, 11/3 (61m)
[Q] Sarah Cardwell (Aus)
[8] Kasey Brown (Aus )
11/6, 11/4, 11/2 (28m)
Line Hansen (Den)
[8] Kasey Brown
7/11, 11/4, 11/6, 11/9
[9] Joelle King
[9] Joelle King (Nzl)
11/7, 11/7, 3/11, 11/6 (40m)
[Q] Olga Ertlova (Cze)
[Q] Kylie Lindsay (Nzl)
11/7, 11/3, 11/6 (23m)
[12] Donna Urquhart (Aus)
[12] Donna Urquhart
11/5, 11/7, 6/11, 11/4
[7] Rachael Grinham

[12] Donna Urquhart

w/o injured

[3] Laura Massaro

[3] Laura Massaro

11/7, 7/11, 13/11, 3/11, 11/9 (72m)

[11] Dipika Pallika

Siyoli Waters (Rsa)
11/8, 13/11, 11/9 (31)
[7] Rachael Grinham (Aus)
Emily Whitlock (Eng)
9/11, 11/6, 4/11, 11/9, 11/9 (53m)
[13] Jaclyn Hawkes (Nzl)
Emily Whitlock
14/12, 11/8, 11/9
[3] Laura Massaro
[Q] Thaisa Serafini (Bra)
11/1, 11/5, 11/8 (25m)
[3] Laura Massaro (Eng)
Christine Nunn (Aus)
11/5, 11/2, 11/5 (28m)
[11] Dipika Pallikal (Ind)
[11] Dipika Pallikal
3/11, 11/9, 11/9, 11/6
[6] Camille Serme

[11] Dipika Pallika

11/5, 11/7, 12/10 (32m)

Amanda Sobhy

[Q] Amanda Landers-Murphy (Nzl)
11/4, 11/7, 11/6 (20m)
[6] Camille Serme (Fra)
Amanda Sobhy (Usa)
11/4, 11/6, 11/3 (22m)
[14] Joey Chan (Hkg)
Amanda Sobhy
11/7, 10/12, 11/7, 11/6
[2] Jenny Duncalf
[Q] Joshna Chinappa (Ind)
11/7, 11/7, 13/11 (35m)
[2] Jenny Duncalf (Eng)
14-Aug Qualifying Finals:

Kylie Lindsay bt Jessica Turnbull 11-5, 11-4, 11-6 (23m)
Olga Ertlova bt Chloe Mesic 11-2, 11-2, 11-7 (20m)
Thaisa Serafini bt Vanessa Pickerd 11-6, 11-8, 11-7 (29m)
Sarah Cardwell bt Larissa Huffer 11-6, 7-11, 11-7, 11-3 (32m)
Tesni Evans bt Selena Shaikh 11-4, 11-7, 11-4 (19m)
Amanda L-Murphy bt Tong Tsz-Wing 11-7, 4-11, 7-11, 11-6, 11-5 (43m)
Lisa Aitken bt Jennifer Brown 11-3, 11-5, 11-2 (21m)
Joshna Chinappa bt Megan Craig 14-12, 12-10, 11-4 (30m)

13-Aug, Qualifying Round One:

Kylie Lindsay (Nzl) bye
Jessica Turnbull (Aus) bt Genevieve Lessard (Can) 3-11, 6-11, 11-7, 11-8, 11-7 (36m)
Sarah Cardwell (Aus) bt Victoria Leow (Aus) 11-3, 11-4, 11-2 (16m)


Larissa Huffer (Aus)

bt Alix Younger (Can) 8-11, 11-5, 11-6 11-5 (21m)
Olga Ertlova (Cze) bye
Chloe Mesic (Fra) bt Lakeesha Rarere (Aus) 11-5, 11-6, 11-5 (21m)
Thaisa Serafini (Bra) bt Stacey Cope (Aus) 11-4, 11-5, 11-4 (15m)
Vanessa Pickerd (Aus) bt Carin Clonda (Est) 11-3, 11-5, 11-3 (14m)
Selena Shaikh (Aus) bt Rachael Gibson (Aus) 11-9, 11-5, 10-12, 11-8 (26m)
Tesni Evans (Wal) bt Jane Kennedy (Aus) 11-6, 11-3, 11-4 (17m)
Tong Tsz-Wing (Hkg) bt Taylor Flavell (Aus) 11-9, 11-4 11-2 (22m)
Amanda Landers-Murphy (Nzl) bt Kristen Nightingale (Aus) 11-5, 11-6, 11-7 (18m)
Jennifer Brown (Aus) bt Grace Mcervale (Aus) 11-9, 11-8, 11-8 (27m)
Lisa Aitken (Sco) bt Natalie Newton (Aus) 11-2, 11-9, 11-2 (18m)
Megan Craig (Nzl) bt Nicole Stoneham (Aus) 11-2, 11-4, 11-7 (15m)
Joshna Chinappa (Ind) bye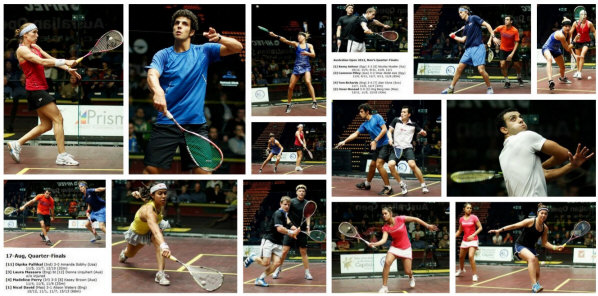 Semi-finals in short

The first player to reach the 2012 Australian Open finals was England's third seed Laura Massaro, who survived a see-saw five-game battle with Indian Dipika Pallikal, coming from 5-9 down in the decider.

"I'm in the final of the Australian Open!! Can't wait!! :)" tweeted a delighted Massaro.

The first men's semi-final saw third seeded Egyptian Omar Mosaad recover from a game down to beat England's Tom Richards, who was struggling with injury.

"Turns out that when you hit almost everything off your right leg it helps to have a glute that works," tweeted a "Fuming" Richards.

Defending champion Nicol David looked in good form as she beat Madeline Perry in straight games to reach her 78th Women's tour final (thanks Howard).

Men's defending champion Ramy Ashour finished the day off by coming from a game down against Cameron Pilley to end home interest and guarantee an Egyptian winner.



Ashour downs Pilley to set up all-Egyptian final
Andrew Dent reports

Top seeded Egyptian Ramy Ashour booked his place in the final of the HI-TEC Australian Open after overcoming Australian Cameron Pilley in a brilliant men's semi-final in Canberra on Saturday.

Ashour will play fellow Egyptian Omar Mosaad in Sunday's decider following his come-from-behind 8-11, 11-7, 11-7, 11-7 win over the Australian number one.

Ashour and Pilley are two of the best shot-makers in the men's game and they put on an attacking master class for the large crowd in Canberra's Royal Theatre.

Pilley took the early advantage when he claimed the first game, only for defending champion Ashour to take the second after jumping away to an early lead.

The two men went point for point in the next two games, however, Ashour was able to win the big points towards the end to seal victory.

"The match could have been anyone's it was so close," Ashour said. "I'm glad to win in four and make the final." Ashour said he knew what to expect playing against someone like Pilley.

"The top players go everywhere in the world together and play each other a lot," he said. "We know each other's games so well. There is a very thin line between the players in the top 20, so I'm happy with my performance."

Pilley was also happy despite the loss: "That's the best I've played all tournament, it's the best I've moved all tournament," he said. "I think I was definitely there, just towards the end of the games he's pretty experienced in those situations.

"I'm happy I stuck to my game plan, but he managed to play some nice shots at the right time."

Earlier, Mosaad downed an injured Tom Richards of England 9-11, 11-3, 11-3, 11-3 in the first of the men's semi-finals.

Richards has been in great touch this week and looked on course for an upset when he won the first game, but he pulled a glute muscle towards the end of the game and his movement was severely restricted thereafter.

Mosaad took full advantage, going short at every opportunity and leaving Richards stranded at the back of the court unable to chase the ball down.

"It was my right glute, I just couldn't push off it," a devastated Richards said. "Generally I'm able to push through, but movement's quite a big part of my game so when I couldn't move, I couldn't put any pressure on him.

"I think he knew because he started taking it in a lot more. It's very, very disappointing because I thought I had a really good chance of winning this match today.

"I know Omar's a very good player and it would have been very tough, but I think I could have beaten him."

David to face Massaro in Aus Open decider
Andrew Dent reports

Defending champion Nicol David was back to her imposing best as she defeated 2010 winner Madeline Perry in the semi-finals of the HI-TEC Australian Open in Canberra on Saturday.

David beat the Northern Irishwoman in straight games 11-7, 11-4, 11-5 to set up a final against England's Laura Massaro, who earlier took five games to see off India's Dipika Pallikal 11-7, 7-11, 13-11, 3-11, 11-9.

The Malaysian superstar was pushed hard in Friday's quarter-finals by Alison Waters, who exposed some chinks in the world number one's armour in a thrilling contest.

But she was back to her devastating best against Perry, who admitted later she didn't have an answer despite going into the semi-final in great form.

"I have to win the rally 10 times to win a point," Perry said. "I end up trying to hit the ball lower and lower and that's why I made so many mistakes.

"It's difficult to know how to win a point when she gets everything back and doesn't make a lot of errors."

David's movement was superb as she chased down everything, never giving Perry an easy point throughout.

"The match yesterday gave me a real motivation for today, to stay focused and stay solid," David said. "I was moving well and hitting the ball well so hopefully it will be the same tomorrow.

"A match like yesterday makes you sharper and makes you more aware of what your opponent's trying to do to you. After yesterday I was a bit more prepared for what was coming today."

Massaro came from 5-9 in the deciding fifth game to beat Pallikal and deny India a first ever finalist in a major tournament. Pallikal had played superbly to take the fourth game 11-3 and opened a big lead in the fifth before faltering under the pressure of Massaro's comeback.

After beginning the match strongly, Massaro began to struggle to cope with Pallikal's deceptiveness at the front of the court.

Pallikal was unlucky to lose the third in a tiebreak then dominated until the late stages of the fifth. She will be rueing losing a match that even her opponent conceded she should have won.

"At 9-5 down in the fifth I'd just decided I'd lost really and I just wanted to finish well and make the score respectable," Massaro said.

"She probably thought she had won it, I've been there myself – you've got such a big lead and you think 'I'll win one more point surely'."

David and Massaro have met on 17 occasions with the Malaysian winning 15 times and Massaro twice.

However, the Englishwoman has pushed David over the past two years, with her two wins coming in major tournaments in 2011, the Cleveland Classic and Singapore Masters.


Photos by
Bob Givens
Day Seven, Quarters:
Pilley and Ramy tested

Third seed Cameron Pilley survived a second successive five-game battle to reach the semi-finals in Canberra, today getting the better of a see-saw match against unseeded Egyptian Omar Abdel Aziz.

Pilley will meet defending champion Ramy Ashour after the Egyptian top seed also survived a nervous five-setter, coming from 2-1 down to beat Nicolas Mueller.

Earlier second and fourth seeds Omar Mosaad and Tom Richards both won n straight games, although Egyptian Mosaad was taken to extra points in two of the games by Malaysian 'veteran' Ong Beng Hee.



Pallikal powers into Canberra semis

The first of the day's quarter-finals at the National Convention Centre in Canberra pitched two unexpected last eight players together as Dipika Pallikal and Amanda Sobhy renewed their junior rivalry.

It was Pallikal who prevailed though, going through to the semis in straight games. There she will meet England's Laura Massaro, who enjoyed a walkover against an injured Donna Urquhart.

Madeline Perry then ended home interest in the women's draw as she beat Kasey Brown in straight games, and defending champion Nicol David completed the semi-final lineup with a tough four-game win over Alison Waters.

---

Perry defeats Brown
as Urquhart pulls out injured
Andrew Dent reports

Northern Ireland's Madeline Perry crushed Australian hopes in the women's quarter-finals at the HI-TEC Australian Open when she defeated Kasey Brown with a ruthless display of attacking squash in Canberra on Friday.

Played immediately after Australia's Donna Urquhart was forced to forfeit her match against England's Laura Massaro because of an ankle injury, Perry dominated Brown to win in three games 11-4, 11-5, 11-6.
Perry won the Australian Open in 2010 and was a semi-finalist 12 months ago and enjoys playing on the Canberra glass court.

"Some courts just seem to suit you and this one has always been good for me," she said, adding that she felt in control from the start of the match.

"It doesn't normally happen very often but I started well today. When I won the first few points I was quite surprised but I took it as a good sign," Perry said.

"She couldn't seem to get in front of me because my length was so good and she couldn't attack. I could really sense she was getting frustrated."

Perry will head into her semi-final against defending champion Nicol David with some confidence after the Malaysian was pushed hard before beating England's Alison Waters.

Waters , runner-up to Perry in 2010, came out with all guns blazing to take the first game in a tiebreak.

The world number one struck back to win the second in a canter then just managed to hold off an inspired Waters in the third and fourth to win a high-quality match 10-12, 11-1, 11-7, 15-13.

"At the start of the second I decided I had to be clearer about what I was supposed to be doing," David said.

"I started watching the ball a bit better and everything started to go really well for me, and Alison started making some errors. But she kept competing and the third and fourth games were really tough."

Earlier, Urquhart was forced to pull out before her match after suffering an ankle injury during her win over Rachael Grinham on Thursday.

Urquhart had treatment on the ankle on Thursday night but the injury flared up on Friday morning and she was unable to take the court against third seed Laura Massaro.

Massaro will now take on glamorous Indian Dipika Pallikal in the semi-finals following Pallikal's impressive 11-5, 11-7, 12-10 over Amanda Sobhy of the US.

Sobhy was unable to repeat her heroics from Thursday when she defeated second seeded Englishwoman Jenny Duncalf, with Pallikal in complete control throughout.

Pallikal raced to a 6-0 lead in the first game and never looked like losing to the American, who appeared to suffer a let-down after her win over Duncalf.

"I've been coming here for the past couple of years and I've never passed the second round so being in the semis is great," Pallikal said. "I've had a great summer. It was a very tough summer but the results are showing. With Amanda you have to cut her off from all her volleys and keep her at the back. She's very, very good at the front of the court.

"I wanted to get in there and keep the ball at the back corners of the court.

"I saw her playing Jenny yesterday and she was on fire so I knew it was going to be difficult but it's a big opportunity to get to the semis of the Australian Open so I just had to do it."


---

Pilley outlasts Aziz
to reach semi against Ashour

Cameron Pilley survived his second five-game marathon in succession to defeat Egyptian Omar Abdel Aziz and reach the semi-finals of the Australian Open in Canberra on Friday.

Barely 24 hours after being taken the distance by fellow Australian Zac Alexander, Pilley was pushed to the limit by the skilful Aziz before winning 11-9, 9-11, 11-7, 4-11, 11-6 to set up a dream semi-final against top seed and defending champion Ramy Ashour.

Pilley is one of the tallest players on the tour at 191cm and he used his incredible reach to great advantage in the first game.

But every time the Australian looked like running away with the match, Aziz fought back to keep the large crowd at Canberra's Royal Theatre enthralled as the two players battled each other and, at times, the three referees.

It is Pilley's first major semi-final since he reached the same stage of the Malaysian Open in March last year, and keeps alive his hopes of winning the Australian title after finishing runner-up in 2007 and 2009.

"I've played Omar a couple of times and I knew it was going to be tough," he said. "I've got a few years experience on him and I think that got me through in the fifth. I'm very happy with my concentration in the fifth, like yesterday.

"The other four games were just nip and tuck the whole way so I made a conscious effort in the fifth to put my head down and really concentrate on the start of the game – I was going to die on there before I lost that."

Ashour faced his own battle before emerging victorious over Swiss player Nicolas Mueller.

Mueller has given Ashour trouble in the past and he looked on course for an upset when he led two games to one. But the Egyptian claimed a tight fourth game then ran away with the fifth to win 10-12, 11-4, 9-11, 11-8, 11-1.

"That was very, very tiring physically and mentally," Ashour said. "He is a good player and will make a breakthrough at a major tournament before too long. It's too bad this was a quarter-final, this would have been a good final."

The second semi-final will be between second seeded Egyptian Omar Mosaad and third ranked Englishman Tom Richards.

Mosaad hit a stunning array of winners on his way to downing sixth seeded Malaysian Ong Beng Hee. After saving a game point in the opening game, Mosaad got his nose in front and stayed there as he punished anything short from the Malaysian veteran, winning 13-11, 11-5, 12-10.

"I was lucky to win the first game," he conceded. "I didn't play my usual style because I wanted to finish it early. "After I won the first I began to feel more confident in the second, but then in the third I wanted to finish three-love because he was starting to play so well.

"I was lucky to win three-love."

Richards was in great touch as he comfortably saw off the challenge from Scottish number one Alan Clyne 11-7, 11-6, 11-4.

Clyne matched it with the third seed until midway through the first game when Richards pulled away and never looked back, showing he is a real contender to reach Sunday's final.

"When you are playing someone like Alan who has the capability of making it last a long time and playing at a fast pace, you don't want to be out there for 90 minutes," a relieved Richards said.

Day Six
Pilley beats Alexander in Canberra shootout
Andrew Dent reports

Big-hitting Cameron Pilley booked a place in the HI-TEC Australian Open quarter-finals when he beat fellow Australian Zac Alexander in a thrilling second round match in Canberra on Thursday.

Pilley was forced to call on all his experience to see off Alexander, who attacked at every chance he got to take the game right up to his older rival.

Despite having his nose in front for much of the contest, Pilley was never able to relax as he battled to an 11-6, 9-11, 11-9, 7-11, 11-3 victory and a quarter-final against Egyptian Omar Abdel Aziz.

The two Australians thrilled the crowd with their brilliant attacking play, with the match at times turning into a virtual shoot-out as the pair blazed away hitting winners from all over the court.

However, Pilley's greater experience told in the fifth as he took advantage of some errors from Alexander to skip away with the match.

"I put on a few points at the end and ran away with it, but it wasn't as easy as that," Pilley said. "I started well and played really well with good length to the back of the court, but as soon as I dropped short after that, because he had nothing to lose he just went for it.

"In the fifth game I got back to doing what I did in the first, and it was only in the fifth game that he started making errors when I put a bit more pressure on him.

"But it was a bit of a shoot-out."

Aziz reached the quarter-finals with a tough 11-3, 11-9, 7-11, 11-6 win over eighth seeded Malaysian Nafiizwan Adnan.

The two players were evenly matched throughout with Aziz managing to win the points at crucial times.

He said coming from a long way down to win the second game was a key moment in the match.

"When I was down 9-5 I told myself that if I could stay in there and win the game then I was 75 per cent on the way to winning the match," he said "So I pushed really hard at that point."

Defending champion Ramy Ashour stayed on track for a possible semi-final with Pilley when he cruised past Englishman Olivier Pett 11-7, 11-5, 11-7.

Pett tried hard but couldn't' cope with the skills of the Egyptian maestro, who took just 26 minutes to reach the final eight. Ashour said he was pleased with his form this early in the tournament:

"Sometimes you are a bit shaky at the start of the week, but I am getting more confident as I go along."

Ashour will take on Swiss number one Nicolas Mueller in the quarters after the sixth seed recovered from a poor start to beat Hong Kong's Leo Au 4-11, 11-4, 11-2, 11-2.

Upsets abound in WSA round two

There was no shortage of upsets in round two of the women's event in Canberra as youngsters Dipika Pallikal and Amanda Sobhy progressed to the quarters at the expense of seventh and second seeds Camille Serme and Jenny Duncalf in a pair of stunning seeding reverses. They'll meet to provide a surprise semi-finalist.

Alison Waters' win over Annie Au was an upset, on paper, but less of a shock, but Donna Urquharts's win over fellow Aussie Rachael Grinham scored on both counts.

It wasn't upsets all the way though, as Laura Massaro and Madeline Perry, the third and fourth seeds, took their expected last eight places, and Kasey Brown saw off trans-Tasman rival Joelle King in four games and Nicol David wrapped up the day with a straight-game win.



Urquhart downs Grinham and
Sobhy stuns Duncalf as seeds tumble
Andrew Dent reports

Australia's Donna Urquhart scored one of the best wins of her career to beat fellow countrywoman Rachael Grinham as four of the top eight women's seeds lost their second round matches at the HI-TEC Australian Open in Canberra on Thursday.

Urquhart came out firing against seventh seeded Grinham then held off a resurgence to win 11-5, 11-7, 6-11, 11-4, her first ever win over her AIS training partner.

Second seed Jenny Duncalf of England, Hong Kong's Annie Au (5) and Frenchwoman Camille Serme (6) all lost their matches on a day of upsets, while Australia's eighth seeded Kasey Brown had to come back from losing the first game before beating New Zealand's Joelle King 7-11, 11-4, 11-6, 11-9.

Urquhart played brilliantly against former world number one Grinham, using her reach and height to great effect as she dominated her smaller opponent at the front of the court.

She won the first two games comfortably and while Grinham was able to come back and claim the third, Urquhart wasn't to be denied as she moved into a quarter-final against third seeded Englishwoman Laura Massaro, who beat fellow countrywoman Emily Whitlock 14-12, 11-8, 11-9.

"It was a little bit quick, I couldn't believe it was happening like that," Urquhart said about the first two games.

"I felt in control and I was in front just by volleying and getting up high on the T. She made a few errors as well, but I think I was making it hard for her because I was in front on the court.

"But I was surprised to find myself two-love up, I've never even got more than one game off her in a tournament match."

Urquhart said she had to get her concentration back once Grinham took the third to get back into the match.

"I knew I was looking for an easy way to win it in the third, I was taking the ball too short too soon and I was giving her the opportunity at the front and across the middle to move me around and send me the wrong way."

Earlier, former world junior champion Amanda Sobhy of the US produced some stunning squash to send second seeded Duncalf crashing out.

Duncalf finished runner-up to Nicol David in Canberra last year but she had no answer against Sobhy, who combines playing squash with being a fulltime student at Harvard University.

The American took control of the match from the beginning, playing with speed and precision that Duncalf was unable to contain.
The Englishwoman fought hard and came back into the match, but Sobhy regrouped and won a pulsating encounter 11-7, 10-12, 11-7, 11-6.

"From the beginning of the match I felt really good with the pace, I was happy with how I was playing, I was attacking well," Sobhy said. "But in the middle of the second game I couldn't keep up with my own pace and I got a little tired, and she came back.

"I had to change my game plan because I couldn't keep up with the fast pace. I tried to still attack as much but not hit the ball so hard."

Au, who won the title in 2008, lost to 2010 runner-up Alison Waters of England 11-7, 11-6, 11-8, while Indian glamour girl Dipika Pallikal downed Serme 3-11, 11-9, 11-9, 11-6.

There were no such problems for top seed David, who easily accounted for fellow Malaysian Low Wee Wern 11-4, 11-1, 11-6.

Ireland's Madeline Perry, the winner in 2010, also progressed Perry when she beat England's Emma Beddoes 11-8, 13-11, 11-2.





Quelques news d'Australie, malheureusement pas très bonnes: je viens de perdre 3/1 contre Dipika et je me suis fais mal au dos.

Il s'agit de la même blessure qu'en janvier (violente douleur dans le bas du dos, je ne pouvais plus me pencher du tout). Cette fois-ci n'est pas aussi douloureuse mais je n'ai pas pu me donner à 100% sur le court.
Dans le premier jeu, Dipika n'était pas bien dedans et j'ai réussi à jouer la bonne tactique.

Mais dès le 2ème, elle m'a fait beaucoup plus travailler à l'avant du court et c'est à partir de ce moment que j'ai commencé à avoir mal. J'ai essayé de ne pas y penser et de me concentrer sur ma tactique mais à peine je tapais la balle, j'avais mal...

C'est frustrant de faire autant de kilomètres pour un match ou l'on ne peut pas se donner à fond. Mais Dipika a bien joué et a pris sa chance.

Le principal maintenant est de rentrer pour me soigner avant le WSA en Malaisie mi septembre.


15-Aug, Day FIVE
Men's Round Two (bottom half):

Ong Beng Hee 3-1 Amr Khaled Khalifa 11-9, 8-11, 11-7, 11-7
Alan Clyne 3-1 Martin Knight 11-7, 7-11, 11-8, 13-11
Tom Richards 3-1 Ryan Cuskelly 11-7, 9-11, 11-4, 11-4
Omar Mosaad 3-1 Jan Koukal 11-7, 11-8, 8-11, 13-11

Richards rolls Ryan in Round two
Andrew Dent reports

Third seeded Englishman Tom Richards ended Ryan Cuskelly's Australian Open hopes when he beat the Australian in four games in their second round clash in Canberra on Wednesday.

After sharing the opening two games, Richards stepped up his game to overcome Cuskelly 11-7, 9-11 11-4, 11-4 in just over an hour.

Cuskelly was matching it with his higher ranked opponent for the first two games, but when Richards changed his game plan at the start of the third, the Englishman was able to take control over his increasingly frustrated opponent.

"He was playing really well at the end of the second, hitting nicks and winners, so I went back to basics," Richards said. "I decided to be patient and wait for the best for the best opportunities to go in and attack.

"I knew on paper that Ryan was one of the toughest players to draw in the second round, so I was mentally prepared for it tonight."

Richards will now play Scotsman Alan Clyne, who survived a war of attrition with New Zealand's Martin Knight to win 11-7, 7-11, 11-8, 13-11 in 83 minutes.

Clyne and Knight were evenly matched throughout and the New Zealander had three game points to make it two games apiece. But Clyne battled back to save all three then take the match on extra points.

"Ground out a 3-1 win tonight and it was a bit of a grind," the Scot tweeted. "An 83 minute longie. Into the quarters though to play Tom Richards on Friday."

Second seed Omar Mosaad was also taken to four games, by Czech Jan Koukal. After winning the first two games relatively comfortably, Mosaad had to hold off an inspired fight back from the Czech and was lucky not be taken to five games.

He takes on Malaysia's Ong Beng Hee, who was the first man through to the quarter-finals when he beat young Egyptian Amr Khaled Khalifa 11-9, 8-11, 11-7, 11-7.

Ong was able to subdue the shot making of the 19-year-old to wrap up well-deserved victory.

"I was pretty confident going into the match," Ong said. "After my performance yesterday I felt pretty good on court, I'm feeling a bit more comfortable as the days go by but I think the pressure was still on me today because I was playing an extremely talented young Egyptian.

"He's only 19 years old and absolutely talented with his racquet, so skilful. I think my experience got me through, especially on the bigger points so I'm quite happy with my performance.

"It's a long time since I've been in the quarter-finals of a major event – I'm very pleased."

15-Aug, Women's First Round:
David tested by Tesni


Andrew Dent reports



World number one and defending champion Nicol David won through to the second round of the Australian Open in Canberra but not before surviving a searching examination from Welsh qualifier Tesni Evans on Wednesday.

David appeared in complete control when she won the first game in a canter, but the 19-year-old Evans came out blazing in the second and attacked at every opportunity, winning the game to level the match at 1-1. The Malaysian superstar regrouped to win the third then held off a charging Evans to claim a highly entertaining match 11-3, 8-11, 11-4, 11-8.

"I was working hard the whole match to win that one," David said later. "You can see what she can do with the ball, she's a real talent. Every point counted, she didn't give up any point easily. I just had to hang in there and stick to my game."

David now takes on fellow countrywoman Low Wee Wern as she tries to win the Heather McKay Cup for the second year in a row.

Australia's Rachael Grinham survived her own test against South Africa's Siyoli Waters to move into the second round. The fifth seeded Grinham had to call on all of her experience to see off the powerful Waters 11-8, 13-11, 11-9 on the glass court in Canberra's Royal Theatre.

Grinham is ranked 30 places above the South African but that gap was hardly noticeable as Waters matched her more illustrious opponent in almost every department. The Australian grabbed a narrow advantage in the first, then had to come back from 9-4 down to clinch the second in a tiebreak. Grinham then gained a vital break in the third before holding off a fast-finishing Waters.

"I'd never played her before and have not really even seen her play, which is always a concern," Grinham said. "I didn't know where she was going to hit the ball. She's so strong and she's got this big wind up, and I didn't know where the ball was going. "I'm always shaky in the first round so I'm happy to get off in three games."

Grinham next plays fellow Australian Donna Urquhart in the second round after the tall left-hander from New South Wales beat Kylie Lindsay 11-7 11-3, 11-6. It is the third year in a row that AIS training partners Grinham and Urquhart will have played each other at the Australian Open.

"It's really frustrating for both because we'd like to see each other get further in the tournament," Urquhart said. "We're friends and training partners, we've been training together in Brisbane for the last month and so it's frustrating for us to knock each other out, especially in the Australian Open."

Kasey Brown made it three Australians into the second round when she beat Denmark's Line Hansen 11-6, 11-4, 11-2. Hansen had won two tournaments in the lead-up to the Open but she was never in the hunt against 2006 champion Brown, who now takes on Joelle King of New Zealand, who won the title in 2009.

"The first round is nerve-wracking for everyone," Brown said. "I feel like I'm playing well, so to get through unscathed is good."

Earlier, 2010 champion Madeline Perry of Ireland opened her campaign in great style as she demolished Malaysia's Siti Munirah Jusoh 11-3, 11-9, 11-1. Despite the closeness of the second game, Perry was always in complete control.

"That felt like two separate matches. I felt quick and in control at the start, but then she got going and she took me by surprise in the second," Perry said. "I kept looking for quick points to get back into it instead of being patient, then I took control again in the third."

Second seed Jenny Duncalf survived a tricky first round clash against India's Joshna Chinappa 11-7, 11-7, 13-11 to ease into the tournament.

"It's great to see her back from injury," Duncalf said. "She was probably the trickiest of the qualifiers. I'm pleased to win three-love obviously."

Melbourne qualifier Sarah Cardwell fell just short of an upset when she lost in five games to 16th seeded Englishwoman Emma Beddoes. Cardwell led two games to one but fell just short against Beddoes, who won 8-11, 11-2, 8-11, 11-4, 11-3.

Third seed Laura Massaro eased past Thaisa Serafini of Brazil 11-1, 11-5, 11-8, while 2008 champion Annie Au of Hong Kong thumped Scotland's Lisa Aitken 11-5, 11-2, 11-2.

England's Emily Whitlock upset 13th seeded New Zealander Jaclyn Hawkes 9-11, 11-6, 4-11, 11-9, 11-9 , former runner-up Alison Waters downed 15th seed Delia Arnold 11-8, 11-6, 11-3, while US number one Amanda Sobhy beat 12th seed Joey Chan 11-4, 11-6, 11-3.

14-Aug, Day FOUR
Men's Round One (Top), Women's Qualifying Finals:

Pilley and Ashour move
closer to semi-final clash
Andrew Dent reports

Australian number one Cameron Pilley moved a step closer to a semi-final against defending champion Ramy Ashour when he downed fellow countryman Matthew Karwalski in the first round of the HI-TEC Australian Open in Canberra on Thursday.

Pilley had too much experience for the improving Karwalski, winning in straight games 11-7, 11-5, 11-7.

Ashour, the 23-year-old Egyptian, closed out the first round with a typically flamboyant 11-6, 11-6, 11-6 win over New Zealand qualifier Kashif Shuja to get his title defence underway.

"Kashif's a legend of the tour, he's been around for a long time and I think we put on a good show," Ashour said, adding that he was in great shape for the start of the new season. "I've been working a lot on my body, which I haven't always done in the past," he said. "It's more mental than physical but I feel great."

Ashour will play young Englishman Olivier Pett who was impressive in his 11-4, 11-5 11-7 win over Hong Kong's Dick Lau.

Pilley was always ahead of Karwalski, who has moved to Florida to train with former Australian number one David Palmer. He took early leads in the first two games then from 3-6 down in the third, he won eight of the next nine points to clinch the match.

"Matt's improved a lot in the last 12-18 months, training with Palmer has definitely helped," Pilley said. "He's trying to replicate the way Dave plays and trains, so it was a good hit-out.

"It's been a while since I played a proper competitive match so I wasn't too sure how I was going to feel or hit it, so I was quite pleased. I've had worse first round results than that before."

Pilley now takes on Zac Alexander, who beat wildcard Rex Hedrick in another all-Australian clash. After trading two tight opening games, Alexander changed tactics at the start of the third and went on the attack, wrapping up the last two to take the contest 11-8, 7-11, 11-2, 11-3.

"I wasn't even really playing, I was just trying to feel my way into it," Alexander said later. "Rex is so steady and fit and patient, he'd do that all day. The problems I've had in the last season are because I'm not playing enough attacking squash, I've been trying to play a length game and beat people by doing nothing with the ball.

"I think I can move the ball around pretty well so I have to be more aggressive and more positive. If I can be more aggressive and open up the court more it gives me chances to end the rallies – I'm not a grinder so I have to take matters into my own hands."

Earlier, sixth seeded Swiss player Nicolas Mueller ended Australian qualifier Aaron Frankcomb's tournament with a highly entertaining 11-5, 11-7, 11-6 victory.

Eighth seed Nafiizwan Adnan joined fellow Malaysian Ong Beng Hee in the second round with a straightforward 11-7, 11-5, 11-5 win over Gonzalo Miranda. Adnan was never in any trouble as he downed the qualifier from Argentina in just 25 minutes.

"I played him a few weeks ago at the Victorian Open in Melbourne and I beat him comfortably there," Adnan said. "I was quite confident coming into the match because I knew how to play against him."

Adnan will next take on Egyptian Omar Abdel Aziz, who beat New Zealand's Campbell Grayson 11-3, 2-11, 11-7, 11-7. Aziz beat Adnan at their last outing, in Qatar last November, but the Malaysian said he was confident of gaining revenge.

"I've been training really hard over the past few months and I have improved a lot," he said. "My confidence is good and my fitness is good so I'm really looking forward to it."

Hong Kong's Leo Au prevailed over Austrian qualifier Aqeel Rehman 11-7, 11-7, 10-12, 11-6.

Evans qualifies to play David

Nineteen-year-old Welsh player Tesni Evans has been handed the most difficult assignment in world squash after easing past Melbourne's Selena Shaikh 11-4, 11-7, 11-4 in final qualifying at the HI-TEC Australian Open in Canberra on Tuesday.

Evans, who has taken her world ranking from 94 to 50 in the past 12 months, was one of eight women to make the main draw and stay in the hunt for the Heather McKay Cup.

But to progress any further Evans will have to overcome the defending champion and the reigning queen of world squash Nicol David of Malaysia.

Australia's Sarah Cardwell also made the main draw but not before a tough fight against fellow countrywoman Larissa Huffer.

Playing on the glass court in the Royal Theatre, Cardwell started well against a nervous Huffer, who only returned to squash at the beginning of the year after a promising junior career.

Huffer recovered to take the second game but Cardwell claimed the next two to win the match 11-6, 7-11, 11-7, 11-3 and move into a clash with Englishwoman Emma Beddoes.

"Larissa's got all the shots, I remember watching her in juniors and so I knew I would have to play well to win today," Cardwell, whose mother Vicki won the title eight times, said.

Cardwell was the only Australian to make it through to the main draw after Jessica Turnbull lost to Kiwi Kylie Lindsay, Jennifer Brown went down to Scotland's Lisa Aitken and Brazilian Thaisa Serafini beat Vanessa Pickerd.

Serafini, who has been in Australia for the past month playing on the Australian Squash Tour, said she liked playing on the glass court.

"I think I like it, I felt really comfortable out there," she said. "I've played a few times in Brazil on a glass court and I like it. I came yesterday and had a practice on it. At first it's a little bit hard to see the ball but then you forget about where you are."

Serafini will have at least one more match on the glass court when she plays third seed Laura Massaro of England on Wednesday.

Lindsay takes on Australian Donna Urquhart, Aitken is up against former champion Annie Au of Hong Kong, New Zealand's Amanda Landers-Murphy faces Frenchwoman Camille Serme, Indian Joshna Chinappa plays second seed Jenny Duncalf and Czech Olga Ertlova takes on 2009 champion Joelle King of New Zealand.

Ertlova was in great touch as she demolished Frenchwoman Chloe Mesic 11.2, 11-2 11-7.

"The first two games went really well, but I lost my rhythm in the third a bit," Ertlova said. "But I felt good on the court, I moved well and I was hitting the ball really well."



13-Aug, Day THREE
Men's Round One, Women's Qualifying:
Czech mate as Koukal stops Corren
Andrew Dent reports

Czech number one Jan Koukal ended Mike Corren's bid for an unlikely second round berth at the HI-TEC Australian Open with a ruthless 11-5, 11-2, 11-4 first round win in Canberra on Monday, as Omar Mosaad showed that Ramy Ashour wasn't the only Egyptian in with a chance of winning the title.

The 38-year-old Corren provided the good news story of the qualifying tournament when he beat players almost 20 years his junior to book his spot in the main draw.

But the world number 50 from Prague was in no mood for sentiment as he took advantage of Corren's difficulties in adapting to the glass to wrap up the match in straight games.

Koukal dominated Corren with his speed around the court, his well-disguised drop shots regularly leaving the Australian stranded at the back.

"I felt heavy and he was bouncing around as light as a feather," Corren said. "It's been ages since I played on a glass court, it's so different and my regular go to shots weren't working at all."

Koukal said he sensed early that Corren was off his game: "On this court you have to move well and I though Mike was struggling a little bit after the couple of matches he played in qualifying," he said.

"I was up for it after two months of training and wanted to make sure I had a good beginning to each game to show him I was really up for it and it would be hard for him to come back. My movement is my strength and I used it to my benefit."

In the last match of the night, Mosaad used his size and strength to see off a gallant Max Lee 11-2, 12-10, 11-4. After blitzing the first game, Mosaad had to push hard all the way to finally subdue Lee in 37 minutes in an ominous display.

Ryan Cuskelly became the first Australian through to the second round when he beat Malaysia's Asyraf Azan 11-5, 11-9, 11-8 in an occasionally fractious encounter.

"I've known him since we were juniors so I knew what to expect," Cuskelly said afterwards. "I was a bit rusty, I haven't played for two months and it's been a while since I played on a glass court."

Earlier there was disappointment for the Australians when qualifier Justin Beard was bundled out by New Zealand's Martin Knight.

Beard started nervously but came back into the match when he took the third game, only for Knight to assert control again and win 11-5, 11-9, 9-11, 11-4 to set up a second round clash with seventh seeded Scotsman Alan Clyne.

"It's always a nervous one, the first hit-out on the glass, but I felt quite good starting off," Knight said.

"But then he recovered quite well and started to play some good squash in the next few games and I got a bit negative in the second and third games.

"After the first I probably tried to do a little too much and then tried to do not enough, I sort of got caught halfway between. If I do any of those shenanigans against Alan I'm going to be in a lot of trouble."

Clyne earlier beat Siddarth Suchde from India 11-7, 11-5, 11-8 in a confidence-boosting opener to the tournament in which he was always in control.

"I'm trying to hopefully get through a few rounds so to spend as short a time on there as possible is what you want," Clyne said. "I'm pleased it was three-love and I felt quite good out there. At the start of the game I wasn't too sure of myself but once I got going and got the first game under my belt I felt more comfortable.

"The second game I was good from the start and then I slackened off a bit at the end of the third but overall I was happy."

Third seeded Englishman Tom Richards survived a heavy collision with the side wall during his 11-7, 11-7 14-12 win over Malaysia's Kamran Khan.

At 9-9 in the third, Richards was wrong-footed and dived into the wall, resulting in a three-minute injury break. But when he returned he was able to save game ball and eventually win a tense match in extra points.

"The tour is so strong now that there are really no easy matches at big tournaments," he said. "I skipped the Olympics and spent some time in Malaysia so I could get my body used to the time zone."

In other matches, Egyptian Amr Khaled Khalifa downed New Zealand qualifier Evan Williams 12-10, 11-5, 11-8 and Malaysia's Ong Beng Hee beat fellow countryman Ivan Yuen 12-10, 11-8, 11-7.

Comeback kid Huffer sets up Cardwell clash
Andrew Dent reports

West Australian Larissa Huffer's comeback to squash gathered pace on Monday when she downed higher-ranked Canadian Alix Younger in the first round of HI-TEC Australian Open qualifying in Canberra.

Huffer recovered from losing the first game to overwhelm Younger 8-11, 11-5, 11-6, 11-5 and book a qualifying final on the CSR Viridian glass court against Sarah Cardwell.

The 23-year-old from Perth was a promising junior but stepped away from the sport until she was persuaded to take it up again by Brisbane coach Marc Forster at the beginning of the year. She made the quarter-finals of the NT Open in May and has since taken her ranking to 109 in the world.

"I feel like I've improved quite a bit since moving to Brisbane to train alongside Natalie Newton," she said. "Hopefully I can play like I did today against Sarah on the glass court."

Cardwell, daughter of eight-time champion Vicki, cruised into the finals with an 11-3, 11-4, 11-2 win over fellow Melbourne player Victoria Leow.

"I just eased into it today, I'm getting ready for the big one tomorrow on the glass court," she said.

Brisbane schoolgirl Jessica Turnbull had an upset win over Canada's Genevieve Lessard coming back from dropping the first two games to win 3-11, 6-11, 11-7, 11-8, 11-7.

"After the first two games I tried to slow down and take a deep breath, and it worked," said Turnbull, who now plays top ranked qualifier Kylie Lindsay of New Zealand.

"It will be tough against Kylie, I've never played her before. I will have to play my normal, classic game, concentrating on length and trying to volley a lot," she said.

"Today I volleyed more than I have been doing lately and that was the difference for me."

With the top three players – Lindsay, Joshna Chinappa and Olga Ertlova, all having byes, the rest of the big guns all won on Monday.


FROGS' CORNER

J'ai gagné 3/0 ce premier tour de l'Australian Open, une bonne chose de faite!

Mes intentions d'avant match, étant opposée à une jeune australienne, étaient de serrer le jeu avec une construction fond de court, prendre l'initiative avec des attaques sans risque.

Mais le stress en a décidé autrement. C'est donc plutôt grâce à une grosse combativité que j'ai remporté le match.

Une bonne récup et c'est reparti pour un tour! Demain midi match qualificatif contre Olga Ertlova.


12-Aug, Day TWO
Men's Qualifying Finals:
Corren rolls back the years
to make main draw
Andrew Dent reports

South Australia's Mike Corren drew on a wealth of experience to overcome rising Scottish player Greg Lobban in four games on Sunday and reach the main draw of the HI-TEC Australian Open in Canberra.

On a day when three Australians made the main draw, Corren, 38 came back from losing the first game in extra points to wear down Lobban 13-15, 11-7, 11-9, 12-10 in an hour of tense and entertaining squash, setting up a first round clash with Czech number one Jan Koukal on the all-glass court in Canberra's Royal Theatre.

The winner of 41 tournaments on the PSA world tour in a career spanning two decades, Corren has a new lease of since joining the Australian Institute of Sport this year and looked in great shape against a player 18 years his junior.

But he said he couldn't relax during the match when so much depended on its outcome: "It was like a final in a tournament, the same kind of pressure," he said. "You play these big ones and the massive difference is whoever loses gets no prize money and no hotel, so these young guys are desperate, I remember what that was like.

"That felt like a final, only I was more nervous than in a final. It was only in the crisis points that I actually relaxed," he added. "Even when I was down in the last game I was thinking, 'I'm okay'. That was my experience showing."

Corren was joined in the final by fellow South Australian Justin Beard, who was too strong for Saturday's surprise packet Sunil Seth.

Beard barely made an error throughout and took full advantage as Seth became increasingly frustrated, winning 11-4, 11-4 11-5, booking a first round clash against New Zealander Martin Knight.

"I watched him play yesterday and so I expected a tough match today," he said. "I've played Sunil a few times and they've always been tough, so I'm pretty happy to win in three. I was up all night thinking about the match, stressing about it. I came in with a game plan and today it paid off."

Beard said reaching the Australian Open main draw for the first time since 2009 had big implications for his career: "Getting into the main draw I might actually make my career-best ranking (127), which happened about three or four years ago," he said.

"It's going to be good playing on the glass court. I've been here the past two years and seen the set-up at the Royal Theatre, but I didn't think I'd get to play on it."

Former touring pro Aaron Frankcomb looked like he'd hardly been away as he downed Canberra hope Josh Larkin 11-5, 11-3, 11-4 to move into a main daw clash with Swiss Nicolas Mueller.

The Tasmanian stepped away from the tour because of persistent knee problems but was in great touch against the former Australian junior player.

"It was a bit tougher than yesterday because Josh played a bit faster, I could tell he was trying to make it a physical game where he was trying to play a faster game and get the intensity early," Frankcomb said.

"Fortunately I was able to control that and contain it and play at a pace where I felt comfortable and could dictate the rallies. I'm definitely more relaxed (than when I was on the tour), I'm definitely not as fit but I'm probably playing a bit smarter."

Two New Zealanders also reached the main draw with 2008 runner-up Kashif Shuja beating Queensland's Nathan Stevenson 11-9, 9-11, 11-8, 11-5 and Evan Williams also beating a Queenslander, Jamie McErvale, 11-8, 11-5, 11-8.

They were joined in the first round by Hong Kong's Dick Lau, Argentina's Gonzalo Miranda and Austria's Aqeel Rehman.
Shuja is a regular and popular visitor to Australian shores has a good record at the Open.

"The Australian Open is my favourite tournament on the calendar and I love coming back here year after year," he said. "I'm pleased to be a part of the main draw once again and look forward to playing on the glass court.

"He had nothing to lose and I had everything to lose, so I panicked a bit at the start when he was playing so well."

Shuja's reward is a clash with top seed and defending champion Ramy Ashour, while Williams takes on another Egyptian, Amr Khaled Khalifa.
Lau had to battle hard to overcome a third New Zealander, Paul Coll, eventually subduing the young Kiwi in five games 11-9, 7-11, 6-11, 11-8, 11-6.

"I've not played much in the last few months so I'm lacking match-fitness," Lau conceded. "I panicked when I was 2-1 down. I played him at the World Teams Championships last year and he's improved a lot since then.

"The first game I really focussed and I spent too much energy coming from behind to win it and in the second and third games he controlled the ball really well and kept me at the back and kept me on the defensive.

"At the start of the fourth I tried to attack more and get my rhythm back and I think I started to play better."

Lau will play Englishman Olivier Pett in the main draw.

Miranda opened brilliantly against Scotland's Kevin Moran then held off a resurgence to win 11-1 11-9, 11-9.

"The best game that I played was the first and the other two he played better, but I tried to be consistent, and I won," Miranda said. "This is my fourth tournament in Australia. I arrived here in June and I go home after this one.

"I thought I could make the main draw here, but I knew it would be very difficult, and it was, but I'm very happy."

Miranda takes on Malaysia's Nafiizwan Adnan, while Rehman is up against Hong Kong's Leo Au.

11-Aug,Day ONE
Men's Qualifying Round One
Seth springs surprise
Andrew Dent reports

Queensland's Sunil Seth stunned New Zealander Chris Lloyd as the first round of qualifying for the HI-TEC Australian Open began in Canberra on Sunday.

Playing the first match of the day, world number 321 Seth outplayed Lloyd, a player ranked 178 places above him, to win in four games 11-9, 11-8, 5-11, 11-7.

Seth spent over a year in England in 2011-12 and has only recently moved back to Australia to play on the Australian Squash Tour. He said the move back had unsettled him, which had resulted in a series of disappointing results, and he said his win over Lloyd was just the tonic he needed.

Seth was in control for most of the first two games, jumping out to big leads and holding off fight backs from the New Zealander as Lloyd struggle to cope with his pace around the court.

Seth suffered from nerves in the third game as Lloyd lifted, but he recovered to take the fourth relatively comfortably.

"I haven't won a lot of matches lately, there's been a lot of change coming back home from England – I'm just trying to get used to it again," Seth said. "But finally I've won a match so I'm just happy that I won."

He said he became nervous in the third as he thought about the win: "Because I've lost so much this year I got a bit nervous and started doubting myself."

Seth now takes on Adelaide's Justin Beard, who crushed Brisbane's Josh Stack-Masula 11-4, 11-6, 11-6.

The two Scotsmen in action, Greg Lobban and Kevin Moran, both enjoyed straight games wins, Lobban over Japan's Ben Takamizawa-Harris 11-7, 11-7, 11-5 and Moran over dangerous Egyptian Tarek Salah Shehata 11-9, 11-7, 11-6.

Moran played Shehata in the NSW Open in Sydney and said he knew what to expect heading into their match Saturday.

"I'm feeling more relief than anything because I played him in Sydney and I just beat him 3/2 and it was really tough." Moran said. "I was just looking to take the experience away from that match and work out a game plan. I managed to do that and I'm happy to get the win -- because I played him before I knew exactly what to do against him."

Moran has a second difficult match on Sunday against Argentina's Gonzalo Miranda, who impressed in his 11-9, 14-12, 11-5 win over New Zealand's Joseph Watt.

"It was a tough draw, one of the toughest draws that I could have had," Moran said about playing Shehata and Miranda. "It doesn't get any easier tomorrow. I played Gonzalo in Tasmania and I lost quite a close match three-love. But there's no pressure on me tomorrow, all the pressure's on him."

Evergreen South Australian Mike Corren, who recently joined the Australian Institute of Sport, overcame Korean Song Young Kim 11-4, 11-6, 10-12, 11-6 to set up a qualifying final against Lobban.

Corren was in outstanding touch in the first two games only for Song to storm back and win the third in extra points. But the 38-year-old used all his experience to dominate the Korean in the fourth and take the match in 36 minutes.

"I've had a very, very difficult six weeks injury-wise and it's good to get through a match relatively pain-free, it's a good result," he said. "Some really positive things have happened to me with the AIS, I couldn't be happier, I almost feel like a kid in a lolly shop.

"I'm trying new things when I play because I'm still trying to get better as a player and now I have the back-up and resources to make that happen.

"It's just going to take time but it's definitely heading in the right direction."

Former touring professional Aaron Frankcomb showed he's lost little since leaving the tour when he disposed of West Australian Matthew Bridle 11-1, 11-2, 11-0.

The Tasmanian, who now is head pro at the Willoughby club in Sydney, was in total control as he moved into a clash with local favourite Josh Larkin.

"I don't really have any pressure on me, I am relaxed," he said. "Obviously now not being a full time player my expectations aren't the same as they were.

"The pride is still there, I'm not going to deny that, but at the same time I'm just going out there and enjoying it now, every time I walk on court now I want to enjoy it, rather than be too tense or think 'I have to win this match'.

"If I play well, at the end of the day it will come. Of course it would be great to qualify for the Australian Open but at the end of the day it's not the be-all and end all for me. If I go out there and play well, I give myself a chance."

Other winners included top ranked qualifier Dick Lau from Hong Kong, popular New Zealander Kashif Shuja, recent Tasmanian Open winner Aqeel Rehman of Austria and Australian duo Jamie McErvale and Nathan Stevenson.


Moran moves into
qualifying finals


Frankcomb renews old friendships


Corren congratulated by Beng Hee