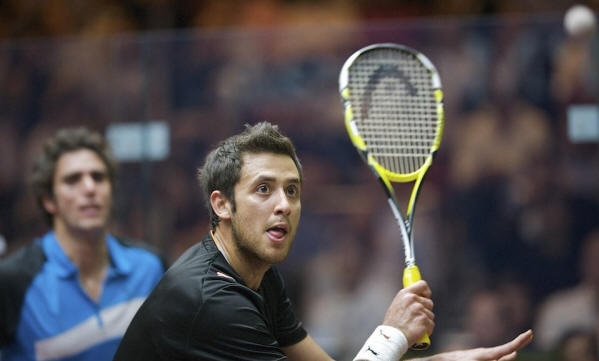 AZLAN RETIRES...
Contributions from : Alex Gough... Heba El Torky... Jadeleen Lee... Marwan El Shorbagy... Mohamed El Shorbagy.... Tim Garner... Cyrus Poncha... Paul Selby... Nicol David... Nick Matthew... Tom Richard.... Greg Gaultier... Peter Genever.... Daryl Selby.... Ong Ben Hee... Neil Harvey... LJ Anjema... Thierry Lincou....

send your messages to gommendy@aol.com
THE COACHES...
FIRST, NEIL HARVEY....

I was first introduced to Azlan via Jamie Hickox when he was leaving his post as the Malaysian national coach way back in 1997 if my memory serves me correctly.

He was working with Beng Hee as well at the time and through our friendship and England days together thought the boys needed a training base, that would take them out of their comfort zone and that's just what happened.

I couldn't have imagined how difficult it would have been for them in those early years feeling homesick and having to fend for themselves first of all slumming it on Timmy Gees floor before the Malaysians realised that there potential top athletes should have a flat of their own.

Beng Hee was the star winning the world juniors whilst Azzie in his own determined individuality started to work in a way that gave me the feeling that he could achieve great success.

Always in the shadow, this very shy, personable young man shared everything with me and always gave me 100% commitment as he did towards everything. I actually had to stop him at times as one of his biggest obstacles was over training but his body and mind were able to absorb phenomenal amounts of work and often he would push on regardless.

The "hare and the tortoise" story springs to mind because Azlan's progress was slower than Beng Hee's but I always felt with his terrific work ethic and dedication that he would have a longer learning curve which proved to be the case.

What a thrill it was for all of us who had been involved with him to see him win the Bluenose in Halifax 2 years ago. He played the best squash I had ever envisaged for him and it was wonderful to see the fulfilment of such a great talent in a major final. Everything came together that week, he moved like a dream, selected his shots with the flair and knowledge of someone who knew exactly what he was doing and charmed the pants off of the squash community of Halifax being so comfortable with himself.

Chatting with him then, he told me he had set new goals and was achieving them and was already doing good work for sport in Malaysia and he chuckled when he told me he was to become a political force selecting kids for sports funding I guess letting me know just how far he had come and I thought to myself there could not be a better man, nor a finer ambassador for that role.

As many players careers come to a close it is good to know that they will pass on invaluable knowledge and energy to the next generation and Azzie certainly has qualities and commitment to do this.

So a huge congratulations from me on a talent fulfilled and for the manner in which you achieved it, it was a pleasure and a privilege working with you for so long and I wish you every continued success in your professional and personal life





THEN PETER GENEVER...

"It has been a real pleasure working with Azlan, inevitably there have been a few up's and down's along the way but I was always impressed by the honesty and commitment he showed throughout.

In a highly successful career he accomplished all of the targets which he set himself, the most recent fulfilling a top ten ranking, his dedication to the game in all it's aspects can not be questioned and he leaves the tour with the upmost respect from his peers.

His contribution to squash in Malaysia and Asia is substantial and in his new ventures I am sure this will continue for a long time still. He will no doubt show the same tenacity he has during his playing days and be as successful off the court as on it.

As I still see him most days I will end here as it will be embarrassing when I see him at the courts. I wish him all the best in the future and look forward to continuing our work together in Malaysia"




Malaysian National Coach
Where do I start with Azzy!!!

This guy's been my Biggest rival in Malaysia and Asia for the past 10 years!! Also been a friend, roommate, housemate, rival you name it we've BOTH gone through everything!!! Funniest roommate I ever shared with!!

We shared happy memories and bad losses on Psa Tour and we played countless team events for our country!! He was my coach in between games and a good friend when we travelled together because we couldn't afford a coach and I will definitely miss that!!

Azzy, I wish you the very best in future and I will miss our friendship on tour and laughter but I won't miss you in KL because I just saw you on court today grinding down the boys!!! What the hell r u doingggg!!! CHILL and enjoy your new chapter of life!!! See you Mr Azzy!!



P.S. Any chance I can have some of your sponsorship since you're done?? NO?? damn ittt...
Azzy!!!

Thank you for giving your best all the time.

Never had I met someone as determined as you. You should be proud of yourself that you've achieved your goals.

I'll miss watching and photographing you in court for sure. The "tongue out" will always be your signature!

All the best in your next phase of life and I look forward to seeing you more.



On the shuttle bus to the British Junior Open about 12 years ago: still remember sitting next to that superstar kid from an unknown land who got so bloody low during his shots.

Two years later our paths crossed again when we formed the Chingford-clan with OBH and Ricky Bhattacharya. I think we may exclude Beng Hee as he was way out of our league! It was basically you, Ricky and me grinding it out. For almost 5 years dude!

Admired your extreme professionalism and dedication. Shocked to see a training buddy retire but many congrats on a career in which you've achieved your goals!!

All the best Azzy...


Salut Azlan

Bravo for your career and to have reached your goals...

We stop at the same time, but not at the same age, as you are 6 years younger.

The same way, I too had to leave my island when I was young but there again, you are much younger - I was 17 and better equipped by then to handle the exile better, compared to you, being only 12.... Only proving as needed that squash and the tour are exceptionally hard.

So once again, hat to you, for your achievements and career. You are a hard worker, and I still cannot believe the physical potential you possess, in term of reactivity, power and stretch ability.

Good luck for you new life, and let's meet in Mulhouse, France in June 2013 for the World Teams...


Hey Azzy boy,

It's hard to believe that growing up with you in squash and seeing you from the time you moved to KL living in those Goodyear Court apartments at 13, having my sisters help you with homework, travelling with you through every junior tournament and senior ones too while watching you go through the hardcore training you did so well in Malaysia and UK to be the best you can be up til now has been quite some journey that has led you to this moment.

You've always been that squash player that would never give up and always saw a vision for yourself through squash. It's hard seeing you leave the squash tour but I'm sure you have lots more in store for yourself in your next journey in life. I'm sure we'll be seeing you around the squash scene but keep us squashies posted on your happenings!

All the best in all that you do in future! Cheers to you!


'I've had the privilege of training with Azlan for the past 5 years and have seen first hand the dedication and commitment that he puts into his craft, and it is this professionalism that will surely mean he will continue to be a great success in the future.

Good luck mate and I'm sure we'll be able to get a couple more battles on court in the future!





GREG ABOUT AZZY...



I first met Azlan at the British junior open in Sheffield in the category under 14 and remembered he beat me in semis 3-1. At 13 years old, he was already really fast and had huge capacities and potential.

He did a lot of sacrifices in his life. the biggest one i think was to move that far away from his country at such a young age, this is tough for a kid and family, but when you have big goals like he had, sometimes you have no choice if you want to improve and become a top player, so you have to give a try and this is not all, then there is also lot of things which made him reach his objectives.

He was and is really disciplined in what he does, took care of his body really well, his diet, he was a hard worker on and off court.

We always thought with Thierry that if you had to put all the squash players on a line and run as fast as possible 10 or 20 even 50 meters, that he would be the fastest even after eating a huge curry :)

And that s what you need for squash, the first two steps really quick, he was really explosive and had great fitness capacities, really flexible and loved playing fast, volleying and controlling the T, loved his backhand flick.

I had the chance to go twice to Malaysia to train with him and Beng Hee, it was probably ones of my best summer preparations there with them, they were really helpful and nice with me and players who were coming to train as well, we had a great time.

I started to know more and more Azlan at the end of his career and we became really really close friends. It's tough to lose another friend on the squash tour but hopefully, we will be able to see each other in the future.

He can be proud of having achieved his goals, helped Malaysia to do well, and became a great example for future Malaysian champions.

I wish him the best of luck for his next career, hard worker as he is, I'm sure he will do well. I also wish him the best for his life, family and girlfriend. Enjoy spending more time at home now.

All the best my friend,


Shocked to read that Azlan has also retired.

I didn't see that one coming mate, at 30 years young you still had a few years left in you I'm sure and definitely a few years on me but only you know when it is time to call it a day.

Reading your article, I can only imagine how tough it was to leave home at 12 to pursue your dreams. Especially having to live on Timmy G's floor in Chingford of all places! Joke sacrifices!!

It will be a massive shame to lose you from the tour but you can look back with pride on a fantastic career. Yourself, Nicol and Beng Hee have put Malaysian squash on the map and I'm sure you will continue to help grow our sport long in to your retirement.

You said to me last year in Richmond that you were tired because the time zone made it hard to work in Malaysian business hours. Well I hope you never have this problem again and enjoy some well earned time at home

Best wishes in your new career


I've known Azlan since the British Junior Open days and have been good friends with him ever since. It is sad to see him retiring, especially as he is the same age as me!

I don't think many people would disagree with me if I said that Azlan was one of the strongest, fastest and fittest players the game has ever seen.

His professionalism with his training, diet and commitment to squash in Malaysia was amazing. I'm sure he will continue his efforts growing squash in the region along with Nicol and Beng Hee.

He fully deserved reaching the top 10 recently and his wins over some of the top players in the game showed the all round quality of his squash. He was a pleasure to be around on tour with a decent sense of humour and never not eating a piece of fruit or drinking a shake of some sort!

I enjoyed the battles we had on court (Commonwealth Games, Worlds in Kuwait, both over 2 hours and brutal!) and we always walked off having given everything but still good friends.

I wish him luck with everything he pursues in the future and I'm sure he will enjoy being at home with his friends and his lovely fiancee.

Keep in touch mate.


That's it now, Azlan's retired.

But like Thierry who retired a day before him, he'll still will be playing for his country, 'if he is good enough' that is...

A member of the Professional Squash Association since 2000, the Sarawak-born 30-year-old has enjoyed a distinguished career in the sport, reaching 24 PSA World Tour finals and winning 14 Tour titles - including three Malaysian Open crowns between 2004 and 2010.

The Asian Games gold medallist in 2010 and twice winner of the Asian Championship, Iskandar celebrated a career-high world No10 ranking in March 2011.

Ranked 14 in the world last month, he maintained an unbroken presence in the world top 20 since October 2009.

Arguably, his greatest rivalry has been with fellow countryman Ong Beng Hee.

The pair first met on the Tour in the first round of the 2000 Malaysian Open - and went on to contest the Asian Games final in 2006, two Asian Championships' finals, and four Tour finals, three of which were in the Malaysian capital Kuala Lumpur.
"It is always a shame when a long-standing player retires from any sport.

Azlan has always been one of the hardest trainers on Tour and his fitness levels have been extraordinary over the years.

Having reached the top 20 over seven years ago and reaching one of his goals of the top ten in the world last year, he can proud of having scalps such as beating the great Amr Shabana on more than one occasion, not least of all in reaching last year's Hong Kong Open semi-final, his best result in a World Series event.

"We wish him all the best in his new ventures and hopefully he all not be too far away from squash in the next chapter of his life."


PSA CEO

Two of the top PSA players retired; Lincou & Iskandar! We'll definitely miss watching amazing squash.

Wish them the very best in their new lives



Why now....

It was a decision that has been going through my mind for a good six months after I got injured a few times earlier this year. Bear in mind I have set huge, huge, targets from the age of 12 and I'm proud to say I have achieved them all last year and the year before.

This decision was a melting pot of many factors brewing all at the same time, but ultimately I found it hard, or have been finding it hard, to find new goals for me that give me that personal satisfaction that has always been vital for me.

Lack of motivation maybe...

Everyone is built differently and throughout my life, things have always been mapped out in my head with clear targets set. Recently, honestly speaking I have found it hard to play and just go through the motions, floating from tournament to tournament, knowing in my head that I am partly being supported through government funding, hard earned tax payers' money. so I feel it's not right to do something if I cannot give it 120%!

As such, I feel an example needs to be set for future squash players or athletes that representing ones country in anything but the highest reward, but does also come with huge huge responsibilities.



What now then....

Passion & Inspiration- I have tried and just can't find inspiration apart from setting my next goals that I am passionate about - which are, of course, to give back to my sport SQUASH.

I will be focusing on the development of physical infrastructure for squash, supported by the growth of squash related events and adoption by the public.

My goals are to make sure that the number of courts built in Malaysian doubles; the number of squash events grows; and the popularity and the game's reach will penetrate the masses and make the sport more accessible in my country.

I am committed to growing both the supply and demand in squash, as I feel that there aren't enough platforms for the people to pick up the sport which then leads to the lack of physical courts.

I have quietly been going around the country (with the Ministry of Youth & Sports support) to engage the youths through squash clinics and also with the successful programs under my Squash Academy.

Through this, I have been to so many states around Malaysia– noticing that there are so many keen learners and so much talent & enthusiasm when squash is introduced. This just reflects on the potential that squash has in being a common sport adopted by many Malaysians, both young and old!

The Future of Squash in Malaysia

Malaysia and its Sports Industry is growing fast, thanks to vision of our Prime Minister Datuk Seri Najib, Deputy Prime Minister Tan Sri Muyiddin Yasin, and our Sports & Youth Minister Datuk Sri Shabery Cheek - they are and have been huge drivers for sport and responsible for setting the opportunities for the next generation.

I truly believe a career path in squash is one of them, whether it may be as a professional squash player on tour, a coach, or a tournament organiser - I believe it is all relevant in the sports industry and the squash industry.

Still playing for Malaysia

I will still be playing for my country as I will just be stepping away just from the professional scene. Squash is very much in my bones, but I think the travelling (an average of 18 tournaments a year for the last 13 years,) has caught up with me in all honesty - living away from home at 12, then living away from Malaysia since I was 17, regetibly not being there for so many Hari Raya's, not being able to watch my mother get older is a huge sacrifice, so I think it would be an appropriate and a fair time for my mind and body to call it a day and concentrate on helping to drive the sporting scene in the country.


Good luck mate and congrats on a great career.


Here we are....

So this is where I am at today. The end of my professional squash career, but the start of something new and exciting that still revolves around my sport of squash. Of course, who I am today will not be possible without all the people that have been in my life and played a big or small role in my growth in squash.

Thank you....

I would like to firstly mention a big shout out to all the relevant people who have been dear to me through my life on Tour and have helped me be where I have been today.

I thank the people that were there from the very beginning when my love for squash started.

To my dear Mom, whom not only encouraged me at the courts of the Sarawak Club but to also let me go at the tender age of 12, leaving Kuching to live and school in KL under the Gemilang 1998 program.

My other 2 rocks are my sisters Zai and Faridah who have supported me fully from then, and also to when I chose to turn professional at 17.

Not to forget the Squash Racquets Association of Malaysia for first spotting me when I was 11. I still remember that day when Major Maniam came to Kuching and played me to prove if I was worthy enough to be part of the national team, and thereafter securing the approval of Wong Ah Jit, the GM back then.

A big thanks also goes to the late Dato Alex Lee and thereafter another great president Datuk Mokzhaini. Without these key people, I honestly wouldn't know where id be today.

Thank you also goes to the National Sports Council (NSC) Datuk Wira Mazlan for believing me enough to send me to for my first training in stint in London when I was 14, and Datuk Seri Zol, a very positive supporter of squash from day 1, and to Datuk Ramlan of the National Sports Institute (NSI) who helped educate me about my body at the most personal level.

I cannot also leave out the role of the Ministry of Youth and Sport who have been vital in supporting and funding my pursuit of excellence in squash, and who enabled me to make a career out of this sport.

DOUBLES

I also would like to be part of the convincing process to push for doubles to be in Sukma. It hasn't been publicized enough that in the past 2 Commonwealth Games, Malaysia has won 2 medals through mixed doubles so I feel its something that is worth exposing to our younger generation too.

I am aware that States would then require new infrastructure but there are court technologies available (like the courts in Bukit Jalil) whereby singles courts can turned into doubles courts just by a press of a button!

Indirectly by having doubles in Sukma more gold medals will be in contention, from 4 Golds to 7 Golds which now means that the States would take the sport more seriously.
I first remember Azlan when he came for the British Junior Open in Sheffield at about 12 years of age, he went through quite a few different looks over the next few years each one was always a bit more daring and provocative than the last.

Thankfully now he has reverted to a mainstream look but that does not mean he is a mainstream person.



I have been happy to help Azlan when needed whether as a chaperone to Junior Tournaments in the UK whilst he was training with Neil Harvey or just plain host to Azzie at our house where he is always welcome.

In later years I was happy to be instrumental in securing him sponsorship with a racket sponsor which he has stayed with to this day.

It has been great to sit beside him at a few of the large tournaments around the world trying to help him through matches in his own idiosynchratic style. The hardest game for me to watch was between Daryl and Azlan in the Commonwealth Games in 2010 in Delhi which lasted 137 mins and was only 3-1 in games which Azlan eventually won.

It was probably the hardest physical game of attrition between two mighty gladiators but the thing that was great about it was not the result it was the comaraderie after the battle. That is Azlan he wears his heart on his sleeve and gives no quarter but he leaves that on court which is where it belongs.

I wish him the greatest success in his new ventures and hope that we can continue to be as good friends in the future as we have been in the past.


Head

My Sponsors

To my personal sponsors from the very early years and thereafter - Datuk Zainal from Zecon, Datuk Seri Effendi from Encorp, Maxis, Powerbar, Head and Graham watches.

I couldn't have also done it without the professional help from Sportspin Athlete Management Sdn Bhd who have allowed me to focus on the sport, whilst managing the important areas of funding, sponsorships and other areas that required negotiation.

To the personal people that have had a role in my squash career: the current Malaysian sports minister, Datuk Sri Ahmad Shabery Cheek (who plays squash himself) has been a huge driver with his personal touch that he lends to me and athletes, lending inspiration and pushes us to strive for better.

His presence and encouragement allowed me to deliver the Asian Games gold medal in 2010, and to enter the Top10 ranking in 2011. Dato Mohid, KSU of the Ministry of youth and Sport also came to personally watch me play that final of the Asian games, thank you to you too.



And Also

To my wife-to-be, thank you for being there through the tough times ( I have to admit more than the good times, haha, but she's always there!); to my three major coaches and my singular physical trainer Sean Sturggeas (who's been there with me since I was 19 and a big shout out to the national sports institute). Throughout my career, Neil Harvey, Jamshed Gul and of course Peter Genever (now the Malaysian national head coach) - they have been part of my life in grooming me to think the way I do and to play the way I have ... a big big thank you!!

My favourite guys on tour ....

You guys know who you are, I need not mention names. My fellow countrymen, and women; Ong Beng Hee an absolute legend in his way by opening up the small window of squash back in the 90s, by making squash an option as a career path, (which I feel deserves a whole lot of credit as people tend to forget how much he and his Dad KH did from the start), for being my room-mate for so many events and over so many years, I wish you all the luck in your career and hope you find closure in the sport one day;

to my training partner Mohd Nafiizwan who was my house mate in London and practically a younger brother to me, I wish you the best in your career to take squash to greater heights;



Miss Nicol David, of course - Malaysia's squash and sporting princess and world number 1 for making squash so popular in the country and taking Malaysia to heights and places it has never been! To all the up and coming juniors in the program which I feel are all a talented bunch and have great potential to fill the shoes of us past generation players, as long as they receive enough support hopefully from the private sector and with the media's help to push the sport.

My hope is to see squash grow more in time in Malaysia and of course the world. Delia Arnold, Low Wee Wern, (I congratulate you on your top 10 achievement and I feel it shows where Malaysian squash is today) the relevant parties in SRAM the past president Dato Sani and the current Dato Syed ... we have all been a small support group for each other as a family, watching and helping each other grow, seeing the sport blossom in Malaysia since the 90's and I do hope to see this continue.

Most memorable moments

I think the most memorable memory in my squash life was when I first played in Cairo and I watched squash being played by the pyramids - then it was, of course, Tournament of Champions in New York where squash is played in Grand Central Station. I think those things were huge motivations in my career to want to play on the 'show court'.

Of course there were my most memorable wins - beating a few of the top 10 guys who I don't need to mention!

But, genuinely, it's been in the last couple of year on the tour that the sport, PSA, WSA and World Squash has grown leaps and bounds, and will continue to make the sport more 'relevant' around the world - so I believe that squash has a great chance of making the Olympics in 2020 and at least im one of the Million squash players world wide who want to play a part in getting the sport in, it's the little initiatives that help.

It's every squash player's dream to make the Olympics but I guess one that I can only just watch on the TV!

What now then....

Passion & Inspiration - I have tried and just can't find inspiration apart from setting my next goals that I am passionate about - which are, of course, to give back to my sport SQUASH.

I will be focusing on the development of physical infrastructure for squash, supported by the growth of squash related events and adoption by the public.

My goals are to make sure that the number of courts built in Malaysian doubles; the number of squash events grows; and the popularity and the game's reach will penetrate the masses and make the sport more accessible in my country.

I am committed to growing both the supply and demand in squash, as I feel that there aren't enough platforms for the people to pick up the sport which then leads to the lack of physical courts.

Yes the initial thought would be this decision would be a huge blow to the SRAM, NSC etc but I feel it isn't. I am here to stay,

If I am still good enough and if the country needs me to play in the World Mens Team end of 2013 I will play, and if it needs me during Commonwealth Games, and Asian Games 2014 I will play.

I will still be training, but I think that SRAM will gain in my dedication to help develop the sport through my experiences to help promote the sport nation wide. Always being optimistic!

Squash and sports is my passion and my life as I've gone through the process of being selected, Identified, trained, groomed and I feel that my generation is the first or second generation of sporting professionals in the country so there is only one way to go from now, and its to give back that experience to my country as the millions of dollars spent on this process is priceless, the experiences that I have gained in my sporting life. One should never take It for granted.

I can't see doing anything else apart from a career that involves sport. I have my squash academy and I will be focusing on helping developing the game to grass root levels and making squash more appealing to the masses in Malaysia, I am committed to find more sponsors that are able to support more senior and junior tournaments in Malaysia.

I will also be working with a sports events company to ensure that these tournaments are well run and serve as a great platform for our players before they start travelling the world and competing on an international level.

And finally...

I feel that squash as a sport deserves that chance as we have the talent in the country but its maximizing our resources to ensure that every ringgit spent goes a long way.

Everyone knows the sport but they don't necessarily know how to play it, or learn it correctly, so I believe it's a small step in educating, engaging then eventually providing the relevant infrastructure to help that transition from non "squashers" to squashers.

If I have missed anyone, I'd like to apologise as it is an extremely emotional moment in my career and the next stage of life, but this decision is inevitable and it's just a matter of when one wants to make the call and to dare to move into something else."



OLYMPICS

Squash isn't in the Olympics but we have a (twitter) @azziskandar #backthebid2020 dream

Yes when I was watching the GAMES I had so many people asking me on twitter and the general public why is squash not in the Olympics?

Well to start, it is a worthwhile but tedious process for a sport to get into the Olympics.

Squash had its best chance to get into 2016 Olympics in RIO but squash narrowly lost to Rugby and golf, so we are now gunning for Olympics 2020.

I believe it is also the Malaysian squash community's role to help back the bid but also hope that the Malaysian public, relevant authorities and the media can get on this bandwagon to ensure squash has a huge support system.

Simplistically put, the demand for squash on TV will also determine squash's chance. Of course there has to be content for it be on TV hence why I feel having more small tournaments and progressively growing these tournaments around the country will help popularize the sports in Malaysia and get more parties involved.

The 2020 bid (which started last year) as I know it is a good 8 years away but worthwhile things happen with a lot of planning. Just like the creation of champions, it will be a long process of awareness, hard work, support and commitment.

I believe the game has very little to do with how beautiful the sport is in its display of skill, athleticism, mental prowess and physical strength in the eye of the IOC (Olympic international committee).

I truly believe it boils down to more people playing, making squash their pastime, TV time, having more squash events, amateur events, club events, community based tournaments, school based tournaments having more development programs through schools and more infrastructure! (I believe there are only a total of 500-600squash courts in the country! Far too little to make a impact despite having so many world class players.)

I knew Azzy would be a great player having seen him 'survive' six month sleeping on mattresses with Beng Hee on my lounge floor aged just 15!

They used to put them down at night & lean them up against the wall in the morning.

This was just so that he could take advantage of coaching with Neil Harvey & training with Peter Nicol and the squad.

He always trained and conducted himself with his upmost professionalism, and it is no surprise that already has a vey successful business career running in tandem alongside his pro career.

I am quite sure that now that he can focus fully on these ventures they will continue to flourish & grow, and I look forward to seeing, and maybe even helping, it happen.

Best wishes, but most of all enjoy it Azzy.


Eventis