Bankers Hall Club Pro-Am 2016
28-31 Jan, Calgary, Canada, $10k
31-Jan, Final:

[2] Raphael Kandra (Ger) bt [4] Shawn Delierre (Can)
11/5, 11/5, 11/9 (37m)

Third time's a charm for Kandra ....

The final of the 2016 Bankers Hall Club Pro Am in Calgary featured the #2 seed and twice runner up here, Raphael Kandra of Germany, going for his 11th PSA title.

In his way would be Canada's #1 player and the #4 seed in this tournament Shawn Delierre, who was seeking his 14th PSA world title. Sadly for the Canadian crowd here it was not going to Delierre's day as he went down in straight games to a very precise and dominating performance on the day from Kandra.

The first two games were identical in terms of not only the scores of 11-5 but pretty much the same number of unforced errors from the German star which was next to zero!

The third game saw Delierre stay with Kandra throughout the game score wise but it did seem despite the even score that Kandra was still the dominate player in the decisive game. A no let call on match point Kandra sealed the deal for him and pretty much summed up Delierre's day here.

An appreciative crowd applauded both players before, during, and after the match while in return the players both acknowledged the crowd, the venue, and the tournament itself.

So another Pro Am is in the books here in downtown Calgary in what was one of the toughest PSA10 events likely ever held here with Raphael Kandra joining the list of great champions at the Bankers Hall Club Pro Am!

Bankers Hall Club Pro-Am 2016
28-31 Jan, Calgary, Canada, $10k
Round One
28 Jan
Quarters
29 Jan
Semis
30 Jan
Final
31 Jan
[1] Shaun Le Roux (Rsa)
bye
[1] Shaun Le Roux (Rsa)
4/11, 11/3, 11/9, 13/11, 11/4 (85m)
[7] Martin Knight

[1] Shaun Le Roux

11/8 rtd (20m)

[4] Shawn Delierre

[4] Shawn Delierre

11/5, 11/5, 11/9 (37m)

[2] Raphael Kandra

11th PSA title for Raphael

[7] Martin Knight (Nzl)
11/6, 11/8, 11/4 (40m)
Shahjahan Khan (Pak)
[8] Eric Galvez (Mex)
11/7, 16/14, 11/9 (52m)
Addeen Idrakie (Mas)
[8] Eric Galvez
11/8, 11/8, 3/11, 7/11, 12/10 (71m)
[4] Shawn Delierre
[4] Shawn Delierre (Can)
11/9, 11/7, 4/11, 11/2 (52m)
James Huang (Tpe)
Matias Tuomi (Fin)
11/6, 11/3, 11/6 (33m)
[3] Ben Coleman (Eng)
[3] Ben Coleman
3/11, 11/6, 13/11, 11/7 (56m)
[6] Arturo Salazar

[6] Arturo Salazar

12/10, 11/9, 11/8 (33m)

[2] Raphael Kandra

Andrew Schnell (Can)
11/5, 5/11, 11/8, 7/11, 11/7 (54m)
[6] Arturo Salazar (Mex)
Matthew Serediak (Can)
11/5, 11/4, 11/5 (20m)
[5] Reiko Peter (Sui)
[5] Reiko Peter
11/8, 11/6, 11/8 (38m)
[2] Raphael Kandra
Chi Him Wong (Hkg)
11/3, 7/11, 11/9, 11/6 (47m)
[2] Raphael Kandra (Ger)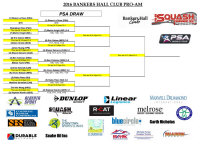 30-Jan, Semis:
Semi finals in Stampede City
Bob Ballinger reports

It was semi final Saturday here in Calgary which produced finalists in two different manners here at the 2016 Bankers Hall Club Pro Am.

Both matches were highly anticipated ... top seed and former top 30 player Shaun Le Roux from South Africa versus Canada's best player Shawn Delierre and two time champion of the Pro Am Mexican Arturo Salazar against two time Pro Am finalist Raphael Kandra of Germany.

Le Roux and Delierre were first up and engaged in a very tactical first game with both players keeping a fairly neutral pace of play which was seemingly setting the tone for what could be a long match. Sadly in the latter part of the first game a possible old injury surfaced for the talented South African and he was not himself for the last four points resulting in a first game win for Delierre.

After a combination of the rest game rest plus a 3 minute injury break a very disconsolate Le Roux was forced to shake hands giving the win to Canada's top player.

Only two other players other than sixth seed Salazar have won this event twice - England's Chris Simpson twice and Hong Kong's Leo Au three times. Salazar was hopeful to have a chance to join these two but would have to overcome the always impressive and two time runner up here, Kandra.

The first game may very well have been the turning point and difference in the match with Salazar taking a solid first game lead at 10-5 only to see Kandra storm back to win seven straight points to snatch the game from him at 12-10. The second game was tight all the way with Kandra just a bit more in control all the way and took it 11-9.

The third game saw Kandra seize control early only to see Salazar make a last push from 9-5 down to bring it 9-8 Kandra who then closed it out with an 11-8 third game win and with it a place in his third final here.

So the last day of January at this 15th edition of the Pro Am is going to produce a first time winner for either the #4 seeded Canadian star Shawn Delierre or the #2 ranked Raphael Kandra of Germany ... should be a great finish!!



29-Jan, Quarters:
Salazar breaks the seeds' hold in Calgary
Bob Ballinger reports

The streak of no upsets in this years Bankers Hall Club Pro Am in Calgary was close to staying alive today with four great quarter final matches here.

The first two matches were played over the lunch hour and as usual here that does not deter the club members and downtown squash crowd from coming to watch as it was a full house.

First up was top seed Shaun LeRoux from South Africa going up against long time crowd fave here, Kiwi Martin Knight. The likeable South African had the luxury of a first round bye but it perhaps caused him to start off slow in the match as Knight easily won the first game before Le Roux balanced things out with an equally one sided second game win. Things were very tight over the next two games as Knight stormed back to win game three 11-9 and held a match ball in the fourth before Le Roux won that one 13-11. The fifth was fairly unthreatening for Le Roux as he went out to early leads and held on for a 11-4 final game win to secure his semi final spot.

Canada's number one player Shawn DeLierre then took the court with Mexican star Eric Galvez in an ebb and flow five gamer that saw the Canadian star relatively routinely win the first two games before Galvez dug in to win games three and four fairly routinely himself. These two have had their share of battles between them and it was a battle for them today here as well as the officials with some tough calls going on throughout. The fifth game was exciting all the way DeLierre holding off a late charge from Galvez to take the game 12-10 and the match.

Into the evening session and two time champion of the Pro Am Arturo Salazar going up against the winner of last weeks tournament in Medicine Hat, third seeded Englishman Ben Coleman. Not many would have picked a Mexican win in this match after his tough first round match AND the one sided first game 11-3 win by Coleman. Salazar was able to weather that first game storm and settle in to win the next three games to produce the only upset so far winning three games to one over Coleman.

Last evening match was the second see Raphael Kandra of Germany who has had great success here in the Pro Am despite not winning the Pro Am title. He was up against the impressive Reiko Peter seeded #5 in the event. Kandra looked very good in tonights match and never let Peter really settle in producing a straight game win for the athletic German player.

Soooo onto the semis with Canadian hopes alive as Shawn DeLierre goes up against top seed Shaun Le Roux while two time champ Arturo Salazar will test second seed Raphael Kandra … both should be great matches!!



28-Jan, Round One:
Seeds through to Quarters in sunny Calgary
Bob Ballinger reports

Above seasonal weathering has greeted the players this week for the 2016 Bankers Hall Club Pro Am in downtown Calgary.

Thursday's round of 16 daytime session saw no upsets as the seeded players found there way through but not always easily. New Zealand's Martin Knight playing in one of his favorite tournaments went through in relatively easy fashion winning in straight games over Shahjahan Khan of Pakistan.

Eric Galvez of Mexico who has been a crowd favorite here years ago took out Malaysian player Addeen Idrakie in an entertaining three games.

Lastly Canadian #1 Shawn DeLierre who is long overdue to be back here at this tournament took out the ever improving James Huang of Taiwan in four games.

The four evening matches were played before more great crowds in downtown Calgary with the trend of all seeds winning continuing.

For the local crowd and Canadian squash fans in general they were hoping for this trend to not continue because that saw local pro and world #87 Andrew Schnell go down to veteran Mexican Arturo Salazar in five back and forth games. It was about six years ago that these two squared off here in the first round as Schnell was fairly new on the circuit while Salazar was starting his run to a second consecutive title here ... different year but same result yet this was close all the way.

Other seeds that continued the winning trend were #2 seed German Raphael Kandra winning in four very entertaining games over the skillful Chi Him Wong of Hong Kong; the very steady third seed Ben Coleman of England took out Finnish player Matias Tuomi in straight games; and in the last match of the night Canadian Matthew Serediak could not hold off #5 seed Reiko Peter of Switzerland also in straight games.

So the quarter finals have all eight seeded players through…..Canada's top player Shawn DeLierre carries the torch for the locals the rest of the way with a lot of great squash to come!



Welcome to the 2016 Bankers Hall Club Pro-Am squash tournament. The tournament is being held January 27 to 31, 2016 and is hosted by Bankers Hall Club in Calgary, Canada.

Past champions in the long history of the Bankers Hall Club Pro-Am have been Viktor Berg from Canada (2001), Borja Golan from Spain (2003), Cameron Pilley from Australia (2004), Tommy Berden from Netherlands (2005), Matt Giuffre from Canada (2006), Daryl Selby from England (2007), Shahier Razik from Canada (2008), two time champion Arturo Salazar of Mexico (2009/2010), two time champion Chris Simpson of England (2011/2012), and current three time champion Leo Au of Hong Kong (2013/2014/2015).

The tournament will once again be a part of Mens PSA International pro circuit and the 16 players will be competing at the $10,000 US prize level.

Canada's top two players are featured in this years event as Shawn DeLierre comes in as the #4 seed and will play James Huang who is no stranger to the Pro Am having competed here many times now. Also local star Andrew Schnell #2 in Canada is always to be watched here and he has a tough first round match with two time Pro Am champion Arturo Salazar who is the #6 seed.

Players that have competed in this event over the years have gone on to have successful pro careers rising to top 10 in the world rankings including Miguel Rodriguez, Omar Mosaad, Simon Roesner, Peter Barker, and Max Lee to name a few. In fact 19 of the current top 50 in the mens world rankings have played in the Pro-Am here.

As well as the highlighted Mens PSA event there is a full slate of amateur events for Men and Women to enter into and it has become the most popular tournament to enter into pretty much anywhere!

For further information please contact Bob Ballinger bballinger@bankershallclub.com