Bluenose Classic 2011
01-06 Feb, Halifax, Nova Scotia, $50k
06-Feb-11 -
Final:



With just four PSA ranking positions separating world number 13 and tournament second seed, Azlan Iskandar of Malaysia, and world number 17 and tournament third seed, Hisham Ashour of Eypt, squash fans huddled in the stands around court side to watch a highly anticipated 2011 Bluenose Squash Classic sold out final.




[2] Azlan Iskandar bt [3] Hisham Ashour 11/8, 8/11, 11/9, 11/7


Iskandar and Ashour have gone head-to-head five times in the last six years with Iskandar holding a 4-1 winning record. With Ashour's recent success on the PSA tour contributing to a steady climb up the ranks, past history was looking to be an inconsequential fact for determining the outcome of the 2011 Bluenose Squash Classic final.

The styles of the each player made for a highly entertaining match with Iskandar who plays a methodical and patient game compared to Ashour's more colorful portfolio of unconventional and often higher risk shot selections.

Early in the first game both players came out aggressive and traded points on two very fast paced rallies as the score was tied 1-1. Throughout subsequent points, Iskandar displayed impressive quickness as he was able to retrieve what appeared to be inevitable Ashour winners – a pair of volley drops and a right corner drop in the nick put Iskandar up 4-1. Ashour, who was hitting very crisp shots, countered back over the next two points to narrow Iskandar's lead to 4-3. Two precise and tight drives up the wall supplemented by an Ashour error into the tin put Iskandar ahead 7-3. In the second half of the game, Ashour was somewhat challenged with keeping up pace and holding off Iskandar who was moving extremely quick and efficiently around the court. Iskandar went on the claim game one 11-8.

Game two was a scrappy affair as both players pounded the ball all over the court. Seven of the first eight rallies of the game ended with the ball hitting the tin – the score was tied at 4-4. In the next rally, a forehand winner from Iskandar put him ahead 5-4. Over the next two points, Ashour responded back with a pair of backhand shots into the nick to take the lead 6-5. Both players continued to exchange points with Ashour holding the lead at 8-7. An out of court lob and backhand slam into the tin from Iskandar increased Ashour's lead to 10-7. Iskandar managed one additional point before Ashour ended the game with a forehand into the left corner nick to take the game 11-8.

The third game saw Iskandar get out to a 3-1 lead aided by Ashour errors into the tin. Both players were having challenges with keeping the ball above the tin as Iskandar maintained the lead at 5-3. A long rally ending hold-and-cradle deceptive drop from Ashour brought him to within one at 4-5. Over the next four points the lead would change – a series of winning shots which included a mishit winner off the grommet put Ashour ahead 7-6. Iskandar responded back by taking the next three points to reclaim the lead 9-7. The next two points both players exchanged up front drop winners to move the score to 10-8. Ashour managed to rally for one additional point before having a "stoke" called against him on a loosely hit ball – Iskandar took the third 11-9.

To start game four, it was all Iskandar as he quickly mounted a 6-2 lead as Ashour's aggressiveness was causing many of his shots to clip tin. Over the next three points, Ashour was awarded a "stroke" and hit two off-speed backhand winning drives to pull within one point at 5-6. A crosscourt slam from Iskandar put the score at 7-5. The next two rallies were dominated by Ashour to tie the game at 7 all. With the score even, Iskandar took control of the game as his unrelenting retrieval abilities contributed to long rallies over the next four points which ended in a front left corner kill shot and three Ashour balls into the tin. A well deserved 11-7 game win and an impressive 3-1 match victory as Iskandar claimed the 2011 Bluenose Squash Classic title.



During post match interviews with the players, Neil Harvey asked Ashour how he prepared for today's match and specifically asked him about his game tactics. Ashour responded with a smile that he had "no tactics, I usually go out and play my game."

When Harvey asked the same question to Iskandar, he said, "defending against him (Ashour) you got to be tight because he will attack you first. You have to hit the ball away from him. Hisham has a ridiculous two-way boast that he caught me on few times today." In closing interview comments both players praised the tournament organizing committee and volunteers for hosting an excellent run event.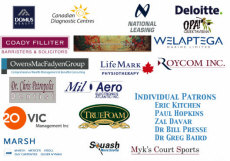 Sponsors and Info

The sixth annual Bluenose Squash Classic is again supported by contributions from founding sponsor Zal Davar, also Eric Kitchen, Paul Hopkins, Dr. Bill Presse and Dr. Greg Baird.

Returning corporate sponsors include Truefoam Limited, Benchmark Investing, Dr. Chris Petropolis Dentistry, Opa Taverna, National Leasing, Canadian Diagnostic Centres, Domus Real Estate, Coady Filliter, Lifemark Physiotherapy, Deloitte, Welaptega Marine Limited, Roycom Inc., Mil-Aero Electronics and Marsh Canada.

The Bluenose Squash Classic is now also generously sponsored by Banco Management.

Players and referees are staying at the Lord Nelson Hotel. Squash Nova Scotia is the sponsoring provincial association.

The Bluenose Squash Classic, a not for profit event and part of the Canadian squash circuit, is being initiated and organized by the Nova Scotia squash community in memory of Marcella Davar (May 8, 1954 – July 21, 2004).


Bluenose Classic 2011
01-06 Feb, Halifax, Nova Scotia, $50k
Round One
03 Feb
Quarters
04 Feb
Semis
05 Feb
Final
06 Feb
[2] Azlan Iskandar (Mas)
11-2, 11-5, 11-7 (49m)
[Q] Nafiizwan Asnan (Mas)
[2] Azlan Iskandar
11/9, 11/8, 4/11, 11/9 (49m)
Nicolas Mueller

[2] Azlan Iskandar

11/6, 11/5, 11/2

[Q] Gilly Lane

[2] Azlan Iskandar

11/8, 8/11, 11/9, 11/7 (53m)

[3] Hisham Ashour

Borja Golan (Esp)
11-9, 3-11, 5-11, 11-5, 11-6 (69m)
Nicolas Mueller (Sui)
[Q] Shawn Delierre (Can)
11-9, 11-13, 11-5, 11-3 (75m)
[Q] Gilly Lane (Usa)
[Q] Gilly Lane
11-9, 11-8, 11-4 (33m)
Mohamed Abbas
Mohamed Abbas (Egy)
11-5, 7-11, 11-9, 11-5 (73m)
[4] Shahier Razik (Can)
[3] Hisham Ashour (Egy)
13-11, 11-6, 8-11, 11-7 (58m)
Chris Ryder (Eng)
[3] Hisham Ashour
11-8, 8-11, 11-7, 11-7 (44m)
Miguel Angel Rodriguez

[3] Hisham Ashour

14/12, 11/9, 14/12

Julian Illingworth

Miguel Angel Rodriguez (Col)
) 8-11, 15-13, 11-6, 11-5 (101m)
Aaron Frankcomb (Aus)
David Phillips (Can)
11-3, 11-2, 11-3 (23m)
Julian Illingworth (Usa)
Julian Illingworth
11-7, 11-7, 14-12 (65m)
[1] Laurens Jan Anjema
[Q] Martin Knight (Nzl)
11-6, 11-6, 11-1 (41m)
[1] Laurens Jan Anjema (Ned)
2010 Event

02-Feb, Qualifying Finals:

Martin Knight (NZL) bt Matthew Karwalski (AUS) 11-7, 11-13, 11-7, 12-10 (75m)
Gilly Lane (USA) bt Siddarthe Suchde (IND) 12-10, 8-11, 12-10, 11-7 (74m)
Nafiizwan Adnan (MAS) bt Robin Clarke (CAN) 4-11, 11-8, 11-8, 11-3 (58m)
Shawn Delierre (CAN) bt Chris Gordon (USA) 8-11, 11-8, 12-10, 11-6 (79m)


01-Feb, Qualifying Round One:

Martin Knight (NZL) bt Andrew McDougall (CAN) 12-10, 11-6, 6-11, 11-7 (72m)
Matthew Karwalski (AUS) bt Justin Todd (CAN) 11-8, 11-2, 11-7 (22m)

Gilly Lane (USA) bt Matt Bishop (CAN) 11-6, 11-5, 11-8 (31m)
Siddarthe Suchde (IND) bt Tyler Hamilton (CAN) 10-12, 11-7, 11-3, 11-4 (46m)

Robin Clarke (CAN) bt Matt Holland (CAN) 11-3, 11-5, 11-4 (24m)
Mohd Nafiizwan Adnan (MAS) bt Eddie Charlton (ENG) 11-8, 9-11, 12-10, 11-5 (77m)

Shawn Delierre (CAN) bt Josh Rudolph (CAN) 11-6, 11-7, 11-6 (28m)
Chris Gordon (USA) bt Dane Sharp (CAN) 11-4, 11-9, 11-6 (52m)
30-Jan: Amr Shabana Withdraws

It is very unfortunate, but we have been advised today that Amr Shabana has regrettably had to withdraw from the 2011 Bluenose Squash Classic.

Due to the current state of affairs in Egypt, and Amr's hometown of Cairo, Amr had to make a decision to return home over concerns for the safety of his family.

While this news is very unfortunate for this year's tournament, the Bluenose Committee understands Amr's decision and fully supports it.

We wish the best for Amr and his family and hope a stop in Halifax in 2012 can be incorporated into his playing schedule.
05-Feb-11:
Semi-Finals: Top Seeds Advance

With an upset apiece in the quarter finals, Gilly Lane and Julian Illingworth of the United States had ambitions of making it an all American finals as they prepared to face their Malaysian and Egyptian opponents in the semi finals of the 2011 Bluenose Squash Classic.

In another sold out event, fans filled the stands to cheer on the final four in an incredible evening of entertaining professional squash.

Azlan Iskandar (MAS) bt Gilly Lane (USA) 11/6, 11/5, 11/2

Well, semi-final Saturday has finally arrived and first up was Gilly Lane, one of two Americans in the semi-final round, against Azlan Iskandar of Malaysia.

Lane has been the dark horse all week long surprising one opponent after another beginning in the qualification rounds, followed up with a victory over former Bluenose Champion Shawn Delierre in the first round, and then yesterday retiring Egyptian Mohammad Abbass in the quarter final. Iskandar on the other hand, was an expected occupant in the show court on Saturday having played nearly flawless squash during the first two rounds.

In the early going, Lane looked a little nervous as he coughed up 3 unearned points to Iskandar in the initial few minutes. Lane scored his first point with a dying drop making the game 1-4 as he pumped his fist early trying to focus on the matter at hand. At 2-6, Lane called for and is granted a "let", but the marker mistakenly announced 2-7 to which Lane corrected the official, "He doesn't need any help!"

And indeed he didn't, as Iskandar went on to hit solid winners in each of the next three points making the game 9-2. Lane, a vocal thinker on the court, somehow motivated a three point run of his own eliciting a moment of concern for the Iskandar faithful. But that was to be the only span of success for Lane as he dropped game one 11-6.

Game two started out a bit sloppy with unforced errors by both players, which favored Lane 3-2 in the early going. But if there is anything we have learned about Iskandar in the first two rounds is that if he has any lapses in his game they are both brief and infrequent. True to form, the next five points were won by Iskandar giving him another commanding 9-3 lead. Lane again attempted to mount a late comeback with a winning drop followed by a tight drive to narrow the score to 9-5. Iskandar quickly shut down any notion Lane had of putting a foot in the door as he closed out the second game 11-5.

Early in the third game, Lane appeared to have tweaked something in his left leg and began limping around with a painful expression. Iskandar sensing control, brutally moved Lane around the court with tight drops and pounding drives. Lane scrambled about retrieving, digging, and even diving at a couple of balls to sustain the rally, but it was doing little to either tire Iskandar or present an opportunity to score any points. Iskandar scored eight unanswered points to close the game 11-2 and the match 3-0.

In the post game interview, Lane reflected up his performance, or lack thereof, as a "late Christmas present" for Iskandar. Iskandar will be at full strength on Sunday for the final.
- BC

Hisham Ashour (EGY) bt Julian Illingworth (USA)
14/12, 11/9, 14/12

After seeing these two players win their respective quarter final matches on Friday, the capacity crowd in Halifax was expecting a great battle. And you can be assured that Hisham and Julian did not want to disappoint.

Talk around the courts was that despite 23 ranking spots separating these two players, the playing field may have been somewhat more level than those numbers would suggest, given that Hisham's body was admittedly "not 100%", and Julian was coming off the "the best match (he) had played in PSA", according to his post-game interview last night.

In the first game both demonstrated some high level squash, and it was Ashour who seemed to be making Illingworth work a little harder, as he was successful with turning three boasts into winners, as well as a sprinkling of winners to the front and back of the court to take a 7-4 lead. The rally at 7-4 was a long one, ending with Illingworth winning it with a cross court kill. Four winners from the American in the next few rallies tied the game at 8-8. Ashour determined the outcome of the next four rallies, with two winners and two errors, to leave it tied 10-10. The players traded winning drop shots to 13-12 (Ashour) before Illingworth sealed his fate by hitting the tin to lose 14-12.

The second game proceeded to an identical score of 7-4 (Ashour), followed in the same fashion by Illingworth tying the game at 7-7. Ashour pulled ahead to 9-7, which included an overhead smash into the nick. The longest rallies of the match were at the end of the second game, with three of the four being about four times the length the average rally up until that point. Although the American evened the game at 9-9, the Egyptian managed to get out unscathed at 11-9.

Amazingly, the third game was a repeat of scores in the first two, 7-4 (Ashour), then 7-7. As with the first two games, both players were covering all four corners of the court, both showing great skill in varying the pace on the ball, and mixing up their level of aggressiveness through the rallies. Ashour demonstrated his great racquet skills, but was not as brazen with behind the back shots as he was the night before, even though he did have some opportunities to do so. However, he did demonstrate "the Mizuki", which he describes as a "backhand forehand drop to the nick", (and if you haven't seen it, you HAVE to on YouTube:

After tying the game up at 7-7, both players ended the next few rallies with errors, sending it into extra points. At 10-10, the crowd definitely wanted more, as loud cheers for the American were heard. Late in the game Illingworth could be heard motivating himself with an expressive "not satisfied!!" Once again, it was the Egyptian deciding the outcome of most of the next six rallies, with a couple of errors, mixed with a double dose of nicks and winners (as well as one clear stroke awarded by the referees), as Hisham managed to escape in a long three games, 14-12.

In the post match interview with Neil Harvey, Illingworth elaborated on his comment of "not satisfied", saying that "sometimes when I get a good result I am satisfied…and today I wasn't satisfied", indicating he has been working on improving his motivation in trying to push himself to follow up one good result with another. He complimented Ashour: "his length is really good, his width, his cross-courts…he hits all those flashy winners, but he sets them up with good width".

Ashour indicated that he played "the best (he) could…today", but certainly does not feel well rested after stops in London, Vancouver, New York, and Toronto already in this fairly new year. He explained he has played seven competitive matches in the past seven days. Bluenose fans hope he has enough left in the tank to challenge Iskandar tomorrow. Hisham sports a 1-4 record against Iskandar, so we hope he gets a good rest and comes out showing his skills in the finals.
- FM

| | | | |
| --- | --- | --- | --- |
| Gilly Lane | Azlan & Mueller | Hisham | Illingworth |
04-Feb-11:
Quarter-Finals

Two upsets and two top seeds advance to the semi-finals of the 2011 Bluenose Squash Classic. In a sold out event, Squash fans packed the stands for a highly entertaining evening of professional squash to see which four players would advance to the semi-finals.

Gilly Lane (USA) bt Mohammed Abbas (EGY)
11-9, 11-8, 11-4 (33m)

The first quarter final match of the Bluenose Squash Classic put qualifier Gilly Lane of the United States against Mohammed Abbas of Egypt.

The first game began as a seesaw battle with both players hitting an equal variety of attack shots as the score was tied at 6-6. An error into the tin by Abbas followed by a Gilly front corner drop in the nick put Gilly ahead 8-6. An even exchange of winners and a "stoke" against each player advanced the score to 10-8. Abbas was able to stave off game ball with a volley drive, however a Gilly kill shot in the nick followed by an Abbas "no let" earned Gilly an 11-9 game one win.

Game two saw Gilly get off to a 3-0 lead as momentum continued in his favor. Abbas was able to get on the score sheet as he rallied for two points with a deceptive drop followed by a backhand drive to come within a point of Gilly's lead. At 5-3, a series of Gilly unforced errors into the tin put Abbas ahead 7-5. After a vocal self-motivating discussion with himself, Gilly was able to shake off the mid-game lapse as he rallied for five consecutive points on his way to taking game two 11-8.

Gilly dominated the third game as he quickly mounted an 8-1 lead. Having done a significant amount of running throughout the match, Abbas appeared to have slowed mid-way through the game as he was obviously favoring his leg when pushing off for retrievals. Gilly continued to capitalize on the situation as he cruised to an 11-4 win for a 3-0 match victory earning the first of four positions in the semi-finals.
- KB

Hisham Ashour (EGY) bt Miguel Angel Rodriguez (COL)
11-8, 8-11, 11-7, 11-7 (44m)

According to the PSA website, Ashour (Egypt) and Rodriguez (Columbia) have never met before in a PSA event. Ashour sits ten spots above Rodriguez on the rankings list and as a result, seemed to be a strong favorite going in to the match. The knock up had something of an inauspicious start, as only four hits in, the brand new ball broke. Fortunately, the next ball managed to survive the whole match.

The best way to sum up this match is to compare it to a game of cat and mouse. The players had very contrasting styles. Ashour was the cat and Rodriguez the mouse. Ashour treated the crowd in Halifax to a unique display of squash skills not seen in any of the five previous Bluenose Classics. Rodriguez was the penultimate retriever, who to the last shot, never gave up.

The first game began with the players trading points, up to 8-all. In the early stages, the ease with which Ashour hit the ball was striking (no pun intended), as he both effortlessly pounded the ball and took the pace off to drop with a feathery touch. Equally impressive were Rodriguez's retrieval skills, as he seemed to be unfatigable. Highlights of the first game included a rally where Rodriguez's drive came off the side wall, landing at the midline at the back of the court, catching him by surprise on the T.

He responded by jumping as high as he could in the air, with both feet, to avoid being hit by the ball. Ashour, however, played a boast, totally avoiding his opponent. The Columbian quickly regained his footing upon landing and scampered to the front to retrieve the boast and continue on with the rally. The final rally of the game came with some of the best scrambling by Rodriguez, but in the end he hit the tin to end the game and it was 11-8 for Ashour.

A similar theme was apparent early in the second game, which was back and forth to 4-all. The Egyptian made a number of errors and the Columbian took advantage, gaining a 10-5 advantage. Ashour climbed back to 8-10, before hitting the tin with a cross court to give the game to Rodriguez, 11-8.

In the third, Rodriguez quickly built a 5-2 lead by continuing to retrieve, and also hitting some effective winning drop shots. Ashour was heard complaining about the pace of the ball in the warm panel courts, which surely was a sign of frustration at how many of his near winning shots Rodriguez was collecting. However, Ashour strung together winner after winner to pull ahead 10-7. Ashour delighted the crowd with a unique ability to not bother to move to play loose balls with his forehand, but willingly played five balls through the match behind his back.

The impressive aspect of this was that he seemed equally comfortable as playing them in front of his body, displaying no difficulty playing drives with pace or well-placed drop shots. Such was the case at game ball in the third, when he played one behind his back in the midst of a long rally. Rodriguez replied with a head fake that left him facing the rear of the court, but it was Ashour who closed it out 11-7.

Ashour rode that momentum through the fourth, taking a quick 6-0 lead with winners of all varieties. At 6-2, Rodriguez attempted to reciprocate Ashour's behind-the-back prowess, but it was clear the Egyptian had the superior racquet skills. Ashour continued to impress, and Rodriguez didn't stop retrieving, making truly unbelievable gets through to the end of the game. To the delight of the crowd, he flung himself to a horizontal position going after a ball in the final rally, and although he got it, it wasn't enough to take the match from Ashour, as Ashour won the fourth 11-7.

In the post match interview with Neil Harvey, Ashour made reference to Rodriguez's acrobatics and retrieving, while displaying his keen sense of humour, saying "when you come here to play a squash match you never expect to play Superman or Batman…he's flying, he's running on the walls…he's enjoying this…he's really fast". Harvey congratulated Ashour, noting that this display of squash was "a spectacular match, probably one of the best matches we have ever seen". Given that Ashour has currently reached a career-high ranking of 17, it is very likely that the fans of the Bluenose are witnessing a rising star, on his way to greater heights in the squash world.
- FM

Azlan Iskandar (MAS) bt Nicolas Mueller (SUI)
11/9, 11/8, 4/11, 11/9 (49m)

In the third match of the night, second seed Azlan Iskandar from Maylasia squared off against Switzerland's Nicholas Mueller. Despite Mueller's determination and hard work, Iskandar was in control throughout most of the match which was evident in the first two games as he maintained the lead throughout both these close games winning by 11-9 and 11-8 scores.

Mueller's unwillingness to give up and his incredible retrieving abilities were rewarded in the third game with an 11-4 victory. When asked about that game in a post-match interview by Neil Harvey, Mueller said, "in the third, I got the feeling he (referring to Islandar) got a little tired." Iskandar who was also standing on the other side of Harvey jokingly interrupted with the question "I was?" Mueller, in front of the packed house of Bluenose fans during the interview, went on to say that "I got my second and third wind thanks to you guys cheering me on. I think that was a big help. Unfortunately it wasn't quite enough for the fourth."

The fourth game saw Iskandar take a quick 9-3 lead. At 10-4, Mueller refused to concede the match and attempted a remarkable comeback as he was able to rally back for five consecutive points. However, he fell just short of extending the match by losing the game 11-9 for an Iskandar 3-1 match win and berth in the semi-finals. In his closing interview comments to Harvey, Mueller said with a smile that "it was a fair match but with the wrong ending though." The fans applauded both players for the entertaining match.
- MD

Julian Illingworth (USA) bt Laurens Jan Anjema (NED)
11-7, 11-7, 14-12 (65m)

Take one #1 seed, one late call up to the main draw, sixty one minutes of tension packed squash and a 3-0 match score. Mix and serve as the last match of the quarter-final round at the 2011 Bluenose:

Julian Illingworth cemented a career best upset win by taking three games from Laurens Jan Anjema, 2008 Bluenose Champion, with one of the most focused and consistent efforts so far this week. After three previous meetings, dating back to 2006, without so much as a game having gone in his favour Illingworth could have been excused for tempering his optimism at the outset but, to his credit, took none of that approach.

The first game started conservatively and sensibly with sharp contact from both players producing almost exclusively drives, straight drops and deep cross courts. With a comfortable 2-0 start Anjema was in the driver's seat early before a rash of four straight errors upended the advantage and Illingworth had earned a 4-2 cushion. He never let it go. Through to 8-4 in his favour Illingworth retrieved as necessary, maintained pressure with well held length and drew the ball tight to the walls with impressive consistency.

Anjema had his share of chances within rallies but often had to settle for a restart via let to Illingworth or, worse, caught the tin from a position of advantage. It was a boast error that ended the game and gave the underdog a 1-0 advantage.

The second game was more of the same hard work, starting with an early Anjema lead, to 4-2 this time, that Illingworth chipped away at until they were even at 6. Three straight winners with flourish – a crosscourt serve return nick, a pure crosscourt winner and drop finessed just along but above the top edge of the tin – as well as another Anjema error to 10-6 down, put the American on the cusp of a 2-0 lead in games. Anjema slammed home a nick of his own in defiance on the next rally but then had to watch helplessly as the most frustrating shot in squash, a back wall roller, ended it.

For the third straight time Anjema started strong and at 3-0 his game seemed to finally be asserting itself when the persistence of Illingworth took effect again and he came back strong to 4-4 and 6-6. Both players found the nick a number of times when they went looking but stayed disciplined in applying pressure along the walls for the most part.

Anjema would have liked to avoid the extra couple of errors off open shots that brought Illingworth to match ball, 10-7, but the pressure of the imminent upset stalled the finish as the Dutchman ignored all three match balls to 10-10. Illingworth was desperate to close it, throwing himself full length into the back left on the tying shot, before having to refocus on defending against two Anjema game balls (11-10 and 12-11).

A very sporting Anjema called his own boast down to fall to even again at 12-12 then suffered another error to give Illingworth the last chance he would need. He pounded a crosscourt length into the back right and Anjema couldn't dig it out. The crowd had been riveted to every point, calling encouragement to both players, and the tension release and appreciative applause for the effort of both players was almost palpable.
- PK

03-Feb-11:
2011 Bluenose Squash Classic –
Round One

There was plenty of excitement from the fan-filled bleachers and adrenalin pumping amongst the top 16 players as the main draw of the 2011 Bluenose Squash Classic got underway at Saint Mary's University Tower squash facility in Halifax, Nova Scotia.

It was an evening filled with highly entertaining professional squash as the quarter final matches were decided.

Laurens Jan Anjema (NED) versus Martin Knight (NZL)

Bluenose returnees Martin Knight and Laurens Jan Anjema opened the show court for the night with a full effort display of four corners squash. Anjema's top seed billing is well earned after a year of considerable success on the PSA tour and he looked comfortable in that position from the opening points. Knight has never taken a rally off in his past February visits to Halifax and demonstrated the same determination in coming through qualifying via two hard 3-1 wins.

An inauspicious start as Anjema forgot who had won the spin to get first serve but Knight straightened him out and things were all business from then on. Anjema pushed the pace with his power and Knight countered with athleticism up to 4-4. LJ's length, very tight and low, was a challenge just to keep up with into the back corners but the qualifier was right with him, supplying a perfect dying length to stay even to 5-5. Time and a few lets had passed with little breathing room to that point but the next five markers came quickly and all favoured the Dutch – the last to game ball on a Knight boast error. The Kiwi pulled one back before Anjema closed out the first with a more successful boast of his own.

The second game was quick to 2-1 Anjema after Knight picked up one perfect drop shot but not the second. Again the two matched closely on the score sheet through to 5-5, a series of lucky cross court sidewall nicks going both ways to get there, but then three quick Knight errors under pressure tilted the court. Down 8-5 Knight dug in with some fantastic retrieving which set the crowd abuzz but still couldn't stop the bleeding up to 10-5. Knight rolled the dice and the ball on a serve return nick to 10-6 before Anjema closed the narrow opening to a comeback with a straight drive winner.

The next game was Knight's 11th in the past three days and they must have been adding up as Anjema was to 6-1 with relative ease. There was no less effort on either part but the breaks, including another lucky sidewall nick, and the points all went the Dutchman's way while Knight put in the miles with only the satisfaction of honest work to show. Two more very tight angles into the sidewall just couldn't be peeled and Knight was on the wrong end of an 8-1 score line. Some ferocious retrieving under unrelenting pressure from Anjema yielded no points as the #1 seed set about closing things out. With a final rally demonstration of his own retrieving abilities he picked up an impossible dig before winning it with perfect length to the back left.
- PK

Shawn Delierre (CAN) versus Gilly Lane (USA)

After successfully making it through the qualifying round into the main draw, Gilly Lane of the United States was hoping to keep his winning streak alive as he was matched up against fellow qualifier Shawn Delierre from Canada. "I played Delierre before and I tried to match his pace but it does not work," said Lane. "Today I tried a new tactic and I attempted to slow the game down and play steady".

In game one, Lane's game plan seemed to work as he was rewarded for his patient play as he held a slight lead throughout the game as Delierre could only get to within one point at best. Despite some challenges at times with keeping the ball above the tin, Gilly was able to maintain his lead to take game one 11-9.

The second game which lasted 29 minutes comprised numerous long and entertaining rallies. Delierre received several "no let" calls during this game "I could get there," he debating with the referee on one of the calls, "where do you want me to go?" The referee had a simple and straightforward reply, "to the ball". Despite his frustration with the string of "no let" calls, Delierre was able to refocus to win the game 13-11. Lane came out in the third game and appeared to be very focused as he could be heard motivating himself several times with roars of self directed "come on" adrenalin-driven yells.

He dominated play throughout the game as he cruised to an 11-5 win. Most of the fourth game was one sided and after Delierre had a conduct stroke called against him his game seemed to go completely sideways – Lane went on to win the game 11-3 for a 3-1 match victory. Lane credits his recent success to his coach, John White, who has helped him change the way he plays "I try not to think too much during the game and just play," he explained.
- MD

Borja Golan (ESP) versus Nicolas Mueller (SUI)

Sidelined in early 2010 with a serious leg injury and unable to play in the Bluenose Squash Classic, Halifax squash fans anticipated the return of three time previous Bluenose participant Borja Golan from Spain in this year's event. A first time participant at the tournament, Nicolas Mueller of Switzerland arrived at the Bluenose with the goal of making a solid first impression on the court in his match up against Golan.

With crisp length and precise touch in the front of the court, Golan quickly began the game with a 5-2 lead. Both players exchanged winners as Golan continued to build his lead to 9-5. An aggressive boast from Golan found tin as Mueller began to chip away at the lead. At 6-9, the momentum began to take a dramatic turn as Mueller made a deceptive backhand drop followed by a front corner kill shot to close the gap to 8-9. An out of court lob by Golan tied the game at 9 apiece. Mueller completed a six point run as he handcuffed Golan with a tight sidewall shot and was awarded a "stroke" on a Golan loosely hit ball to take game one 11-9.

In the second, Golan upped the pace as he moved Mueller around the court to again built a 5-2 lead. Midway through the game Mueller appeared to be slowing as Golan continued to hit winning shots up front with Mueller remaining flat footed in the back half of the court. Golan went on to win the game 11-3.

Game three was almost a repeat of game two as Golan dominated much of play as he quickly gained a 6-2 lead. A series of Golan winners grew the lead to 10-2. While staving off game ball, Mueller managed to collect three points before smashing a backhand into the tin for an 11-5 Golan win.

The fourth game saw a significant shift in momentum. Rather than pound the ball with Golan, Mueller notch down the pace and focused more on ball placement for setting up his winners. Early on, the game was close as both players traded a series of winners and unforced errors. At 6-4, Mueller pulled ahead by three points from a kill shot in the sidewall nick supplemented by two Golan errors which brought the score to 9-5. Mueller went on to take the next two points for an 11-5 win to force a deciding fifth game.

The fifth game saw Golan come out extremely flat as Mueller mounted a commanding 6-1 lead. Backed by encouragement from the crowd, Golan took the next point in a last ditch effort to get back into the game. With increased confidence and the lead, Mueller stayed the course of solid and consistent play as he exhibited since changing his game plan early in the fourth and muffled any attempts by Golan to get back into the game. Mueller took the fifth by an 11-6 score to advance to the quarter finals.
- KB

Aaron Frankcomb (AUS) versus Miguel Angel Rodriguez (COL)

The next first round match up of the evening saw Aaron Frankcomb of Australia challenge Miguel Rodriguez of Columbia. This match was a doozy and a rematch from the first round of the 2010 Bluenose Squash Classic which Frankcomb narrowly won.

Both players brought similar strategies to the match, to play good length, not force the rally, and patiently wait for opportunities. Frankcomb was the first to reap some success from this game plan as he edged deliberately to an 8-4 lead in the first game. Rodriquez fought his way back into the game capitalizing on a string of Frankcomb miss hits to make the score 8-9. But Frankcomb was not going to let this game get away and closed out the game 11-8.

The second game defined the match – its 50 minute length stretched the stamina of the players. Additionally, Zal Davar, the match official, was by no means idle as he was tasked with adjudicating 21 let requests, issuing a conduct warning, and assessing an injury.

Frankcomb came out strong again in game two taking an early 3-1 lead and seemingly in control. Could this be an upset? However, like so often can happen, the momentum shifted in Rodriguez's favor as he hit one winner after another to close the gap and build an 8-5 lead. To Frankcomb's credit, he gathered his game and fought his way back to be down 9-10. It was at this point that the match got very interesting as Rodriguez got his feet tangled with Frankcomb while battling for the T and he fell awkwardly twisting his ankle.

Davar initially gave Rodriguez 3 minutes to recover, but later changed his ruling on the basis the Frankcom contributed to the injury. Frankcom disagreed with Davar's change in position as the 3 minutes lapsed stating that "rules are rules." Nevertheless Rodriguez was permitted the time necessary to tape his ankle and return. However, the 10-9 score, in favor of Rodriguez, was to remain unchanged for another 15 minutes as the players asked for, and were granted, eight consecutive lets. On the final request, Frankcom was clearly getting frustrated with being unable to find a winner anywhere on the court and his outburst earned him a conduct warning from Davar.

On the next rally, Rodriguez committed an untimely error sending the game to a tiebreaker. The players exchanged points until finally Rodriguez's sprawling retrievals outlasted Frankcomb's patient assaults to take the second game 15-13. "I felt more confident from the third game on and I know he (Frankcomb) was getting frustrated with me running and running and getting all the balls," said Rodriguez after the match.
In the third game, Rodriguez controlled the game from the first serve to the last point winning it 11-6. The fourth game was more of the same as Frankcom was unable to wrestle back momentum from Rodriguez. But the fans were clearly into the match cheering on the fine shot making by both players. Even Davar got a cheer "Great call Zal", as he made is 38th decision of the match. But in the end, Rodriquez took the fourth game 11-5 and the match 3-1.
- BC

Mohammed Abbas (EGY) versus Shahier Razik (CAN)

Top ranked Canadian Shahier Razik played Egypt's Mohammed Abbas in one of the main draw matches scheduled midway through the evening. It took Abbas 73 minutes to defeat Razik by a 3-1 score.

The match had several extended rallies with Abbas playing the majority of attacking shots while Razik was more on the defensive. In the first game, Razik made some superb recoveries combined with lob returns to stay within many rallies. Abbas, who is very familiar with Razik's play, acknowledged his opponent's efforts throughout the match, "It was a tough match. Shahier is a great opponent and he is in great shape. I needed to end the rallies quickly because he would have tired me out". Abbas went on to win the first game 11-5.

In the second, Razik took advantage of Abbas's early mistakes to take a 9-4 lead. Despite a great effort to come back late in the game, Razik closed the game 11-7. For the majority of the third game the score went back and forth with Abbas taking it 11-9. In the fourth game, Abbas hit several precise drops shots in the front corners of the court as he got off to a quick 5-1 lead. Razik was able to bring the game back to 4-5 but was not able to sustain the momentum.

After several long rallies that ended in a stalemate with "yes let calls", Abbas finally took control of the final game with a series of mid-court volley drops to win 11-5. After the match, Abbas was looking forward to re-energizing and relaxing as he arrived in snow bound Halifax just hours before his match.
- MD

Hisham Ashour (EGY) versus Chris Ryder (ENG)

The two most dominant countries in men's pro squash were well represented in the third match on court 3. Hisham, the older half of the Ashour brother's Egyptian squash machine was favoured by seeding over England's Chris Ryder but it was a match much closer than current world rankings would suggest.

The underdog got off to solid 2-0 and 4-2 leads to begin the match – keeping up with Ashour's variety as errors offset winners for the Egyptian. At 4-3 up Ryder's concentration faltered as a very quick run of errors saw Ashour reverse things to 7-5. Ryder worked his way back to even at 7-7 with a beautiful drop and well held snap crosscourt winner as momentum swung within the rallies and the game. Ashour showed sportsmanship in calling his own pickup too late as Ryder got to game ball (10-9) but then a trade of serve return nicks, followed by a no let to Ryder put things even in extra points on 11. So much hard work and opportunity was lost for Ryder when two quick tin errors at exactly the wrong time then gave Ashour the game.

Coming into the second trying to draw on the positives of the first Ryder was quickly deflated by a run of Ashour pressure and precision up to 6-0. The Egyptian was moving more purposefully and reaping the rewards. At 7-1 it looked like Ashour would get to a 2-0 lead unfettered before the pendulum, without warning, swung heavily back the other way. Ryder combined some patient play with a too-relaxed Ashour's errors and got to 7-6 down within a couple of minutes. Then, just as suddenly, things turned again and Ashour reeled off three winners to game ball, which he collected on through a stroke as Ryder's serve return nick attempt popped out to the middle.

The third game was a war of wills as Ryder resolved to make good on what was working and cut out what wasn't. A number of tight decisions drew the ire of both players and the mix of errors and winners from both sides never stayed even though Ashour kept the upper hand the whole way to 6-5. Drawing level to 6-6 through a terrific rally that saw both players pick up about 3 impossible shots each Ryder punctuated the effort with a shouted "Come on!" The next points were the best of the match – each one pushing for it and no letup in pace. Even at 8-8 Ryder dropped an Ashour attempt at nick right back where the Egyptian had meant to put it then got game ball when the ref judged Ashour's next pickup too late. The Englishman cemented the game with steady play to profit from a last Ashour error.

Where the fourth was all over the court and even up to 4-4, as Ashour slotted home a no-look drop to the nick, it was his variety of pure winners that took him to 8-5 (deception, tight mid court boast, deception trickle boast). Two Ryder errors set up match ball at 10-6, then one more was pulled back for English pride before Ashour finally put the match to bed on a crosscourt winner – a great display from both players.
- PK

David Phillips (CAN) versus Julian Illingworth (USA)

One of the last matches of the evening featured David Phillips and Julian Illingworth. David Phillips is currently ranked number four in Canada. He has taken part in all of the previous five Bluenose Classics and this year he achieved his spot in the main draw as a result of being the wildcard entry. Julian Illingworth is the top ranked American on the PSA tour.

Forty rankings points separate these two players, so Illingworth appeared to be a strong favourite heading into the match. In the first game, Phillips didn't have an answer to Illingworth's strong play, making a number of errors, and succumbed 11-3. In the second, Phillips didn't have quite enough quickness to reach Illingworth's drop shots, and Illingworth ran away with it 11-2. The third game told a similar story and Illingworth completed the victory in 23 minutes.

After the match, Illingworth admitted feeling more nervous than normal before the match. He noted that he recognized having a "good draw", which added some pressure, as it would only be a good draw providing he followed through with a successful performance. Nerves didn't seem to be an issue for Illingworth once he got on court and Illingworth got what he came for. He related looking forward to him matchup with L.J. Anjema tomorrow, despite a 0-3 head-to-head record against the Dutchman.
- FM

Azlan Iskandar (MAS) versus Nazfiizwan Adnan (MAS)

The last match of the evening was between Azlan Iskandar of Malaysia and his fellow countryman, Mohd Mazfiizwan Adnan.

These two players enjoy playing an up tempo game. The rallies in game one were fast and aggressive. The difference between the two players was in their ability to continue hitting flawless shots to keep extending the rally. In this regard, Iskandar was absolutely perfect in the first game not committing a single unforced error on route to an 11-2 victory.

It wasn't until the second game that Iskandar made his first miss hit of the match, and then repeated the feat giving Adnan an early 2-1 lead in the game. But Adnan couldn't find a single piece of real estate on the court to put the ball where Iskandar couldn't retrieve it. In his attempt to make ever tighter shots he began making costly mistakes at the end of each of the long rallies. These mistakes proved to be this difference in this game as Iskandar won the second game 11-5.

Both players continued pursing an aggressive style of play into the third game. Iskandar took an early lead at 3-1 having just hit a winning drive past Adnan followed up by a tight drop at the front. From there, Adnan kept the game close trading points until the score was 7-5. But in the end, it was once again Adnan's miss hits that cost him the game and the match, losing the third game 11-7 and the match 3-0.
- BC

02-Feb-11:
2011 Bluenose Squash Classic – Qualifying Finals

Both the weather and level of squash intensified in snow-bound Halifax, Nova Scotia as eight very determined qualifiers faced off for an entertaining evening of play to see which four would move onto the main draw.

Despite very inclement winter weather, squash fans filled the stands for a second evening to enjoy what turned out to be a very impressive final round of qualifying play.

Martin Knight (NZL) versus Matthew Karwalki (AUS)

Risking life and limb, squash fans from across the region braved the blizzard conditions to gather for the final evening of qualification. The fans were rewarded immediately in the evening's first match between Martin Knight of New Zealand and Matthew Karwalski of Australia.
Both players came out playing fast and furious and trading points in the early going to reach 4-4. At that point, Knight found some openings and capitalized with consecutive points until the score was 8-4. Karwalski was unable to narrow the gap and Knight took the first game 11-7.

In Game two, Karwalski was in no mood to let Knight out of his sights as each player traded one handout after another. Karwalski was down 7-8 when he hit a brilliant reverse boast around the opposite corner catching Knight off guard to tie the game at 8. He followed that up minutes later with another winning crosscourt nick that earned him a game ball. Knight, unwilling to succumb, won the next point sending the game to a tiebreaker. In the ensuing rallies, Karwalski attacked Knight relentlessly with Knight digging one ball after another. But with dogged determination, Karwalski finally closed out the game 13-11 to tie the match at one game apiece.

In Game three, Knight looked to regain the momentum. After a couple of early winners by Knight, coupled with several unforced errors by Karwalski, Knight found himself up 7-3. The aggressive attacking and retrieving squash continued, but the deficit was too much for Karwalski to overcome and Knight closed out Game 3 11-7 in his favor.

By the time game four began, the match was already well into the next time slot. Graham Waters, the match referee, commented with a smile that "the snow will be finished before these guys finish."

Karwalski clearly gained the early momentum in this game, running the score to 7-3 over Knight. It was at that point in the game that Knight slowed the tempo of the game using lobs and forcing volleys to keep Karwalski deep in the court and playing the ball above his head. "My idea of that was to break up his movement by taking the pace out of the ball, and not allow his movement across the T because he is very explosive," Knight later confirmed.

The shift in strategy paid off as he reversed the gap and took a 9-8 lead. Karwalski wasn't done yet and tied the game at 9 on the next point. On the next rally, Knight was awarded a controversial match ball on a "no let" call by Waters when it appeared that Karwalski might have been caught going the wrong way. Karwalski took out his frustration in the next rally, drilling the ball all over the court and finishing the rally with a perfect nick to tie the game at 10 and putting the fans at the edge of their seats. Karwalski continued an all out assault in the next rally but was stymied by Knights acrobatic retrievals. Knight was rewarded for his extra efforts with another match ball. In the final rally, Knight was awarded an uncontested stroke to win the game 12-10, and the match 3-1.

Martin Knight has now been successfully featured in the main draw of all six Bluenose Squash Classic events. Commenting on his chances for the rest of the tournament Knight said "it's a fantastic draw once again, so I'll see who I get tomorrow and I'll go from there."
- BC

Gilly Lane (USA) versus Siddarthe Suchde (IND)

With a successful first round of qualifying play over Canadian opponents completed, both Gilly Lane of the United States and Siddarthe Suchde of India entered the court with the same ambition – to prevent their opponent from advancing to the main draw of the Bluenose Squash Classic.

From the start of game one it was clear that the matchup between these hard hitting and quick moving players was going to be entertaining. Early in the game, Lane jumped out to a 5-2 lead as his forehand and backhand drives seemed to find all available nicks on each side of the court. Suchde managed to counter back with a volley-drop and mid-court boast pair of winners to prevent Gilly from extending his lead. At 6-4, Suchde lost the next three points including a "stroke" called against him to put Gilly further ahead. At 9-4, Gilly surrendered six points on five unforced errors combined with a Suchde drop shot winner to hand Suchde a 10-9 lead. Despite obvious self frustration, Gilly was able to regain his composure and concentration to tie the match at 10 apiece. The next two rallies saw Gilly earn two additional points on swiftly hit volley drives to take the first game 12-10.

Game two stated off with Gilly jumping into a 4-2 lead. The lead began to see-saw as Suchde countered back with three points to go ahead 5-4. An overhead drive into the nick and "no let" call in favor of Gilly gave him back the lead at 6-5. A flurry of errors from Gilly put Suchde ahead 9-7. Suchde went on to win game two 11-8.

Game three again saw Lane get out to an early lead with the score at 5-2. Both players were hitting crisp length and making impressive retrievals, however Lane continued to have more success early in the game as he grew an 8-3 lead. Similar to game one, Lane had a mid-game collapse as Suchde rallied for four consecutive points to narrow Gilly's lead to 8-7. Both players continued to exchange points with Suchde digging down late in the game to tie the score at 10 each. A front-side kill shot followed by a rocketing backhand to the back corner was all Gilly needed late in the game for a 12-10 tiebreak win.

With confidence and momentum in his favor, Gilly quickly built an 8-2 lead in game four. Suchde appeared to be somewhat deflated as his swiftness on the court was not comparable to the previous games and this seemed to contribute to his unforced errors. Despite a late game surge from Suchde, Gilly was in control of the game as he went on to take it 11-7 for a 3-1 match win. This was an entertaining match with an impressive amount of sportsmanship shown by both players throughout.
- KB

Mohd Nafiizwan Adnan (MAS) versus Robin Clarke (CAN)

In the third match of the night, Malaysian Mohd Nafiizwan Adnan played Canadian Robin Clarke to determine who would be claiming one of the four coveted positions in the main draw. Last week, the players met in the quarter finals in the Pro Am in Calgary where Clarke had to retire after the first game.

This time around, Clarke came out strong in the first game winning 11-4. The second game included several great rallies. The players each took their turn leading in this game with Adnan coming away victorious 11-8.

In game three, Clarke took a quick 6-2 lead, but Adnan patiently turned it around. In a post match interview, Adnan reflected back on the third game and attributed the importance of maintaining focus at this stage of the match "if I wanted to win, I had to get focused," he said. Focused he was, as he came back to win 11-8. Clarke struggled to get any momentum going his way in the fourth and lost the one-sided game 11-3.

When asked how he felt during the game, Adnan reported "I felt better than yesterday (referring to yesterday's match against Eddie Charlton). I knew what was going on when I was on the court today. I made the right shots at the right time".
- MD

Shawn Deliere (CAN) versus Chris Gordon (USA)

The final match of the evening featured the winner of the inaugural Bluenose Classic, Shawn Deliere, and his American counterpart Chris Gordon. Deliere has been a regular participant in this event, and we have come to know that when he steps on the court, we can expect some flair.

In the first game, Deliere showed his skills with the racquet, hitting the ball effortlessly, and coming out with an attacking style of play to climb to a 3-0 lead. A pattern of let calls began in first game, and at one point the players got tangled up in one another, which left Gordon appealing to the referee "I'm not asking for a let, I'm just pointing out the weird extracurricular work out here". The players traded points until the score was 8-8, when Gordon was able to string three points together, the final one coming with complaints from Deliere that Gordon's boast clipped the tin, but the referee didn't agree.

In the second game, almost as many rallies ended with let calls as points awarded. Deliere was warned by the referee about running into his opponent on the way to the ball, to which he replied "I really want to show you a good effort", with a hint of sarcasm. Amidst the contact and lets, Deliere showed his quick reflexes in response to Gordon's shots. They fought their way to 6-6, when four rallies in a row ended with lets, more contact, and Gordon mumbling under his breath. Gordon had five tins at the end of the game, possibly a sign of his frustration, and the game slipped away from him, with Deliere taking it 11-8.

Rallies in the third game third game were competitive and showed both players' variety of shot selection, with some good length, and adept touch at the front. Deliere took a quick 7-3 lead, but squandered it, going down 9-7 after a couple of tins and a stroke against him. At 9-8, Deliere initiated contact going toward the ball, leaving Gordon on the floor, which resulted in a Conduct Warning. Despite being obviously winded by the long rallies, Deliere fought through two game balls to tie the game at 10-all. Two more tins from Gordon and Deliere saved the game 12-10.

In the fourth, the players traded points up to 6-6, with Gordon seeming to find his touch, as he was hitting some very tight drop shots, often with one getting Deliere out of position and the second being an outright winner. However, it was Deliere who managed a couple of winning shots when it counted and he closed out the match with an 11-6 win after 79 minutes.
- FM


01-Feb-11:
2011 Bluenose Squash Classic – Qualifying Round Day One

The first round of qualifying play for the Bluenose Squash Classic featured 16 enthusiastic and intense squash professionals all vying for one of the four coveted positions in the tournament's main draw. Despite the stormy weather outside, squash fans filled the stands to enjoy the start of the best week of squash in North America.

Martin Knight (NZL) versus Andrew McDougall (CAN)

One of the first matches to kick off the qualifying round of the 2011 Bluenose Squash Classic featured Andrew McDougall of Canada against six time tournament returnee Martin Knight of New Zealand.

The match began with both players hitting tight length, moving each other around the court, and displaying impressive retrieval abilities – all factors contributing to long and intense rallies. Early in the game, patient rallying helped McDougall get off to a solid 5-2 lead. However, Knight's persistent pressure changed the momentum of the game forcing McDougall to hit a series of tin –leveling the score at 5 all. Both players exchanged a sequence of winning drops and unforced errors as the score remained tied at 10-10. Over the next two points, Knight slammed a winning drive up the wall followed by an errant boast from McDougall to take 27 minute game one by a 12-10 score.

In game two, Knight appeared to pick up from where he left off as he quickly mounted a 6-0 lead. Late in the game, McDougall was able to counter back and stave off game ball with a pair of winning volley drives coupled with unforced tin errors from Knight. At 10-6, Knight buried his service return into the sidewall nick to put an 11-6 end to game two.

The first half of the third game remained close as both players refused to let their opponent edge ahead as the score was tied at 6-6. Rallying pressure from McDougall forced Knight to clip the tin twice putting him ahead 8-6. McDougall continued to hit text book length and drops as he dominated the remainder of the game for an 11-6 win.

Game four was a slow start for McDougall as three of Knight's first four points were "stroke" calls against him contributing to Knight's 4-0 lead. Throughout the remainder the game, McDougall and Knight evenly exchanged winners over many intense rallies. However, the quick four point start to the game made the difference as Knight cruised to an 11-7 game four win for a 3-1 match victory.
- KB

Matthew Karwalski (AUS) vs. Justin Todd (CAN)

Another of the first match ups of the 2011 Bluenose Squash Classic saw Justin Todd of Canada as the underdog against Matthew Karwalski of Australia.

The opening game was close in the early going, each player attaching and retrieving in turn as they traded points until they reached 5-5. Then Karwalski went on a four point run hitting three beautiful crosscourt front corner nicks to build a commanding 9-5 lead. Todd fought back after Karwalski made three unforced errors of his own to get within one of Karwalski at 8-9. Todd however returned the favor making a couple of untimely unforced errors of his own giving game one to Karwalski 11-8.

Game two started out with a quick exchange of points making it 2-2, but then Karwalski turned up his game and went on a 9 point run to easily take the second game 11-2.

Todd attempted to come out strong in game and was up 3-2 in the early going. Then his game lapsed momentarily and he unwittingly committed four consecutive unforced errors in a row to Karwalski a 7-4 lead. Once again, the two players began trading points to the finish, but Todd was unable to narrow the gap losing the third game 11-7 and the match 3-0 to Karwalski.
- BC

Matt Bishop (CAN) vs. Gilly Lane (USA)

Nova Scotia's best hopes for representation in the main draw of the Bluenose Classic were with Matt Bishop, who has held the number one ranking in the Province since well over ten years.

The match began with some long, steady rallies. Lane came out on top of the well-played rallies, taking an 8-2 lead. Bishop's pace of play changed somewhat, as he started to take a more aggressive approach to the rallies, and fought back to 6-9 before Lane closed the game out. Bishop managed some impressive shots, earning some loud cheers from the fans.

In the second game, Lane pulled out to a 2-0 lead, before Bishop managed a tight drop that was Lane couldn't retrieve as well as winning kill shot to put him in the lead 4-2. Lane climbed back to even the game at 4-4 and 5-5, and then reeled off six straight points to win 11-6.

The third game began with repeated tight boasts from Lane, some of which were perfect and left Bishop without an answer, as Lane went ahead 5-2. Bishop continued to show a strong fighting spirit and managed to keep himself in the game and keep the crowd cheering as he worked his way back to 7-8. The high point of the match was at 9-7 (Lane) when Bishop returned a serve with his backhand that rolled out of the right nick, earning cheers from the crowd and accolades from Lane, who said "Pretty good, pretty damn good!!".

After the match, Bishop noted that his game plan had been to play a patient game, "keeping the ball tight to the wall and deep, and to have fun". He acknowledged he was more aggressive than he had planned, but it appeared that this change in strategy didn't hurt his performance. Bishop gave credit to Lane's play and stated "he is a true sportsman and one of the most gentlemanly players I have competed against".
- FM

Siddarthe Suchde (IND) vs. Tyler Hamilton (CAN)

In opening round of Bluenose Squash Classic qualifying play, Siddarthe Suchde of India faced off against Tyler Hamilton of Canada.

In the first game after trailing 5-1, Hamilton was able to battle back with 5 straight points. From there, it was back and forth until Hamilton took the first game 12-10. Suchde came out in the second game knowing that he had something to prove and took an early 7-3 lead. Hamilton attempted to cut the lead with aggressive play, but came up short on momentum after losing the final rally of the game to a "no let" call for a Suchde 11-7 game two win.

Suchde built on his second game momentum and quickly took control of the third game with very few unforced errors that contributed to an 11-3 win. In the fourth game Suchde continued his patient play and capitalized on Hamilton's errors winning 11-4 for a 3-1 match victory to advance to the next round of qualifying.

After the game Suchde stated "Tyler is a tough opponent and it was a really good match. I felt good for my first tournament of the year. I have been training in England and the speed is different here. It will take some adjustment."
- MD

Robin Clarke (CAN) vs. Matt Holland (CAN)

The 7:00PM match pitted local favorite Matt Holland of Canada against fellow compatriot Robin Clarke. Holland would need a bit of magic if he were to knock off Clarke in this opening round of qualification.

Holland got things started on the right foot hitting a nick to go up 1-0, but Clarke bounced right back with three quick points to go up 3-1. The players traded a few points each making some unforced errors with Clarke holding a 5-3 lead. Clarke settled down and found his rhythm to keep Holland scrambling as he scored six more unanswered points to take the first game 11-3.

Clarke picked up the second game where the first game left off and was quickly up 4-1. However, it was Clarke's unforced errors that let Holland close the gap to 4-3. But the momentum was short lived as Clarke hit a couple of beautiful drops to gather steam and a 6-3 lead. Fighting his way through the pressure, Holland picked up another two points, but over the same span of time Clarke picked up five points, winning game two 11-5.

The third game started going the way of the previous two. Clarke was up 3-0 continuing to find some success at the front of the court. The momentum continued until the score reached 6-1 in favor of Clarke. Holland showed a determined effort to stay in the game when he hit three successive winners.

But in the end, Clarke as the more seasoned professional, proved to be too much for Holland and he went on to take game three 11-4 and the match 3-0.
- BC

Nafiizwan Adnan (MAS) vs. Eddie Charlton (ENG)

Throughout game one, there were several long rallies as both players continued to exchange points as the scored remained close at the midway point at 6-6. Charlton took the lead on a deceptive drive which had Adnan anticipating in the opposite direction. A forehand drive into the nick from Adnan again tied the score at 7 apiece. At 8-8, Adnan hit three consecutive rally ending winners to take game one 11-8.

Game two was almost a repeat of the first as Adnan and Charlton kept the score close. Early in the game, both players exchanged an equal number of winners and errors as the score was again tied at 6-6. Adnan's speed on the court constantly challenged Charlton to maintain pressure while also keeping the ball off the tin. At 9-9, Charlton hit a backhand drive past Adnan to serve for the game. At 10-9, Charlton cradled a drop into the front side nick to take game two 11-9 and tie the match at one game each.

Again, game three was a near repeat of the previous two as both players kept the score very close. At 5-4 for Charlton, a sequence of five straight "lets" kept the game at a temporary stalemate. Two tin shots from Charlton put Adnan ahead 6-5. Points continued to be exchanged and the score was tied at 10-10. Two rally ending tin shots from Charlton handed Adnan a 12-10 game three win.

Unlike the previous three games, the fourth game saw the momentum swing back and forth between the players. Early in the game, Charlton quickly gathered a 4-l lead before relinquishing 8 straight points to Adnan for a commanding 9-4 lead. Charlton management one more point before Adnan closed the game out at 11-5 for a 3-1 match win.
- KB

Shawn Delierre (CAN) vs. Josh Rudolph (CAN)

In one of the final matches of the evening, local player Josh Rudolph played Shawn Delierre of Canada. With home court advantage and support from the local crowd Rudolph initially held his own against Delierre, however found himself trailing as Delierre kept rallies short to take the first game 11-6.

The next two games were a repeat of the first with Delierre controlling the majority of pace for 11-7 and 11-6 game wins for a 3-0 match win. Delierre's control throughout the match was acknowledged by his opponent Rudolph who stated "I wish I could have had more opportunities to take control".

Despite Delierre's dominance of the match, fans could be heard down the hall every time Rudolph made a winning shot. It was an entertaining and fun match for the local fans.
- MD

Chris Gordon (USA) vs. Dane Sharp (CAN)

According to the world rankings, Gordon sits more than 40 spots above Sharp. The first game was marred by six shots into the tin by Sharp, which left him down 11-4 at the end.

Sharp got fired up early on in the second game, with a "no let" call by the referee to which Sharp grinningly replied "I could have got that on crutches".

There were numerous calls through the game, with a spattering of lets, no lets, and one or two strokes as the players worked to get around one another on their way to the ball. Sharp seemed to be the one taking offence to the majority of "no let" calls. With the score tied at 9 apiece, a couple of unforced errors by Sharp at the end of the game left it 11-9 Gordon.

The third game was a well-contested affair, with Sharp making some fantastic gets in the early going. At 4-5 there was contact during a rally, when Gordon's knee collided with Sharp's calf. Sharp took a three-minute injury timeout to recover and returned, seemingly unfazed, to tie the game at 6-6.

However, Gordon applied more pressure than Sharp could handle and marched his way to an 11-6 victory. The 53-minute length of this three game match speaks to the length and quality of the rallies throughout.
- FM



Tickets

Pick up your tickets at the Tower soon (in person or by phone at 420-5555).

$25 for Opening Rounds on Thursday, February 3rd at 5:00 pm

$40 for Quarterfinals on Friday, February 4th at 5:00 pm

$60 for Semi-finals on Saturday, February 5th at 3:30 pm (fee includes a dinner)

$50 for Finals on Sunday, February 6th at 2:00 pm
Bluenose Well Represented at Tournament of Champions

Having just returned from a long weekend away at the Tournament of Champions (TOC), and being the week leading up to the 2011 Bluenose Squash Classic, I thought I would write about how well the Bluenose Classic was represented on the grandest of squash stages. Of course it doesn't get much grander than the TOC, with its glass court erected within Grand Central Station.

First mention goes to Graham Waters and Zal Davar. Graham and Zal are both world-class referees and Bluenose organizing committee members. They were in NY all week as part of the officiating crew at this year's TOC. All good practice for next week of course.

Next we have the players. The Bluenose was well represented in the main round at the TOC. In all, over 50% of the main round (18 of 32 players) have their names included in Bluenose history. This includes former Bluenose champions David Palmer, Shahier Razik, and LJ Anjema.

The TOC main round draw also included past players Ong Beng Hee, Tom Richards, Julian Illingworth, Aslan Iskandar, Chris Ryder, Borja Golan, Ryan Cuskelly, Daryl Selby, Miguel Rodriguez, Peter Barker, and Cameron Pilley. Amr Shabana, Mohammed Abbas, Hisham Ashour, and Nicholas Mueller will become Bluenose Alumni when they begin play next Wednesday night.

Then there are the fans. Matt Bishop and Jon Boody spent a long weekend watching opening round play. Rob Roy, Vicki Dimick, Paul Hopkins, and Tony and Kristian Hall spent the entire week in New York watching each round. Rob, Paul, and Tony have shown great generosity in their support of the Bluenose Squash Classic over the years and it was great to see them experience such a mass of top squash talent.

This contingent from Halifax had an opportunity to get on court for a photo opportunity with former world number one Peter Nicol. The Bluenose Classic even received publicity during quarter final night at the TOC from a big fan of the game. Tournament MC, Don Goodwin, former CBC Halifax broadcaster and CBC Sports personality made mention of the upcoming Bluenose Squash Classic during his pre-match commentary to the sold out TOC crowd.

A special thank you goes out to Shahier Razik and the committee of the Ludwig Financial Recruitment Cambridge Cup. This is a professional tournament being played in Toronto January 31st to February 2nd in Toronto. Without their support we would not be in a position to be welcoming four of the world's top squash players, and possibility one of the best of all time (Amr Shabana) to Halifax February 3rd for main round play.


Tickets

Pick up your tickets at the Tower soon (in person or by phone at 420-5555).

$25 for Opening Rounds on Thursday, February 3rd at 5:00 pm

$40 for Quarterfinals on Friday, February 4th at 5:00 pm

$60 for Semi-finals on Saturday, February 5th at 3:30 pm (fee includes a dinner)

$50 for Finals on Sunday, February 6th at 2:00 pm
What a Lineup
John Boody reports

The PSA has finalized the 2011 Bluenose Squash Classic draw and all signs are pointing to a great week of squash ahead.

Unfortunately, due to injury, our defending champion Thierry Lincou has been forced to withdraw and will not be in Halifax to defend his crown. Details of the injury are not currently available, but Thierry is expected to miss two months of action. We wish him a speedy recovery and hope the Bluenose will be included in his tour schedule next season.

All eyes will now be focused on a pair of Egyptians that, given current results, seem to be playing at the top of their games.

Last week, Amr Shabana successfully advanced to the finals of the ATCO PSA World Series Finals in dominating fashion. Shabana, who did not drop a match in round robin play, continued his dominance in the semi final with a 3-0 victory (27 minutes) over fellow countryman, and current world number two, Ramy Ashour. Unfortunately the final with Nick Matthew was postponed due to technical difficulties with the venue.

Hisham Ashour scored a major upset at a tournament in Vancouver on the weekend with a 3-0 semi-final victory over David Palmer. This victory adds to Hisham's recent string of upsets and will no doubt see him improve his world standing further when the February rankings are released. Hisham is looking like a good bet to put in a strong performance at the Bluenose.

Of course LJ Anjema, Azlan Iskandar, Borja Golan, Shahier Razik, and the rest of the Bluenose field will be looking to show off their exceptional abilities in hopes of hoisting the Bluenose trophy and staking their claim on the winner's cheque.

The semi finals are sold out! Get to the Tower or call 420-5555 right away and purchase your tickets for the opening round, quarter finals and finals. You do not want to miss this event.

Look forward to seeing you all at the courts February 1st to 6th.



Tickets

Pick up your tickets at the Tower soon (in person or by phone at 420-5555).

$25 for Opening Rounds on Thursday, February 3rd at 5:00 pm

$40 for Quarterfinals on Friday, February 4th at 5:00 pm

$60 for Semi-finals on Saturday, February 5th at 3:30 pm (fee includes a dinner)

$50 for Finals on Sunday, February 6th at 2:00 pm
The Classic is Back

The Bluenose Classic, a popular stop on the Professional Squash Association tour, will make its return to the courts at St. Mary's University on February 1, 2011.

While the temperature outside may be icy, the action indoors will be anything but come February. This marks the sixth consecutive year that the world's top squash talent, for one week, will call Halifax home. With qualifying commencing on February 1st and main draw action getting underway February 3rd; it is sure to prove to be an exciting week of squash action.

What started as a US$6,000 Super Satellite event in 2006 has now grown to a US$50,000 event and earned PSA International 50 status. The draw of 16 professional squash players, from all corners of the globe, will do battle for one of the largest purses of prize money to be offered on Canadian soil this year.

Last year's Bluenose Classic was full of world class athletes, but it was Thierry Lincou of France, former world number one, and British national team member Daryl Selby who rose above the rest and battled it out in Sunday's final. Lincou earned the championship trophy in three games to one fashion. The semi finals saw Selby denying fellow countryman Peter Barker a second consecutive trip to a Bluenose final and Lincou defeating longtime rival, former world number one, and defending Bluenose champion David Palmer of Australia.

With entries now open, it is the hope of the local squash community, that not only will Thierry Lincou return to Halifax to defend his title, but that past champions David Palmer, Laurens Jan Anjema, Shahier Razik, and Shawn Deliere also decide to return.

As in past years, general admission tickets will be available for sale starting mid-December at The Tower (in person or by credit card, 902-420-5555). Qualifying for the main round draw will take place on February 1st and 2nd and be open to the viewing public for free.