4th
Cambridge Cup, 5th-7th Feb 2013, Toronto
7th Feb, Finals:

Final - Cambridge Club
Mohamed El Shorbagy (Egy) 3-0 Amr Shabana (Egy)
11-7, 11-7, 11-7 (33m)

3/4 Play-Off - Toronto Athletic Club
Nick Matthew (Eng) 3-0 Ramy Ashour (Egy) 11-8, 11-7, 11-8

5/6 Play-Off - Adelaide club
Tom Richards (Eng) 3-0 Cameron Pilley (Aus) 12-10 11-5 11-9 (47m)

7/8 Play-Off - Cambridge
Shahier Razik (Can) 3-0 Alister Walker (Bot) 12-10 6-11, 11-7 (25m)
Chris Hollow Reports...

After an entertaining appetizer featuring Canadian National Champion Shahier Razik defeating English ex-pat Alister Walker for the 7/8, it was time for the main course. The final of the fourth annual Merrill Lynch Cambridge Cup was a squash aficionado's dream: The legendary, four-time World Open champion Egyptian Magician Amr Shabana would vie for the title against his young countryman, surprise 2013 World Open finalist, 2x World Junior champion Mohamed El Shorbagy, who's quantum leap through the rankings has him occupying the number five spot in the world. It was the old guard versus the fresh-faced future. To use a sort-of hockey analogy that we Canadians love so much, it's The Great One versus the Next One. They entered the court at 706p Toronto time to battle for title, the roar of the amped-up crowd resonating through the atrium that is the Cambridge Club.

Shorbagy led out. Blasting low penetrating length and conservative (relatively speaking) attacks, he won the first two points. Shabana showed he was up to the challenge with a stinging forehand drive from mid-court that would wrong-way Shorbagy. Shabana evened the match at 2-2 after a huge rally with a quick flash of the racquet, cutting a ball from up high on the backhand in straight and tight. Shorbagy would grind out front to 6-2 before Shabana stopped the run with sharp cross-court volley drive that his opponent couldn't catch up to. Shorbagy would go to 7-4 on a straight lob so tight that, while somehow staying in up high, was simply too tight for the left-hander to peel off the glass. A Shabana drop-shot that clipped the top of the tin moved Shorbagy to 8-5. The following rally, timed to over 2m, saw Amr dragging his young compatriot all over the court. Front to back, stop and go, it was the brand of rally Shabana would need deploy if he was to counter-act the youthfully energetic legs of his 22 year-old opponent. But try as he may, Shabana couldn't keep the young man contained for long. Shorbagy crunched a forehand volley kill into the cross-court nick to pull ahead 9-7. A brilliant head-fake disguised his winning backhand cut straight-drop that finished in the nick (just in case the fake didn't work) to position Shorbagy for 3 game balls at 10-7. He'd only need one go, winning the game on a Shabana cross-court re-drop that found the tin instead of the nick. Game to Shorbagy 11-7.

Shorbagy put the head-fake into action again in the early going of game two, going up 2-0 on well-hidden straight drop. Shabana put his first point on the board with a straight drop at full stretch in response to a short-angle Shorbagy boast that stayed up an instant too long. At 3-3, Shorbagy held up on a close-quarters volley with Shabana right in front of him. He was given a bit of a harsh 'no let', the referee explaining that he'd attempted to hit the ball. Undeterred, the young Egyptian would fade away a perfect forehand hold-and-straight-drive after forcing his opponent into a back-wall-boast. 6-4. Shabana tinned a forehand drop to get stuck 4-7 and again fell prey to a huge Shorbagy hold that dragged him to the front with ball ultimately ending up smashed into the open cross-court. Was the torch being passed right there in front of our eyes? You bet it was. Running it up to a 10-7 advantage, Shorbagy finished game two demonstrating his deft touch. He unleashed a barrage of straight forehand drops that eventually flat-footed the elder Egyptian and gave himself a commanding two game lead. Game to Shorbagy 11-7.

Again close out of the gate, Shorbagy would move out front 4-2. Responding to a Shabana straight backhand drop from the back of the court that missed it's mark, Shorbagy jumped on it for an easy push re-drop finish. Shorbagy pinned down Shabana with straight drives and deceptive off-speed lengths, forcing a weak return that was quickly dispatched into the nick for a straight kill. The shot of match came at 8-4. Shabana was being run a bit ragged but had appeared to get off the hook with a great defensive Philadelphia from a wide angle that was orbiting over the middle of the court on it's way to payload in the back left. To be sure, the shot would have dumb-founded the vast majority of the squash-playing world. It's spots like this that the cream rises and the best show off what they have. Back on one foot, way up high, torso twisting clockwise against his momentum, Shorbagy windmilled his racquet across the ball, cutting it with soft, deadly accuracy into the left nick. Picture it in your mind's eye. It was awesome! The crowd ripped into applause! All Shabana could do was shake his head, smile and offer up a couple of quick claps in recognition of the absolutely spectacular shot by the kid. With Shorbagy steaming towards the finish line at 9-5, Shabana made the observation that "he must really want that lifetime membership!" A lose drop by Shabana down matchball at 10-7 and it was all over. Shorbagy smashed the winner and took it in straight sets, vanquishing the 2010 champion and becoming the next to have his name etched on the prestigious Cambridge Cup. Game and match to Shorbagy 11-7, 11-7, 11-7 (33m)

Gracious, even in defeat, Shabana got a laugh out of the crowd when asked by M.C. Randy Klein for his thoughts on the match. "Damn kids."

Again, a huge thank you to Merrill Lynch, Cooper Mediation Inc, Morris Group, Sheraton Centre, Bar Mercurio, Taylor Asset Management and City Stone Corp. With out these great sponsors this tournament simply could not happen. They've made this fantastic tournament possible and helped grow the sport of squash in Canada. Thank you to the players for giving us mortals something to aspire to. Finally, thank you to the fans in attendance who showed up over the last three days to witness the best athletes in the world put on a truly incredible display of squash, the sport we love.

See you in 2014!

Your humble scribe,


3/4 Play-Off - Toronto Athletic Club
Nick Matthew (Eng) 3-0 Ramy Ashour (Egy) 11-8, 11-7, 11-8

Andrew McDougall Reports

The match started out with some quick fire rallies. Each player hitting
a mixture of winners and tins. Nick was hitting his corners and it looked like Ramy was a step behind. It was tight all the way through but Nick took the first 11-8.

Ramy was still struggling to find his groove in the second and gifted Nick with a few too many tins. Nick went up 6-0. Nick, sensing that Ramy may not be on his A game, stepped up the court and combined some awesome length with devastating winners. Ramy not to be out done though started to hit a few nicks of his own. A service error from Nick continued the comeback, but Nick was able to stop Ramy's momentum and took the second 11-7.

Ramy took a quick 3-0 lead in the second. He was starting to find his
shots and his length. Both players were trading points all the way
through the 3rd until 7-7. The racket speed, reactions, and athleticism
was spectacular. They had the crowd gasping with astonishment. Nick
was able to pull away and take the crucial two point lead at 9-7. Ramy
took it to 9-8 with his classic back hand crosscourt nick, but in the end
Nick stayed strong and finished off the match 11-8. Nick Matthew
clinching 3rd place in the 2013 Cambridge Cup.


Adelaide Club
5/6 Play-Off
Tom Richards (Eng)
3-0 Cameron Pilley (Aus)
12-10, 11-5, 11-9 (47m)


Laurence Delasaux reports

The crowd at the Adelaide club was treated to a spectacular three game match.

The score does not outline the story of match.

Pilley had three game balls in the first game but Tom hit some outrageous winner to win the third and close the match.

Thanks to all members for supporting the event.



7/8 Play-Off
Shahier Razik (Can) 3-0 Alister Walker (Bot) 12-10 6-11, 11-7 (25m)

Chris Hollow Reports...

The opening match of the night featured a two-of-three between world number fourteen Alister Walker and local boy, 6x Canadian National champion Shahier Razik for the 7/8. Razik was doing double-duty this week as the tournament director as well as player. He took the court to a hearty roar from the crowd.

The match would begin in a somewhat measured rhythm of medium-paced tight length, the bread and butter of these players. Walker took an early 3-1 lead by winning the battle of the forehand drop, each player's re-drop tighter than the last until Razik couldn't claw it off the wall. Shahier caught Walker leaning, anticipating a forehand, down 2-4. He fired a deceptive cross that left Walker leaning one way and looking the other to move within 1 point. A tight straight drop from the Canadian at 4-5 forced a sprawling Walker into the cross, setting Shahier up for the forehand volley winner. 5-5.

They'd exchange the next couple of points until Walker jumped out to 9-6 lead . Razik pulled to within 2 points with a slick hold up front on the forehand, winning the point with a sharp, deceptive cross. Walker, looking to finish the game, set up three game balls with a snappy forehand boast that died into the nick 10-7. But Razik wouldn't fold under the pressure. A short forehand kill combined with a drop into the parquet by Walker brought the Canadian back into striking distance. It was a new game once Razik levelled the match at 10-10 and he wouldn't squander the opportunity.

Putting those silky hands to work, he feathered in a soft straight drop from the front into the backhand corner to set up game ball and, on the next rally, won the game with an equally sublime drop on the forehand. Game to Razik 12-10

Coming back on with some fairly impressive volley drops of his own, Alister leaped out to a 5-1 lead. The Botswanian was moving Razik around fairly handily, controlling the middle and forcing his opponent to put on some mileage. But really, we all know that Razy can do this all day. He's made a career of it. Razik battled back to 4-7 with forehand cross from the back of the court that couldn't have had better angle on it if you put a protractor to it. Walker arrived on time but pinned the ball to the glass with his racquet.

Sensing another Canadian comeback at 6-7, Walker established himself on the tee with deceptive straight length, driving Razik further and further back. Razik was forced into committing short and the English ex-pat's hold-and-cross would put him back up by 2. He'd make no mistake about it this time, finishing the game shortly thereafter on a dying boast that completely wrong footed Shahier. Game to Walker 11-6

Things remained tight in the early going of the rubber game. Knotted at 2 points each, Razik would absolutely tour Walker around the court, forcing him into a display of super-human retrieval. In a lot of ways it is the defence that delineates Pros from amateurs and, true to form, Walker appeared to get out of the vicious cycle of sprints with a diving cross lob that just managed to squeak out of the reach of Razik's outstretched racquet. Chasing it back into the corner, Razik turned on it and ripped a do-not-try-this-at-home drive down the middle that narrowly missed the retreating Englishman, the ball dying into the back right. That got a glance and an eyebrow raise out of Walker. They'd move to 4-4 on smooth Razik backhand straight drop.

After leveling again at 6-6, both guys knew it was go-time, as was evident in the increase of pace. A couple fierce rallies later they were knotted at 7-7. It was about here that Razik, bolstered by the cheers of the partisans Cambridge crowd, appeared to find another gear. He pinned his opponent down with snappy drives, moving to 10-7 match ball on a backhand cross-court drive so well hidden it had Ali diving after it into the corner. Walker pushed a forehand drop into the tin on the next rally, securing the victory for the Cambridge's favorite son. Game to Razik 11-7.


6th Feb, Semis:

Cambridge Club
Mohamed El Shorbagy (Egy) 3-2 Ramy Ashour (Egy)
7-11, 11-8, 9-11, 11-6, 11-2 (39m)
Amr Shabana (Egy) 3-1 Nick Matthew (Eng)
7-11, 11-7, 14-12, 12-10 (49m)

5/8 Play-Off 1 - Barrie Athletic Club
Cameron Pilley (Aus) 3-1 Shahier Razik (Can)
13-15, 11-4, 11-8, 11-7 (57m)

5/8 Play-Off 1 - Cricket Club
Tom Richards (Eng) 3-2 Alister Walker (Bot)
14-12, 5-11, 8-11, 11-8, 11-4
Cambridge Club
Mohamed El Shorbagy (Egy) 3-2 Ramy Ashour (Egy)
7-11, 11-8, 9-11, 11-6, 11-2 (39m)

Chris Hollow Reports...

Semi-final night at the Cambridge Club and the stands were packed as the players took the court for the first match. An absolute cracker of a match-up featured the Egyptian duo of world number one Ramy Ashour taking on the new kid on the block, world number six Mohammed El Shorbagy.

Game one opened up 2-2 with Shorbagy smashing nicks and Ashour playing drives and drops. At 3-3 Ramy led Shorbagy into front right with a brilliant hold only to snap a cross-court drive for an easy winner. Ramy opened up a three point lead at 9-6 with forehand dead-nick cross-court winner. Shorbagy would make a push, pulling to 7-10 with a feathery backhand straight drop but Ramy would win the next point on back-to-back cross-court nicks, the second a roll-out. Game to Ashour 11-7.

Shorgbagy raced out to 3-0 lead in game two until he put one out high on the front wall to give Ramy his first point. Playing smart and focused squash, Shorbagy would go up 5-1 on a beautiful backhand hold from the front, hiding the straight drive that was about to freeze Ramy on the tee. Ever the gamesman, down 2-7 coming in, Ramy asked the crowd "Does anyone think I can comeback and win this game?" Embracing the action, the Cambridge crowd ate it up, giving the young number one a rowdy endorsement. Not that Ramy needs that kind of shot in the arm to fire a winner but it certainly didn't hurt as he crunched the first ball he saw into a cross-court roll-out winner, garnering a hoot and holler from the crowd. "Anything you can I do, I can to do too" thought Shorbagy as he smahed Ramy's serve into the cross-court nick for a winner of his own. 8-3 Shorbagy. Like a man possessed, Ramy won the next four points trying to fulfill his prophecy. A questionable 'out' call to put him down 7-9 slowed his momentum. On the next point he would fake Shorbagy out of his shoes with full swing under and around the ball in the front right, then pushing it in for a perfect straight drop. Only problem is that it was a little too perfect, the ref seeing it as clipping the top the of tin and calling it down. Shorbagy would only need one game ball to finish, the game ending on a stroke with Ramy playing a rare fat one down the middle right back into his body. Game to Shorbagy 11-8.

They players opened up the third with a crazy, long rally that ended with Shorbagy taking a 1-0 lead. They'd exchange volleys for the next few points resulting in 2-2, 3-3 and 4-4. Shorbagy clawed a wallpaper tight drive off the left wall for a bit of lucky winner. "How many times can he do this??" asked Ramy. "How many times can you do that?" retorted Shorbagy while motioning to the front right nick, alluding to Ramy's uncanny ability to put the ball away. 5-5 turned into 7-7 in this hotly contested game. Ramy got dragged around in the next rally. He was forced into a backwall boast and then had to sprint the long diagonal to retrieve Shorbagy's volley drop. But he would get out of jail with centre-cut drive over his own shoulder into the chest of Shorbagy who, unable to do anything with it, flipped into the tin. A tin by Shorbagy at 10-8 would set up game ball and, despite saving one, Shorbagy lost the third 11-9.

The fourth game was close in the early going with both men smashing winners. Shorbagy went on a tear at 6-3, occupying the tee and moving his opponent around the court. It happened quickly but suddenly found himself facing 6 games balls. He fought off one but lost the game 11-6.

The first rally of game five would offer insight into the physical state of the competitors. After a fairly lengthy rally, Ramy was forced to boast from the back right and let up after one step back into the court, opting not to do the long diagonal to pick up Shorbagy's straight drop into the front corner. The crowd murmured. Surely the number one player in the world could make an attempt to get there. Sensing weakness, Shorbagy started firing. Short, deep. Drop, lob. Hold, hammer. After a 'taxi' at 6-2 it became apparent that the two-time defending Cambridge Cup champion was under some sort of physical duress. Unable to move in his normal gazelle-like fashion, he gave a valiant effort to try to find a way to win the fifth. But as every squash player knows, the winners are that much harder if you don't have solid legs underneath you. With his go-to shots AWOL, Ramy dug himself a deep hole by finding the tin more often than the nick over the course of the next few points. Shorbagy showed little mercy, quickly dispatching the ailing champion 11-2 in a rather anti-climactic finish. Game to Shorbagy 11-2.







Amr Shabana (Egy) 3-1 Nick Matthew (Eng)
7-11, 11-7, 14-12, 12-10 (49m)

Chris Hollow Reports...

In the second semi of the evening, the eager Cambridge Club crowd saw modern two legends of game square off. Two-time World Open champion and world number two Nick Matthew was pitted against Four-time World Open champion and world number eight Amr Shabana. I'm a writer not a mathematician....but that's collectively a LOT of hardware.

The first point of the match end in an 'out' call by the ref that was met with a hearty round of boos from the Cambridge Club crowd. "Ask the crowd," pleaded Shabana. The game proceeded with the roles somewhat reversed: Shabana playing for length and Matthew chopping in winners. Ahead at 3-2, Matthew whiffed on a tight straight-drive in the forehand corner. "Quite hard to see back here on this wall, in't it?" Anyone who's ever played on the Cambridge courts is familiar with the notorious dark carpet on the forehand side of the glass show court. Welcome to the Cambridge, Mr. Matthew. Now you know what our T&D opponents go through. Matthew would proceed to chop his way up to 9-6 lead. The Englishman caught his opponent incorrectly guessing straight drive at 9-6 and fired a cross-court winner into the open court, leaving Shabana standing there racquet prepared but no ball to hit. Matthew took the next point and with it the game. Game to Matthew 11-7

Returning the court a minute or so late, Matthew would crack to the crowd that he was "just getting a quick massage." He'd need it with what the Egyptian was about to fire at him. Pulling out to 2-0 lead, Shabana won the next point on a terrific straight volley drop from well in front of the service line that seemed to weave around Matthew who was occupying the same corner. He was unable to pick it up despite it falling in directly at his feet! Shaba would guess correctly on cross-court drive by Matthew and volley a straight drive down the line for winner to go ahead 5-0. A rather entertaining rally developed at 6-2 with Matthew cross-lobbing and Amr cross-court shooting for the cross-court nick in what looked like lob/kill drill. The crowd was delighted when the rally ended not in a kill, as expected, but with a winning lob, quite a rarity at this level of squash. It was all Shabana from there, running away to a 9-4 lead. After a mishit volley of a blistering Matthew cross-court found turned into an inch-perfect straight drop, Shabana turned to the crowd and kissed his lucky racquet. Game to Shabana 11-7

The third game began with Amr peppering a boast frame winner and jokingly pumping his fist. A couple of Matthew tins and a beautiful Shabana squeeze would propel the Egyptian out to a 5-1 lead. Nick would call his next pick-up and the referee immediately confirmed the call. "I said it first," joked Matthew. "Yes, but you said 'down.' I called it 'not up.'" Ziiing. Referee 1, Matthew 0. The ref got some more air-time a few rally later with Shabana asking "His pick-up, you liked it?" to which the ref replied "It was good." Shabana came back with "I know. But was it up?" It was and Matthew pulled back to 5-7 with it. A dying cross-court length would push Shabana further ahead into the business end of the game at 8-6. But Matthew's unrivaled mental toughness showed through, not giving up but smashing winners to pull even at 9-9. A huge, ridiculous, indescribable rally followed. The crowd was treated to everything in the book: Dying length, unreal retrievals, laser-like kills, more unreal retrievals. In the end Amr would win it with a stroke awarded to got to game ball 10-9. Again Matthew stood tall, fighting off a number of game balls. But the pressure supplied by the Egyptian champion was a little too much, forcing Matthew to go in very tight up front, generating the a couple of tin errors. Game to Shabana 14-12.

Questioned in giving a let at 2-1, the referee offered up the explanation that Shabana could have got there "even in his tired state." Shabana shot him a glace from the service box. "You wanna come down here and try this?" he asked wryly. Matthew would return an earlier favour and fist-pump after clawing his own frame winner off the backhand wall to go to 3-1. The score knotted at 3-3, Matthew requested an equipment timeout. He could be seen court-side, shoe and sock off, reapplying some bandaging to his bleeding foot. Who says squash players aren't tough?? Shabana seemed to smell blood (metaphorically) when his opponent returned after a 5m timeout. He quickly chopped in a couple of hard, quick kills to take a two point lead. But the steady Englishman would put him through a very tough rally to move to 4-5, leaving Amr breathing heavily in the returner's box. It appeared to take it's toll with Matthew taking the next few exchanges and jumping out to 9-6 and 10-7 on the strength of a couple winners and a couple of Shabana tins. It was here that Shabana showed the stuff that made him a four-time world champion. Bending but never breaking, he fought off three tough game balls against the world number two to draw even at 10-10. Matthew got a good laugh out of the crowd at this tense juncture by tapping on the glass to wake up a gentleman who had decided to catch up on some sleep off to the side of the court. "We boring you sir?" laughed Matthew. Two points later it was over, Shabana deploying the best hands in the business to deliver the knock-out blow, a perfect forehand cross-court roll-out winner. How else would the legendary elder statesman of squash end the match? Game to Shabana 12-10 setting up an all Egyptian final (again) tomorrow versus El Shorbagy.

In closing, I'd like to offer a huge thank you to Mike Capombassis, title sponsor Merrill Lynch and all of our sponsors for supporting this tournament and making this amazing event possible. Check back tomorrow for what is sure to be an absolute barn-burner of a Final!
5/8 Play-Off 1 - Barrie Athletic Club
Cameron Pilley (Aus) 3-1 Shahier Razik (Can)
13-15, 11-4, 11-8, 11-7 (57m)

Paul Ryan Reports...

Before we start, the Barrie Athletic Club would like to thank all the fans for coming out and Krown Rust Control for their generous sponsorship of the Event! As for the match, Barrie fans were treated to a great second round match between two classy players, the two players contrasting styles made for very entertaining squash. Pilley the aggresor and Razik the defender.

Best game of the match was by far the first, the see-saw battle went the distance finishing at 15-13 for Razik. Pilley came out a little tentative and took a while to get used to the fast BAC court. Razik having played many times at the Barrie club took no time getting used to the speed and feel of the court. Some great rallys kept the game going and finally an outright winner gave Razik a one up lead.
The second game was all Pilley as he got a feel for the court and began to hit much better length. For a guy that hits the ball so hard he showed a knack for taking enough off to keep the ball deep in the back of the court. A final sizzling backhand and the match is tied 1-1, 11-4 Pilley
Game three was the pivotal one. Razik came out much stronger than expected and pushed Pilley to do some tough retrieving and was able to keep the game in doubt till the very end. After a couple of tough rallys and wicked boast- drop combinations Pilley prevailed with an 11-8 win. 2-1 Pilley
With the Barrie crowd pushing him on, Razik came out firing in the 4th game. Some early long rallys took their toll on the Canadian number one and a pattern developed that saw Pilley controlling more of the T and Razik spending more time in the corners. Razik's never say die determination kept the game close for a while but Pilley pushed on feeling stronger as the game went on. In the end his good length and patience under pressure paid off and the game ended 11-7.
5/8 Play-Off 1 - Cricket Club
Tom Richards (Eng) 3-2 Alister Walker (Bot)
14-12, 5-11, 8-11, 11-8, 11-4

The Toronto Cricket, Skating & Curling Club was treated to a fantastic 5/8 playoff match between two equally ranked players, and equally talented players. Walker's physical brand of hitting and retrieving is well matched with Richards' smooth stroke production and deft touch. The seesaw match could have gone either way until it was eventually tied at 4-4 in the fifth.

At this point it appeared that Richards simply decided it was time to get off the court and proceeded to slot three dead nicks in a row from three different areas on the court to start a momentum that carried him straight through to the finish line. The athleticism exhibited by both players meant that they gracefully slid past each throughout the match, requiring only a handful of 'lets' and only when truly necessary.

The overall result was an incredibly clean brand of world class squash, and a testament to the professionalism of both players.

5th Feb, Quarters:

Mayfair Parkway
Ramy Ashour (Egy) bt Shahier Razik (Can)
12-10, 11-8, 8-11, 11-8 (62m)
Cambridge Club
Mohamed El Shorbagy (Egy) bt Cameron Pilley (Aus)
9-11, 11-6, 12-10, 11-9, 11-9 (56m)
Georgetown Racquet Club
Amr Shabana (Egy) bt Tom Richards (Eng)
12-14, 11-6, 9-11, 11-6, 11-8 45m)
Toronto Athletic Club
Nick Matthew (Eng) bt Alister Walker (Bot)
9-11, 11-4, 9-11, 11-9, 12-10 (74m)
Quarter-Final Reports - tour four stretched in Toronto
Mayfair Parkway
Ramy Ashour (Egy) bt Shahier Razik (Can)
12-10, 11-8, 8-11, 11-8 (62m

In an opening round match of the Cambridge Cup Shahier Razik (six time Canadian Champion) put up a spirited defence against World Number 1 Ramy Ashour.



The first game was the closest with Ashour taking the early lead but Razik fought back to take a 10-7 lead,only to fall to some brilliant shot making from Ashour as he won 12-10. Ashour maintained control with some well placed lobs in the second game, and took it 11-8.

Razik then showed his talent by taking the third game 11-7 with some deadly accurate drops that left Ashour staring at some dead nicks.

The fourth game saw some spectacular shot making from both players, but Ashour closed out the match with a combination of great defence and deceptive shot making that left Razik appealing for some crowd support. Match to Ramy Ashour 3-1.

Crowd response was warm with a standing ovation for an entertaining and well contested match.

Bob Mansbridge


Georgetown Racquet Club
Amr Shabana (Egy) bt Tom Richards (Eng)
12-14, 11-6, 9-11, 11-6, 11-8 45m)

Game 1: first rally was 89 shots... setting the stage for long rallies of controlled tight shots. Tom put a lot of energy into the game and had Amr on his heals many times. Tom won.

Game 2: Amr came out with flare and tenacity, hit better length and fewer tins than in game 1. Tom
fought back upping his game with some power hitting and great gets from all corners. Amr countered with finess and won game 2.

Game 3: Tom, not to be out done, upped his game and hit tighter shots along with super gets to give him game 3.

Game 4: again Amr upped his game with flashes of the brilliant precision shots that got him to #1 four times. Both he and Tom played shots the audience had never seen before... Retriving corner nicks, Philadelphia boasts from all over the court, 5, 7 or 10 corner drop shots - in a row followed by perfect lobs that died in the back court... but didn't. Amr took #4 to tie it up 2 - 2.

Game 5: we now know why Amr was #1 so often. His shots got tighter, longer, shorter, harder and softer. Tom dug in making incredible retrievals and hard drives to the nick... only to have Amr send them back with even more pazzazz. Amr won #5.

Tho serious competitors, in a serious competition, Amr's sense of humor showed thru getting a lot laughs from the audience.

Everyone loved the match and want it back again next year

Murray Jans
Cambridge Club
Mohamed El Shorbagy (Egy) bt Cameron Pilley (Aus)
9-11, 11-6, 12-10, 11-9, 11-9 (56m)

It's official: The boys are back in town! The Cambridge Club played host to the opening match of the 2013 edition of the Cambridge Cup. The quarter-final tilt featured two of the brightest young stars in the sport. Cameron Pilley, number 18 in the World Rankings took on Mohammed El Shorbagy, who's meteoric rise through the rankings has him installed at the number 6 in the world. After being regaled by Master of Ceremonies Randy Klein's inventive tales of Toronto Maple Leaf Stanley Cup victories and the marital woes of the membership, the player's were introduced and took the court, ready for action!

After trading hand-out tins to open the match, the players wasted no time in firing their guns and giving the crowd what they came to see. Game one saw Pilley combine mid-paced length with thunderous kills on any loose ball above shoulder height. "Wish I could hit those more often," he quipped. He inched out to a two point lead and stayed at that margin for the bulk of the first game. Shorbagy was kept slightly out of balance as he figured out the speed and pace of the lively Cambridge courts. Tight all the way up, Pilley finished game one with devastating straight forehand nick kill from about five feet in front of the service line. Game to Pilley 11-9.

Shorbagy would find his comfort level fairly early in the second game, jumping out to an early lead. Having warmed up to the court, he began to fire in shots. He broke out Egyptian-style, hitting cross-court forehand winners off his hip from seemlingly impossible angles. No drive was safe from the talented hands of the young Egyptian. Pilley could only stand pinned to the tee as Shorbagy capped the game off with what has now become his trademark shot: The forehand, between-the-legs straight drop from the back, rolling out for the winner. Game to Shorbagy 11-6

Pilley would push out ahead early game three. At 2-1, the Australian would jump up high, grunting to volley a Shorbagy lob and thunder a cross-court dead-nick winner, much to the crowd's delight. You climb up that high for the volley, there's only one shot coming....and it's not a working length. Pilley put on a lob drill clinic at 6-3, pulling Shorbagy in only to have him scampering to the back to retrieve high, soft lob after high, soft lob. Shorbagy wasn't giving up the game just yet however, freezing a cross-court-hunting Pilley on the tee with a punishing straight snap backhand drive and pulling back to 5-7. Pilley, needing to put some space between him and his opponent, began unleashing the power that he has become famous for. He was hitting the ball so hard it's going to need to seek therapy. He would string together a number of solid, high-pressure rallies to move to10-7. But Shorbagy seemed to find another gear and blasted a few outright winners, clawing back to win the game 12-10.

Staying in high gear, Shorbagy raced out to an early 5-1 lead in game four. After breaking his strings, he would manufacture a let out of some light contact with his opponent but then sportingly turn it down when offered it by the referee. He kept Pilley pinned down with hard, low drives and accurate winners. Under pressure at 5-2, Shorbagy missed the ball on his first attempt off a Pilley lob. Left with only a backwall boast, he would delight the crowd by guess correctly and volleying the Australian's cross-court drive. Following a Mizuki winner at 7-2, the young Egyptian would make a series of uncharacteristic errors to let Pilley back in it. Feathering in five straight drops in succession at 10-9, Pilley would nick out the last for a 11-9 win in game four.

If they were playing a measured game or entertaining the crowd for the first four, they dropped it and went all out for the fifth. Top-spin winners, booming cross-court kills and unbelievable retrieval would be the hallmarks of the final game. Shorbagy came out to 8-4 lead but seemed to ease of the gas a bit, missing a Mizuki and a tweener while trying to finish the match in spectacular fashion. Stroke to Pilley at 8-10 would give him a ray of hope but Shorbagy, having seen enough, would run Pilley ragged in the last point, finally putting him away with a cracking half-court straight drive kill. Game to Shorbagy 11-9. Match to Shorbagy 3-2.

Chris Hollow

Toronto Athletic Club
Nick Matthew (Eng) bt
Alister Walker (Bot)
9-11, 11-4, 9-11, 11-9, 12-10 (74m)

Ali started out the strong one. He went up 4-0 pretty quickly with some tight squash. Nick's body seemed to be warming up. Nick fought his way back through the middle portion of the game and started to impose himself. Ali found himself 9-7 up in the first with some wonderful squash. Ali hit two tins in a row to let Nick back in it, but in the end Ali was able to convert two more points to take the first game 11-9.

Nick was starting to show his stuff near the end of the first and kept the momentum going into the second. Nick came out of the gates hot and got out to a quick 4-1 lead. Nick was now starting to step up the court and impose his game. He shot to an 8-3 lead and quickly finished off the game from there to take the second 11-4.

The third game brought some intense and exciting stuff. The crowd was loving every minute of it. Nick had a great start to go up 5-1. Ali was hitting a bit to much tin at this point, but the rallies started to get longer and longer, and Ali fought. Both players were showing their class by calling their balls down, out, and at times even over ruling the refs decisions to show their fairness. The third was neck and neck. Nick ripped a cross court nick to tie it at 9-9. The players fighting for each point, but again Ali was able to convert some crucial points to take the game 11-9 to go up 2-1.

The fourth was just as close as the third. The players were close all the way through. There were some between the leg shots that amazed the spectators. Each ball down the wall was millimetres away from the wall. Impressive stuff. Nick was able to convert some fantastic points at the end of the 4th to take it 11-9.

Ali had a wonderful start in the 5th and went up 6-1. It was not looking good for Nick, but a couple of unforced errors from Ali brought him back to 6-3. Ali broke away again to go 8-3 with some lovely length, drops, and cross court kills. Nick started to turn it up though, and he put in some beautiful forehand volley drop nicks to claw his way back. The score was now 9-7 for Ali, and it was back and forth stuff right up until the end.

They both battled it out hard, but Nick eventually squeaked out the victory 12-10 in the fifth to move on to the next round.

Andrew Mcdougal
TOM RICHARD:
HIS FIRST CAMBRIDGE CUP!

I'd heard good things from the guys who'd played the Cambridge cup before and am pleased to say that it's all true!

From the moment I arrived I've been made to feel extremely welcome by Shahier, Jamie and the members, with everything from massage to food being well taken care of.

The club itself is really unique and I'd love it if they'd like add to their group of clubs in London! We had a great crowd at our match last night and I'm sure it'll stay that way for the rest of the tournament and its always enjoyable playing in front of an appreciative audience. Right, time to go and do a little bit of training followed by a lot of sauna, steam and jacuzzi...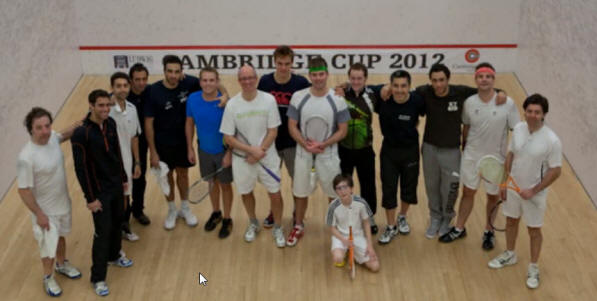 29th-Jan-2013

As the cold Canadian winter descends on Toronto, it brings with it the hottest squash on the planet. It's with great excitement that I write to announce that the best squash players in the world will be returning to the Cambridge Club courts for the Fourth Annual Merrill Lynch Cambridge Cup on February 5th-7th.

If you were lucky enough to have a ticket to last year's tournament, you were witness to the most fantastic display of squash one could find the world over. World Champions battled squash legends and Hall of Famers. Most of the draw had attained the coveted World Number One status. The bulk of the World Top Ten was represented. Their resumes included an impressive list of hardware including an unbelievable SIX World Championship titles.

With squash community house-hold names like Gaultier, Ashour, Shabana, Darwish and Lincou, it's no surprise that the event sold out in just a few days. In the end, young but already legendary Ramy Ashour would hoist the Cup for the second straight year, becoming the first Cambridge Cup repeat champion.

The Cambridge Cup has quickly become the gold standard for professional squash tournaments in Canada and it continues to gain momentum. Building on the success of last year, this year's draw is populated by a veritable who's who of global squash.

Along with World Numbers One and Two, the participants bring with them a combined EIGHT World Championships, 59 months of World Number One ranking and four World Junior Titles along with numerous National Championships and PSA Tour victories. Boasting a purse of $60K in prize money, the best of the best will be here!

1. Ramy Ashour:
World #1, Current World Champion, 2x Defending Cambridge Cup Champion
2. Nick Matthew:
World #2, 2x World Open Champion, 3x British Open Champion, World #1 2011
3. Mohamed El Shorbagy:
World #5, World Open Finalist 2012, 2x World Junior Champion
4. Amr Shabana:
World #8, 4x World Champion, Defending World Series Champion, World #1 2007-2009
5. Tom Richards:
World #13, England Elite and National Team Member
6. Alister Walker:
World #15, Botswana #1, Botswana National Champion
7. Cameron Pilley:
World #18, Australia #1, Hardest Hitter on Tour, World Record Holder for Hardest Hit Squash Ball (282 km/h)
8. Shahier Razik:
World #35, Canada #1, 5x Canadian Champion, Cambridge Club Touring Pro