Carol Weymuller Open 2013
01-06 Oct, Brooklyn, NY, Usa, $50k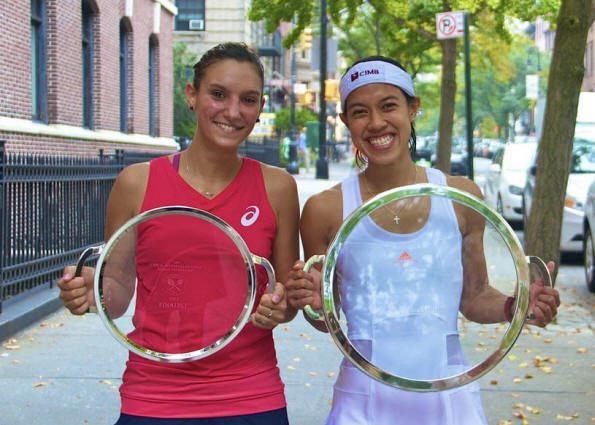 Live streaming video by Ustream

06-Oct, Final:

[1] Nicol David (Mas) 3-0 Camille Serme (Fra) 12/10, 11/2, 11/5

David regains Weymuller title
Linda Elriani reports

Today was the final day of our 2013 Carol Weymuller Open.

It's been a tremendous week of squash and the WSA players have definitely left everyone inspired and motivated. We sometimes have the honor of Carol Weymuller herself coming to watch the final, but Carol has sent us a lovely e-mail apologizing that she was very busy and could not unfortunately find the time to come.

Carol started the junior squash program here at The Heights Casino many years back and it has obviously grown and grown over the years. We always like to thank Carol for all her work and dedication at the start as we wouldn't be where we are today with our program if she had not been forward thinking enough to develop squash in this area.

Our final today was between French # 1 and world # 10 Camille Serme who has had the tournament of her life so far beating the World # 6, # 4 and # 2 against Nicol David, the World # 1 since January 2006 (and Carol Weymuller champion in 2005!).

Nicol reached the final today without even dropping a game! The match started at 2pm with packed out bleachers full of excited members. In the WSA head to head statistics Nicol is ahead 8-0 but Camille had a very close 3-1 match with Nicol last time they played. Both players semi-final matches yesterday were not too long, so they should have arrived today in the final not too fatigued.

The match started off evenly and both players where working the court well and there were some long hard fought rallies. Nicol looked as though she was prepared to just absorb Camille's pressure and not go for too many shots. Camille was trying to apply the pressure that she had done yesterday and throughout the week but was making some tentative errors with her short game.

The score went back and forth evenly and it looked like we had a very long match ahead of us. Nicol managed to edge ahead to 9-7 after a crazy long rally that ended in backhand drop in the tin from Camille. Another tin from Camille took Nicol to game ball at 10-8. Camille gave a big push and managed to pull back and with a backhand boast in the tin from Nicol and a lovely backhand drop winner from Camille this took her to 10-10.

The crowd was really appreciating the closely fought rallies and it was intrigued to see who could start out this final with a 1-0 lead. Nicol stepped on the gas and a very deep penetrating drive forced an error from Camille and then an unforced backhand volley drop gave Nicol the first game 12-10.

We were all left wondering if Camille could come out in the second and keep this kind of pressure on Nicol.

In the second Nicole came out with much more aggression and weight on her shots and seemed to be taking the ball earlier and with more decision than in the first. Nicol was 2-1 down but then went in one hand straight through to 11-2!

It wasn't really that Camille did anything particularly wrong it more that Nicol was just flawless and gave Camille nothing to hit. Nicol did some amazing drops in the nick and some perfect dying drives into the back which is very difficult to do in these hot conditions.

In the third Nicol continued to dominate. Camille tried her hardest to get into the match but each time she worked a great opening her finishing shots that have been working so well all week were just not quite there today. Nicol stayed focused and accurate she was just too good today and her movement was so flowing and fast. Nicol went 10-5 up and fittingly won the championship point on a perfect crosscourt drop shot straight into the nick!

A very happy Nicol said after her Weymuller win: "I'm just so happy to win this tournament after so long. It has been such a great atmosphere that it just drives me forward to play better squash each day. Camille played really well in that first game and it was neck and neck all the way! In the second and third I mixed it up a bit more because she gets into a great rhythm and it can be dangerous!

"I'm very pleased and I'm looking forward to next week. I'd like to thank Linda for such a great event and all the families that have supported this tournament for all these years".

When I spoke to Camille after her final and asked how she felt she said: "I'm a bit disappointed to be honest. Even though she's the world # 1 I wanted to do better than getting 1 game as that's the best I have done against her. I felt she played really well and I made too many mistakes. I don't even know why as I wasn't even trying to go fine on my shots. Right after the match I feel disappointed but later I will look back at what a great tournament I've had.

"The good thing is I only have to wait one week to hopefully play her again at the US Open. Thanks so much to everyone here for everything! Thanks too for all the support here and back home and all the people that watched me on the live streaming'.

Congratulations to both players for reaching the final, especially to Nicol for winning this gold tournament for the first time since 2005, it was a pleasure to watch them both play.



Watch on the
CW Ustream Channel
Carol Weymuller Open 2013
01-06 Oct, Brooklyn, NY, Usa, $50k
Round One
03 Oct
Quarters
04 Oct
Semis
05 Oct
Final
06 Oct
[1] Nicol David (Mas)
11/8, 11/6, 11/4
Donna Urquhart (Aus)
[1] Nicol David
11/7, 11/5, 11/4
Dipika Pallikal

[1] Nicol David

11/8, 11/7, 11/4

[3] Raneem El Weleily

[1] Nicol David

12/10, 11/2, 11/5

Camille Serme

[8] Kasey Brown (Aus)
6/11, 10/12, 13/11, 11/8, 11/9
Dipika Pallikal (Ind)
[3] Raneem El Weleily (Egy)
11/9, 11/3, 11/4
[Q] Line Hansen (Den)
[3] Raneem El Weleily
11/6, 11/7, 11/9
[5] Joelle King
[5] Joelle King (Nzl)
11/7, 11/4, 11/8
Omneya Abdel Kawy (Egy)
[Q] Victoria Lust (Eng)
11/5, 11/5, 11/4
[7] Jenny Duncalf (Eng)
[7] Jenny Duncalf
11/7, 11/7, 11/7
Camille Serme

Camille Serme

12/10, 11/6, 11/4

[2] Laura Massaro

Camille Serme (Fra)
11/7, 11/13, 11/4, 11/9
[4] Alison Waters (Eng)
[Q] Nicolette Fernandes (Guy)
13/11, 11/7, 4/11, 11/3
[5] Low Wee Wern (Mas)
[5] Low Wee Wern
11/8, 12/10, 11/6
[2] Laura Massaro
[Q] Aisling Blake (Irl)
11/4, 11/7, 111/6
[2] Laura Massaro (Eng)
02-Oct, Qualifying Finals

Line Hansen 3-0 Lisa Aitken 11/3, 11/5, 11/9


Victoria Lust

3-1 Samantha Cornett 11/3, 7/11, 11/9, 11/6


Nicolette Fernandes

3-1 Amanda Sobhy 11/8, 12/10, 10/12, 11/8


Aisling Blake

3-2 Sarah Kippax 9/11, 11/6, 11/6, 8/11, 11/6

01-Oct, Qualifying Round One

Line Hansen (Den) 3-1 Olivia Blatchford (Usa) 7-11, 11-5, 14-12, 13-11
Lisa Aitken (Eng) 3-2 Samantha Teran (Mex) 8-11, 11-8, 8-11, 11-5, 11-8
Victoria Lust 3-1 Emily Whitlock 9-11, 11-9, 11-9, 5-2 retired
Sam Cornett 3-1 Latasha Khan 19-17, 6-11, 12-10, 11-6
Nicolette Fernandes 3-0 Sarah Cardwell 11-7, 11-5, 11-6
Amanda Sobhy 3-0 Lucie Fialova 11-5, 11-6, 11-6
Aisling Blake 3-0 Kylie Lindsay 11-4, 11-6, 11-3
Sarah Kippax 3-0 Olga Ertlova 11-7, 11-6, 11-5
Semis: Cam completes English hat-trick

France's Camille Serme, the recently-crowned European Individual Champion, continued her sensational run of results at Heights Casino in Brooklyn to reach the final of the 40th Carol Weymuller Open.

Having already beaten Alison Waters and Jenny Duncalf, the fourth and seventh seeds, tonight she surpassed even those performances as she beat world number two and defending champion Laura Massaro in straight games, making it a hat-trick of English victims, all British National Champions too!

In the final she'll face Malaysia's world number one Nicol David, who stayed on course for a second consecutive WSA Gold event title with a straight games win over Egypt's Raneem El Weleily.

Linda Elriani reports

Semi finals day is here at the 2013 Carol Weymuller Open. Everyone was excited to see some more action packed squash.

It's "World Squash Day" today so happy squashing to everyone around the world J It's quite a coincidence that we have most of the best players in the world playing on our courts on this special day.

Before the semi finals began we held a 'Play a Pro' event for our juniors so that they had a chance to get on court with some of the top women's squash players. World # 21 Sarah Kippax, World #43 Kylie Lindsay, World #73 Sarah Cardwell, World #32 Samantha Cornett, World #22 Aisling Blake, World # 29 Samantha Teran, World #35 Vicky Lust, World #25 Donna Urquhart and World # 5 Joelle King all very kindly agreed to play with our two groups of juniors. The juniors all had such a fun time, trying their hardest to win a point or two off the pros!

Thanks so much to the WSA players for taking part in this. We really appreciate it. They are all a huge credit to women's squash as they are so prepared to give back to the tournaments and help spread the joy of playing squash.

The first semi final today was between the world # 2 and previous Weymuller winner in 2011 Raneem El Weleily and world #1 and seven time world open champion Nicol David. In the head to head they are 10-2 in Nicol's favor but in the last year they are 2-2.

Raneem got off to a very nice start with some amazing, precise drops and she even got a 'wows' from crowd!! Nicol didn't look settled in yet and Raneem was playing some crazy winners but soon started to also hit a number of tins too. Nicol started to find her lengths and control the T and soon evened up the score and onward to 7-4. Nicol's pressure seemed to build throughout the game and Raneem didn't seem fully committed to patiently set up her rallies. Raneem had another push and played some more outlandish winners and pulled back to 7-7. It was Nicol's flawless movement and focus that got her through to win the first game 11-8.

Raneem started the second well again with some wonderful drops and a mistake from Nicol. Both players were moving around the court with such incredible grace and ease that it makes everyone feel that they too could go there and do the same, though we all know that this not the case! Nicol again found her rhythm and kept a consistent pressure on her opponent which must have been the main reason why Raneem's winner/error ratio was not leaning in the right direction. Raneems squash was very spotty today. It was either delightful and amazing or an error. Meanwhile Nicol played very few errors after the first game and looked incredibly focused. Nicol took the second game 11-7.

The third game started out the same as the first 2 games and Raneem took a small lead of 3-1. Nicol took the next 4 points straight and Raneem only won one more rally after that and Nicol stormed through from 6-4 to 11-4 in one hand. Nicol played so well and really proved to us why she is world #1 and is in the Guinness Book of Records for the most consecutive world opens wins!!!

Nicol was very happy and when I asked how she felt she said "Good, I mean to beat Raneem 3-0 is a huge deal! It came together at the right time and I want to bring that through to the finals tomorrow".

A disappointed Raneem said "She played really well. I wasn't as sharp as I needed to be. I should have done better but it's been a great tournament and I've enjoyed my time here. Thank you everyone for everything!"


The second semi final match was a totally European affair with Laura Massaro world # 2 and defending Weymuller champion playing giant killer Camille Serme who is French #1 and world #10. Both players are amazing athletes and very steady and accurate so the quality of the squash was bound to be fantastic.

Camille started off the match very well and very quickly found her rhythm and was lunging well and moving Laura around the court. Laura looked unusually tentative and made some uncharacteristic errors. You could see Laura trying her hardest to regain some of the spark that she had in last night's match. There were some great rallies but Camille always seemed that little more in control until she was 9-4 up! Laura then dug deep and pushed up the court and stayed 100% focused to claw her way back to 10-9 game ball in one hand! Camille started to look flustered for the first time and it was looking as though Laura had finally found her grove. A forehand boast mistake from Laura gave Camille another chance and Camille took it by the horns and came through to win the first 12-10.

Camille came out on fire in the second and very quickly put the pressure back on Laura. There were a couple of shots that swayed her way with a back wall nick and perfect boast when she was under maximum pressure. It was as if today was definitely her day! Laura as always tried everything to stay in the match and came back to 4-4 but Camille made no errors and defended as well as she attacked so it left Laura with nothing! Camille went from 6-6 straight through to 11 to win the second 11-6.

It was going to be interesting to see if Camille could keep up her amazing play or if Laura's vast experience could help her find the answer to combat Camille's fire.

The third game followed a very similar pattern with Camille looking as confident as ever and not seeming to be fazed by the fact she could also take out the world #2 as well as the world #4 and #6! Camille was looking so comfortable on the court and Laura was looking increasingly the opposite. It wasn't for lack of trying on Laura's part it was just so difficult to impose her game on a player that was obviously feeling so good in every way. Camille came through the third and final game 11-4.

A delighted Camille said after her huge win "I feel so well physically. I wonder how it is possible!! I just want to say a big thank you to my physical coach as he gave me a hard program to follow this summer. I think I feel well as I have close people here to share it with me (Camille's boyfriend's parents are here). Squash is so much mental and if I feel well in my life then I play relaxed and focus on what I want to do on the court. I just wish my boyfriend and parents were here to share it and see how well I can play. For now back on the bike and stretch!"

Congratulations to both winners and we very much look forward to the final tomorrow. Will Nicol manage to win the Weymuller title that she hasn't won since 2005 or will it be confident Camille that can take the title and take out another higher seed! Can't wait to find out!

Tomorrow's final is between Camille Serme and Nicol David at 2pm and everyone is so excited to see who will be the 2013 Carol Weymuller Champion. See you then!

Quarters: Camille joins top three in semis
Linda Elriani reports

Tonight was quarter finals night of the 2013 Carol Weymuller Open. The quarter finals night is always my favorite night at tournaments because it's four extremely high quality matches all on one court. The weather is still very warm here in Brooklyn so the courts were incredibly hot and bouncy, making for long rallies and harder to hit outright winners in the front.

First up on the championship court was the world # 3 and a previous Carol Weymuller Open champion in 2011 from Egypt, Raneem El Weleily and New Zealand's Joelle King who has her highest ranking to date of #5. They had only played three times before this evening and it was 3-0 in the head to head to Raneem, but last year they both had an epic match that went down to the wire so we were looking forward to the match this evening too.

The match started well for Raneem and she got a small lead at 3-1. Two tight drop shots and one mistake evened Joelle up at 4-4. Joelle hit a great kill and another mistake from Raneem for Joelle to go 6-4 up. This was when Raneem put her foot on the gas and really moved Joelle around the court and upset her rhythm with great holds and went straight through to 11-6 in one hand.

Second game Joelle came out firing and started to control the T and put some great holds on the ball herself, winning one particular rally with a forehand drive that she held perfectly before it died in the back corner. The game stayed even all the way through with great shots and mistakes from both players, though Joelle was hitting a few more errors than Raneem.

At 6-6 Raneem pushed up again. When Raneem is in this mode she looks like is gliding around the court and controlling the ball in a way that almost no one else can. Raneem's drives where very tight and every time Joelle wanted to get onto the ball it was stuck to the wall. Raneem went through to win the second 11-7.

Again Joelle came out strong in the third and she was managing to work Raneem into the corners and control the middle more. Joelle managed to get a lead and was 5-3 up looking good, but Raneem again dug in and upped the pace, holds and winners. They tied at 9-9 and Raneem did one of her amazing holds to take her through to 10-9 match ball and she won on her first attempt which every player loves to do!

Raneem said after the match "I think I played OK and I'm happy to be through to the semi finals. Joelle is such a good player and she has had such great results since we played last year".

Joelle said "Lots of mistakes! Just really hot and struggling to control the ball. All credit to her as she can make you feel rushed. In parts I got a couple of good runs of points but I just couldn't take it up to the next level and capitalize".

Second on court was the seven time world open champion and World #1 Nicol David from Malaysia against India's Dipika Pallikal who is currently ranked world #17 and coming off her big win last night against Kasey Brown. The match started well for Dipika and she took a 3-1 lead but Nicol very quickly found her rhythm and started to move Dipika around the court, retrieving balls with such wonderful movement. Nicol is looking super fit and focused and she really keep Dipika away from the middle where she is very dangerous. Dipika has an amazing volley kill but she didn't get many opportunities to use it. Nicol won the first 11-7.

In the second Dipika started to make a few more errors and looked like she wasn't prepared to rally it out to get her openings. Nicol was relentless and created so much pressure with great length and some wonderful drops and holds around the front. Nicol really looked like her short game had gone to another level and it really made it difficult for Dipika. Nicol won the second 11-5.

Dipika came out well in the third and went 2-0 up but then Nicol 9 straight points to take her to 9-2 in one hand. Dipika started to show the effects of her long hard match last night and Nicol played an error free and focused match. Only a couple of great shots from Dipika managed to give her 2 more points before Nicol went through to win the 3rd 11-4.

Nicol said after her win "My aim was to keep her moving because she is so good when she has time. I managed to put my game plan together and my shots came in at the right time. I'm looking forward to another step up tomorrow. It's already a bonus on last year so now I'm just going to enjoy it!"

Dipika said "I'm tired after my long match yesterday! When you play Nicol you have to be fresh to have a chance. I started well in the first game and she just got tighter in the 3rd and 4th which made me go for more shots and she just got onto the balls. I've had a good tournament and I've got a lot to learn. It's all a learning process for me. I really made use of this tournament and hopefully I'll come back in a week or so in Macau and play well. You've get to take the positive and learn from it."

The third match of the evening is between world # 6 and Carol Weymuller champion in 2009 and 2010 Jenny Duncalf and French # 1 and world # 10 Camille Serme. In head to heads Jenny is 7-2 up on Camille but Camille played beautifully last night so we knew it would be a fantastic match. Camille got off to great start in the first game and very quickly it looked like she was going to play as well as she did last night. There were many long rallies and Camille was really managing to hold the T and force Jenny to make some errors amongst her great winners. Camille came through the first 11-7.

In the second the rallies where long and each player was trying to control the middle but it was Camille that kept a constant pressure on Jenny. Jenny has amazing racket skills and holds and played many wonderful winners but she didn't seem patient enough today to wait for her openings and made some unforced errors. Camille was defending immaculately and was absorbing Jenny pressure so well. Camille won the second game 11-7 too.

The third went to a very similar plan as the first and second with Camille hitting the corners consistently and keeping the T and Jenny was starting to look like she was running out of ideas. Camille came through the third in a constant 11-7 to take match 3-0.

A thrilled Camille said "I'm SOOO happy! To be honest when I was warming up I didn't feel the best because of yesterdays match but when I was on court in the match I was running and covering the court like I normally do. I guess Jenny didn't play her best. After the second I realized the 2nd game was so important. I've reached the semi's here and I'm so happy! I'm going to try and enjoy it now but tomorrow I'll re-focus. For now back on the bike and stretch!!"

A disappointed Jenny commented "She obviously played well. She hit her targets really well. I wasn't good enough. Poor performance but she was on fire".

Last up on the championship court, but certainly not least was defending Weymuller Champion, 2013 British Open Champion and World # 2 from England, Laura Massaro against Malaysia's Low Wee Wern who is world #7. Low has gone up through the rankings since last year and is playing such a steady mature game. Head to heads go in Laura's favor by 5-1 but last year Low was 2-0 up before Laura came through to win in a very close 3-2.

The match started with very long patient rallies from both players. The game moved pretty evenly through the points with slight advances from each player here and there but at 8-8 Laura edged away keeping the ball so tight and pushing Low deep. Laura won the first 11-8.

In the second they both battled to control the T and they were both moving amazingly around the court. Low managed to squeeze a small lead at 9-7 and then she got game ball at 10-8. Laura really turned it on then and played flawlessly to take the next 4 points straight! Laura really showed us her ability to stay focused and error free at crucial times in a match. It proved to us why she is world #2 with this kind of focus and steadiness in pressure situations. It was crucial that Laura won the second to have that 2-0 lead instead of giving Low a sniff of confidence.

In the third Laura started the game so well with some great holds and making Low work really hard. Low was starting to show a few signs of being tired and Laura's short game seemed to get better and better as the match went on! Both players used fantastic variation of the pace but in the end Laura was just a bit too good and she came through to win the fourth 11-6. This match was 3-0 but the score didn't depict the game and the amazing effort that went into it from both players.

Laura spoke to me after the game and said "That was a really hard 3-0! You know you've played well to beat Low 3-0! I was really happy with performance and the way I played. Feeling good to be in the semi's with dropping a game and really looking forward to tomorrow."

Low said "I felt I was actually playing well and I didn't do anything wrong in particular. We both played tight squash. It's always disappointing to lose but I felt there was not much I could do more. We're both top 10 players and she's not world #2 for nothing and she has more experience than me".

We all look forward to the some more amazing women's squash tomorrow afternoon at 4.00pm and 5.00pm after the Junior 'Play a Pro' which is on from 2.30pm-3.30pm. It's our juniors chance to get on court with some of the best women's squash players in the world. That doesn't happen every day!

Round One: Dipika and Camille
pull the surprises in Brooklyn ...
Linda Elriani reports

Tonight was the first round of the 2013 Carol Weymuller Main draw. The quality of the matches tonight was amazing and the matches were so exciting and closely contested.

It's so inspirational for our Heights Casino juniors to watch. There's a cute group of our youngest players who come watch nearly all the matches and want to jump on any free court to try and practice what they have been witnessing over the last few days!

The weather in Brooklyn has been very warm over the last couple of days and it has continued to make the court conditions incredibly hot, with long hard matches, proving to us even more how fit and athletic the women players are.

First on the Championship court was world # 3 from Egypt, Raneem El Weleily, against Danish Line Hansen world #18. Raneem looked very comfortable and relaxed on the court. Line looked as though her last 2 qualifying matches were taking their toll on her legs and any holds from Raneem were just too much this evening. Raneem won this match 11-9, 11-3, 11-4.

Raneem said after her match "I'm hot!!! I was trying to get into mood of playing and getting a sense of the court. I don't think that Line played her best. I looking forward to tomorrow. I'm sad that Omneya lost. For tomorrow's match it's the same draw as last year!

Line said "I got spanked! I felt really heavy today and Raneem is not fun to play if you are not feeling fresh. I have played 7 matches in 8 days!!! So I can't wait to have a few days off shopping in Brooklyn before the US Open".

Also on court at 5.30pm was World #5 Joelle King from New Zealand playing Omneya Abdel Kawy from Egypt and world #12. In head to heads Joelle and Omneya were 2-2 going into this match so it was going to be very interesting who came out on top today and go ahead in the not only in the tournament but also the stats. The match was played at a fast pace and Joelle seemed to be coping fine with the bouncy conditions while Omneya wasn't quite playing to her normal amazing accuracy levels.

Joelle came through this match in 3 and she said afterwards "I'm basically glad to get off in 3! Omneya is a tough draw to get 1st round. I'm playing Raneem tomorrow so I guess it was good practice for that match!"

Omneya said "It's too bouncy! I guess it doesn't suit my game. My game is rushing stuff, drops. I guess I put tins, out, strokes more than I played the good stuff!"

Second match on the championship court was seven time world open champion and world #1 Nicol David against Australian Donna Urquhart who is world #25. Donna has been out injured for almost a year so her ranking has slipped down from her highest world ranking of 13.

Nicol was looking in fine form and controlling the rallies and keeping Donna under constant pressure. The first game was closely contested with Donna trying to take the ball early and get in front of Nicol but the 2nd and 3rd were dominated by Nicol. Nicol won 11-8, 11-5, 11-4.

Nicol said after her match "It's nice to have a good win in the first round. The 1st game with Donna she was volleying and reading the game well and I made a few errors. I think I just started to tighten up better at the end of the 1st and kept solid in the 2nd and 3rd. In tomorrow's match Dipika and Kasey have 2 completely contrasting games and if I keep my game plan together and feel good that's the main thing"

Donna commented "I feel a little bit disappointed with the way I played. I'm just happy to be back playing again. I was enjoying being on court and I wish I could have been on court longer. I feel keen and I feel like I'm starting over and working on getting back to where I was before I was injured".

The 6.15pm match was American based and world #11 Kasey Brown against Indian's #1 player Dipika Pallikal. This match was the longest and most exciting match of the evening and the only five setter. Kasey and Dipika were 4-1 in the head to head in Kasey's favor. Kasey started the match strong and managed to contain Dipika's shot selection and she was won the first 112-6 and the second game 12-10 to go 2-0 up.

In the third game Kasey got a lead 9-7 and then a match ball at 10-9 but couldn't capitalized on it and Dipika dug in and won the game 13-11. Both players were hanging back on the court, maybe due to the incredibly hot court conditions. There were a lot of lets and vying for the T and Dipika gradually started to take control of game winning the fourth 11-8 and then in the fifth it was done to the wire! The points were pretty much even all the way through the fifth until 9-9 and Kasey got a no let in the front backhand corner to take Dipika to 10-9 match ball. Dipika took her chance on the first attempt and went through to take the match 3-2.

A thrilled Dipkia said afterwards "I'm really really pleased to get through. When my mum told me I was in the main draw I didn't believe her as I was thinking that I was going to have to qualify. So I wanted to take advantage of being in the main draw. I came all the way to the USA for one tournament as I am playing in Macau, China in a week's time.

"I had 3 months off tournaments this summer so I trained with Sarah Fitzgerald in Australia, trained with Ritwik in Bombay and in Chennai with my fitness trainer Basu and I think it made the difference. I'm really thankful to Sarah as she has put a lot of effort in for me and she'll be really pleased that I won today!"

A disappointed Kasey said "I was 2-0 and had match ball in the third! I knew it was going to be tough and I think I went a little defensive in the 3rd and 4th and in the end she was able to pull it out. She played well."

The third match on the championship court was World #6 and a previous Weymuller winner Jenny Duncalf against English player Victoria Lust and world #35. Jenny looked very focused and accurate and Vicky never seemed to really take control of the middle of the court or the match, though she certainly put up a good fight.

Jenny won 11-5, 11-5, 11-4.

Jenny said "I won 3-0 so that's always nice. Lusty looked good yesterday in her quali match so I wasn't taking her lightly. Canada seems to be agreeing with her. I was happy I managed to control the ball in the hot conditions. I'm happy to be back in Brooklyn. It feels like home!"

Vicky said after her match with Jenny "I think I played well, my game plan just could have been better. All credit to Jenny for playing so well. It's been a great tournament and I look forward to coming back next year!"

The 7.00pm match on the championship court was between Ali Waters world # 4 from England and Camille Serme from France and world # 10. Alison and Camille's head to head was 1-1 before tonight's match so we were looking forward to seeing who would prevail this time. Camille started the match sharp and really used the court well keeping Alison away from the middle where she can be so dangerous. Camille won the first 11-7.

Alison got a better length and rhythm in the second and came through a hard fought second 13-11. Camille came out on fire in the 3rd and really put Alison under pressure and made her play reactive squash allowing Camille to mix things up and keep the control. Camille won the 3rd 11-4. Alison and Camille battled in the fourth but Camille was moving well and managed to contain Alison and stop her from using her strengths. Camille came through 11-9 to get her second win from Alison.

A happy Camille said " I'm very happy obviously! Twice I've beaten her in 3 weeks! First in KL and now here. I think that she played better here than in KL. The rallies were long and we were both a bit up and down in this match, but it was a good battle. Now I need to go on the bike and then stretch".

Alison said after her match " It was close in the first and second. Camille played well. She was hitting her areas well and I wasn't really in front much. I'm pretty disappointed".

The last match on the championship court was between last year's Weymuller Champion and British Open Champion Laura Massaro and Ireland's world #22 Aisling Blake. Laura was looking as strong and fit as ever and Aisling tried very hard to apply some pressure but she looked somewhat tired from her hard qualifying matches over the last 2 days. Laura won 11-4, 11-6, 11-7.

Laura said "It was tough going on late, it just felt like a really long day. I'm obviously glad to come through in 3. I thought Aisling was feeling the effects of her five setter yesterday. I was catching her out with a few boasts and I just have to be careful with that tomorrow."

The other 7.45pm match went on court very late due to the previous long matches. It was between Malaysia's world #7 Low Wee Wern and Guyana's world #19 Nicolette Fernandes. The first game was very hard fought and the rallies were long and attritional. Nicolette was the first to have a game ball at 10-8 but Low managed to come through and win the first game 13-11.

The second was very similar and it really just came down to some wrong shot selections from Nicolette at crucial times to give Low the second 11-7. Nicolette came out blazing in the 3rd and managed to keep Low back and attack her more and she came through 11-4. In the last game it was Low's turn to be on fire and Nicolette couldn't find the momentum from the game before and Low came through 11-3 to take the match 3-1.

Wee Wern said afterwards at 10pm when she came off court "It's good to finally have a win here because in the last 2 years I was ahead in my 1st round matches and then didn't make it through. Nicolette had a great win yesterday and she came in really confident and I tried to slow the ball down and put the balls in the back corner. Because it was so bouncy I didn't want to go short too soon.

"I think I did really well in the first 2 games and it was hard with it being so late to keep focused as it felt as if it wasn't really a tournament anymore. I had to re-group and came back in the fourth and keep to my game plan and focus again. I'm definitely looking forward to playing Laura tomorrow as the last time we played here we were both not ranked as highly as we are now!"

Nicolette said "In the first and second games it felt so close! It was a point here or a point there. I felt I made a bad shot selection on a couple but it was only one shot or two shots. In the 4th she played so well. Well done to her. At the end it was a hugely positive match and I learned a lot."

So here ends another really exciting night of squash at The Heights Casino and we all look forward to the quarter finals starting at 5.30pm tomorrow night. See you again soon!
02-Oct, Qualifying Finals

Main Draw or OUT !
Linda Elriani reports

Tonight was the last evening of the qualification at the 2013 Carol Weymuller Open. It's always an exciting round as it really is all or nothing…main draw or out! The matches were very exciting and a fantastic display of how athletic and amazingly skilled the top women squash players are.

Our stands were packed again with keen and inspired members and our juniors where also busy collecting autographs from the WSA players.

The first match on our championship court tonight was between World #18 and Denmark's favorite player Line Hansen and England's World #46 Lisa Aitken. The match got off to a close start with both players even at 5-5 but then Line started to pull away hitting some great tight drives putting Lisa under pressure and making her work hard to take the T. Line took the first 11-5.

The second Line got a good lead and Lisa's length was too short and so she wasn't able to push Line deep enough on the court. Line had very good shot selection and forced Lisa to play reactive squash. Line own the second 11-3.

In the third it was Lisa that got a lead at 6-4 and she started to play much more aggressively and took the ball in short really well. Line pushed through to try and regain her control and there were some great rallies with wonderful retrieving and a few errors from each player started to come in here and there as the third game got closer and more tense.

In the end Line came through 11-9 and was clearly relieved as she said "I'm really happy to win in 3! I think Lisa has improved so much in the last 6 months and she'll be one to watch for in the future. I'm really looking forward to tomorrow with no pressure!"

Second on was Canadian and world #32 Samantha Cornett against Canadian based English woman Victoria Lust who is #35 on the WSA world rankings. Sam started off very shaky and couldn't seem to settle and made a lot of unforced errors and before we knew it Vicky had a 9-1 lead. Sam started to find her game a little but Vicky took advantage of her great lead and took the first 11-3.

In the second Vicky got off to a great start hitting some great lengths and really keeping Sam pinned back and got a 5-3 lead. Sam stayed calm and focused and started to find a deep penetrating length and then her opportunities to take the ball in short started to appear. Sam came back to even at 6-6 and with some lovely precise drop shots she went through in almost one hand to take the second 11-7.

The third game was crucial and both players were steady and focused. The game stayed even most of the way through until Vicky hit a few perfect volley drops at the right moment to take a small lead of 10-8. Sam did some amazing retrieving to save the first game ball but Vicky ended up taking the third game 11-9.

The fourth game Sam started to step back in the court a little and it give Vicky the chance to take the ball earlier and really put the pressure on. Vicky keep a lead the whole way though the final game and came through to win it 11-6.

Vicky said after the match "I feel good and relieved! I'm just happy to win. It's been hard to win here in the past. I'm looking forward to tomorrow. It's good experience whoever I play. All the qualifying spots are tough!"

After the second match finished we had a brief interval with for our "Meet the Greet' with the Pro's. We like to get all the pros to stand up and introduce themselves to the crowd. This year we had fantastic music set up by Annelize for the whole evening in between matches and for the Meet and Greet. Each player that came up in front of the crowd had a special clip of music especially picked for them by Annelize. It was very entertaining and fun. Thanks Annelize

Third match on court was world #19 English based Nicolette Fernandes from Guyana and world #23 and budding young star from the USA Amanda Sobhy who is also currently a Harvard student. This was definitely the match of the evening and it was the most attritional and exciting too. All the rallies were fought incredibly hard for by both players and it was a wonderful example of great retrieving and lunging, variation of pace and amazing use of the court. It almost seemed unfair to have one of the players not qualify!

Nicolette took an early lead in the first but both players were playing great attacking squash and really using each corner of the court to out maneuver their opponent. Nicolette was just a little bit tighter with her lengths and it was enough to get her through the first 11-8. The last rally of the game was full of crazy gets and Nicolette was getting pressured balls back that didn't seem possible!

The second started a little edgy but soon both players were back into their rhythm and the game was back to the amazing caliber it had been in the first. Nicolette squeezed out a lead and got up 8-5 and then 9-7. Nicolette then made a couple of errors and Amanda was soon back knocking on the door and hit a perfect backhand drive which Nicolette dove for but couldn't reach.

Nicolette got the first game ball at 10-9 but Amanda was hanging in there and after another amazing breathtaking rally Amanda equalized at 10-10. Nicolette then hit a perfect drive and then a weak return of serve from Amanda onto Nicolette's backhand for a perfect volley kill took Nicolette 2-0.

Amanda showed amazing determination and strength as she could have felt demoralized after losing the second game so closely, but she came out strong and continued the battle. There was a great variation in pace in the 3rd and each point fought for hard and long. Both players started to hit a few unforced errors as the retrieving was so great that they were going finer and finer to win the point.

Amanda battled through and managed to cut out the earlier errors and got her first game ball at 10-9. Nicolette saved it with a perfect forehand drop for ¾ of the way back on the court. At 11-10 Amanda had her second game ball and this time she took her chance and won the game 12-10.

Nicolette had a great start in the fourth and got a 5-1 lead. The hot bouncy conditions where now starting to favor Nicolette more than Amanda. Nicolette was managing to hit consistent great width on her cross courts and take away Amanda's amazing middle court game around the T. Amanda lost the length that was serving her so well earlier in the match and started going short prematurely. Amanda was starting to look a little tired while Nicolette was still moving around the court with amazing grace and speed. Amanda had one last hard push but Nicolette managed to gallantly come through 11-8 to take the match.

Nicolette said after the match "I feel really good. I think it's the first time that I have qualified for a 16 draw gold tournament! At this point I want to play all the girls and I don't care who I have to play tomorrow!"

A red faced sad looking Amanda said "It was tough! I just wanted to qualify and this is my third year to lose closely in the qualifying finals! I'm going back to Harvard tomorrow to study. Good luck to Nicolette and I'll play her again at the US Open!"

My feeling is that if Amanda can play this well while she is studying at college then what will she be capable of once she has graduated and trains full time!?! Watch out everyone!

Our last match of the evening, but certainly not least was World # 21 from England Sarah Kippax against Irelands Aisling Blake ranked just one spot behind Sarah at World #22. This was the only five setter of the evening and with the courts being so hot the rallies were long and hard fought. Aisling was clearly trying to keep the pace slower and Sarah was trying to keep attacking and play her game plan.

The first game was very close and a couple of unforced errors from Aisling at the end gave Sarah the first 11-9.

In the second Sarah had a shaky start and Aisling hit some great lengths and got a lead at 7-4. Sarah tried to put the pressure back on but Aisling went on to even up the match at 1-1.

In the third is was Aisling that controlled the game and Sarah lacked the patience that she had in the first game. A few unforced errors and Aisling took the third 11-6.

Sarah got a good start in the fourth and really managed to get Aisling deeper on the court and use her great volley drops to finish the rallies taking a 6-3 lead. Sarah did a big push and it was Aisling's turn to make a few errors on her lobs and Sarah went through to win the 4th 11-8.

In the fifth the game was even right through till 4-4 but then Sarah made several unforced errors and Aisling capitalized on this and went through from being down 5-6 to win the game 11-6.

Aisling said after the qualifying draw was done "It was brutally hot! It is the first time that I've qualified for the Weymuller so I'm very happy with that! I tried to slow it down against Sarah. We had some brutally long rallies and I did what I needed to so to neutralize her pace. I'm looking forward to playing Laura tomorrow and another great day in Brooklyn Heights!"

Congratulations to all the players who qualified. All the matches were such great quality squash and everyone thoroughly enjoyed them. The first round matches start tomorrow night at 5.30pm and we are all very much looking forward to watching some more of the amazing squash.
01-Oct, Qualifying Round One:
And the Streaming too, by Linda Elriani

The 2013 Carol Weymuller Squash Tournament is now underway. We are streaming the whole event live onto the internet so it's exciting for everyone to be able to see matches even if they are in different countries or can't make to the matches!!!

The weather in NY is unusually warm at the moment and consequently the courts are very hot and bouncy making it difficult to finish the rallies.

The 5.30pm match was between Samantha Teran world # 29 from Mexico playing Lisa Aitken from England and world #46. This was the longest match of the evening with the control going to and fro. It was really Lisa's resilience and determination that got her through the fifth game and she finally came through 11-8 in the fifth. After the mammoth match Lisa said "Wow! These are the sort of players that I am looking to beat now. I had a good summer and trained really hard. I just need to believe in myself and have confidence in the work I have put in. I also need to remember not to come out in any game in 2nd gear!

The second 5.30pm match was Line Hansen from Denmark playing USA's Olivia Blatchford who used to train at the Heights Casino as a junior. Line has just moved up in to the top 20 in the world for the first time her career so is obviously playing her best squash at the moment.

Olivia started the match on fire moving Line around the court well and taking the ball in short very precisely. Olivia won the first 11-7. Line came out in the second hitting a better length and started to force some errors from Olivia and came through with more control 11-4. The last 2 games of the match were incredibly closely contested but with both players having runs of points and control. Line was 8-3 up in the 3rd and Olivia fought back to have a game ball at 11-10 and 12-11 but couldn't capitalize on these chances to take the 3rd losing it 14-12. The 4th game Olivia was the one who took a 7-4 lead and then Line evened things up at 9-9 and eventually Line's experience got her through 13-11 to take the match 3-1. You can really see Olivia's game has matured and with her new funding it'll enable her to concentrate only on her training and preparation I'm sure she'll be causing many upsets over the months to come.

Line said after her match ended "I'm really happy I won. I think Olivia played really well. You have to expect that she'll hit some lovely shots. Maybe I was a bit slow to get going coming straight from LA" When I commented on her breaking into the top 20 line commented "Since I moved to Holland just over a year ago my daily training is better and consequently my results have been better"

It was packed audience at 6.15pm on the championship court when Sam Cornett world #32 from Canada played Latasha Khan the US tour veteran and world #31. This was one of the two long and truly exciting matches of the evening. The rallies were long and hard and every point was closely contested. The first went to 19-17 in Sam's favor but Latasha came out strong in the second taking it 11-6. The third game ended up being the decider as it was 9-9 with Latasha having one game ball at 10-9, but Samantha pushed through to take it 12-10. Sam then went through to take the 4th more easily 11-6.

Sam said afterwards " That's the 1st time I have beaten Latasha and I've played her a few times! So it's nice to feel some improvement. I'm hoping that my opponent has a five setter!"

The second 6.15pm match was between Victoria Lust and Emily Whitlock both young English players ranked 35 and 26 in the world respectively.

Both players vied for the T and tried to take the ball early. The match was even at 1-1 and Vicky had a great start in the third going 6-1 up and Emily started to make some forced and unforced errors. Vicky was 9-5 up and Emily suddenly found her length and managed to get her control back and crept up to 8-10 but Vicky finished the game on an amazing backhand kill in the front corner taking the third 11-9. In the fourth Vicky was 5-2 and Emily unfortunately had to stop due pains in her heal leaving Vicky to go through to the finals of the qualifying.

Vicky said" I felt like I was able to stay in the rallies and managed to counter attack. I was patience and I stuck to my game plan. It's a shame that Emily got injured in the end and I hope that she recovers before the US Open".

The 7.00pm match on the east court was between Nicolette Fernandes world # 19 from Guyana and Sarah Cardwell world # 76 from Melbourne Australia. The rallies were fast and exciting but Nicolette's accuracy and immense experience kept her controlling the middle and putting Sarah under pressure. Nicolette won 11-7, 11-5, 11-6.

Nicolette commented after her match "I feel good. I'm happy, last year I came and lost in the 1st round of qualifying. It's always nice to come back to a tournament and do better. I'm really looking forward to playing Amanda tomorrow. These courts are nice and hot!!!!"

7.00m match was between Amanda Sobhy the world #23 from USA and member of the Harvard squash team played Lucie Fialova world #44 from Czech Republic. Amanda mostly dominated the games and powered her opponent into the back and controlled the T. Lucie tried her hardest to remove Amanda from the T but couldn't do it for enough of the time.

Amanda said after her match "It was hot out there!!!I'm feeling good and I trying to keep up the studying and the training and also trying to play as many pro tournaments as possible. Hopefully it'll be less hot tomorrow!"

The 7.45pm match on the west court was between Aisling Blake world # 22 from Ireland and Kylie Lindsay world # 43 from New Zealand. Aisling played a precise match to take Kylie out in 3 games 11-4, 11-6, 11-3.

Aisling said "I'm glad I'm in the finals of the qualifying rounds. They were hot courts and both Kylie and I were playing at a slower pace. I wanted to avoid the middle as Kylie has great hands. I was so glad to get off in 3. I'm looking forward to tomorrow!"

Lastly but certainly not least was Sarah Kippax world #21 from England and Olga Ertlova world #45 from Czech Republic. This match was the finale match to a wonderful evening of squash. Sarah was looking as strong as ever and really made her opponent play her game. Sarah took the match 11-7, 11-6, 11-5.

After the match I asked Sarah how she felt in her first match and she said "I felt like I began to feel the court after the first game and found my length. Olga had a good win recently and I haven't seen her play much so she was an unknown entity. I'm looking forward to playing Aisling. We haven't played for a couple of years. We've had a few tough matches in the past so it should be a good game tomorrow."

It was a truly fantastic evening of squash to start off the 2013 Weymuller. Congratulations to all the winners and we look forward to the final round of the qualifying tomorrow night which starts at 5.00pm.