China Open 2012
23-28 Oct, Shanghai, $55k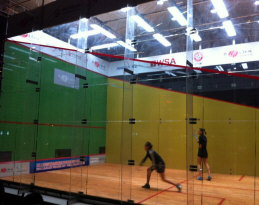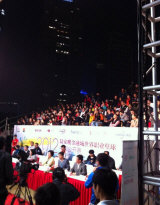 28-Oct, Final:

[6] Low Wee Wern 3-2 [7] Joelle King (Nzl)
6/11, 11/4, 3/11, 11/3, 11/9 (71m)


Wee Wern still the Champ in China

Low Wee Wern retained her China Open title in a see-saw five-game final with New Zealand's Joelle King.

With more than double last year's prize money on offer and a much stronger field, the win represents the 22-year-old Malaysian's 6th WSA title - last year's event was her 5th after a two year drought - but her biggest to date by far.

With the TV cameras in attendance and a big crowd at the glass court in Shanghai's financial district, it was a match with many swings ...

Match points from Fabrice Simon:

King makes the better start, her better length allowing her to set up nice attacks and a 10-3 lead. Low relaxes to pull a few points back but it's advantage to the Kiwi 11-9 on a low backhand crosscourt.

Low attacks from the outset in the second, he backhand drop used to good effect for a 6-3 lead. On the cold court both girls are trying to bury the ball deep in the back corners, but a few lets and a few errors can't knock the Malaysian out of her stride as she levels 11-4.

King ups the pace from the start of the third, staying higher on the T and attacking at the front of the court. The dead ball suits the tactics, and an 8-0 lead is quickly converted 11-3 as the Kiwi retakes the lead.

Another momentum change in the fourth, this time Low varying her shots and pace to good effect and establishing a 6-1 lead. Unforced errors from King make the lead insurmountable and at 11-3 on a stroke we're into a decider.

The first rally of the fifth lasts two minutes down the backhand wall, finishing on a stroke to Low. The game continues as the closest of the match, kills and strokes for both with Low staying a point or two ahead until King levels at 7-all.

The Kiwi takes a 9-7 lead then breaks her strings on a backhand drop that hits the tin. On the resumption Wee Wern takes the last three points to retain her title.

"I was up and down, up and down. But still a good week form me. A good month actually, with a semi in the US Open, winning Macau last week, and a final this week. Off to New Zealand tomorrow!"



"The feeling has not sunk in yet, to be able to win a Gold WSA tournament, it's just amazing, it's my first time playing in a Final of such a big event. And to be able to win it, even if it's 11-9 in the 5th, it's one of my best wins so far!

"The score says we were both up and down. The games I won and the games she won, we both had a big lead. When I won the 2nd and 4th, I was really focused in those two games, and in the 1st and 3rd Joelle was so confident, I couldn't get the ball past her, she was on a roll, but I managed to slow it down and in the 5th I had a lead, but then Joelle came back, and I was just really happy to get through in the end.

"My game plan in the 5th was basically to just hang in there with Joelle, and don't give her confidence, most important thing was to get a good lead at the start, which I did, but I didn't finish it well enough. But fortunately I managed to come back at the end, which is really good for me."


(who was like a super star, lot of Malaysian people came today, and many spectators came down the courts to take pictures with her, including referees, kids, parents, very nice atmosphere)

That's it for the China Open this year, great organisation, players seemed happy and well taken care of. Sponsors were apparently happy as well, so hopefully we should have another Open next year!

Fabrice Simon

China Open 2012
23-28 Oct, Shanghai, $55k
Round One
25 Oct
Quarters
26 Oct
Semis
27 Oct
Final
28 Oct
[2] Jenny Duncalf (Eng)
13/11, 11/8, 9/11, 11/6
[Q] Omneya Abdel Kawy (Egy)
[Q] Omneya Abdel Kawy
8/11, 11/9, 5/11, 11/6, 11/9 (75m)
[6] Low Wee Wern

[6] Low Wee Wern

12/10, 11/7, 11/5 (39m)

[4] Kasey Brown

[6] Low Wee Wern

6/11, 11/4, 3/11, 11/3, 11/9 (71m)

[7] Joelle King

[6] Low Wee Wern (Mas)
7/11, 11/9, 11/3, 11/8
Rachael Grinham (Aus)
[4] Kasey Brown (Aus)
9/11, 11/4, 11/4, 11/3
Li Dongjin (Chn)
[4] Kasey Brown
11/9, 11/7, 11/5 (49m)
[Q] Aisling Blake
[8] Camille Serme (Fra)
11/9, 7/11, 7/11, 11/1, 12/10
[Q] Aisling Blake (Irl)
[Q] Sarah Kippax (Eng)
11/7, 12/10, 11/7
[7] Joelle King (Nzl)
[7] Joelle King
11/4, 11/6, 8/11, 11/9 (61m)
[3] Annie Au

[7] Joelle King

12/10, 11/4, 11/6 (40m)

[5] Alison Waters

Donna Urquhart (Aus)
11/4, 8/11, 2/11, 11/9, 11/7
[3] Annie Au (Hkg)
[Q] Joey Chan (Hkg)
11/6, 8/11, 11/2, 9/11, 11/4
[5] Alison Waters (Eng)
[5] Alison Waters
7/11, 11/4, 11/1, 8/11, 13/11 (78m)
[1] Raneem El Weleily
Samantha Teran (Mex)
w/o
[1] Raneem El Weleily (Egy)
24-Oct, Qualifying Finals:

Joey Chan (Hkg) 3-1 Emily Whitlock (Eng) 11-7, 5-11, 11-2, 11-3
Aisling Blake (Irl) 3-0 Liu Tsz-Ling (Hkg) 11-2, 11-7, 11-6
Omneya Abdel Kawy (Egy) 3-1 Delia Arnold (Mas) 11-4, 11-6, 8-11, 12-10
Sarah Kippax (Eng) 3-0 Laura Pomportes (Fra) 11-8, 11-4, 11-3

23-Oct, Qualifying Round One:

Liu Tsz-Ling (Hkg) 3-0 Xiu Chen (Chn) 11-2, 13-11, 11-8
Laura Pomportes (Fra) 3-0 Gu Jinuee (Chn) 11-4, 11-3, 11-8
King and Low set up surprise China final
Match points with Fabrice Simon

The final of the $55k China Open will be contested by the sixth and seventh seeds after upset victories in the semi-finals by Malaysia's Low Wee Wern and New Zealand's Joelle King.

Low, the defending champion, overcame fourth-seeded Australian Kasey Brown in straight games.

Wee Wern was really impressive today, no signs of being tired from her hard match yesterday. She kept absorbing Kasey's attacks, and played some stunning counters. Her court coverage was as good as ever, Kasey had to win the point again and again before scoring. Wee Wern did well to come back from 7-10 down in the first game. She kept the ball very tight on the backhand wall, Kasey having to scrap it off or boast, exposing herself as Wee Wern was quick to get to get to the ball at the front of the court to either crosscourt or drop.

"Very happy with the way I played to beat Kasey 3-0, it's the first time I've beaten her," said a delighted Malaysian.

"The first game was crucial, I was 10-7 down, I managed to come back and win that one 12-10, that made a big difference for me, if I had lost that game, Kasey would have gotten more confident.

"This is the first time I came to this part of Shanghai [Lujiazui Financial Center where the glass court is located]. It's amazing it looks like a Chinese version of New York, with all the buildings, it's a really nice atmosphere, and the weather is perfect today. The crowd is nice, I have a lot of Chinese people supporting me which is great!"

"Overall I am really happy with the way I'm playing, and one last match tomorrow, let's see what happens."

Low's opponent in the final will be seventh seed King, who went one better than her semi-final appearance in the US Open to reach her first WSA Gold final with a straight-games win over Alison Waters, the fifth seed from England.

Joelle was very sharp today, her forehand attacks, particularly her low kills were hurting Alison. Alison was clearly feeling the effects of her match against Raneem yesterday, as she didn't move as well as she does, and couldn't use her counter drops as well she usually does. But Joelle too strong today, very focused, sensing that Alison was tired and making her move an awful lot.

"Last time we played, I lost 15-13 in the fifth, so today was a bit of revenge, I had match ball last time and lost," said Joelle.

"Just pleased to get off 3-0, and I'm really loving that court right now. The location is stunning, it's absolutely beautiful down here, the whole tournament has been great, well when you pay well it makes everything feel better!

"All the volunteers make it feel like a home away from home, so I really enjoy myself. What better setting than right in the CDB of Shanghai."

26-Oct, Quarters:


Marathon quarters in Shanghai
as Waters takes out top seed Raneem


Match points with Fabrice Simon



It was a day of marathon matches and upsets in Shanghai for the quarter-finals of the China Open, with the shortest match taking 49 minutes, the other three lasting over an hour, and the first and third seeds going out following yesterday's defeat of the second seed.

Kasey Brown, who played local Li Donglin in the first round, wildcard was the 49-minute victor, with a straight-game win over qualifier Aisling Blake.

"I didn't know what to expect against Li," explained the Australian fourth seed. "She took me by surprise. She hits the ball very well. She got the firs game, and then I composed myself and reassesed from there, but she's a great player and we're kind of expecting big things from China now."

On her quarter-final match: "I knew it was going be tough today against Aisling, she's a tough competitor, so I was fortunate to go through in three, and looking forward to do well on the glass court tomorrow."

On the glass court she'll meet Low Wee Wern, the sixth seed from Malaysia who came through a tough five-setter with Omneya Abdel Kawy, who beat second seed Jenny Duncalf yesterday.

"It was a very close match," said a relieved Low after the 75-minute encounter. "She's been on the circuit a very long time but it was our first meeting. I knew it would be really close, Omneya has such good hands, she beat Jenny Duncalf yesterday so she's paying very well at the moment. It's a good match to get through in the end.

"I won here last year, but it was a smaller tournament. I beat my teammate Delia [Arnold] in the final, and she lost this year in the qualifying final, so it's much bigger this year, the level is much higher.

"I am playing Kasey tomorrow, "I haven't played Kasey for a long time, so I'm looking forward to a good match tomorrow."

In the bottom half of the draw Joelle King, the seventh-seeded Kiwi, took over an hour to create an upset against Annie Au, the third seed from Hong Kong.

"I try to do the opposite of how she plays," explained King. "My game is a power game, and it's what I try do to against her, just keep the pace high, so as to not giving her too much time on the ball, so that she can't make me move. I think I stuck to my plan pretty well, up until 10-5 up in the last game that is!

"I played Nicol David recently in the US Open, and I was 6-0 up, and I lost, so that's what was going through my mind at 10-5 up. I was thinking surely I can't lose again from 5 points up, but sure enough Annie is class player and she kept coming back at me and I couldn't get in front of her again, so I'm just glad it didn't go to tie-break."

On the last rally Annie forehand drive catches the front wall/back wall joint, the ball comes back to her, stroke and match to Joelle.

"It's always tough to play Annie, especially in Asia," concluded Joelle, "so I'm really happy to get off 3/1 and looking forward to the semi-final tomorrow."

King's semi-final opponent will be England's Alison Waters, who relieved the tournament of its top seed Raneem El Weleily in the longest match of the day, a 78-minute five game affair in which the decider went point for point, Waters winning it on her second match ball.

"I had to try to contain her on the forehand," explained Waters, "so that she can't play so many winners. I used the game in Malaysia to last month to come up with new game plan, and it seemed to work!"


25-Oct, Round One:
Duncalf counted out by Kawy in China

The first round of the $55k China Open in Shanghai saw the departure of two seeds as Omneya Abdel Kawy and Aisling Blake pulled off significant upsets.

Kawy, the former world number four returning to action after an extended layoff, stunned current world number four and second seed Jenny Duncalf in four games to set up a quarter-final with Malaysia's Low Wee Wern.

Blake got the better of a five-game tussle with eighth seed Camille Serme - who recovered from 7-10 down in the fifth only to lose it 12-10 - to record one of her best ever wins, and now meets fourth seed Kasey Brown, who dropped the first game to wildcard Li Dongjin before the Aussie's physical presence proved too much for the young Chinese number one.

It all went to seeding in the bottom half of the draw, but it was easier for some - second seed Raneem El Weleily got a walkover, Joelle King beat Sarah Kippax in three fast attacking games, but Annie Au and Alison Waters both needed the full five games to take up their anticipated quarter-final spots.

Au, the third seed, was in control for the three games she needed against Donna Urquhart, who took her two games with some ease. Waters was grateful for a run of five consecutive tins at the start of the fifth from Joey Chan, from which the Hong Kong left-hander was never likely to recover.