Euro Juniors assemble in Espoo


It's Euro Junior time again, this time the U15 and U17 versions, where teams from all over Europe assemble in Espoo, Finland, for their respective team championships.

England are top seeds, and France second, in both events, which see the pool stages take place on Thursday and Friday, followed by the knockout stages, starting with quarterfinals, at the weekend.
Fri, Day Two, Update Three:


Another day down and all the pool matches are over. The England U15 Team topped their table today after beating Denmark 3-0.

Capitano James Peach set the proceedings off with a 3-0 win followed by Kace Bartley who also won 3-0 after being 6-1 down in the second.

Robbie Keefe was made to work hard against Rasmus Gyde coming through 3-1.

Players off for a quick dip in the pool and then bed, U15's finally have a sleep in tomorrow morning :-) which means I do too!

Switzerland tomorrow at 2pm.

Fiona Geaves
Day Two, Update Two from England:


Not sunny here in Finland anymore, it's more like England with rainy drizzle.

The Under 17 team of Lyell Fuller, George Parker & Alicia Mead tiptoed our way passed a very determined and impressive Spanish team this morning.

The Spaniards came to within an inch of an upset with the final game of the final match being watched by an excited and anticipating full house.

It was Parker, however, who managed to prevail 3/2, by remaining calm and playing some precise clinical squash in the last two games to overturn a 2-1 deficit.

We now have a long wait until our next match, which is scheduled for 19:00hrs tomorrow (local time) and to see whom our next opponent is as we have a bye into the semi final of the competition.

The quarter final matches will take place tomorrow morning at 11:30 so we will find out then whom we play.

Lee Drew
England Update, Day Two:


The U15 team beat Belgium this morning 3-0. The boys overpowered the young Belgians who put up an excellent performance and fought for every rally.

The girls match between Amelia Henley and Tinne Gillis was going to be the big battle. Tinne is ranked No 1 in Europe and is an exciting prospect for Belgium as she is following in the footsteps of her older sister Nele, who is ranked No 2 in the U17 rankings.

Amelia hit her lines and volleys extremely well and was consistently finding her spaces keeping Tinne on the wrong end of most rallies. Tinne battled hard to try and stay in the match but Ameila retrieved and kept up the pressure looking the more dominant player throughout the match, a well deserved result and a very happy coach and team.

Denmark tonight in our last pool match.

Fiona Geaves
England Update #3:


First day down and two wins for the England U15 Team :)

This evening the team won comfortably 3-0 against Sweden with team captain James Peach leading the way in his first match of the event.


Robbie Keefe had his second win of the day with Kace Bartley winning her first match of the event to take the match for England.

Now back to the hotel for a sauna and swim for the players :) and a good nights sleep ready for a 9.30am match tomorrow morning.

Fiona Geaves
England Update #2:

A quick update from sunny Finland.

This is the 1st time Finland has hosted the European junior Team Championships and if proceedings so far are anything to go by, then the competition will prove to be a very successful & enjoyable one for all involved.


The Under 17 England team managed to follow in the footsteps of the Under 15 team this morning to record a 3/0 team victory against Scotland.

Today's team was Richie Fallows, George Parker & Ellie Lake with team captain Lyell Fuller & Alicia Mead supporting and waiting in the wings to take their opening bow in the event tomorrow.

This evening all the players will be supporting the Under 15 team versus Sweden before preparing for an early match against Spain at 9:30am Friday morning.

Will keep you posted from the England camp,

Lee Drew
England Update #1:

Here we are in Finland for the 2012 U15/U17 European Championships.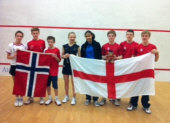 I am coaching the U15 England Team and Lee the U17 Team.

The U15s got off to a flying start beating Norway, 3-0 with wins from Patrick Rooney, Robbie Keefe and Amelia Henley this morning.

Next match is at 7pm tonight against Sweden, until then, we will be supporting our U17 Team who play Scotland at 11.30am.

Fiona Geaves

U15 Quarter-Finals

U17 Quarters/Semis