Team Finals:

Final: England 3-0 Belgium
Declan James 3-0 Tom de Mulder 11/6, 11/7, 11/4
Emily Whitlock 3-0 Nele Gilis 11/6, 11/6, 11/9
Tom Ford 2-0 Jan vd Herreweggen 11/6, 11/7

3rd-4th: France 2-1 Scotland
Damien Volland 1-3 Douglas Kempsell 6/11, 6/11, 11/8, 8/11
Julia Lecoq 3-0 Rosie Allan 11/9, 11/5, 11/4
Alex Cogno 3-0 Chris Leiper 11/8, 11/9, 11/8


11th-12th, Israel 2-1 Hungary
13th-14th, Ireland 2-0 Switzerland
15th-16th, Sweden 2-1 Netherlands

Teams Day Three, Semi-Finals:

England v Scotland 2-1
Tom Ford 3-0 Chris Leiper 11/3, 11/6, 11/6
Oliver Holland 1-3 Dougie Kempsall 11/7, 4/11 rtd
Emily Whitlock 3-0 Rosie Allan 11/6, 11/4, 11/4

Belgium v France 3-0
Jan vd Herreweggen 3-0 Alexandre Cogno 11/6, 11/4, 11/5
Tom de Mulder 3-0 Damien Volland 11/7, 11/6, 11/9
Nele Gilis 2-1 Julia Lecoq 10/12, 11/7, 13/11

Final at 15.00 on Sunday

Team Quarter-finals

England bt Wales 3-0
Scotland bt Czech Rep. 2-1
Belgium bt Spain 3-0
France bt Portugal 2-1

---

06-Apr, Teams Day Two:

Jose Soares reports on Pools day two

Scotland was the one that broke the first 8 seeded teams expected favoritism.

Indeed they played very well against Germany which, was the team that lost is expected place in quarter finals, and apart from that they also, fought very well against France who had to do their best to beat this team.

Most tied match was Check Republic against Portugal. The end result was the victory from the Checks 2.1 ( 6.5 in sets).

England is continuing to show their superiority as hey haven't loss a single game till now in the groups.

Tomorrow at 12 h, quarter finals start, and the confrontation between all teams are expected to be exciting:

full results and tables

---

05-Apr, Teams Day One:

05-Apr, Teams Day One:
Top four take control of their groups

No surprises on day one of the team event with all the top seeds starting off with a couple of wins. For detailed results we're going to leave you in the hands of Squaty ...


Team Results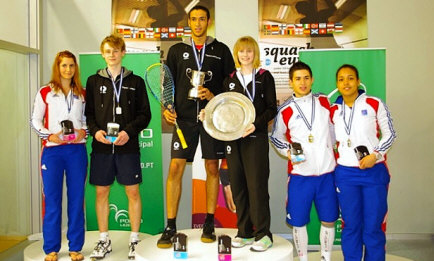 03-Apr, Finals:

[1] Emily Whitlock (Eng) bt [2] Julia Lecoq (Fra)
11/1, 12/10, 11/3
[1] Declan James (Eng) bt [3/4] Tom Ford (Eng)
11/8, 13/11, 11/6

Bronze Medal Playoffs:
[3/4] Melissa Alves (Fra) bt [5/8] Caroline Sayegh (Ger)
11/8, 11/5, 11/4
[5/8] Damien Volland (Fra) bt [5/8] Jan vd Herrewegen (Bel)
13/11, 11/7, 9/11, 7/11, 11/7

Top seeds secure English double in Porto

It was a second successive double triumph for England in the European Junior Championships in Porto, as top seeds Emily Whitlock and Declan James claimed the titles with straight-game victories in today's finals.

Whitlock, the defending champion, took early control against second seeded Julia Lecoq of France, taking the first game 11/1. Lecoq came close to levelling, but once Whitlock had doubled her advantage 12/10 she resumed control in the third, taking it 11/3 to keep her hands on the trophy.

James' match with compatriot Tom Ford was similar in pattern with the middle game being the toughest, not that any game in an 11/8, 13/11, 11/6 win looks exactly easy.

Declan & Tom on Twitter ...

"Emotional moment to win the European juniors today, really happy with my performance, played well when it mattered #veryhappy.

"Huge amount of respect to @tomford93 we played in great spirits with a lot of respect for each other, the way the game should be played," added the new champion.

"Disappointed with how I played today but @declanjames1 really deserved it man," tweeted Ford straight after the final. "Lets get gold in teams boys!" he added, referring to the team event in which England are top seeds and defending champions, which starts on Thursday.



Team seedings and Pools
PLAYING ORDER: B2-B1-G (5th), B1-G-B2 (6th), B2-B1-G (7th), B1-G-B2 (8th)
02-Apr, Semis:

Boys:
[1] Declan James (Eng) bt [5/8] Jan vd Herrewegen (Bel) 9/11, 11/5, 11/6, 12/10 *
[3/4] Tom Ford (Eng) bt [5/8] Damien Volland (Fra) 11/4, 11/7, 11/7

Girls:
[1] Emily Whitlock (Eng) bt [3/4] Melissa Alves (Fra) 11/5, 11/5, 11/5
[2] Julie Lecoq bt [5/8] Caroline Sayegh (Ger) 11/7, 11/3, 11/6

Game was interrupted early in the fourth as Declan's racquet hit Jan's mouth. Jan was sent to hospital to have some stitches in his gum and the match resumed some two hours later.
English advance in Porto

English hopes of emulating last year's European U19 clean sweep were boosted on semi-finals day when three of their squad made it through to the individual finals and they were named top seeds for the team event which follows.

The women's final sees defending champion Emily Whitlock up against France's second seed Julia Lecoq after both won their semi-finals in straight games, while an English boys' champion is guaranteed after Declan James and Tom Ford also won their last four clashes.
01-Apr, Quarter-Finals:

Boys' Quarters:

[1] Declan James (Eng) bt Rui Soares (Por)
9/11, 11/4, 11/8, 11/7
[5/8] Jan vd Herrewegen (Bel) bt [3/4] Tom de Mulder (Bel)
12/10, 9/11, 11/9, 5/11, 11/8
[3/4] Tom Ford (Eng) bt [5/8] Richie Fallows (Eng)
11/6, 7/11, 12/14, 11/6, 11/3
[5/8] Damien Volland (Fra) bt Claudio Pinto (Por)
11/9, 8/11, 11/4, 8/11, 11/8

Girls' Quarters:

[1] Emily Whitlock (Eng) bt Emilia Soini (Fin)
11/4, 11/5, 11/3
[3/4] Melissa Alves (Fra) bt [5/8] Victoria Temple-Murray (Eng)
11/4, 7/11, 12/10, 11/6
[5/8] Caroline Sayegh (Ger) bt [3/4] Nele Gilis (Bel)
12/10, 11/8, 13/11
[2] Julie Lecoq (Fra) bt Eleanor Lake (Eng)
11/7, 11/7, 11/3



Holland falls in Porto

Most of the top seeds are through to the quarter-finals of the European Under 19 Championships in Porto, the main casualty being Oliver Holland, after the English second seed fell to Portugal's Claudio Pinto 11/4, 11/7, 11/7.

Top seed Declan James was sorely tested too, as he edged past Israel's Daniel Poleshchuk 9/11, 14/12, 11/8, 7/11, 11/4 to reach the last eight, where he meets Portugal's Rui Soares.

While there are three English and two Portuguese representatives in the last eight, Belgium are guaranteed a semi-finalist as Tom de Mulder and Jan Van Der Herrewegen meet in the quarters.

In the Girls' draw defending champion Emily Whitlock is one of three Englishwomen in the quarter-finals, which are scheduled take place later tonight (but there appears to be some rescheduling going on, stay tuned ...)


Competing Teams

Austria, Belgium, Czech Republic, England, Estonia (individual only), Finland, France, Germany, Hungary, Ireland, Israel, Netherlands, Norway, Poland, Portugal, Scotland, Spain, Sweden, Switzerland, Wales.
English expected to profit in Porto ...


The European U19 championships head for Portugal this year, with English players topping the individual draws as they seek to emulate last year's clean sweep in Switzerland.

Then, Declan James lost out in the semi-finals before helping England to team success, but this year finds himself the top seed, with a final against Nottingham team-mate Ollie Holland, the second seed, in prospect. Tom Ford and Tom De Mulder are the 3/4 seeds.

In the Girls' draw, Emily Whitlock is hot favourite to retain her title, with France's Julia Lecoq seeded to meet Whitlock in the final.