Granite Club Open 2012
25-29 Mar, Toronto, Canada, $11k
29-Mar, Final:

[4] Alison Waters bt [1] Latasha Khan 11-3, 11-8, 11-3

Waters on a roll in Toronto

Alison Waters continued her comeback with a second successive title in Canada as she beat top seed Latasha Khan to add the Granite Club Open title to last week's Atwater Cup win.

The Granite Girls report on the final ...

Alison comes out strong, showing no mercy to dominate the first game.

Her amazing gets and terrific volley drops left Latasha scrambling from left to right. In the second game Latasha stepped up her game and gave Alison a run for her money.

The spectators' jaws dropped watching the long, intense rallies. But it was Alison who managed to pull out a close game, going up 2-0. Stepping on to the court for the third game, Alison looked determined to close the game in 3.

Alison punished Latasha with her attacking volleys, tight length, and high pace. Latasha gave it all she had but it was not enough to beat the former world number 3.

With a hold and flick from the back left corner, Alison became the first champion of the hopefully annual Granite Club Open!

The crowd was huge and very appreciative of the high-quality play. Now everyone's enjoying the two free kegs! Cheers !!!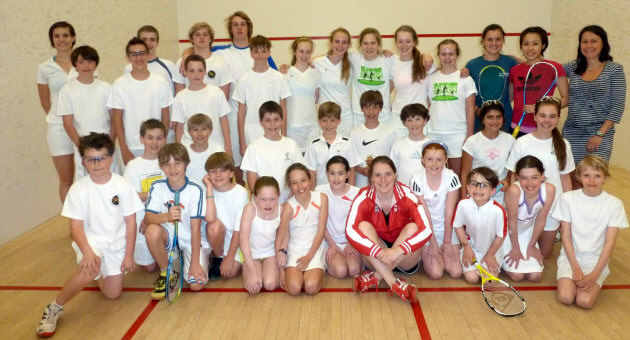 Granite Club Open 2012
25-29 Mar, Toronto, Canada, $11k
Round One
26 Mar from 18.00
Quarters
27 Mar
Semis
28 Mar
Final
29 Mar
[1] Latasha Khan (Usa)
11-9, 14-12, 11-8
[Q] Sarah-Jane Perry (Eng)
[1] Latasha Khan
7-11, 11-5, 11-4, 11-5
[5] Sam Cornett

[1] Latasha Khan

11/4, 12/10, 6/11, 12/10

[3] Misaki Kobayashi

[1] Latasha Khan

11/3, 11/8, 11/3

[4] Alison Waters

[5] Sam Cornett (Can)
5-11, 11-9, 11-6, 7-11, 13-11
[Q] Maria Toor Pakay (Pak)
[3] Misaki Kobayashi (Jpn)
11-9, 11-3, 11-7
Stephanie Edmison (Can)
[3] Misaki Kobayashi
11-7?, 11-3, 10-12, 6-11, 12-10
[Q] Alexandra Norman
[Q] Alexandra Norman (Can)
5-11, 11-3, 11-4, 11-8
[8] Anh Eun Chan (Kor)
Amanda Landers-Murphy (Nzl)
15-17, 11-7, 11-6, 8-11, 11-6
[7] Miranda Ranieri (Can)
Amanda Landers-Murphy
11-7, 11-8, 11-7
[4] Alison Waters

[4] Alison Waters

11/5, 11/4, 11/4

[2] Siyoli Waters

[4] Alison Waters (Eng)
11-2, 11-5, 11-4
[Q] Nayelly Hernandez (Mex)
Tesni Evans (Wal)
11-8, 12-10, 11-7
[6] Olivia Blatchford (Usa)
Tesni Evans
11-8, 12-10, 14-12
[2] Siyoli Waters
Thaisa Serafini (Bra)
11-5, 11-6, 13-11
[2] Siyoli Waters (Rsa)
25-Mar, Qualfying Finals:

Alexandra Norman (Can) bt Alix Younger (Can) 11-5, 11-7, 11-7 (25m)
Maria Toor Pakay (Pak) bt Kristen Lange (Usa) 11-5, 11-8, 11-9 (25m)
Nayelly Hernandez (Mex) bt Alison Richmond (Can) 11-2, 11-4, 11-2 (21m)
Sarah-Jane Perry (Eng) bt Genevieve Lessard (Can) 11-3, 16-14, 11-7 (35m)

25-Mar, Qualifying Round One :

Alexandra Norman (Can) bye
Alix Younger (Can) bt Micaala Seth (Can) 11- 8, 11-9, 11-4 (23m)
Kristen Lange (Usa) bt Hollie Naughton (Can) 11-5, 11-7, 11-7 (20m)
Maria Toor Pakay (Pak) bt Alyssa Mehta (Can) 11-5, 11-3, 11-7 (20m)
Alison Richmond (Can) bt Maia Kirk (Can) 11-5, 10-12, 12-10, 7-11, 11-9 (40m)
Nayelly Hernandez (Mex) bt Seanna Keating (Can) 11-8, 8-11, 11-7, 11-8 (30m)
Genevieve Lessard (Can) bt Madlen O'Connor (Can) 11-3, 11-6, 11-3 (22m)
Sarah-Jane Perry (Eng) bye
28-Mar, Semis:
Granite Club Open Semi-finals

The top seed and the former world number three - the lower seed out of the two Waters on show - came through their semi-finals tonight ...

More Granite Girls

Alison Waters bt Siyoli Waters
11/5, 11/4, 11/4

The battle of the Waters'!

This match started off with Alison, former world number 3, hitting superb length and a few nicks. In the second, Siyoli gave her a harder time with some beautiful drops, a nice hold, and some great dying length, but it wasn't enough to test Alison too much, as she still took the game with confidence.

The third involved some great rallies, lots of ooos and ahhhs from the crowd, but in each one Alison stretched Siyoli over and over again, putting her off balance. We are honoured here at the Granite to have such an amazing player come to our event!

Latasha Khan bt Misaki Kobayashi
11/4, 12/10, 6/11, 12/10

The first game, Latasha came on strong, it must have been because of her pre-game trampolining!

Latasha took the first with great drops and great volleys. The second game, however, was a lot closer and it was back and forth all the way up to 13-11. Latasha stayed in control, and just barely pulled out the second game.

Misaki played really great in the third, with some beautiful drops and great dying length, and some holds! She pulled that one out, and then raced ahead to 6-2 in the fourth.

Latasha made a few mistakes, Misaki made some unbelievable gets and shots, but then once she got up she made a few mistakes. Misaki was up 9-6, and then a few mistakes again put the score to 9-9. Error, 10-9 Latasha. Error, 10-10. Error, 11-10 Latasha.

Great gets by Misaki in the last rally, but Latasha finished the match in style with a fabulous cross kill. .


Also today was the ProAm, where the pros each played with a sponsor! As everyone got more comfortable with the hardball game, the rallies got better and better! I must admit, the so-called "amateurs" had a lot of the cheeky doubles shots that us girls had trouble anticipating! Lots of fun today.


The finals tomorrow show first seed Khan vs former world number 3 Waters. The crowd will enjoy free beer, refreshments, and snacks as they watch this high-quality match.

There will be lots of kids around to learn from the best after their Thursday night training!


27-Mar, Quarters:
Granite Club Open Quarter-finals

There was a lot of action around the Granite Club squash lounge on quarter-finals night ...

More Granite Girls

Siyoli Waters bt Tesni Evans 3-0

The first quarter final saw South Africa's Siyoli Waters take on Tesni Evans of Wales.

The match started off strong with some long rallies and both players executing some fantastic shots and were retrieving a lot of balls.
Tesni fought hard with some great running and retrieving and showed her commitment with a big dive much to the pleasure of the crowd!

She earned herself a couple of game balls however Siyoli dug deep and showed why she is the second seed of the tournament,
closing out a great match, 11-8 12-10 14-12.

Misaki Kobayashi def Alex Norman 3-2

The second match of the evening saw Misaki Kobayashi come out firing and took the first two games quickly before Alexandra Norman fought back from being down 8-10 in the third to take the game 12-10 and get herself back in the match.

Norman seems much more settled in the fourth game racing out to a 4-0 lead. She looked much more composed, and controlled the T well, really working Misaki around the court.

Norman took the game 11-6 to bring the match to a deciding fifth.

The final game saw both players come out strong matching each other point for point

all the way to 10-8 giving Alex the chance to take the match but Misaki wasn't done yet and played some excellent shots under pressure to win the game and match 12-10. 11-7?, 11-3, 10-12, 6-11, 12-10.

Latasha Khan def Sam Cornett 3-1

Next up saw the top seed Latasha Khan of the USA take on Canada's Sam Cornett. Both players showed their class right from the start with some great squash!

Cornett was quickly on to every ball and took a good 1st game 11-7.

At the start of the second Latasha played very patient squash while Sam was coughing up errors to find herself down 6-0.

Latasha kept the pressure on and did not let Sam back in, leveling the match up at one game each. She kept up the good form, giving up few errors and showing the crowd some high-quality squash to take the match.

The first seed progresses through relatively untested to the semi-finals, 7-11, 11-5, 11-4, 11-5.

Alison Waters def Amanda Landers-Murphy 3-0

Looking cool as cucumber, Alison took to the court to face up-and-coming Kiwi Amanda. Previously number three in the world and on a comeback from injury, Alison treated the crowd to some excellent speed, agility, and shotmaking.

She constructed the rallies with low dying length, and made Amanda stretch far into each corner. Her beautiful shots left the audience in complete awe.

However, Amanda didn't let Alison off easy. The rallies were competitive, with Amanda putting Alison in the back, and attacking on every given opportunity. In the second, Amanda was down 7-2, leveled at 7-7 with some amazing shots to the front, but squandered the comeback.

By the end of the third, Alison didn't look any worse for wear, and is now looking to a Waters-Waters showdown tomorrow night. 11-7, 11-8, 11-7.


The squash lounge was chockablock with fans of all ages and levels tonight, and everyone is pumped for the semis!

Tomorrow's semifinal lineup is Latasha Khan vs Misaki Kobayashi and Siyoli Waters vs Alison Waters.


26-Mar, Round One:
Granite Club Open Round One

Tonight's first round matches were an amazing start to the week. With plenty of matches going into extra games, there was a lot of action around the Granite Club squash lounge.
Siyoli Waters beat Thaisa Serafini in straight games but not without Thaisa putting up a great fight in the third, losing it 13-11.

Tesni Evans had the first upset of the night, beating the 6th seed, Olivia Blatchford by a score of 3-0.

Home crowd favourite, Granite Club's own Stephanie Edmison, got the fans going in her match with Misaki Kobayashi. The first game was really close, with Steph losing 11-9 but she lost her patience and Misaki pulled away from her with a quick 11-3 second game. The last game went back and forth a bit but Misaki was able to close Steph out in three.

Alex Norman, a qualifier, was one of two Canadians to make it to the quarter-finals. She upset the 8th seed, Ahn Eun Chan by a score of
3-1.

Granite teaching professional Sam Cornett had the crowd behind her when she played Maria Toor Pakay from Pakistan. The match had everyone on the edge of their seats. Maria won the first game, then Sam came back from 5-1 down in the second to win it 11-9.

Sam looked strong when she took a 2-1 lead but Maria played terrific in the fourth to even the score. In the fifth game, Sam went down 7-4 but kept fighting and finally pulled out the fifth game by a score of 13-11.

All of the fans were very impressed by both of the players.

Latasha Khan, the number 1 seed, won a tight 3-0 over the qualifier, Sarah-Jane Perry. And Alison Waters showed why she used to be ranked #3 in the World, with her quick 3-0 win over Nayelly Hernandez.

The last match of the night kept all of the spectators glued to their seats. Canadian, Miranda Ranieri took the early lead in the match with a hard-fought 17-15 first game win. Amanda Landers-Murphy then went ahead 2 games to 1, winning the second and third 11-7 and 11-6.

Miranda was able to even the match at two all but Amanda played
terrific and pulled away in the fifth winning the game 11-6.

The quarter final matches for Tuesday March 27th start with Tesni Evans v Siyoli Waters at 6pm. Followed by Misaki Kobayashi v Alex Norman, then Latasha Khan v Samantha Cornett and finally Amanda Landers-Murphy v Alison Waters.

We are all looking forward to another great night!




25-Mar:
Granite Club Qualifying

The inaugural Granite Club Open, a new $11k event on the WSA tour, kicked off in Toronto with six first round and four qualifying finals, with plenty of home interest.



The Granite Girls report ...




Alex Norman bt Alix Younger 3-0

Al(i)(e)x squared!

Alix Younger faced off against Alex Norman. The first game started off strong with Norman staying calm, cool, and collected. Few errors were made by either player. Norman managed to pull ahead over Younger who was wearing another purple cocktail dress for the evening match. Younger started off with an early lead in the second, getting up 5-1.

However, many unforced errors let Norman back into the game and she capitalized on this opportunity. The third game was tight, continuously going back and forth. There were lots of errors by both in the beginning rallies. Nevertheless, both girls stepped up their play to end on a positive note.

Norman pulled out the match but it was a well fought battle by both contenders! 11-5, 11-7, 11-7 in 25 minutes.


Maria Toor Pakay bt Kristen Lange 3-0

Starting off the match with a lot of winners from both players, the rallies were very short! The ball is HAWT tonight!

The pace is incredibly fast from both players, despite the casual attitude from Maria. Some amazing gets by both athletes, neither wanting to give up any opportunity to win each rally.

First game is won by Maria 11-5, who walks off the court to be coached by Jonathan Power.

The pace in the second game does not slow. Kristen is loving her boast but it doesn't seem to be fooling Maria. Maria is up again in the second and has her game face on. The two players are hammering their length at each other and Kristen is on a come back with some great kills!

It is very quiet in the audience tonight.

The match finished off much the same way, high paced, and with too many errors from Kristen. 11-5, 11-8, 11-9 in 25 minutes.


Nayelly Hernandez bt Alison Richmond 3-0

As much running as poor Ali could do, it wasn't enough for the Mexican's experienced play. Nayelly worked the points, and let Ali do all of the running corner to corner.

It was great to watch, but there was no questioning Nayelly's dominance in this match. We look forward to more great squash in the future from Ali! 11-2, 11-4, 11-2 in 21 minutes.


Sarah-Jane Perry bt Genevieve Lessard 3-0

Gen and Sarah Jane take to the court as the last match of the night. Both of them are pumped up and ready to go. In the first game both of the girls showed off their powerful kills and smashes!

Sarah Jane managed to close out the first game but had a bit more trouble in the second due to a bundle of unforced errors. The rallies were long and both of the girls played some amazing nicks, and Gen hit some very tight straight length.

Sarah Jane managed to sneak out a win after much back and forth in points (16-14!!). The third game continued the great rallies from the second but it was Sarah Jane who managed to win the match. 11-3, 16-14, 11-7 in 35 minutes.


The crowd is looking forward to lots of great squash tomorrow night as the main draw starts!!



25-Mar:
Granite Club Qualifying Round One

The inaugural Granite Club Open, a new $11k event on the WSA tour, kicked off in Toronto with six qualifying matches, all featuring home interest.



Sam Cornett reports ...




Kristen Lange bt Hollie Naughton 3-0

Kristen won a high paced match against young Hollie. She was in control of all three games, although both players were struggling getting the ball to the back of the court.

There was a lot of attacking, and Hollie had moments of brilliance with some nice, wide, hard shots. But Kristen stopped Hollie in her tracks with a couple dead crosscourt nicks, and picked up where she left off. It was a great match indeed! 11-5, 11-7, 11-7, 20 minutes.


Alix Younger bt Micaala Seth 3-0

The score does not justify the effort displayed in this match. Alix, looking fabulous in her purple gown, took the first two games which were very hard fought by both players only ever having a lead of 1 or 2 points at a time.

The third game was a little faster with Alix taking an early lead and wearing her opponent down. It was quite apparent towards the end that Alix's hard hitting and consistent shot making was all the difference.

It was a great match to watch with game scores of 11- 8, 11-9, 11-4 in 23 minutes.


Alison Richmond bt Maia Kirk 3-2

First up of the three young juniors, 15 year old Ali shows a lot of promise. Ali's style is more of a grinder, and Maia is known for her hands.

The first rally was a glimpse of the match to come! Both girls were going for lots of shots and making a lot of gets. Ali had an amazing get where she slipped and ended up in full splits in the back right corner. However, after a boast from Maia, Ali jumped back to her feet and sprinted to the front left to win the rally! Ali said after the match, "That was not okay, I don't do splits!"

As it turned out Maia made more mistakes in the first game giving Ali the early lead. In the second, Maia pulled away using more pace, and reducing her error count. The third was very close and intense, Maia went up 10-9 and looked in form to win it, but Ali wasn't finished that game yet, and she pulled it back with a great straight drop and a lot of excellent retrieving to take the third 12-10.

The fourth was neck and neck to 5-5, but then Maia pulled away to take it 11-6 with some improved length and smart straight drops, and a couple of tins from Ali. The final game saw Maia always ahead by two until 8-6, when Ali pulled it back to 8-8 with a tin from Maia and a great kill. Maia hit a great boast, then Ali held a crosscourt drop and exploited Maia's increasing fatigue.

Anddddd... a back wall nick for the win for young Ali! 11-5, 10-12, 12-10, 7-11, 11-9 in 40 minutes.

"That was worth getting out of bed for" said Jamie Nicholls ...

Maria Toor Pakay bt Alyssa Mehta 3-0

15 year old Alyssa is one of our top Canadian juniors. The rallies were fast and furious, as both players are very strong on the volley, and love their kills. In the first and second game, the rallies were close and long but Maria dominated.

In the third, Alyssa went for a lot of straight drops, which were very effective against Maria, however too many of them went into the tin.

The players were moving slowly off the ball, so there were a lot of calls to be made. The third game was the closest yet as the scores were tied up at 6 - 6. Although the great effort by Alyssa, Maria pulled away with a few winner boasts winning the match 11 - 5, 11 - 3, 11 - 7 in 20 minutes.


Gen Lessard bt Maddie O'Connor 3-0

15 year old Maddie is a club favourite as she is never seen without a smile on her face. The first game went by quickly, as Maddie put the ball into the tin pretty consistently.

Throughout the match, Maddie was best friends with the tin. The second game, Maddie tried hard for every ball. She managed to pull out a slightly higher score. In the third game, Maddie got too far down and Gen's experience proved too much for Maddie's tenacity. 11-3, 11-6, 11-3 in 22 minutes.


Nayelly Hernandez bt Seanna Keating 3-1

The match between seasoned veteran Seanna Keating and Mexico's Nayelly Hernandez started off at a fast pace. One spectator described the rallies as "thrilling" as both players battled it out in the first with Seanna hitting a few more mistakes than Nayelly.

The second was very intense, but Seanna was able to pull away with some smart and experienced play. Nayelly after adjusting to Seanna'a hard hitting continued to retrieve all of Seanna's ball sneaking out a close 3rd and 4th game. 11-8, 8-11, 11-7, 11-8 in 30 minutes.