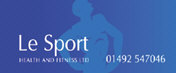 iSquash Grand Prix 2012
17-22 Jun, Rhos-on-Sea, UK, $5k
22-Jun, Finals:
Karim & Emily deliver home double at LeSport

It was a popular home double at LeSport as Karim Ali Fathi and Emily Whitlock won their respective finals ...

WSA English Closed:
Emily Whitlock bt Julianne Courtice 11-6, 11-1, 11-1 (20m)

isquash Grand Prix PSA $5k:
Karim Ali Fathi bt Julien Balbo 11-6, 11-1, 11-8 (55m

The last time the two men's finalists players met was in a PSA $5K final Barcelona in January, but on that occasion, Julien had had a really tough semi the day before. But this time Julien's route to the final had been slightly easier than Karim's after Karim's 70 minute Semi against Dec James the previous evening.

The first game was tough, really close until Karim was able to pull away to an 8-3 lead. The squash was great to watch, a mix of hard hitting, floating and fantastic movement around the court. Julien's backhand drop was devastating, every time he was in front of the young Egyptian he just slotted one in. But Karim's touch at the front was equally brilliant and he won the game on a peach of a forehand drop.

The pace in the second was ridiculous, Karim just piled the pressure on Julien and the 33year old French player just struggled to cope. Karim took the game 11-1.

In the third, Julien regrouped and came out with a new game plan. He slowed the pace right down and managed to move to a 7-4 lead. But Karim adapted his game and extended the rallies, realising that Julien was getting tired. Karim got back to 8 all and despite being on the wrong end of the rallies, managed to win the final points to win the 3rd 11-8. The final point being taken on a lucky boast that rolled out of the nick – which even Karim admitted he didn't go for. But the Colwyn Bay crowd was pleased to have a second home winner of the day.



Phil Whitlock " I was really pleased with the way both Emily and Karim played. It was probably the best I have seen Em play. She constructed some really good rallies and her movement has improved a lot.

Karim's performance was pleasing too. He had a tough match against Dec yesterday and so to come out today and put in a performance like that was great.

His movement has really improved a lot and when he can get out of his cross court hacking mode and be a bit more disciplined, you can see the potential he has. The way he plays reminds me of Peter Marshall – relentless hitting at a ridiculous pace."



First match of the night had Julianne Courtice, former U19 British Champion against Emily Whitlock current U19 British Champion. The match started with some fairly long rallies, Emily seemed a bit nervous playing in front of her home crowd went 6-4 down, but once she had pulled it back to 7 all, she was able to settle down and took the game 11-7.
A bit of a pep talk in between games from Phil, did the trick because in the second she came out with much more discipline, constructing some really mature rallies, taking the game with relative ease 11-1.

It was a similar pattern in the third and although Julianne played some good squash Emily was just too strong.

iSquash Grand Prix 2012
17-22 Jun, Rhos-on-Sea, UK, $5k
Round One
19 Jun from 16.15
Quarters
20 Jun
Semis
21 Jun
Final
22 Jun
[1] Julien Balbo (Fra)
11-5, 11-5, 12-14, 11-2 (70m)
Kevin Moran (Sco)
[1] Julien Balbo
11-5, 11-6, 11-5 (30m)
[Q] Richie Fallows

[1] Julien Balbo

11-7, 7-11, 11-5, 11-2 (50m

[4] Alex Philips

[1] Julien Balbo

11-6, 11-1, 11-8 (55m

[2] Karim Ali Fathi

Michael Harris (Eng)
8-11, 11-6, 11-9, 11-8 (60m)
[Q] Richie Fallows (Eng)
Chris Fuller (Eng)
14-12, 11-3, 8-11, 11-4 (57m)
[Q] James Simpson (Eng)
Chris Fuller
11-5, 11-9, 9-11, 11-9 (61m)
[4] Alex Philips
Steve London (Eng)
10-12, 6-11, 11-6, 11-6, 13-11 (70m)
[4] Alex Philips (Eng)
[3] Ben Ford (Eng)
11-7, 11-7, 11-9 (45m)
Rory Pennell (Eng)
[3] Ben Ford
11-2, 6-2 rtd (15m)
Declan James

Declan James

11-9, 11-8, 11-8 (70m)

[2] Karim Ali Fathi

Declan James (Eng)
9-11, 11-9, 9-11, 11-8, 11-8 (95m)
[Q] Greg Lobban (Sco)
Nathan Lake (Eng)
11-0, 11-8, 11-9 (35m)
[Q] David Haley (Wal)
Nathan Lake
11-5, 11-7, 11-4 (35m)
[2] Karim Ali Fathi
[LL] Phil Whitlock (Eng)
11-4, 11-3, 11-4 (30m)
[2] Karim Ali Fathi (Egy)
18-Jun, Qualifying Finals:

Greg Lobban bt Daniel Hockborn 11-4, 6-11, 11-7, 11-7 (45m)
James Simpson bt Hugo Varela 12-10, 11-9, 11-2 (25m)
David Haley bt Phil Whitlock 11-7, 5-11, 11-8, 17-11, 11-7 (69m)
Richie Fallows bt Mark Fuller 9-11, 11-6, 6-11, 11-7, 11-5 (80m)

17-Jun, Qualifying Round One:

David Haley (Wal) bt Alex Whittle (Eng) 11-3, 11-7, 11-6 (21m)
Phil Whitlock (Dad) bt Alex Preston (Eng) 11-6, 10-12, 2-11, 13-11, 11-5 (50m)
Hugo Varela (Esp) bt Matt Sidaway (Eng) 7-11, 11-6, 12-10, 11-6 (70m)
James Simpson (Eng) bt Nick Mulvey (Eng) 11-7, 11-9, 11-7 (30m)
Greg Lobban (Sco) bt Andrew Faragher (Eng) 11-2, 11-1, 11-3 (17m)
Daniel Hockborn (Eng) bt Liam Gutcher (Eng) 11-4, 11-8, 11-5 (30m)
Richie Fallows (Eng) bt Stuart Hadden (Irl) 11-6, 11-4, 11-3 (25m)
Mark Fuller (Eng) bt Alex Pendleton (Eng) 11-7, 11-3, 11-4 (30m)
22-Jun, Finals:
Fathi and Whitlock deliver LeSport home double ... details to follow ...

21-Jun, Semis:
Top seeds to contest Rhos final
Emily Whitlock reports from Le Sport

Julien Balbo bt Alex Philips 11-7 7-11 11-5 11-2 (50m

Balbo bests Phillips

The first men's semi final of the night saw the number 1 seed Julien Balbo playing 3/4 seed Alex Philips. In the first game Julien was just a bit too solid and Alex made too many mistakes.

But the second was a different story.

Both started well but Julien hit a bad patch in the middle of the game and Alex took the opportunity to extend the rallies. Julien lost his intensity and Alex was able to close the game out 11-7.

In the third, both started well again, but Alex began to go too short too soon and stopped extending the rallies enough so that Julien was able to just pick him off.

The fourth, saw the matches Alex had played earlier in the tournament catch up with him and Julien was able to close out the game and match 11-2.

Karim Ali Fathi bt Dec James 11-9 11-8 11-8 (70m)

Fathi wins 3-0 marathon

The second men's semi final was anything but comfortable! The first rally was monumental with Dec taking that point and then three similarly long rallies ensued and Dec found himself 4-0 up.

The ball was being struck with SO MUCH PACE the crowd couldn't believe the noise it was making on the front wall! Dec took a 6-1 lead with Karim hitting the tin far too many times. Karim then got his act together and started taking a few points.

Both players were playing really well and trading points until they reached 9-9. Karim took the next point to make it 10-9 and the first time he had lead during the match and then managed to win on his first game ball.

The second started in the same vein as the first with both players attacking at every opportunity and moving around the court well. There were a few contentious decisions and it was a bit stop/start with a lot of 'lets' with both the players virtually taking it in turn to score points. But then at 8-8, just as in the first game, Karim managed to string enough points together to take the game.

The rallies in the third game were just as long as the two previous games with the players moving each other all over the court. There were quite a few opportunities for both players to have played counter drops to put more pressure on their opponent but they didn't and so the rallies were extended..

After 70mins of high paced squash it was Karim who was able to take the last 3 points from 8-8 to win the match in 3 ridiculous games! Since they last played a tournament at the club, both players have improved and it was good for the members to see such an exciting game!

"Really pleased to be in my second PSA final at Le Sport," said a delighted Karim. "Hopefully I can take the title this time in front of my 'home crowd'!"

Dec tweeted: "Lost a 70 minute 3-0 tonight against Karim, gave a good account of myself I felt and went punch for punch. Gutted but the only way is up."

English Closed WSA Challenger

Running alongside the PSA event is the English Closed WSA Challenger, which, as you might expect, also features home interest with two British Junior Champions reaching tomorrow's final ...

Julianne Courtice bt Catherine Finlayson 11-4 11-3 11-7(30m)

Former British u17&19 Champion Julianne Courtice took charge of the match from the first game. Despite studying physiotherapy in Manchester, Julianne is still playing really good squash and it was really a one-sided affair.

Emily Whitlock bt Lauren Tamila 11-2 11-4 11-2 (20m)

It must have been difficult for Lauren, playing the world no.32 at her home club, but she wasn't fazed and played well from start to finish. The points tally doesn't really reflect how well Lauren played, as Emily was just able to control the match.



20-Jun, Quarters:
Three out of four seeds into Rhos semis
Emily Whitlock reports from Le Sport

Three of the top four seeds reach the semi-finals in Rhos, with a popular win for Le Sport's own Karim Ali Fathi to keep home interest alive ...

Julien Balbo bt Richie Fallows 11-5, 11-6, 11-5 (30m)

A tired Richie Fallows stepped onto court this afternoon against the number 1 seed Julien Balbo to see if he could produce another tournament upset.

He started well, happily rallying with the experienced Frenchman and slotting away anything loose.

But at 3-1 up, you could see the young junior tiring and no matter how hard he tried he just couldn't keep it up today.

Richie's playing in the Pioneer Junior Cup in Cologne this weekend and starts on Friday, he'll certainly have a well-deserved rest day of travelling tomorrow!

Alex Philips bt Chris Fuller 11-5, 11-9, 9-11, 11-9 (61m)

This match between two solid players was the only "lengthy" match of the evening!

Both played well (at least, I thought that anyway!) and from the start they tried to keep the rallies going and work each other around the court but Alex who seemed to have the edge over his hardworking opponent and progressed through as the next seeded player to reach the semi finals against Julien tomorrow.

Dec James bt Ben Ford 11-2, 6-2 rtd (15m)

Sadly there's not much to report here apart from Ben didn't look to be "all there" really and retired halfway through the second…

Karim Ali Fathi bt Nathan Lake 11-5, 11-7, 11-4 (35m)

In the words of Dec James "Karim's game is just pure aggression".

I can't deny it, it's true! He just attacked from start to finish and Nathan resisted as much as he could, but just didn't seem to have the same amount of pace as the Egyptian.

Last time these two played, it was at a junior tournament two years ago with Nathan winning 3-2, Karim's definitely improved since then and it showed through his ability to literally kill the ball away at every opportunity.

To the delight of his "home" crowd, he advanced through to the semis in three well-contested games and will hopefully have a good match with Dec who is also coached by Phil!



18-Jun, Round One:
End or the road for Whitlock
amid Le Sport first round marathons
Emily Whitlock reports from Le Sport

Julien Balbo bt Kevin Moran 11-5, 11-5, 12-14, 11-2 (70m)

First match onto our glassback court was the tournament's top seed Julien Balbo playing Scottish youngster Kevin Moran. The first two games were similar in terms of closeness, hard rallies and lots of running around from both players!

Julien just looked the stronger candidate despite Kevin's resistance. Kevin got off to a really good start in the 4th game, leading 6-2 then 9-4. But after some monster rallies and a few 'dodgy' decisions from the referee, the Frenchman equalised and managed to get his first match ball at 10-9. Kevin wasn't going down without a fight though and saved the matchball to get his first game ball at 11-10!

With good retrieval and brilliant play from both guys (especially at the front left, where most of the rallies were being won!), Kevin secured the 4th game 14-12 after 2 nicks at the back then the front. A possible comeback looked to be on the cards for the Scot, sadly however, he couldn't keep it up and as tight as the rallies were, Julien just had the edge and progressed through to the quarter finals.

Ben Ford bt Rory Pennell 11-7, 11-7, 11-9 (45m)

This was our first match on court one for this evening. The rallies were a tad scrappy from the beginning from both players but eventually, as the game (and rallies!) went on; Ben began to execute more shots when he got the chance. Despite his best efforts and coming back from 7-3 down in the 3rd game, Rory couldn't finish the rallies off like his opponent.

Richie Fallows bt Mike Harris 8-11, 11-6, 11-9, 11-8 (60m)

Mike got off to a 6-1 lead and it looked as though Richie may have been tired from yesterday's brutal encounter with Mark Fuller. Turns out it was just a bad start as he got into the game and came back – a little too late maybe as Mike ran away with the first game. Richie wasn't coming off court without a fight as he took the next three close games after winning some majorly tough rallies!

It's always good watching Mike play, although he made numerous errors today, whenever he's losing he doesn't stop complimenting his opponent's shots and calling his own shows down or out. Richie played well and his training for the World Juniors must be paying off!

Richie: "Although I won, I'm not feeling too good! I'm really tired but also really happy! I need to push on for tomorrow and hopefully I can do well."

Chris Fuller bt James Simpson 14-12, 11-3, 8-11, 11-4 (57m)

Chris started off the match off as he always does; making sure he works his opponent around the court. There were long rallies - the fact that the court being hot and bouncy that probably didn't help!

It was a crucial first game, big game to win and when James came out making lots of mistakes in the 2nd it almost looked to be the end of his tournament run. He did come back to win a tight 3rd game, but like I said, Chris works his opponent around the court and tired James out who then eventually tired and made errors.

Dec James bt Greg Lobban 9-11, 11-9, 9-11, 11-8, 11-8 (95m)

The longest match of the night was a good one! As the score suggests, it was a pretty close encounter with both players attacking at every opportunity this looked to be an interesting match. Greg was moving well and picking everything the 2012 European u19 Champion threw at him!

Although the court was warm and the ball was bouncy both players were trying to lob and drop, to keep the ball in the corners. What separated them was the number of winners each player made and unfortunately for Greg, he just fell short on making the quarters tomorrow. But considering he's only been 'pro' for 2 months, I think he's off to a good start!!!

Nathan Lake bt David Haley 11-0, 11-8, 11-9 (35m)

It appeared as though David got off to quiiite a slow start in the first, he just couldn't get going, tired from yesterday probably but David must have regrouped after the first game to give the 2011 European u19 Champion a run for his money in the second!

There were long rallies, tight drives and some great drop shots coming from both players, but as much as David tried to keep Nathan on court and never gave up – coming back from 5-10 matchball down in the third to 9-10, it was the Englishman who came through to win in three games.

Alex Philips bt Steve London 10-12, 6-11, 11-6, 11-6, 13-11 (70m)

Over on court one was another 5-setter between two English players who both chased everything down and did their best not to give anything away. Yet again, the court conditions were hot and bouncy which could explain the length of the rallies but it was Alex who managed to dig deep and come from 2 games down and grind it out in the 5th to progress through to tomorrow's quarter finals. "Never in doubt," said Alex.

Karim Ali Fathi bt Phil Whitlock 11-4, 11-3, 11-4 (30m)

I think my dad is the first person to get the 'lucky loser' spot and not want it!! You could see why, he was shattered after his match yesterday.

But, being the competitive man he is, he didn't want to lose!! Despite the heavy breathing and the long walk back to the service box in between points, Phil gave it everything he had.

Yet again, there was disciplined squash; tight and straight from both players interspersed with those grunts that old people make when they get up from their armchair – only this time it was Phil lunging for drop shots!

Out came the lob serves, which yet again, caught a young professional out as it died away in the back corner.


18-Jun, Qualifying Finals:
Lucky Phil ...
Greg Lobban bt Daniel Hockborn 11-4 7-11 11-7 11-5 (45mins)
First on court were two young players both hoping to qualify for their first PSA Challenger 5 event. Both started nervously and it was a bit of a scrappy match to start with, the ball landing in the middle of the court quite a lot.

Greg took the first game relatively comfortably but then Daniel regrouped and came back to take the second. Better quality squash ensued and Greg became more disciplined and slotted away winners when he had the opportunity. So it was Greg out of the 2 newcomers to the circuits who qualified for his first main draw.


James Simpson bt Hugo Varela 12-10 11-9 11-2 (35mins)

Next match on court was the shortest match of the night. Like yesterday James played quite a solid game and just had the edge over his opponent in the first two games. Once James got a 5-1 lead in the third Varela realised he was staring at defeat and almost let his opponent take victory to get his place into the main draw.


David Haley bt Phil Whitlock 11-7 5-11 11-8 7-11 11-7 (69mins)


The match that everyone was waiting for. Phil was back in action, but would he be able to walk let alone play! Compared to the previous 2 matches this match started with well disciplined squash. Lots of tight straight rallies, but you wouldn't expect anything else from 50year old Whitlock.

David was able to out manouvre Phil in the first. It was clear that Phil was still recovering from his efforts the day before. But in the second, Phil played much better, burying David in the back corners. Phil's use of the lob serve was really effective and the variety of his game is still there even if his legs don't move as fast as they use to.

To the delight of the crowd Phil was back in the match, taking the second game. It was nip and tuck in the 3rd, both players trading points to 8 all. But David was able to pull away to finish the game off. The well-disciplined squash was great to watch and the club members still enjoy watching Phil compete with the youngsters and it was Phil who took the fourth game to level the scoreline.

Unfortunately for the members (and Phil!) he couldn't keep up with David and fell short in the 5th. (Funny thing is of course, due to James Earles pulling out of the main draw there was a lucky loser spot up for grabs….and guess who got it..!)


Richie Fallows bt Mark Fuller 9-11 11-6 6-11 11-7 11-5 (80mins)

Last match of the night was of course the longest! Mark was trying to use his experience to work Richie around the court and Richie was just trying to grind it out. On paper the England junior wasn't expected to win so he had nothing to lose…and it showed.

He counteracted Mark's tactics and managed to dig deep and come back from 2-1 down to get leads in the fourth and fifth games. It was a shame most of the spectators had gone by the time the match finished, but it was 9.30pm and it wasn't exactly the prettiest match but both players were just doing their best to qualify.

Eventually Richie got his belated birthday present as he qualified for his first PSA event in his first PSA tournament!


17-Jun, Qualifying Round One:
Phil to the Rescue ... twice!

It was a mixed day for the locals as the iSport Grand Prix got under way at the Le Sport club in Rhos on Sea, with all but one of club staff and members falling by the wayside. But the sole success was worth waiting for ...

Emily Whitlock reports from Le Sport

David Haley (Wal) bt Alex Whittle (LeS)
11-3, 11-7, 11-6 (21mins

First match of the tournament on our glassback court was Welsh pro Dave Haley against staff member Alex Whittle!

Alex was a tad nervous at the beginning but once he settled into it with the crowd behind him, he played a lot better. But overall, Dave was much more solid than Alex and came out the winner.

The members love it when a club favourite gets to play professional players in these tournaments and this match didn't disappoint!

James Simpson (Eng) bt Nick Mulvey (Eng)
11-7, 11-9, 11-7 (30mins)

Whilst Alex was entertaining the members on the glasscourt, on court one a more experienced James Simpson had the upper hand over England junior Nick Mulvey.

There were really good rallies and generally, as the scores suggest, it was quite close. But you could tell Nick was still a junior with most of the rallies ending on errors coming from his racket. He dug in though, and chased every shot his opponent played. James had slightly more reach (that might have something to do with his height?!) and delayed quite a lot, leaving Nick to scramble around the corners.

Unfortunately for Nick, James played a solid game and got through in three games.

Mark Fuller (Eng) bt Alex Pendleton (LeS)
11-7, 11-3, 11-4 (30mins)

Up next was another club favourite (and my training partner!) Alex Pendleton playing against a regular participant in our tournaments Mark Fuller!

Alex has improved a lot recently (must be something to do with his training partner…..) and played well, trying to play with maturity and get a good length before attacking. In each game the score would be level until Mark managed to break away from the steadiness and finish off the rallies.

Alex did start to make mistakes towards the end, but there were some brutal rallies! Shame he couldn't quite finish it off the way Mark could but hey, it was a good experience for him and the members enjoyed watching him play to a really high level and showing why he is one of the best juniors in Wales.

Greg Lobban (Sco) bt Andy Faragher (LeS)
11-2, 11-1, 11-3 (17mins)

Andy Faragher stood in at the last minute due to the withdrawal of Ashley Davies but he found the going really hard with the up-and-coming Greg Lobban too much for him to handle! Although it wasn't the longest match, the Le Sport crowd always enjoy watching one their own.

Phil Whitlock (Dad) bt Alex Preston (Eng)
11-6, 10-12, 2-11, 13-11, 11-5 (50mins)

We thought this match was going to be delayed. Whilst warming up, Phil was called by the staff as there was an emergency! It turned out that John Fallows, Richie's Dad had got locked in the toilet. But it was Phil to the rescue as he obliged by getting a screw driver so that John could unscrew the lock which had decided to lock itself for no reason!

But back to the squash…….. we weren't even sure Phil would play today because he had spent so little time on court over the past few weeks . However, with so many withdrawals at the last minute, he didn't really have a choice! Good thing he did, because this was probably the crowd's favourite match of the day!

Phil made a good start taking the first game and leading 10-9 in the second, but it was evident that the 50 year-old legs were rapidly running out of juice. He lost the second when Alex stepped up the pace and produced some hard hitting squash. Phil then all but collapsed in the third as Alex kept the pressure on.

But Phil hates losing and continually reprimanded himself for making unforced errors in the 4th – 8 in total. He seemed to get a second wind towards the end of the game and his racket ability saw him through producing some ceiling hugging lobs. He managed to scrape the 4th 13-11.

The 5th was going to be interesting, but by now Alex was tiring too and started hitting the tin a bit too frequently. Phil came out the winner 11-5, but quite how he managed to muster the energy after the first game and a half when he looked totally shattered, no one knows!

So Phil to the rescue a second time – the home crowd would have been devastated to see no club players through to the qualifying finals, but will the body hold out tomorrow????

Hugo Varela (Esp) bt Matt Sidaway (Eng)
7-11, 11-6, 12-10, 11-6 (70mins)

To be completely honest, I thought I might have missed this because Dad took a while, but I came over to court one to find that Spaniard Hugo Varela had taken the length of Phil's match to go 2-1 up over top England junior Matt Sidaway!

Although I got filled in on the action from one the members who had been watching, and like the fourth game, there were looooong rallies but unlike the previous games, Matt made way too many errors, letting Hugo run away with the game slightly.

At 10-4 down, there were signs of a comeback with Matt hitting two nicks to back to 6-10 but it was too late as the steadier player got on top to win a grueling 70minute match in 4 games.

Painful…

Richie Fallows (Eng) bt Stuart Hadden (Irl)
11-6, 11-4, 11-3 (25mins)

Birthday boy Richie Fallows started well, volleying anything he could and showing why he's going to Qatar for the World Junior Champs in July.

He used the four corners well and to the frustration of his opponent, only needed 3 fast-paced games to progress through to tomorrow's qualifying finals matches. (HAPPY BIRTHDAY RICHIE!!)

Daniel Hockborn (Eng) bt Liam Gutcher (Eng)
11-4, 11-8, 11-5 (30mins)

With Danny taking an 8-4 lead in the first game, you could see where this was going. He started well, volleying and creating pressure for Liam by making no errors and running everything down.

He took the game with class and it looked to be quite comfortable. But Liam had different ideas. He got a good start in the second, battling his way around the court scraping Danny's attacking kills to get a 6-3 lead.

But Danny steadied and got himself back to 6-6 and from there it was close, but somehow the Geordie had the edge and managed to sneak a 2-0 lead.

The third was a repeat of the first game. Danny taking control; Danny winning, much to the disappointment of his friend.





Success for birthday boy Richie Fallows