Ixi Open 2011
13-16 Oct, Pardubice, Czech Republic, $5k
16-Oct, Final:
[4] Eddie Charlton (ENG) bt [1] Dylan Bennett (NED)
11/3, 11/6, 11/5 33 min.

Eddie wins maiden title in Pardubice

Eddie Charlton won his first PSA title of his career today in Pardubice. He was able to beat top seeded Dylan Bennett in straight games. Eddie played very accurate and tight squash and was able to keep Dylan behind him and dominate the middle of the court. Dylan wasn't moving very well and his defence wasn't tight enough.

Eddie was in the lead from the beginning. He won the first game quickly 11/3 in just 7 minutes. In the second Dylan tried to give it a push.

Score was close in the first half but Eddie moved from 5/4 to 11/6 to get 2/0 lead. In the third Dylan got in front for a while. He led 5/3. Then Eddie got to 6/5. It was quite close at that moment. Eddie won the point after 4 lets and quickly raced to 10/5 matchball. He was able to use his first chance and could start to celebrate his first PSA tour title.

Eddie: Very pleased. I felt like I played really well. Dylan didn't
play as well as he can but I'd like to think that was down to me.
This is my first title so it obviously means a lot. I put in a good
summer's training and it's nice to see some rewards.

Thanks has to
go to all the people who are helping me with my game (they know who
they are!). Thanks to my parents for their support and finally to my
girlfriend Emma who puts up with me!

Tomas and all the people here
at the ixi club have made it a great event and I look forward to
coming back in future.

Dylan: I felt OK going into the final but quickly I noticed I wasn't
moving well and was very short in my backgame. All credit to Eddie
who played smart.

We would like to thank all the people who helped club owner Vladimir
Zamastil and me to run the event. Special mention should go to our
main sponsor TRITON.
Ixi Open 2011
13-16 Oct, Pardubice, Czech Republic, $5k
Round One
14 Oct
Quarters
14 Oct
Semis
15 Oct
Final
16 Oct
[1] Dylan Bennett (Ned)
11/2, 11/7, 11/3 (25m)
Philip Nightingale (Eng)
[1] Dylan Bennett
8/11, 11/4, 11/8, 10/12, 13/11 (80m)
Chris Fuller

[1] Dylan Bennett

11/5, 11/9, 11/13, 11/8 (67m)

Joan Lezaud

[1] Dylan Bennett

11/3, 11/6, 11/5 (33m)

[4] Eddie Charlton

Chris Fuller (Eng)
12/10, 11/5, 11/1 (42m)
[Q] Florent Pontiere (Fra)
Joan Lezaud (Fra)
12/10, 11/3, 11/4 (43m)
[Q] Lucas Serme (Fra)
Joan Lezaud
3/11, 11/4, 12/10, 12/10 (64m)
Ben Coleman
Ben Coleman (Eng)
11/8, 6/11, 11/6, 11/1 (53m)
[3] Aqeel Rehman (Aut)
[4] Eddie Charlton (Eng)
11/3, 11/4, 11/6 (35m)
Bart Ravelli (Ned)
[4] Eddie Charlton
4/11, 11/3, 13/11, 11/9 (68m)
Amr Swelim

[4] Eddie Charlton

11/1, 11/1, 7/0 rtd (23m)

[Q] Geoffrey Demont

Amr Swelim (Ita)
11/6, 11/9, 11/6 (34m)
[Q] Reiko Peter (Sui)
Sebastian Weenink (Ned)
11/9, 11/8, 8/11, 11/8 (67m)
[Q] Geoffrey Demont (Fra)
[Q] Geoffrey Demont
12/10, 11/4, 11/3 (40m)
[LL] Lukas Jelinek
Zbynek Standera (Cze)
15/13, 11/4, 11/7 (47m)
[LL] Lukas Jelinek (Cze)
Qualifying finals
Geoffrey Demont (Fra) bt Lukas Jelinek (Cze) 11/6, 9/11, 11/6, 11/3 (55m)
Reiko Peter (Sui) bt Ondrej Ertl (Cze ) 11/7, 11/5, 11/4 (33m)
Lucas Serme (Fra) bt Roman Svec (Cze) 11/7, 11/7, 12/10 (35m)
Florent Pontiere (Fra) bt Wojciech Nowisz (Pol) 11/8, 12/10, 11/3 (51m)

Qualifying Round One:
Lukas Jelinek (Cze) bt Petr Martin (Cze) 7/11, 11/5, 11/4, 11/9 (52m)
Ondrej Ertl (Cze) bt Jonathan Geekie (Sco) 11/5, 11/2, 11/3 (32m)
Roman Svec (Cze) bt Jakob Dirnberger (Aut) 12/10, 12/14, 5/11, 11/9, 11/9 (65m)
Wojciech Nowisz (Pol) bt Lukas Levinsky (Cze) 10/12, 11/6, 12/10, 11/6 (37m)
Florent Pontiere (Fra) bt Martin Svec (Cze) 11/13, 11/3, 11/8, 11/5 (54m)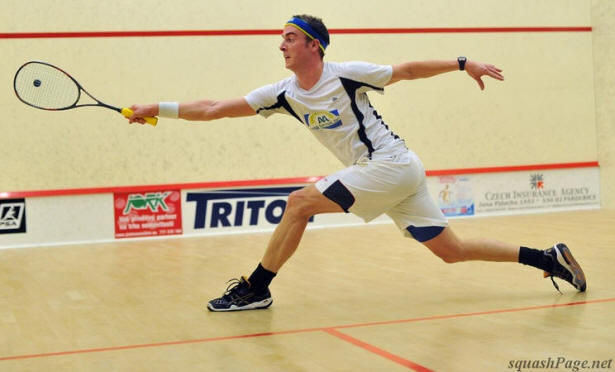 15-Oct, Semis:
Bennett and Charlton in Ixi Final

Top seeded Dylan Bennett will face fourth seeded Eddie Charlton in
tomorrow's final after they won in contrasting styles today.

[1] Dylan Bennett (Ned) bt Joan Lezaud (Fra)
11/5, 11/9, 11/13, 11/8 (67m)

Dylan started the match very well. He dominated the rallies with his hard hitting and volleying. He quickly raced to 7/2 and closed the first game 11/5 in just 8 minutes. Joan played better in the second.

Dylan became a bit impatient, went for a few shots and missed them. Joan got to 7/5 but Dylan was able to come back and win the game 11/9. In the third Joan was always in the lead. He led 7/3, 8/5, 9/7. At 10/8 he had two gameballs.

Dylan saved them and got his first matchball at 11/10. But Joan was able to win next three points and force the fourth game. He started the fourth better again but Dylan used his experience and was able to come back from 2/5 to 9/7 and at 10/8 he was able to use his first matchball of this game.

Dylan:
I think I played better today. My defence was a lot better than yesterday and I was moving well. Happy to be in the final tomorrow.

Joan:
Tactically I played like junior today. Dylan had a good defence and played better than me today. All credit to him.

[4] Eddie Charlton (Eng) bt [Q] Geoffrey Demont (Fra)
11/1, 11/1, 7/0 rtd (23m)

In the second semifinal Eddie Charlton started to move Geoffrey Demont around from the beginning. It was obvious that hard matches from previous days took all the energy from Geoff.

He tried to stay in the rallies but Eddie was controlling them easily. He won both first and second game 11/1 as Geoff visibly struggled to move. At 0/7 in the third Geoff gave up and offered his hand.

Eddie: I knew he'd had a hard day yesterday and I wanted to make him uncomfortable from the outset. I felt more comfortable on court today and played with more purpose than yesterday. Looking forward to the final.

Geoff said to me he got sick yesterday and only slept for couple of hours at night. This combined with his previous difficult matches was just too much for him.

Photos by
Irena Vanisova
14-Oct, Quarters:
Bennett survives as two French make Czech semis ...

Top seeded Dylan Bennett got through to the semis after longest match of the tournament so far. It took him 80 minutes to beat Chris Fuller who just missed on miraculous comeback as he came back from 5/10 to win 12/10 in the fourth and in the fifth he came back from 6/10 to 10/10, then he saved his 10th matchball at 10/11 but Dylan played two great shots to win the game 13/11 and match 3/2.

Dylan: Terrible!

Chris: I played well in patches. Against Dylan thatīs always how it will be… patchy with so many decisions! When I came back in the fifth I thought I could win but today it wasnīt to be. Next time…

In second semifinal Ben Coleman started really well to win the first. Joan Lezaud started to control the rallies and keep Ben behind him in the second to level at 1/1. Third and fourth game were both very close but Joan kept his nerves better and won both of them 12/10.

Joan: I was very confident with my racket in my first match but not in this one. I was very shy. At the end I won because I played a bit faster than Ben. At 10/10 in the fourth I was lucky he lost his focus. He made two strange mistakes and gave me the final two points.

Ben: I played well. It is frustrating losing in such a close match. I felt I had some decisions go against me at important times. Overall I am quite happy. Nice place. Good tournament.

Amr Swelim won the first against Eddie Charlton surprisingly easily. Eddie changed his game and came back strong to level. The third was crucial. Eddie was able to save gameball at 9/10 to win 13/11. The fourth was close again. Eddie started better but Amr came back to level. At the end Eddie played the decisive point better.

Eddie: I am pleased to get through. He is a good player with some very good deception. In the first I struggled to read him but felt like I changed my game and adapted well. Looking forward to tomorrow.

Amr: I did not play very well today. I just played negative squash. I did not do much with the ball. I wasn't positive at all. I played balls with no point. I am not happy at all with the result.

Lukas Jelinek looked like he really wanted his revenge against
Geoffrey Demont [they played in the qualifiers] at the start. He got to 10/5 but Geoff was able to come back to win 12/10. That was a decisive moment of the match. After that Lukas lost his confidence and Geoff was always in control.

Geoff: I am more than satisfied with my squash today. I had a good battle against Sebastian in my first match. It took a lot of energy out of me. It was mentally difficult to play second match in the evening after such a long match. Against Lukas I was a bit slow in the first. I made too many unforced errors. When I was 5/10 down I just wanted to keep the ball at the back and wait for his mistakes.

I stayed focused on it and it worked. I tried to do the same thing at the start of the second and third as well. I tried not to give away easy points and I did very few mistakes. It was a bit weird to play Lukas again but he is very fair player and I enjoyed both our matches. I am very happy to be in the semis. My bed is waiting for me now.

Lukas: Well, it wasnt just a bad luck yesterday, was it? I canīt complain though. I was actually feeling a bit sorry for some other boys who had a tougher draw. To get a lucky looser spot and play wild card thatīs some luck. The other players would probably deserve it more. Geoff was just too strong for me. I wish him a good luck.
13-Oct, Qualifying:
Who'd be an Organiser ???
Tomas Forter reports on a difficult day in Pardubice ...

When I checked my e-mail in the morning I found out Piedro Schweertman from the Netherlands got injured last night during his league match at home and had to pull out. PSA rule says no. 1 qualifier will take his place in the draw. It was Zahed Mohamed from Egypt. The trouble was I haven't heard from Zahed at all. He never asked for visa letter (all the Egyptians in the past always asked as they need visas to get to Czech republic). He did not sent me his arrival details although I asked him few times. I was not sure if he was coming or not.

I texted Lucie Fialova (she used to live in Egypt and knows a lot of players there) to see if she could help to find out anything about him. She texted Amir Wagih about it. He tried to phone Zahed but he was not available. He then spoke to Zahed's father who told him his son was injured and would not come.

So I knew he would not come but I did not know it officially. It meant he still moved to main draw and the PSA office had to redraw the qualification. I told all the players here about the changes in the draw. After half an hour I got the call from Sheila from PSA that she managed to contact Zahed's father who confirmed his son would not come. Now it became official.

It meant Phil Nightingale now moved into the main draw and the redraw of the qualification had to be done again. I told the players there would be another redraw and we all waited at my computer for an e-mail from PSA office with a new draw. It came in some 10 minutes before the matches were supposed to start.

The matches then went pretty easily compared to what we had to get through in the morning. Lukas Jelinek, Ondrej Ertl and Roman Svec scored a good wins to get to the finals so we were happy we had Czech interest in 3 of the 4 qualification finals.

After a few hours another e-mail from PSA came in saying Laurence Delasaux (second seed in the main draw) was ill and would not come.

It meant there would be a lucky loser in the main draw playing with wild card and local boy Zbynek Standera (who was very happy when he learn the news).

Unfortunately the seeded players were too strong for Czech boys in the finals and all of them lost. Lukas Jelinek got tired in the third and fourth against Geoffrey Demont. Roman played well against Lucas Serme but he was just too good for him. Reiko Peter was too strong against Ondrej Ertl. Florent Pontiere beat Wojciech Nowisz in very long 3 games full of very long rallies. Lukas Jelinek was a no. 1 lucky loser so he will play against Zbynek Standera tomorrow.



I am happy to reach the main draw. I started well. I tried to put a lot of pressure on Lukas and it worked. I did some mistakes during the second game and that's why I lost it. I tried to play more straight to the back and to make him tired because I knew he played long match in the morning against Petr Martin. I kept the pressure point by point. I saw he was tired and I started well in the fourth and I managed to win. Maybe we will play again tomorrow for revenge if we both win in the first round.



I am pretty satisfied with the way I played. He was hitting the ball really hard which was difficult for me. But I was able to move him in the important rallies and I think that's why he was getting a bit tired at the end. I am looking forward to the main draw tomorrow.



It was difficult to win my second match because my opponent ran a lot. I don't trust my game at the moment so I keep the ball at the back and don't do much with it. I am happy to win in three. Tomorrow I have to attack more if I want to do win against Chris Fuller.



I am happy to get through. I was lucky Roman was tired from his match earlier on in the day. I struggled to get used to the court. I couldn't find my length on the court. I did not get used to the bounce of the ball but I still managed to keep the rallies going and win the match. I really don't mind who I play tomorrow (he drew another Frenchman Joan Lezaud).