SE Leisure Kent Open 2012
26 Jun - 01 Jul, Maidstone, UK, $10k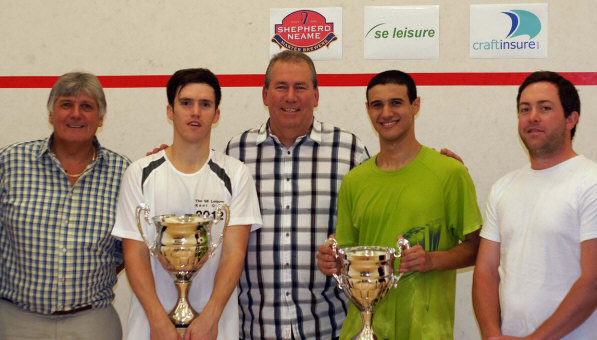 FINAL: [1] Chris Simpson (Eng) bt Karim Al Fathi (Egy) 11-8, 11-6, 11-5 (45m)
SOLID SIMPSON WINS KENT OPEN TITLE
Alan Thatcher reports

Top seed Chris Simpson produced a stylish, professional display to crush the resistance of talented young Egyptian Karim Ali Fathi to win the SE Leisure Kent Open final at The Mote Squash Club in Maidstone.

Simpson, the world No.43 from Harrogate, enjoyed long spells of dominance throughout the match. His immaculate length and width denied Ali Fathi the opportunity to attack with an accurate game-plan that worked to perfection.

From 0-2 down in the first game Simpson powered ahead to 8-3 and he weathered Ali Fathi's best spell of the match to win 11-8.

The 19-year-old Ali Fathi had entertained the packed gallery all week with some dazzling kill shots and superb drop shots but he was unable to find the openings he so desperately needed.

Simpson's intelligent tactics generated an early 5-1 lead in the second and although Ali Fathi hit back to reach 6-7, the Channel Islander took control again when it mattered to win 11-6.

The third game mirrored the first. Ali Fathi won the first two points but Simpson won six in a row to put himself in the driving seat.

Ali Fathi had a glimmer of hope at 4-6 but Simpson's next surge of points took him to match ball at 10-4. Ali Fathi refused to surrender but after two points from the Egyptian Simpson closed out the match to claim his first Kent Open title.

"I have seen Karim play all week. He is obviously a very dangerous player who can hit winners from a variety of positions. So my tactics were to try to keep him quiet and not let him get in front, where he is so dangerous.

"He was getting frustrated and when I saw him slow-balling down the backhand wall it was clear that he was being forced to do something he doesn't like doing.

"He likes a fast game and that's how he's won his matches to get to the final. But I sensed he was getting tired and he wasn't getting forward well from the back corners if I was able to play it short.

"I'm pleased with the way I've played all week and would love to come back and defend the title next year.

"It's nice to travel the world and play on the glass court in some amazing locations, but it's great to play in small clubs like this where the gallery is full of knowledgeable squash fans every day. It creates a tremendous atmosphere.

"We have been so well looked after and all the players echo that sentiment. I had heard a lot of good things about this tournament from other players and it's all true."



It was Simpson's sixth appearance in a PSA final and his sixth victory.

Ali Fathi said: "After the first game my coach Phil Whitlock told me to stop hitting cross courts because Chris was picking them off. I couldn't get in front of him.

"He was too good today. After a hard week I was a bit tired today and was not moving as well as yesterday or the day before.

"Overall it was good experience for me. Before today I had won seven PSA matches in a row. That earned some ranking points. I went up to 87 this morning and I hope to go up higher next month.

"My plan now is to do six weeks of summer training to get fitter to beat players like him."

Evans still Mote champ

Ahead of the main final, James Evans retained his Mote Club Championship by beating fellow youngster Ryan Duke in the final. The two are members of Kent's Under-17 national inter-county champions.

Evans, who beat Rory Pennell in the first round of the qualifying competition, warmed up for the final with a friendly against Emily Whitlock, whose father Phil is coaching main finalist Karim Ali Fathi.

Evans looked in fine form as he won 11-2, 11-4, 11-6.

Earlier, Mote chairman Dave Verga won the Over-55 final against Andy Reeves, triumphing 11-15, 15-10, 15-10.

RADAR GUN DEAD-HEAT

The Radar Gun Challenge finished in a dead heat between Henrik Mustonen and Kristian Frost, both recording 165mph. Robbie Downer, who clocked 171mph last year, was third, lashing the ball at 162mph this time round.



Sponsors for Life ?

During the presentation ceremony, sponsors Jonny Powell and Mark Lee were awarded life membership of The Mote Squash Club.

Chairman Dave Verga said: "These guys have it possible to bring an event like this to the club and we are very grateful for their support.

"It's nice to hear the players saying kind things about the club and we look forward to welcoming everyone back next year.

"The players have been fantastic, as always, and we've enjoyed a great week of top-class squash."


Quick Links

Draw & Results
Semi-Finals
Quarter-Finals
Round One
Qualifying Finals
Qualifying Round One
Previews
SE Leisure Kent Open 2012
26 Jun - 01 Jul, Maidstone, UK, $10k
Round One
28 Jun
Quarters
29 Jun
Semis
30 Jun
Final
01 Jul
[1] Chris Simpson (Eng)
11/7, 11/8, 11/2 (24m)
[Q] Antoine-Camille Petrucci (Fra)
[1] Chris Simpson
11/13, 11/3, 11/5, 11/9 (50m)
Elvinn Keo

[1] Chris Simpson

2/10, 11/8, 11/7 (74m)

[4] Kristian Frost

[1] Chris Simpson

11/8, 11/6, 11/5 (45m)

Karim Ali Fathi

Alex Phillips (Eng)
11/9, 9/11, 11/8, 13/11 (41m)
Elvinn Keo (Mas)
Lucas Serme (Fra)
11/7, 13/11, 11/7 (38 mins)
[Q] Adil Maqbool (Pak)
Lucas Serme
11/9, 11/4, 8/11, 11/9 (80m)
[4] Kristian Frost
[4] Kristian Frost (Den)
11/7, 11/9, 11/4 (48m)
Robert Downer (Eng)
Anthony Graham (Eng)
7/11, 11/6, 11/9, 10/12, 12/10 (76m)
[3] Mark Krajcsak (Hun)
Anthony Graham
12/10, 11/8, 11/9 (60m)
Karim Ali Fathi

Karim Ali Fathi

11/2, 11/4, 11/2 (41m)

[2] Henrik Mustonen

Karim Ali Fathi (Egy)
11/6, 11/4, 11/5 (33m)
Jaymie Haycocks (Eng)
Julien Balbo (Fra)
14/12, 11/7, 11/7 (48m)
[Q] Steve London (Eng)
Julien Balbo
11/3, 12/10, 11/5 (30m)
[2] Henrik Mustonen
[Q] Declan James (Eng)
13/11, 11/3, 14/12 (44m)
[2] Henrik Mustonen (Fin)
27-Jun, Qualifying Finals:

Antoine-Camille Petrucci bt Chris Fuller 18-16, 11-6, 11-1 (45m)
Steve London bt Alex Preston 11-4, 11-1, 11-6 (22m)
Adil Maqbool bt James Evans 11-7, 11-4, 11-9 (27m)
Declan James bt Mark Fuller 11-4 11-7 11-8 (49m)

26-Jun, Qualifying Round One:

Adil Maqbool (Pak) bt Jamie Mathews (Eng) 11-4, 11-7, 11-6 (18m)
James Evans (Eng) bt Rory Pennell (Eng) 11-5, 6-11, 11-7, 11-6 (37m)

Alex Preston (Eng) bt John Brewer (Eng) 11-3, 11-8, 1-11, 11-9 (23m)
Steve London (Eng) bt Charlie Johnson (Eng) 11-8, 11-7, 11-5 (38m)

Chris Fuller (Eng) bt Phil Nightingale (Eng) 13-11 12-10 11-4 (49m)
Antoine Camille-Petrucci (Fra) bt Joe Magor (Eng) 11-7, 11-1, 11-7 (19m)

Mark Fuller (Eng) bt Tristan Eysele (Eng) 9-11, 11-6, 9-11, 11-2, 14-12 (71m)
Declan James (Eng) bt Jonny Powell (Eng) 11-5, 11-6, 11-4 (17m)
Simpson to meet Fathi in Kent final
Alan Thatcher reports

Top seed Chris Simpson powered past Kristian Frost to reach the final of the SE Leisure Kent Open at The Mote.

The 25-year-old Channel Islander, based in Harrogate, had too many answers at the front of the court after the ball spent most the early stages at the back.

Both players drove solidly but Simpson's drop shots were more effective when openings arose at the front.

The first game was a massive physical battle. Simpson led 5-1 before Frost enjoyed a solid spell of dominance that took him to 8-6. Frost was first to game ball at 10-9 but Simpson won the next three points to take the lead 12-10.

Frost again held the upper hand in the second game, leading 7-5, and then 8-6, but once more Simpson finished strongly with five points in a row to win 11-8.

In the third Simpson advanced from 3-3 to 7-3 as Frost began to look tired. The tall Dane was forced to undergo massive court coverage as Simpson worked him long and short.

Ultimately, Simpson's straight drops proved the decisive factor as
he closed out the game in a professional manner to win 11-7 and book his place in the final after a fiercely-contested 74-minute encounter.

Simpson said: "I was happy with how I played today. It was a very tough match as Kristian is such a strong athlete. The ball wasn't dying at all at the front, so I tried to get control of him and work him harder than he worked me.

"By the third game I could see that this tactic had worked and he was starting to tire. Very happy to win."

Frost said: "I thought I played the right game to win but somehow I managed to lose. I didn't do well on the big points in the first and second games, when I was leading 8-6 and 7-5. I didn't feel confident going short because the ball is very bouncy.

"He got me moving more and that made me a big difference. Chris played his style of squash, had a good tactical plan and he stuck to it for the whole match, moving me all over the court in the process.

"It has been a really good tournament. I like the way the players have been treated and the whole set-up and organisation. All the club members and tournament team have made the players very welcome and looked after us very well. It feels like a much bigger tournament."

Simpson faces in-form Karim Ali Fathi in the final after the Egyptian overpowered No.2 seed Henrik Mustonen in sensational fashion.

Fathi has followed his triumph in Wales last week by producing three outstanding performances this week in Maidstone. He chopped Mustonen 11-2, 11-4, 11-2 in a brutal demolition job that exposed the Finn's lack of tournament practice.

Fathi said: "The only time I have played Chris was in the final of the Andy Gill Memorial Trophy in Rochdale in September. He won 11-9, 11-9, 11-9 and I was 9-7 up in all three games.

"That was before I met Phil Whitlock and I would like to think I can do better against Chris in the final. This is a good tournament for me. I was surprised that Henrik wasn't pushing up the court more because normally he is so dangerous in the front left corner. But that area was working well for me today. My game seems to suit this court."

It was a tribute to Mustonen's determination that the match lasted 41 minutes but he was clearly struggling with his movement throughout the match.

He said: "I was feeling a bit tired today and my movement was obviously affected. It was very hot on court and it was difficult to put the ball away. I haven't been playing much since March and I guess that showed today."


Quick Links

Draw & Results
Quarter-Finals
Round One
Qualifying Finals
Qualifying Round One
Previews
Quarter-finals:
Top seed safely through

Top seed Chris Simpson was the first player into the semi-finals after beating stylish Malaysian Elvinn Keo.

Keo, the 24-year-old from Penang, won a tight opening game. He opened up a 5-2 lead before Simpson got into his stride. The Englishman collected seven points in a row and looked to have the game in the bag at 10-6.
But this time it was Keo who put together a superb run to win the game 13-11.

Simpson made no mistake in the second, winning 11-3, and continued his dominance throughout the fourth, taking it 11-5.

Keo started strongly in the fourth but his 4-1 lead soon evaporated as Simpson regained his line and length. From 7-5 he maintained his advantage and weathered a late storm to close out the match 11-9 in 50 minutes.

It was a tough match. I was game ball down in the first and from then on he played some really good winners. After that I decided I had to make him work hard and put some work into his legs. And this worked for the next few games.

I think there will be some long, hard matches this week as it's very hot and I'm looking forward to tomorrow's match, whoever I am playing.

Chris Simpson

I won the first game but I didn't stay to my game plan and lost the second really easily. He kept putting the ball to the back a lot and it was hard to get it out. It was quite dead in the back corners.

I was tired in the third and he chopped me. I was more confident and focused in the fourth and tried to do what I did in the first game, but he played very well and got a couple of lucky shots at crucial times. I wish I had played like that in the third game as well.

Elvinn Keo

Frost freezes out Serme

Kristian Frost will meet Chris Simpson in the semi-finals after leaving Lucas Serme out in the cold after a brutal 80-minute battle.

The great Dane's power play involves a huge physical investment but he maintained his hard hitting and astonishing court coverage throughout the match to frustrate his French opponent.

The first game took 27 minutes to complete. Serme started well to leads 5-2 but Frost won five points in a row in a surging run that set him up for the rest of the match.

He extended his lead to 9-6 and although Serme levelled at 9-9 the tall Dane finished strongly to win 11-9.

He bulldozed his way through the second game to win 11-4, dominating the mid-court area as Serme struggled to place the ball beyond his opponent's phenomenal reach. In short, that meant his length wasn't good enough.

It improved in the third as he built up an 8-4 lead and he withstood a ferocious fightback from Frost to win 11-8.

The fourth was an astonishing contest as Frost quickly established a 7-2 lead. But Serme produced a determined spell of quality finishing to draw level at 9-9. Frost punished Serme with a volley nick off the serve, and then, on match ball, he served down the middle, behind Serme's back, and the ball struck his racket and spun to the floor.

An astonishing end to an extraordinary match.

Fathi foils Graham

The packed double-decker gallery at The Mote were treated to a fantastic display of inventive, entertaining squash by two talented young players.

Karim Ali Fathi, whose PSA world ranking of 90 is 13 places above his opponent, edged the contest because of the superior quality of his finishing.

Both players know how to feather in some delightful drops, but the Egyptian had an additional weapon in his armoury, a slam nick drive that often paid off.

Graham was in front for most of the opening exchanges and reached game ball at 10-9, but then hit three balls out in consecutive rallies to allow the Egyptian to squeeze home 12-10.

Fathi enjoyed a dominant spell in the second game to advance from 4-4 to 10-5, and withstood a late flurry of points from Graham to take it 11-8.

Graham led 3-0 in the third before another spell of dazzling squash took Ali Fathi to 7-4. The two traded drops and chops before Ali Fathi reached match ball at 10-7. He tried to finish things off with a big kill …. but slammed the ball into the tin. Graham gave him an anxious time, winning the next two points, before the Egyptian clinched his place in the semi-finals.

Mustonen masters Balbo

Number two seed Henrik Mustonen meets Karim Ali Fathi in the semi-finals after blitzing his way past Julien Balbo in straight games.

Mustonen's smooth movement around the court is a delight to behold, and his rhythmic driving and accurate placement produces an effective style of play that could take him much higher in the rankings.

Currently 52 in the world, he is keen to get back to his career-best high of 42 and advance even further.

He won the first game very quickly, 11-3, but wasted an opportunity on game ball in the second when he hammered the ball into the tin as he looked for the big, extravagant finish. Balbo hit back to 10-10 but Mustonen regained control to win the last two points.

He returned to his earlier dominance in the third, racing into a 5-0 lead, and although Balbo hit back with four points, Mustonen powered his way to victory.

He will need all of his athletic court coverage if he is to fend off a highly-anticipated attack from the in-form Ali Fathi.


Photos by Kim Roberts
FRIDAY BLOG ... by Alan Thatcher

Busy morning with players checking out and referee Oliver Orlicki flying in from Germany.

He enjoyed a quick nap at the club before heading to the Hamlets Hotel before starting work at 5.30pm this afternoon. No mention of last night's football result (Italy 2 Germany 1). Well, not much!

Karim Ali Fathi was up early and the first to arrive for morning practice. He got to the club just as club treasurer Joe Wheatley arrived back from a late-night session at Lashings with a few Mote members and an unidentified PSA member.


If you are looking for a bar that never shuts, Lashings is the place. (www.lashings.co.uk )

Lashings owner David Folb is frequently seen on The Mote courts with a variety of players from his star-studded international cricket team.

Down the years we have seen world superstars like Brian Lara, Allan Donald and former West Indies captain Richie Richardson in Maidstone, sometimes on court, sometimes playing cricket and sometimes propping up the bar all night like Joe and his mystery accomplice last night!
Roving Joe

Joe Magor, our roving courtside reporter and Canterbury club champion, suffered an allergic reaction to his marmalade-flavoured lager last night (see previous Blog).

The power of coherent speech, and the ability to type, were symptoms of the condition.

Fortunately, he was able to harness the power of total recall this morning (aided by some email reminders from the players!).

Media Tip: Get the quotes typed up first, then attack the Corona.

Joe's Canterbury team-mate, the highly-revered Tony Gamble, is heading to The Mote tonight with two aims in mind, enjoy the semi-finals and challenge title sponsor Jonny Powell to see who can be first to devour the club's entire stock of Peroni.



The players always enjoy seeing action pictures from every tournament. The Mote's Kim Roberts has produced an excellent portfolio of images from every match on the glass court. Go here to view:
ROUND ONE
28-Jun, Round One:
Graham ousts third seed in Kent upset
Alan Thatcher reports

England's Anthony Graham overcame No.3 seed Mark Krajcsak to reach the quarter-finals of the SE Leisure Kent Open after a pulsating battle at The Mote Squash Club in Maidstone.

Graham wasted a match ball at 10-9 in the fourth and survived one himself in the fifth before triumphing 7-11, 11-6, 11-9, 10-12, 12-10 after 76 minutes of brutal squash.

The 22-year-old Graham, ranked 103 in the world, matched the Hungarian number one throughout the match for inventiveness and power, gaining great dividends from some deft drop shots on both sides of the court.

Krajcsak, the world No.54, led throughout the fifth game and finally reached match ball at 10-8, but Graham refused to give in and reeled off the final four points to book a quarter-final clash against talented Egyptian Karim Ali Fathi, who beat Birmingham-based Jaymie Haycocks in straight games.

Top seed Chris Simpson meets Malaysian Elvinn Keo in the quarter-finals of the SE Leisure Kent Open after a hot start to the main draw proceedings at The Mote this evening.

Simpson finished strongly to beat a tiring Antoine-Camille Petrucci of France, completing his victory with an 11-2 scoreline in the third game as his opponent's energy levels dropped in the heat.

The first two games were close but Petrucci hit the tin too many times when set up for a drop shot.

Simpson looked comfortable throughout and his beach shorts added a Beach Boys feeling to the opening match.

Next door, Keo overcame Alex Phillips in a very entertaining match, with the Malaysian squeezing home 13-11 on a tiebreak after four close games.

Lucas Serme of France overcame Adil Magbool in straight games, but the Dubai-based Pakistani was left reflecting on a moment of sportsmanship that backfired when he refused to take a penalty point at game ball in the second game after striking his opponent.

Magbool led 4-1 in the third game but Serme stepped up the pressure and played tighter squash as Maqbool's challenge faded in the heat of a balmy Kentish evening.

There was plenty of barmy squash next on Court One as Kristian Frost overcame wild card Robbie Downer in a hard-hitting contest that posed plenty of challenging questions for referee Ian McKenzie.

From 3-3 in the first, Frost moved ahead to 7-4 and maintained his advantage to close out the game. Downer hit back in the second but squandered an 8-4 lead as Frost fought back in determined fashion after both players disputed the legality of a boast from the Dane.

Frost won six points in a row and although Downer grabbed another point he had lost the decisive momentum. Frost clinched the game 11-9 and from 3-2 down in the third he regained the same control to win the third 11-4.

Declan James, the English and European Under-19 champion, battled bravely against No.2 seed Henrik Mustonen. James, from Nottingham, lost two close tiebreaks in the first and third games as the Finnish world No.52 triumped 12-10, 11-4, 14-12 in 44 minutes.

Mustonen meets Julien Balbo, the third French player in the main draw, who beat Kent's Steven London 14-12, 11-7, 11-7 in 48 minutes.


Photos by Kim Roberts

Draw & Results
Kent Open Blog
Preview
Jonny & the Juniors
KENT OPEN QUOTES BY ROVING REPORTER JOE MAGOR
ADIL MAQBOOL

"I felt my movement was better than as compared to a couple of months ago.... was hitting the ball well but just ran out of steam at the end of each game. Lucas is a great retriever and well I guess I just got tired of attacking! Ha. Just need to stop being 'so nice' on court and take what I get sometimes I guess... had I taken the second, you never know.....

I really enjoyed the tournament, everyone involved is very welcoming and really did a great job in making me feel at home away from home! I Hope to be back next year again. The Mote is a very friendly club and sometimes when I hear Alan talking I have an instant recall of some of the squash commentaries I grew up listening to."
LUCAS SERME

"Well, I hate when it's hot on court, and I hate Adil's game. So it's been some really tough and painful 40 minutes for me. I started struggling to breathe in the second game. Oxygen was hard to find. I was lucky he refused to take the stroke when he had game ball, who knows what would have happened if he took that game.

Afterwards in the third he appeared to be way more tired than me, and I managed to put more pressure in the back in order to control the T a bit better. Really happy to get through in 3, Adil's always a very dangerous player. Looking forward for another good day in Maidstone now, great atmosphere here!"
ROBBIE DOWNER

"I felt I was playing well and really should have closed out that second game when I reached 8-4. Kristian hit a boast that was down but the referee played a let. He then got a run of points, two mistakes from me and two fantastic shots from him.

I felt sooner or later the luck would come my way but it didn't happen. I'm fairly pleased with the way I'm playing and I'm looking forward to breaking the world speed record on Alan's radar gun. Cam Pilley's 175mph was on a different gun. Alan's is the official one!"
ANTHONY GRAHAM

"I'm pretty happy with the way I played. I went into the match very relaxed and just tried to play squash I enjoy.

Obviously it wasn't enjoyable come the fifth game! But I'm happy to win and I'm looking forward to playing today.
QUALIFYING FINALS
Qualifying complete at The Mote
Alan Thatcher reports

French ace Antoine-Camille Petrucci became the first player to win through to the main draw of the SE Leisure Kent Open after beating Nottingham's Chris Fuller in the first qualifying final at The Mote Squash Club in Maidstone.

The two 21-year-olds battled through a marathon opening game, with Fuller wasting five game balls before Petrucci clinched it 18-16.

Fuller's quality at the front of the court let him down when he was in position to finish the rally, tinning several drops and volleys.
Petrucci, ranked 190 in the world (one place ahead of Fuller), began to dominate from midway through the second game. From 6-5 up, he closed out the game showing more creativity and confidence at the front.

He maintained the advantage throughout the third to win it 11-1 as Fuller began to look tired.

Petrucci said: "It was a tough first game and we both made a few mistakes towards the end of the tiebreak. I was very relieved to win it and I changed my tactics a little in the second. I felt I was maybe a little fitter and my drops worked a lot better."

Kent's Steven London overpowered Alex Preston to reach the first round, winning 11-4, 11-1, 11-6 in just 22 minutes.

London was moving well and was too accurate for his opponent. Preston fought back from 9-4 down in the third to make the scoreline a little more respectable and struck a dazzling backhand volley kill.

But London soon closed out the match. He said: "My fitness has been a bit up and down recently after a groin inuiry and I have a scan booked. So I was pleased to win that one. Maybe Alex wasn't playing quite as well as he can and a few shots let him down. That winner near the end was a wonder shot - the shot of the match!

"But I felt I was moving well and hope I can do the same tomorrow!"

Adil Maqbool ended teenager James Evans' run in the Kent Open with a straight-games victory.

After the 16-year-old's victory over Rory Pennell yesterday, a packed Mote gallery cheered their young hero throughout the match but Maqbool had too many answers, punishing any loose crosscourts with some stunning kills and tight drops.

However, Evans competed solidly throughout and stepped up the pace in the third game. He fought back from 8-6 down to draw level and came very close to pinching the game before Maqbool closed out the match.

Maqbool said: "I was very surprised with how well James played. He volleys a lot more than I expected and hits a good-length drive from the front of the court.

"I hope I didn't upset the crowd too much, despite the mind games being played by all the members throughout the day!"

Declan James became the fourth player through to the main draw with a powerful performance against Nottingham clubmate Mark Fuller.

The 19-year-old James won in straight games to book a place in the first round draw against No.2 seed Henrik Mustonen, but Fuller pushed him all the way.

Fuller was breathing heavily towards the end of the first game after some long and punishing rallies. James was ahead throughout the game and started solidly in the second However, Fuller pulled back from 2-7 down to 7-8, but James finished strongly to win 11-7.

The third was a physical affair. Fuller won the first two points James responded to take the next five. Fuller again responded to draw level at 6-6 and then 8-8, but once again James's accuracy paid off as he held it together to win 11-8.

Fuller felt harshly done by following two refereeing decisions in the closing stages of the match and let out a blood-curdling cry as he exited the court and ran out into the car park.

I hope we don't get a complaint from the neighbours!


Draw & Results
Kent Open Blog
Preview
Jonny & the Juniors

Photos by Kim Roberts
Kent Open Blog:
#1: Spotlight on the Locals
Peruvian Pleasure

Joe Magor is the only person I know (since Paddington Bear) to hold passports from both the UK and Peru. Like Paddington, Joe is partial to a marmalade-flavoured lager. He is a vital part of the Kent Open team, bringing his video camera to the club for the week and setting up a live feed into the bar so that when all the seats are full and there is no more standing room around Court One, the senior members of the club can still enjoy the action perched on their bar stools.

Joe has provided a quality extra ingredient this year by producing some fantastic tournament T-shirts. Joe is now the Kent captain and joint county secretary, sharing the role with Len Locke and organising events including the Kent Closed. Joe is club captain at Canterbury and organises an annual pro tournament, plus a hugely enjoyable doubles weekend.

Question: Is Joe the Peruvian number one? We need to know.

You can catch up with Joe at www.cmstringers.com
Power to Powell

Jonny Powell was described in the 2010 Kent Open Blog as the show-boating, free-wheeling, bottle-juggling, nick-slamming, one-man fun-palace associate sponsor. What's changed in two years?

Well, the most important thing is that he has stepped up to Title Sponsor as he and his squash-loving dad John have signed an agreement to sponsor the tournament for the next three years.

Therefore, Jonny will have to be treated with a modicum of respect from now on. So all references to him going up a shirt size will have to be carefully edited, as will his recently-revealed skills as a hotel decorator following a tournament function in London. And there will be absolutely no mention of his face turning redder than a Manchester United shirt on Court One last night as he played Declan James.

His automatic nicks were on display last night against Declan but the 19-year-old from Nottingham dealt with the onslaught to advance to the qualifying finals today against Mark Fuller.
French Tricks

Joe had a good-natured whinge after his match against Antoine-Camille Petrucci, who has set a new PSA record by hitting the ball back to himself 11 times in the knock-up!

The Shepherd Neame Fines Committee will need to look into the incident. After it was broadcaast on Twitter, Aussie ace Cam Pilley suggested instant disqualification.

However, before practice this morning Antoine revealed an amazing secret talent. He can type the alphabet with his nose in less than ten seconds!

Antoine loves a computer game to see how fast you can type:

The website link is: http://www.jeuxvideo-flash.com/jeu-1670-alphabet-rapide.php#game

Antoine's record is 1.53 seconds! His personal best with his nose is 8.9 seconds!
Brewer's Chew ...

John Brewer is a former Kent county champion and the number one player at a lovely club in a village called Rodmersham, just outside Sittingbourne. The club looks like a giant farm building from the outside and when you walk in through the front door it's like stepping into a quaint country pub, especially in mid-winter when there's a fire roaring in the hearth. With six courts, it's now the biggest squash club in the county.

John is a great athlete with a huge reach but he decided on a novel way to prepare for the Kent Open. He and Rodmersham team-mate Tom Woods ventured to a restaurant in Canterbury which offers a Monday night "Terminator" menu.

If you can eat a giant burger, complete with onion rings, French fries and coleslaw, you get it for free. If you fail to clean the plate, you pay £20. Neither could rise to the challenge. I'm surprised Rodmersham legend Garry Clarke wasn't waiting in the wings to hoover up the leftovers!

Many years ago I remember watching John chop up Nick "Mr Excuses" Peel while still a tiny junior at Rodmersham. I told Nick that he was the only adult player I had ever seen lose to an opponent wearing a Care Bears T-shirt.
QUALIFYING ROUND ONE
26-Jul, Qualifying Round One:
Schoolboy Evans roars past Rory
in Kent Qualifiers

Maidstone schoolboy James Evans sprang a major surprise by overpowering number five seed Rory Pennell in the first qualifying round of the SE Leisure Kent Open.

The 16-year-old Evans won 11-5, 6-11, 11-7, 11-6 in 37 minutes of accomplished, intelligent, attacking squash.

Playing on his favourite court at his home club, The Mote, Evans quickly found a good length, moving the more experienced Pennell out of his comfort zone.

Evans volleyed solidly at every opportunity and his drops paid dividends in the front left corner. Evans retrieved superbly in the opening game and his confidence grew as he opened an early lead and maintained his discipline to win it 11-5.

Pennell countered in the second and from 5-5 he closed out the game 11-6.

However, Evans battled through a physically demanding third game to produce a decisive breakthrough. From 5-3 down he hit back to draw level at 7-7, and matched his outstanding retrieval with some superb winners to clinch the game 11-7.

His confidence boosted, Evans opened up an early lead in the fourth game and although Pennell enjoyed a run of points to hit back from 2-5 down to 6-7, Evans again finished strongly.

His reward is a place in the qualifying finals against Pakistan's Adil Maqbool, the top seed in the qualifying competition.

France's Antoine-Camille Petrucci is the only other non-Englishman still in with a chance of making the main draw, and he faces Chris Fuller, whose elder brother Mark who progressed thanks to a last-gasp 14-12 in the fifth win over Tristan Eysele to set up a match with Declan James, the qualifying second seed who showed no mercy in his match against tournament sponsor Jonny Powell.

Alex Preston and Steve London meet in another all-England qualifying finals matchup, which gets under way at 5pm at The Mote club.


Draw & Results
Preview
Jonny & the Juniors

Photos by Kim Roberts

PREVIEWS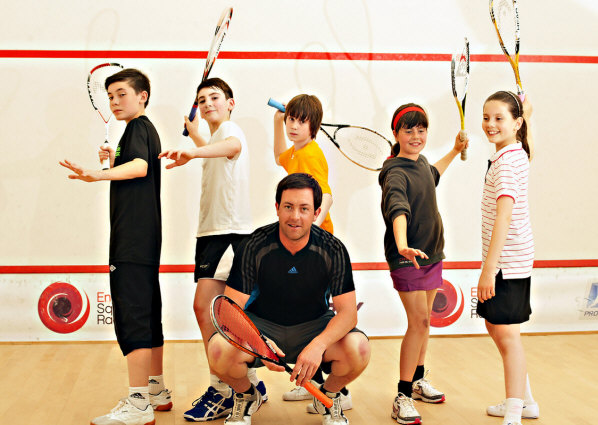 Jonny & The Juniors
Jonny Powell is obviously a big hit with some of the Mote juniors at a recent press photo call ...

...and for good reason. Jonny's SE Leisure company is the title sponsor for the Kent Open which is about to take us all by storm.

The qualifying draw is on Monday 25th June and Jonny's name is in there, amongst a truly international field.

We're behind you Jonny! Photos bt Kim Roberts

SE LEISURE KENT OPEN SQUASH:

World-class professional squash returns to the county at the end of the month with a much-enlarged SE Leisure Kent Open at The Mote Squash Club.

With a three-year title sponsorship agreement in place with SE Leisure, worth £9,000, this PSA world-ranking tournament continues to go from strength to strength.

Sponsor Jonny Powell has competed in the event for the past three years and has increased his company's financial backing to guarantee the future of one of the leading squash tournaments in the UK.

With a prize fund of £6,500, the event has attracted a truly international for the week-long competition which runs from June 26 to July 1.

Yorkshire based world No.45 Chris Simpson is top seed, followed by Finnish No.2 Henrik Mustonen, Hungarian No.1 Mark Krajcsak and top Danish star Kristian Frost.

Other competitors include Julien Balbo (France), Karim Ali Fathi (Egypt), Malaysia's Elvinn Keo and Pakistan's Saqib Yousuf.

English hopefuls include Jaymie Haycocks, Anthony Graham and wild card Robbie Downer, who is aiming to beat the 175mph world squash speed record during the tournament after clocking 171mph on the radar gun last year.

The tournament will feature daily coaching clinics with the professionals for local juniors and school groups.

Title sponsor Powell has been allocated a local spot in qualifying alongside The Mote's England junior international James Evans, Kent senior captain Joe Magor from Canterbury, and former county No.1 John Brewer from Rodmersham (Sittingbourne).

Admission is free all week and the event includes a world speed challenge with the radar gun ahead of the semi-finals on Saturday June 30.

The Mote's club finals will also take place on the same day.