Coronation London Open 2011
29 Nov to 04 Dec, Cumberland Club, London, $20k+$6k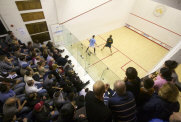 Finals:

[1] Tania Bailey (Eng) bt [5] Farah Abdel Meguid (Egy) 9/11, 13/11, 11/8, 11/2
[3] Borja Golan (Esp) bt [2] Steve Coppinger (Rsa) 8/11, 13/11, 11/9, 4/11, 11/3 (73m)
04-Dec, Final:
Golan Grabs Coronation Crown
Matt Wagg reports

Borja Golan claimed his sixteenth PSA World Tour title as he beat Stephen Coppinger in the Coronation London Open final.

A packed out crowd had gathered to watch the finale of the PSA World Tour Challenger 20 event, as both players gave it 100 per cent from the very start.

It was the Spaniard who sprang into the lead early on, with some tight lengths and impeccable lunges to hold a five-point advantage on his opponent. But Coppinger dug his heels in and stormed through an incredible 8points in a row to claim the first game, 11/8.

Golan, refocused in the second game, went toe to toe with Coppinger as both players demonstrated a determined refusal to let the ball die. Neither player could forge the kind of lead seen in the first game and stayed within a point of each other the South African edged ahead at 6-4 with some precision drop-shots.

But the Spanish no1 tightened his game to force errors out of Coppinger to draw level at 9-all. The world no25 desperately hunted the winning shot at 10-9, diving across the floor on two occasions in one rally, reaching the first but missing the second by centimetres to force a tiebreak. Golan though, closed the second game off 13/11.



So many brutal rallies as every ball was fired tight into the corners and both were forced to hit tighter and tighter shots to prevent the other from taking advantage. As a result, the error count began to rise but to neither player's detriment as the scores remained close throughout the third. The Spaniard crept ahead however at 7-5 and managed to stay of the world no35 and see out the game 11/9.

Coppinger's night wasn't over yet though. From 4-2 up, he reduced Golan to snatching at shots and keeping him deep in the back. His only points from then were two spectacular but desperate volley-drop kills. The South African saw out the game as Golan admitted defeat towards the end of the fourth game, conserving his energy for the inevitable fifth game.

It turned out to be a wise tactic by Golan, as he seemed refreshed coming back on court for the final game of the match. He took an emphatic 6-0 lead as Coppinger seemed to have grown sluggish during the break. By then it was too far for the South African to come back from and Golan closed out the final match of the event, 11/3.



"When you play a final like this, the score is not important. Steve is playing really really well at the moment, and since I've been back from injury I cant remember playing such a hard match. So to win today I really had to play out my skin!

"Playing here in London has been great. The court is really nice to play on and the people here, the spectators, they are really kind. I played Englishman Chris Simpson in the semi and they still clap both players and are just pleased to see to great squash. The crowd has been very respectful and it's really nice to experience.

"It's a great thing for me to follow Stewart Boswell on the trophy. To me he was a great example of a player. He retired two weeks ago and I really hope I can still be playing at this level at his age."




photos by Jordan Mansfield
www.jordanphoto.co.uk




Bailey bags home win

Report to follow ...
Coronation London Open 2011
29 Nov to 04 Dec, London, $20k
Round One
01 Dec
Quarters
02 Dec
Semis
03 Dec
Final
04 Dec
[1] Aamir Atlas Khan (Pak)
11/7, 11/4, 9/11, 12/10
Campbell Grayson (Nzl)
[1] Aamir Atlas Khan
15/13, 7/11, 11/9, 9/11, 11/9
Chris Simpson

Chris Simpson

11/9, 11/6, 11/5

[3] Borja Golan

[3] Borja Golan

8/11, 13/11, 11/9, 4/11, 11/3 (73m)

[2] Steve Coppinger

Chris Simpson (Eng)
11/9, 14/12, 3/11, 11/1 (75m)
[Q] Steve Finitsis (Aus)
Andrew Wagih (Egy)
12/10, 11/9, 11/9 (45m)
[Q] Mohammed Abouelgar (Egy)
Andrew Wagih
11/4, 11/8, 11/7
[3] Borja Golan
Joe Lee (Eng)
11/9, 11/6, 11/6
[3] Borja Golan (Esp)
[4] Karim Abdel Gawad (Egy)
11/7, 11/9, 11/5 (42m)
[Q] Fabien Verseille (Fra)
[4] Karim Abdel Gawad
9/11, 11/8, 11/6, 13/15, 11/7
[Q] Eddie Charlton

[4] Karim Abdel Gawad

11/8, 11/9, 11/7

[2] Steve Coppinger

Robbie Temple (Eng)
6/11, 12/10, 11/7, 11/5
[Q] Eddie Charlton (Eng)
Mark Krajcsak (Hun)
11/5, 11/4, 11/2
Reuben Phillips (Eng)
Mark Krajcsak
11/9, 11/5, 11/5
[2] Steve Coppinger
Davide Bianchetti (Ita)
11/4, 9/11, 11/4, 13/11
[2] Steve Coppinger (Rsa)
30-Nov: Qualifying Finals:

Fabien Verseille (Fra) bt Ben Ford (Eng) 11/5, 11/8,6/11, 12/10 (53m)
Steve Finitsis (Aus) bt Danish Atlas (Pak) 7/11, 11/6, 11/2, 4-0 rtd (37m)
Eddie Charlton (Eng) bt Shaun Le Roux (Rsa) 11/7, 11/5, 11/3 (32m)
Mohamed Abouelghar (Egy) bt Muhd Asyraf Azan (Mas) 11/7, 11/5, 9/11, 11/5 (50m)

29-Nov: Qualifying Round One:

Fabien Verseille (Fra) bt Bradley Hindle (Mlt) 11/13, 11/5, 11/8, 9/11, 11/8 98 Mins
Ben Ford (Eng) bt Charles Shares (Eng) 5/11, 8/11, 11/9, 11/8, 11/9 78 Mins
Steve Finitsis (Aus) bt Chris Fuller( Eng) 11/5, 11/7 , 7/11, 11/8 49 Mins
Danish Atlas (Pak) bt Philip Nightingle (Eng) 9/11, 11/4, 11/5, 11/5 37 Mins
Shaun Le Roux (Rsa) bt Obaid Jahan (Pak) 11/6, 11/1, 11/8 28 Mins
Eddie Charlton (Eng) bt Aqeel Rehman (Aus) 11/6, 11/4, 11/9 31 Mins
Mohamed Abouelghar (Egy) bt Lewis Walters (Eng) 11/6, 11/3, 11/5 23 Mins
Muhd Asyraf Azan (Mas) bt Ben Coleman (End) 12/10, 8/11, 11/6, 12/10 51 Mins
Coronation London Open 2011
29 Nov to 04 Dec, London, $6k
Round One
01 Dec
Quarters
02 Dec
Semis
03 Dec
Final
04 Dec
[1] Tania Bailey (Eng)
11/3, 11/3, 11/3
[Q] Cigany Sivelis (Ned)
[1] Tania Bailey
11/9, 11/9, 11/6
[7] Sarah-Jane Perry

[1] Tania Bailey

11/5, 11/5, 11/5

[4] Tesni Evans

[1] Tania Bailey

9/11, 13/11, 11/8, 11/2

[5] Farah Abdel Meguid

[7] Sarah-Jane Perry (Eng)
11/8, 11/7, 16/14
[Q] Cheyna Tucker (Rsa)
[4] Tesni Evans (Wal)
11/8, 11/5, 11/5
Sam Mueller (Eng)
[4] Tesni Evans
11/6, 11/8, 8/11, 11/5
Zephanie Curgenven
[8] Cyrielle Peltier (Fra)
12/10, 11/7, 11/7
Zephanie Curgenven (Eng)
[Q] Belen Etchechoury (Arg)
11/3, 11/5, 12/10
[6] Aparajitha Balamurukan (Ind)
[6] Aparajitha Balamurukan
11/5, 11/7, 11/3
[3] Lisa Aitken

[3] Lisa Aitken

11/1, 12/10, 5/11, 11/5

[5] Farah Abdel Meguid

Anna Jurjun (Pol)
11/1, 13/11, 11/2
[3] Lisa Aitken (Sco)
Senga Macfie (Sco)
11/5, 11/3, 11/7
[5] Farah Abdel Meguid (Egy)
[5] Farah Abdel Meguid
9/11, 11/3, 11/5, 11/3
[2] Amanda Landers-Murphy
Faustine Gilles (Fra)
11/7, 11/5, 11/4
[2] Amanda Landers-Murphy (Nzl)
30-Nov:

Qualifying Finals:

Cheyna Tucker (Rsa) bt Julia Lecoq (Fra) 9/11, 11/7, 11/3, 12/10 (35m)
Belen Etchechoury (Arg) bt Selina Sinclair (Eng) 11/5, 15/17, 11/7, 11/7 (45m)
Cigany Silevis (Ned) bt Eva Fretekova (Cze) 11/6, 11/2, 11/6 (27m)
Senga Macfie (Sco) bt Nada Elkalaawy (Egy) 5/11, 11/9, 12/10, 6/11, 11/9 (62m)

29-Nov: Qualifying Round One:

Cheyna Tucker (Rsa) bt Julianne Courtice (Eng) 11/4, 11/9, 11/7 25 Mins
Eva Fretekova (Cze) bt Oxane Ha-Uh (Fra) 11/3, 11/8, 8/11, 11/7 40 Mins
Senga Macfie (Sco) bt Taba Taghavi Ratsanjani (Ira) 11/1, 11/7, 11/6 27 Mins
2010 Event | 2009 Event | 2008 Event


03-Dec, Semis:
Golan & Coppinger make London final
Matt Wagg reports

The first semi-final of the Coronation London Open demonstrated a masterclass in retrieval in the first match as both Stephen Coppinger and Karim Abdel Gawad combined patient attacks to really boost the spectacle of the PSA World Tour Challenger 20 event.

Sheer consistency separated the pair throughout the match. No2 seed Coppinger always had a tighter length and was let off the hook on numerous occasions as Gawad struck the tin more frequently.

This was again evident in the second game, as three of the last four points were errors from Gawad, resulting in the South African extending his lead to two games.

The whole match was played at a furious pace as the competitors looked to gain control of the middle. Neither managed to dominate completely but Coppinger's extra years on the tour against the 20-year-old proved to be an advantage and he closed out the match 11/8, 11/9, 11/7.

"For a 3-0 that was a really hard match," said Coppinger after the match. "It felt like I was the one defending for most of it. He has some great shots on him and he builds the rallies really well. He was moving me all over the place.



"I just hope the guys in the other semi have a really long match now!"



The following match wasn't as long as Chris Simpson's last bout on court, but his first game against no3 seed Borja Golan was certainly what Coppinger had hoped for.

Golan started quickly and Simpson was forced to play catch-up for much of the first game. The initial rallies saw the Spaniard hitting a good length and looked in control of the tee, with much of Simpson's play being recovery shots.

The Englishman was always just off the pace and Golan closed out the first game 11/9 in 21mins.

Simpson responded well in the second, attacking confidently and claiming some outrageous backhand volleydrops. At 6-4 up he looked to have turned a corner after coming so close in the first game, but Golan was not about to lie down and let him have it. The world no25 put together a surging run that saw him take an impressive 7-points in a row to claim the second game 11/6 with Simpson unable to retaliate.

By now the Guernsey-born Englishman was visibly struggling to stay in the game. Golan continued his unanswerable streak with a further six points in the third game, and Simpons was clearly weighed down by his efforts in yesterdays five-game marathon against Aamir Atlas Khan. More errors came by his racket and the no2 seed had only to keep up his consistency and ride the Englishman into the ground. He claimed the match, and his progression to tomorrow's final in 42 minutes.

"My goal is to just keep improving my ranking," spoke Golan after the match. "And I am achieving this slowly but surely at the moment. I played Chris about 3months ago and won 3-0, but today was a completely different game. He has improved a lot and it was a very tough three games. I'm glad it wasn't longer. I tried to push him as much as possible after his 3-2 yesterday and thankfully he began to tire."



photos by Jordan Mansfield
www.jordanphoto.co.uk



Meguid upsets the order again

Egyptian Farah Abdel Meguid continued to upset the order at the Cumberland Club, as she dumped no3 seed Lisa Aitken out of the competition in the first semi final match of the evening.

Meguid, who also scalped no2 seed Amanda Landers-Murphy en-route to the semis, raced to a 6-point lead without reply and denied the Scot time to settle. Before the audience had time to get comfortable, the first game had ended 11/1.

An improved effort from Aitken saw her battle to an unlikely lead in the second game. She looked more settled on the ball than in the previous game and had the opportunity to grab the equaliser at 10-8 up, but squandered to game-balls. Meguid wasn't about to let her off the hook and with some steady play claimed the second game 12/10.



Buoyed by her improved performance in the second, Aitken stepped out with more of an authoritative air. She held her own around the middle, refusing to be bullied into just retrieving and set up some nice attacking play, claiming an 11/5 win.

Confidence growing, Aitken was looking more and more to attack the ball, but was caught out by a couple of errors that then had her back chasing her opponent's lead. At 8-4 down, she managed only one more point as the Egyptian coolly finished of a deserved victory and a surprise appearance in tomorrow's final.





Tour veteran Tania Bailey was seeded first for the tournament, despite injury hampering her WISPA ranking considerably. Rehab completed and back on the tour though, the former world no4 continued her consistent form throughout the match, denying her Welsh opponent Tesni Evans any room for manoeuvre.



Bailey's movement was intelligent, as was her shot selection and she was too consistent for her opponent, who tried everything to move the Englishwoman off the tee. Experience triumphed over youth however, and a valiant effort from the former Welsh junior champion was overwhelmed 11/5, 11/5, 11/5.

02-Dec, Quarters
Simpson keeps English hopes
alive at the Cumberland Club
Matt Wagg reports

Quarter-finals day at the Coronation London Open saw three of the men's four seeds progress to the semi-finals as Chris Simpson kept English hopes alive with a marathon victory over the top seed ...

Chris Simpson bt [1] Aamir Atlas Khan
15/13, 7/11, 11/9, 9/11, 11/9

Chris Simpson kept English title hopes alive in the quarter finals of the Coronation London Open 2011. The Guernsey-born Englishman survived a brutal five-game match to upset top seed Aamir Atlas Khan in a 71minute match at the PSA World Tour Challenger 20 event, held at Cumberland Club in north-west London.

The 24-year-old found a game plan and stuck to it well to claw his way back into the game after a slow start. A cat and mouse scenario ensued at 10-all but it was the underdog who came out on top, thanks to some dominant forehand lengths and impeccably tight drops.

Khan's threat level rose and fell throughout the match, attempting the spectacular cross-court winners, yet more often playing through spells that were very much attritional-focussed. A more dominant phase saw him cause Simpson some serious problems as he claimed the second game.

But Simpson worked well and came to hold three game balls in the third. With a maturity resembling England's very top players, he patiently waited for his opportunity to close out the game and not panicking as his opponent chipped away at the deficit, before coolly dispatching another inch-perfect drop.

In another dominant spell, the Pakistani no1 tried another tack, forcing Simpson to the front more often and avoiding his strong forehand side in favour of the backhand wall. This period saw him level the match at 2-2 before a tense final game.

Simpson sprang to a four point lead early on in the fifth, but the gap was quickly closed. The players remained within a point of each other until 9-all when the referee called Khan's retrieval as a double bounce, to conflicting reactions from both the crowd and players. Simpson again kept a methodical head throughout the final rally and finished off the match-ball on the first attempt.

"I'm over the moon with that win," said a beaming Simpson. "That's probably the best result I've had in a good few years.

"I didn't have the best of starts, but I managed to play into my game plan and stuck with it throughout. That was especially important in the last game when I started to get a bit edgy. I knew my drops had to be tight against Aamir, he's so so quick around the court.

"I just need to get some sleep now and I'm looking forward to facing Borja tomorrow. "

[4] Karim Abdel Gawad bt [Q] Eddie Charlton
9/11, 11/8, 11/6, 13/15, 11/7

No4 seed Karim Abdel Gawad faced the competition's last surviving qualifier, Eddie Charlton, who scalped Robbie Temple in round 1. Gawad set about attacking from the first rally, with Charlton doing all he could to weather the storm. Some unforced errors started to creep into the Egyptian's game however, allowing Charlton a foothold in the game and he was able claim the first game against the favourite.

Tighter, more patient play allowed Gawad to limit his opponent's chances throughout the next two game. The world no44 was able to keep some consistency that his first game had lacked and leapt to a 6-1 lead in the third, a deficit from which Charlton didn't recover.

The underdog continued to display remarkable retrieval skills throughout the match, despite playing his fourth match of the competition. His relentless mind-set was crucial in staying with his opponent throughout a brutal fourth game, stretching well into the tie-break where both players held game and match ball respectively. Ranked 55 points below his opponent, a huge effort from Charlton forced a fifth and final game as he claimed the fourth game 15/13.

The final game saw a different tactics from the Egyptian as he resolved just to rally with his opponent and focus on tightening his width and length. This alteration proved a positive move, with Charlton unable to close the gap. The 76minute match finished 9/11, 11/8, 11/6, 13/15, 11/7.

"He's a very talented Englishman," Gawad said after the match. "There are few players like him, he does the basics well and retrieves extremely well so I expected a tough game when I saw him last night against Robbie Temple.

"I'm still feeling good, despite the five games. I didn't play today like I would have liked. There was a lot of pressure on me and I think I played more defensive than I normally like to play. But that's a credit to Eddie, he was always in front of me and didn't let me attack."

[2] Steve Coppinger bt Mark Krajcsak
11/9, 11/5, 11/5

Mark Krasjcsak had only played second seed Stephen Coppinger once before this event, claiming a 3-1 victory against the South African in 2008.

The match was a hard hitting affair with Coppinger, the higher ranked player, looking to push up on the tee and deny his opponent time. Neither players were flawless in their finishing, with Krajcsak often counteracting his own efforts by regularly hitting the tin.

Errors aside, the first game and much of the second were closely fought affairs, though Coppinger more often than not ended up on the positive end of the rallies. Krajcsak's movement seemed less enthusiastic as the second game progressed and two outright winners from the South African, followed by a Krajcsak tin allowed Coppinger to close out a 3-0 win 11/9, 11/5, 11/5 in 36mins.

"I'm pretty happy with the match to night. I'm happy to be through to the next game. I know from experience that it'll be a tough battle against Karim, and he'll be a big obstacle in my way of getting anything from this event. But one match at a time!"


[3] Borja Golan bt Andrew Wagih
11/4, 11/8, 11/7

Borja Golan played 21-year-old Egyptian Andrew Wagih in an entertaining, fast-paced 3-0 match. The no3 seed was in control for much of the game, countering well to any attacking efforts from Wagih.

Both players were happy to power the ball around the court, resulting in a number of let's and creating a stop-start feel to the match that perhaps suited Golan more than his opponent.

The promising Egyptian played well and was unfortunate to be facing such in-form opposition in Golan. There was little he could do to prevent the Spaniard from forging and enforcing a lead in each game. A last ditch attempt from Wagih saw him claim four points in a row in the final game, but the margin of 6 match-balls was to great for him to make up, and he succumbed to defeat 11/4, 11/6, 11/7.

"I'd never played Andrew before," says Golan. "But I know he's a very up-and-coming Egyptian player. He's a very dangerous player if I left the ball loose so it was important for me to concentrate tonight. It was an intense match, not your typical 3-0 win and I'm glad to make it off in court in three."



photos by Jordan Mansfield
www.jordanphoto.co.uk

Home Nations battle for women's title

It could easily sound like the start of a joke, but the women's semi-finals will be contested by an Englishwoman, a Welshwoman, a Scot and an Egyptian ...



Top seed Tania Bailey won three close games to put paid to the in-form Sarah-Jane Perry's hopes, and she meets Tesni Evans for a place in the final after the Welsh youngster beat yesterday's giant-killer Zephanie Curgenven in four games.





Lisa Aitken made fairly quick work of Aparijitha Balanurukan and she'll face Egyptian Farah Abdel Meguid, the fifth seed who created the only upset of the day as she beat Kiwi second seed Amanda Landers-Murphy in four games.

02-Dec, Quarter-Final results

01-Dec, Round One
Eddie the sole qualifier to survive
Matt Wagg reports

Round one of the 2011 Coronation London Open got underway at the Cumberland Lawn Tennis Club, London with a number of unexpected players making it through the qualifying rounds, but only one made it through to the quarter--finals ...

The highest seeded qualifier to make it through to round one, Steve Finitsis played Chris Simpson in the first match of the day. Finitsis stated well, hitting powerful lengths that Simpson struggled to combat.

At 5-0 down in the first game, Simpson found some consistency and hit back, claiming the first two games 11/9, 14/12. A lapse in concentration allowed Finitsis a way back into the match in the third game and he duly took the opportunity 11/3, but Simpson returned to the court refocused to finish off the game 11/1.

Andrew Wagih then played fellow Egyptian and world junior championship runner-up Mohamed Abouelghar. Both players favoured an aggressive and attacking tactic, and both outright winners and tins were in ample supply.

Wagih was always the more consistent of the pair however, and the 21-year-old dug deep in the third game, coming from four points behind to lead 9-8 and then close out the final game. 12/10, 11/9, 11/9.

Eddie Charlton caused the first upset of the day, as the qualifier beat Robbie Temple 6/11, 12/10, 11/7, 11/5. Temple, ranked 47 world ranking places above his opponent, started the match well and a shaky start from Charlton eased him into the lead.

But Charlton steadied his resolve and played a consistent game to deny Temple the chance to establish a lead.

"I played Robbie in the qualifiers here last year and won 3-0, so it's good to get another win against him. He's a useful player, and he did well in the first. I just had to try and nullify his shots and limit what he could do on the ball"

No4 seed Karim Abdel Gawad then saw off French qualifier Fabien Verseille 11/7, 11/9, 11/5 in 42minutes.

No3 Borja Golan made equally short of work his opponent Joe Lee, 11/9, 11/6, 11/6. The Spaniard said afterwards: "It's not always easy to play very well in the first round. But I'm pleased with the win today, as Joe is a good player and he's always improving."

World no66, Davide Bianchetti made his first appearance in a PSA World Tour event since conceding a conduct match at the World Open in October.

Today he played Stephen Coppinger and both players set about the match with a steady and methodical approach. Each were content early on to see the rallies out and test each other in the corners before Coppinger pulled ahead and win a run of points to finish 11/4.

Bianchetti dug his heels in, improving his width and length and asking more from his opponent with much tighter drop shots and claimed a game back, 11/9.

Coppinger refocused in the third to win a confident 11/4 game, but squandered two match-points in the fourth at 10-8, allowing Bianchetti to level at 11-11 before finally finished the match 11/4, 9/11, 11/4 and 13/11.

The final match of the night saw no1 seed Aamir Atlas Khan take on Campbell Grayson of New Zealand.

The Pakistani favourite combined powerful attacking shots and explosive movement to limit Grayson's early opportunities to score points. Forced to wait patiently for his counter-attacking chances, the world no59 did put away his chances well, but his width was ultimately no match for Khan.

The second game was more of the same, Khan's dominance of the tee growing by the point, and Grayson made to really work to stay in each rally.

Despite the mountain to climb, the Kiwi refused to give up and a after a lapse in concentration from Khan, leapt in to claim the third came 11/9.

Grayson, clearly buoyed by the third game, was on fire from then on with Khan struggling to finish off a rally. Numerous back-wall boasts from the New Zealand international kept the rallies going and his retrieval at the front was just as good.

Khan had to dig deep to salvage the match, from game-ball down in the fourth to win the tie-break, and the match 11/7, 11/4, 9/11, 12/10.




Bianchetti & Temple bettered

photos by Jordan Mansfield
www.jordanphoto.co.uk


Peltier and Perry


Perry beats Tucker

Zephanie the only women's surprise

The first round in the women's $6k event was generally plain sailing for the seeded players, with top pair Tania Bailey and Amanda Landers-Murphy two of seven who recorded straight-game victories on their way to the quarter-finals.

The exception came as England's Zephani Curgenven beat eight-seeded Cyrielle Peltier in straight games to set up a quarter-final with Wales' fourth seed Tesni Evans.



Curgenven creates the upset


Gilles & Aitken