Abierto Mexicano de Raquetas 2012
29 Oct - 04 Nov, Toluca, Mexico, $70k
04-Nov, Finals:
Greg & Sarah take Toluca titles

Top seed Gregory Gaultier collected his second PSA $70k title in a row as he beat unseeded Egyptian Omar Mosaad in straight games in the final of the Abierto Mexicano in Toluca, in a rapid 36 minutes.

There was an upset in the women's final though as England's Sarah-Jane Perry upset top seed Line Hansen in four games to clam her third WSA title in a row.

Je gagne à Toluca, j'ai bien joué toute la semaine. J'ai besoin de qqes jours de repos maintenant, ça va faire du bien de rentrer à la maison après ce long périple.

L'organisation était impecable et j'espère bien revenir l'année prochaine.

Merci à toute mon équipe en France avec qui je partage cette victoire.

A bientôt


Abierto Mexicano de Raquetas 2012
29 Oct - 04 Nov, Toluca, Mexico, $70k
Round One
01 Nov
Quarters
02 Nov
Semis
03 Nov
Final
04 Nov
[1] Gregory Gaultier (Fra)
11/1, 11/8, 6/11, 11/9. 71m
[Q] Saurav Ghosal (Ind)
[1] Gregory Gaultier
7/11, 11/5, 13/11, 11/4. (76m)
Mohamed El Shorbagy

[1] Gregory Gaultier

11/1, 11/4, 11/1. (32m)

[4] Peter Barker

[1] Gregory Gaultier

11/6, 11/8, 11/5 (36m)

Omar Mosaad

Mohamed El Shorbagy (Egy)
11/8, 11/9, 11/4. 35m
Laurens Jan Anjema (Ned)
Nicolas Mueller (Sui)
18/16, 11/5, 7/11, 13/15, 11/3. 61m
[Q] Olli Tuominen (Fin)
Nicolas Mueller
11/8, 7/11, 11/3, 11/6. (53m)
[4] Peter Barker
[4] Peter Barker (Eng)
11/5, 6/11, 11/6, 6/11, 11/4. 61m
[Q] Marwan El Shorbagy (Egy)
Borja Golan (Esp)
11/9, 7/11, 11/9, 5/3 rt. 48m
[3] Amr Shabana (Egy)
Borja Golan
11/7, 5/11, 12/10, 12/10. (71m)
Simon Rosner

Simon Rosner

9/11, 7/11, 11/9, 11/9, 11/9. (76m)

Omar Mosaad

Simon Rosner (Ger)
/13, 11/6, 11/8, 8/11, 11/7. 64m
[Q} Chris Simpson (Eng)
Omar Mosaad (Egy)
11/9, 11/7, 11/6. 44m
Alfredo Avila (Mex)
Omar Mosaad
9/11, 13/11, 11/6, 2/11, 12/10. (64m)


[2] Karim Darwish

Alister Walker (Bot)
11/5, 13/11, 12/10. 36m
[2] Karim Darwish (Egy)
31-Oct, Qualifying Finals:

Olli Tuominen (Fin) 3-1 Gregoire Marche (Fra) 11/7, 6/11, 11/4, 11/9 53m
Chris Simpson (Eng) 3-2 Ryan Cuskelly (Aus) 13/11, 9/11, 11/6, 10/12, 12/10 88m Marwan El Shorbagy (Egy) 3-2 Mathieu Castagnet (Fra) 8/11,11/8, 11/9 4/11,11/6 68m
Saurav Ghosal (Ind) 3-0 Omar Abdel Aziz (Egy) 11/5, 11/2, 11/7. 37m

30-Oct, Qualifying Round One:

Olli Tuominen (Fin) 3-0 Edgar Zayas (Mex) 11/4, 11/5, 11/9. (27m)
Grégoire Marche (Fra) 3-1 Henrik Mustonen (Fin) 6/11, 11/9, 11/9, 11/3. (32m)
Chris Simpson (Eng) 3-0 Chris Gordon (Usa) 11/4, 11/8, 11/7. (34m)
Ryan Cuskelly (Aus) 3-0 Eric Galvez (Mex) 11/4, 11/9, 11/4. (38m)
Marwan El Shorbagy (Egy) 3-1 Campbell Grayson (Nzl) 7/11, 11/7, 12/10, 11/9.
Mathieu Castagnet (Fra) 3-0 Erik Tepos (Mex) 11/5, 11/5, 11/6. (29m)
Omar Abdel Aziz (Egy) 3-0 Juan Carlos Gomez (Mex) 11/2, 11/5, 11/5. (17m)
Saurav Ghosal (Ind) 3-0 Cesar Salazar (Mex) 11/8, 11/5, 11/9. (40m)
Abierto Mexicano de Raquetas 2012
30 Oct - 04 Nov, Toluca, Mexico, $15k
Round One
02 Nov
Quarters
02 Nov
Semis
03 Nov
Final
04 Nov
[2] Lauren Briggs (Eng)
11/9, 11/7, 11/2
[Q] Karla Utteria (Mex)
[2] Lauren Briggs
11/6, 11/9, 11/5. (26m)
[6] Kylie Lindsay

[2] Lauren Briggs

11/0, 8/11, 11/9, 11/3. (41m)

[7] Sarah-Jane Perry

[7] Sarah-Jane Perry

11/6, 11//5, 8/11, 13/11

[2] Line Hansen

[6] Kylie Lindsay (Nzl)
16/14, 5/11, 12/10, 7/11, 11/3 (46m)
[Q] Diana Garcia (Mex)
[3] Sam Cornett (Can)
11/6, 11/2, 11/7 (19m)
[Q] Montserrat Castellano (Mex)
[4] Sam Cornett
11/13, 8/11, 11/6, 11/8, 11/8. (47m)
[7] Sarah-Jane Perry
[7] Sarah-Jane Perry (Eng)
11/8, 11/2, 11/7 (19m)
[LL] Ivonne Diaz (Mex)
Nayelly Hernandez (Mex)
11/4, 11/4, 11/5 (17m)
Nicolette Fernandes (Guy)
Nicolette Fernandes
10/12, 11/7, 11/3, 11/4. (38m)
[4] Siyoli Waters

Nicolette Fernandes

11/8, 11/6, 11/8. (38m)

[2] Line Hansen

[Q] Graciela Lopez (Mex)
8/11, 11/7, 11/8, 11/4 (30m)
[4] Siyoli Waters (Rsa)
Zephanie Curgenven (Eng)
11/8, 11/9, 10/12, 8/11, 11/9 (33m)
[8] Thaisa Serafini (Bra)
[8] Thaisa Serafini
11/3, 5/11, 11/5, 11/5. (34m)
[2] Line Hansen
[LL] Karina Heredia (Mex)
11/3, 11/5, 11/2 (14m)
[1] Line Hansen (Den)
31 Oct: Qualifying Finals :

Graciela Lopez Perez 3-0 Maria Fernanda Rivera 11/7, 11/2, 11/5. 12 mins.
Diana Elisa Garcia Fierro 3-1 Karina Heredia 11/6, 11/2, 11/13, 11/6. 26 mins,
Montserrat Castellanos 3-1 Ivonne Diaz 2/11, 11/4, 11/6, 12/10. 30 mins.
Karla Urrutia 3-0 Hollie Naughton (CAN) 11/7, 12/10, 11/8. 23 mins.

31 Oct, Qualifying Round One, 12.00:

Montserrat Castellanos (Mex) 3-0 Diana Garcia (Mex) 11/1, 12/10, 15/13. 27m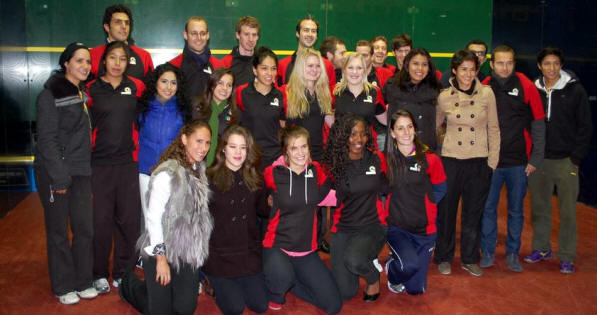 03-Nov, Semis:
Top seeds safely through to meet unexpected opposition ...

Top seed Gregory Gaultier breezed past Peter Barker in the first men's semi-final in Toluca, dismissing the Englishman in 32 minutes for the loss of just six points.

In the final he'll meet Omar Mosaad, who came from two games down to beat Simon Rosner, taking each of the last three games 11/9 to complete a 76-minute turnaround.

The women's final will be between top-seeded Dane Line Hansen, who beat Nicolette Fernandes in straight games, and Sarah-Jane Perry, the in-form Englishwoman who beat second-seeded compatriot Lauren Briggs in four games to reach a third consecutive final.

Arthur reports on the semis

02-Nov, Quarters:
Down to the last four in Toluca
as Mosaad downs Darwish

It was a another late night in Toluca as the semi-finalists of the Abierto Mexicano were decided, the last match going onto the glass court at quarter past midnight!

The day started with the delayed women's first round - which saw a reshuffle due to the withdraws of top seed and local favourite Samantha Teran - with all eight seeds going through to the quarter-finals.

The first pair of those were both upsets as Sarah-Jane Perry and Nicolette Fernandes won in five and four games respectively. Fernandes will meet new top seed Line Hansen, while Perry faces second seed Lauren Briggs whose match against Kylie Lindsay started after midnight.

In between were the men's quarter-finals. Fourth seed Peter Barker was first through with a 3/1 win over Nicolas Mueller, then Simon Rosner beat Borja Golan in a particularly tough four games, the German winning both of the last two games 12/10.

Top seed Gregory Gaultier saw off the challenge of Mohamed El Shorbagy 3/1, although the Egyptian had a game ball to take a 2/1 lead. The final match was an all-Egyptian affair which saw Omar Mosaad oust second seed Karim Darwish 12/10 in the fifth.
01-Nov, Men's Round One results

31-Oct, Qualifying Finals:
Late night for qualifying finals

It was a late night in Mexico as the last of the four men's qualifying finals took to court after midnight.

Finland's Olli Tuominen beat Frenchman Grégoire Marche in the first match, but marathon wins for Chris Simpson and Marwan El Shorbagy meant that Saurav Ghosal completed the main draw lineup well into Friday.

It was a Mexican clean sweep in the women's qualifying finals, but the main draw placement and the first round have been delayed by a day to allow players time to hopefully get over their travel troubles.

FROGS' TALK

J'étais censée faire Mexico, mais à cause de l'ouragan qui s'est abattu sur la cote Est des USA, j'ai du déclarer forfait. LaGuardia est toujours inondé, l'aéroport est donc fermé jusqu'à nouvel ordre, et le vol le plus tôt que je peux avoir n'est que samedi, sachant que mon match est demain, impossible de jouer.

Je suis vraiment déçue car c'était une bonne opportunité pour moi d'être dans le main draw d'un 15000$. Mais "Sandy" en a décidé autrement.

Prochaine échéance le WSA de Madison fin novembre, où je retrouverai quelques-unes de nos jeunes françaises... En espérant que je ne sois pas bloquée à cause de la neige cette fois...

Bonne chance à Tit Greg, Mat et Greg pour le tournoi.