Matthew Makes It Ten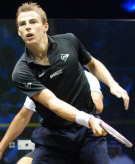 England's Nick Matthew celebrates his tenth month as world number one, according to the July Dunlop PSA Men's World Squash Rankings.

After becoming England's first world No1 for six years in June last year, the 30-year-old from Sheffield reclaimed the top spot in January, since when he has held the title unopposed.

In an unchanged top 20, Egypt's Ramy Ashour is at No2, while compatriot Karim Darwish is in third place and England's James Willstrop at No4.

Despite losing to rising Egyptian star Mohamed El Shorbagy in last month's final of the Squash Pro Internationaux de la Reunion on Reunion Island, Frenchman Thierry Lincou has held off the rankings challenge of the youngest player in the world top 20.

Lincou, who recently celebrated his 35th birthday, maintains his grip on eighth place, with El Shorbagy reducing the gap behind the former world champion at No9.

Two rising stars of European squash celebrate career-high rankings just outside the top 20. Nicolas Mueller consolidates his status as the top-ranked Swiss player of all-time by moving up two places to 33.

Since reaching his first PSA World Tour final in May 2007, the Zurich-based 21-year-old has been unbeaten in all finals thereafter and now boasts seven Tour title triumphs.

Simon Rosner becomes the third highest-ranked German of all-time after rising three places to No30. The 23-year-old five-time German National champion from Paderborn upset top-seeded Pakistani Aamir Atlas Khan in last month's Jena International Championship final in Kuwait to win the fifth and biggest PSA Tour title of his career.

Annie hits a new high
Annie Au underlines her status as Hong Kong's highest ever ranked player in this month's new WISPA world rankings, the 22 year old jumps up one place to reach a career high of nine.

In a fairly quiet month for the top players on the tour, there weren't too many other significant changes in the top 20.

The two finalists from the recently finished Boca Del Rio International both move up two spots respectively. Natalie Grinham edges herself slowly back towards the top ten, rising to no.16, her highest ranking in almost a year. Her conqueror in the final, Samantha Teran, returns to no.19 in the rankings after a brief spell outside the top twenty. Mexico's greatest ever player, came from two games down to stun Natalie Grinham and delight her home fans in Veracruz.

There were a number of significant rises outside the top twenty as well this month, with many up and coming players recording career high rankings.

Most notably:

Heba El Torky makes her debut in the top 30 after claiming the Egyptian Circuit 2 title. The 20 year old has the best win-loss record in finals on tour, having been in five and never lost one!

Melody Francis surges up to a high of 44. The 22 year old Aussie recorded back to back wins at the Millicent Open and the South Australian Open and will be looking to add more titles during this month's Australian circuit.

There were also career high rankings for: British Under 23 Champion Victoria Lust at 35, Olivia Blatchford at 36, Emily Whitlock at 55 who reached the final of the Le Sport Open, Milou Van Der Heijden at 56 who reached her first Silver level quarter final in Mexico, Nouran El Torky at 59 who was a semi finalist in Egypt, Stephanie Edmison at 70, Yathreb Adel at 74, Amanda Landers-Murphy at 75 who reached her first tour final at the South Australian Open, Tesni Evans at 93 who also reached her first tour final and Lisa Aitken at 94.

This month the world's top players will be in action at the World Series CIMB Malaysian Open and the Gold Singapore Open. Nicol David, having spent her 60th month at No.1 will be defending both her titles.