Singapore Masters 2009
03-08 Aug, Singapore
08-Aug, Final:
[1] Nicol David (Mas) bt [3] Natalie Grinham (Ned) 11-9, 11-8, 11-9
Nicol scores Singapore hat-trick



World No. 1 Nicol David underlined her dominance in women's squash by defeating Natalie Grinham 11-9, 11-8, 11-9 in 40 minutes.

It was a masterful performance for the 25-year-old from Penang who's now won all three of the CIMB Singapore Women's Masters tournaments. And in all three finals, she's met a Grinham in the final, beating Natalie this time and in 2007, and Rachael in between.

Chair Umpire Munir Shah gave both players lengthy introductions, and even sang a song, before play started.

Game 1 was cut-and-thrust as both players tried to work each other, with Grinham intent on keeping David at the back of the court with lobs. She was able to stay level with the World Champion until 8-8. That was when David was able to stretch ahead and wrap up the game.

Grinham came out firing in Game 2, mixing up her shots with good effect. From 6-1 in front, Grinham stretched the lead to 8-2. And that was when David started her clawing back the points, one by one. Playing patiently, the Malaysian won the next nine points to take the game.

It was disastrous for Grinham, it could have been one game all… but now it's a 2-0 hole.

Given a sniff of victory, David was not about to let up in the third game. And despite a mid-game blip when she allowed Grinham to close the scores, she kept her composure complete the win.

It was sweet to pick up her 39th WISPA title. More than that, she wants to keep her focus to stay ahead of the chasing pack. And for sure, Nicol David brought her best stuff for a third year running to Singapore.

"I thought I did quite well with the pressure Nicol throughout all three games.

The second game was pretty important but I don't think I did much wrong, rather it was Nicol who fought her way back"

"The past couple of years I've struggled with injury, which hasn't helped, but now it's all coming good and I'm becoming stronger and stronger mentally. So I really want to come back and win Singapore"



"I think it's a matter of working on the little things, making sure I do everything right, instead of worrying about what others are doing.

And to make sure I bring my best each time I step onto the court."



07-Aug, Semi-finals:
[1] Nicol David (Mas) bt [4] Alison Waters (Eng) 11-5,11-8,7-11,11-8 (37m)
[3] Natalie Grinham (Ned) bt [2] Rachael Grinham (Aus) 11-9, 7-11,11-6,11-8 (50m)
Nicol and Natalie set up
2007 repeat

Natalie Grinham shaded the battle of the Grinham sisters in the semi-finals of the CIMB Singapore Women's Open to earn a return to the title-decider. It will be the second trip to the final for the Australian-born player who now plays for the Netherlands. And just like the first time around, standing in her way is World No 1 Nicol David.

Playing her sister Rachael was not perhaps the best lead-up, but the match still went for 50 minutes.

Rachael moved around well, and showed no ill-effects from her dodgy ankle. In fact, she even managed to leave her mark on Natalie, and didn't realise it till it was pointed out to her after the match.

Here's how 31-year-old Natalie described the incident: "She stood on my foot but she didn't realise it, I went straight over and a bruise came up rightaway."

But Natalie was quick to point out that it would not affect her in the final, seeing as she went on to beat Rachael 11-9, 7-11, 11-6, 11-8.

In the final, Natalie hopes it will be her turn to put her mark on the World No 1: "I will go out and do my best and run everything down and hopefully come out the champion."

The second semi-final was an outstanding affair. Long rallies, incredible shot making, and superb retrieves that left the capacity crowd ooh-ing and aah-ing in delight. Despite an exhausting 80-minute quarter-final last night against Jenny Duncalf, Alison Waters gave her very best against the World No 1.

She dropped the first two games 11-5, 11-8, paying the price for going for quick kills that did not quite work out. But in the third game, Waters upped the aggression and with it her accuracy. Shooting to a 4-0 lead, she did not relinquish her lead, winning 11-7.

The fourth game was all David as the long rallies took their toll on Waters, with the Penangite running out 11-8 winners.

Looking ahead to the final with Natalie Grinham, whom she beat here in the 2007 title match, David said: "I played her last week I Kuala Lumpur, and beat her in the World Games final in Kaohsiung. We have some good matches together but knowing this is the final, I just want to give it a good go."

Asked if it's important for her to land the hat-trick here in Singapore, David replied: "For me it's just important for play well, and if I do play well, then the result will come."

The 2007 final took 54 minutes with David winning 6, 5 and 5 under the old hand-out scoring system. It's 2009, and it's point-a-rally now. But will it be, as they say, déjà vu all over again?





06-Aug, Quarter-finals:
[1] Nicol David (Mas) bt [7] Laura Lengthorn-Massaro (Eng) 12-10, 7-11, 11-7, 11-7 (55m)
[4] Alison Waters (Eng) bt [5] Jenny Duncalf (Eng) 9-11, 11-9, 11-13, 11-6, 11-9 (81m)
[3] Natalie Grinham (Ned) bt [8] Madeline Perry (Irl) 11-7, 8-11, 11-6, 8-11, 11-9 (60m)
[2] Rachael Grinham (Aua) bt [6] Omneya Abdel Kawy (Egy) 11-5, 13-15, 11-2, 11-4 (45m)
Grinhams line up for
Singapore Semi

There will be a Grinham in the final of the CIMB Women's Singapore Masters. But will it be third seed Natalie Grinham, the world No3, or her elder sister Rachael Grinham - ranked just one place below her, but the tournament's second seed - who will contest the climax of the $53k event at the Kallang Squash Centre in Singapore.

The first quarter-final pitched Natalie Grinham against eighth seed Madeline Perry - and the hour-long match set the scene for the rest of the evening. The pair traded games before taking the match into a fifth game. And in the decider, there were never any more than two points between the two before Irish champion Perry had a late lapse of concentration to allow Grinham to go ahead.

The game ended on a stroke to the Dutch star and, despite initially thinking it was a harsh decision, Perry conceded later that it was a fair call.

The Irish girl felt she had her chances to win: "I really felt I could win. We were at 8-all in the final game and then I played a weak volley boast there and just dropped off for a couple of points and gave her the match point," said Perry after her 11-7, 8-11, 11-6, 8-11, 11-9 defeat. "Still on match ball, I felt I could win, but I couldn't quite do it."

For Grinham, it was a different kind of struggle: "I played well in some points, other points I felt I was mistiming the ball. I played on the back courts yesterday, and the show court's a little bit different. So my timing was a little bit off sometimes. It was a patchy match, and I'm happy to get through it."

Rachael's match against Egyptian enigma Omneya Abdel Kawy was more straightforward. Except for a second game blip, the 32-year-old from Toowoomba, Australia, was always ahead despite playing with a sore ankle.

"The night before I had my first round, I just went over on my ankle, crossing the street unbelievably," explained Rachael Grinham after her 11-5, 13-15, 11-2, 11-4 win. "And I've already done my ankle a couple of times this year, so it's already quite weak. So I wasn't really sure I was going to be able to move alright.

"I thought tonight against Omneya, I was really going to struggle because she's usually quite good in the front. So I went out there with a plan to just try and keep her in the back so that I probably wouldn't have to move much and hopefully she would make some errors."

About playing her sister in the semis, Rachael continued: "Natalie and I don't play each other that much these days, because we're both struggling a bit to make it through the rounds. It's always good because we always know that one of us is getting through to the final."

The third quarter-final - an all-English affair between fifth seed Jenny Duncalf and fourth seed Alison Waters - was nip and tuck all the way. But it was Londoner Waters who prevailed 9-11, 11-9, 11-13, 11-6, 11-9 in the 81-minute tussle to set up a second meeting in a week with favourite Nicol David, the world number one from Malaysia who beat her in the CIMB Malaysia Open final last Saturday.

For Duncalf, it was disappointing to be edged out: "There wasn't a lot in it, Alison nicked it in the end. I'm disappointed to lose but I didn't think I played too badly. I probably should have capitalised on my lead in the fifth, but Ali came back strong and took it in the end."

The crowd stayed to see top seed Nicol David in action and for a while there, it seemed they were going to witness an upset. England's world No9 Laura Lengthorn-Massaro played like the rising star she has been for the past two years, running Nicol close before losing the first game 12-10.

Laura then won the second 11-7 but that was when Nicol found the extra gear that she often does, taking the third 11-7. Nicol shot to a 6-0 lead in the fourth and despite a mini-comeback from Laura, the Malaysian stayed focused to wrap up the match in 61 minutes.

Laura took heart from her defeat: "I thought I played OK. My game plan was good but it was the execution that let me down. I was confident because the last we met was 3/2, so I know that I can get games, it's just turning the games into wins, so next time, I learnt a lot from this."

Now one win away from her third successive final, David agreed she was not at her best: "I was not having the best focus today but Laura played really well today and worked the court well. I got sucked into her game but then I managed to find my own game and bring it to her at the end."
05-Aug, Round One:
No surprises in Round One

It was the World No. 1 against a player ranked 16 places below her but the match was over in 27 minutes. And not for the lack of trying from Samantha Teran. The lass from Mexico City tried her hardest but Nicol David was always a step ahead of her.

And unlike past years when Nicol often started cold at the Kallang Squash Centre, this time the 25-year-old from Penang shot off like a rocket, taking the first game 11-5, before taking the next two 11-8 and 11-7.


"Samantha has been playing well lately, she keeps going and going. So I wanted to start off strong and keep the mistakes to the minimum."

"It's about getting used to the change from the glass courts in Malaysia to the concrete one here, working the court well for your own game and working right through."



Second seed Rachael Grinham was equally clinical in despatching Malaysia's Sharon Wee 11-9, 11-3, 11-3 to stay on course for a repeat of last year's final, the match taking 30 minutes. She next meets Omneya Abdel Kawy who downed Isabelle Stoehr 11-7, 11-3, 11-3 (31m).

Madeline Perry attended a radio recording in the morning, alongside WISPA Chief Executive Andrew Shelley, and Singapore players Mao Shi Hui and Pamela Chua. From all accounts, Madeline put up a good performance during at the 938LIVE radio studios in the morning, and in the evening took 17 minutes to brush aside Pamela.

The Irish girl lines up a meeting with 3rd-ranked Natalie Grinham next, while her Singaporean opponent, ranked 137th, heads next to the United States for tertiary studies. And while Madeline will continue as a touring pro to study the angles of a squash court, Pamela will be doing undergraduate studies in Mathematical and Computational Science. What a contrast!

England's Laura Lengthorn-Massaro despatched Malaysia's Delia Arnold 11-8, 11-6, 12-10 to earn a meeting with top seed Nicol.

Alison Waters took 33 minutes to defeat Donna Urquhart 12-10, 11-5, 11-4. Her next assignment would be against a familiar opponent in Jenny Duncalf who took care of Vanessa Atkinson 11-8, 11-9, 11-5 (35m). It will be an interesting quarter-final to watch.
Singapore Masters 2009
03-08 Aug, Singapore, $53k

Round One
05 Aug
Quarters
06 Aug
Semis
07 Aug
Final
08 Aug
[1] Nicol David (Mas)
11/5, 11/8, 11/7 (27m)
[Q] Samantha Teran (Mex)
[1] Nicol David
12/10, 7/11 11/7 11/7 (55m)
[7] Laura L.Massaro
[1] Nicol David

11-5,11-8,7-11,11-8 (37m)

[4] Alison Waters

[1] Nicol David

11-9, 11-8, 11-9

[3] Natalie Grinham
[7] Laura L.Massaro (Eng)
11/8, 11/6, 12/10 (27m)
[Q] Delia Arnold (Mas)
[4] Alison Waters (Eng)
12/10, 11/5, 11/4 (33m)
[Q] Donna Urquhart (Aus)
[4] Alison Waters
9/11, 11/9, 11/13, 11/6, 11/9 (80m)
[5]Jenny Duncalf
[5]Jenny Duncalf (Eng)
11/8, 11/9, 11/5 (35m)
Vanessa Atkinson (Ned)
Pamela Chua (Sin)
11/2, 11/1, 11/2 (17m)
[8] Madeline Perry (Irl)
[8] Madeline Perry
11/7, 8/11, 11/6, 8/11, 11/9 (60m)
[3] Natalie Grinham
[3] Natalie Grinham

11-9, 7-11,11-6,11-8 (50m)

[2] Rachael Grinham
Kasey Brown (Aus)
11/7, 11/3, 11/3 (25m)
[3] Natalie Grinham (Ned)
Isabelle Stoehr (Fra)
11/3, 12/10, 11/9 (31m)
[6] Omneya Abdel Kawy (Egy)
[6] Omneya Abdel Kawy
11/5, 13/15, 11/2, 11/4 (45m)
[2] Rachael Grinham
[Q] Sharon Wee (Mas)
11/9, 11/3, 11/3 (30m)
[2] Rachael Grinham (Aus)
04-Aug, Qualifying Finals:

Samantha Teran (Mex) bt Aisling Blake (Irl) 13/11, 11/8, 12/10 (43m)
Donna Urquhart (Aus) bt Sarah Kippax (Eng) 11/3, 11/4, 11/9 (20m)
Sharon Wee (Mas) bt Line Hansen (Den) 3/11, 12/10, 11/9, 8/11, 11/8 (49m)
Delia Arnold (Mas) bt Joey Chan (Hkg) 9/11, 11/6, 11/7, 9/11, 11/7 (49m)


03-Aug, Qualifying Round One:

Samantha Teran (Mex) bye
Aisling Blake (Irl) bt Yuko Ikeda (Jpn) 11/3 11/2 11/4 (19m)
Sarah Kippax (Eng) bt Joshna Chinappa (Ind) 11/7 11/4 11/8 (26m)
Donna Urquhart (Aus) bt Yan Koh (Sin) 11/8 11/4 11/4 (21m)
Sharon Wee (Mas) bt Jerryca Teo (Sin) 11/2 11/5 11/3 (20m)
Line Hansen (Den) bt Low Wee Wern (Mas) 11/8 12/10 8/11 10/12 12/10 (60m)
Joey Chan (Hkg) bt Wei Lin Hooi (Mas) 11/3 11/3 11/4 (12m)
Delia Arnold (Mas) bt Mao Shi Hui (Sin) 11/4 11/6 11/2 (26m)
04-Aug, Qualifying Finals:
WEE EDGE HANSEN TO MAKE MAIN DRAW, ARNOLD FOLLOW SUIT

For a second consecutive night, Denmark's Line Hansen was involved in a five-gamer but this time the 26-year-old emerged on the wrong side of the result. Instead, it was Sharon Wee of Malaysia who made it through to the Main Draw of the CIMB Singapore Women's Masters 2009.

Qualifying Round two was always going to be tense with the winners going through to the Big Dance. And the action at the Kallang Squash Centre was frenetic.

World no 17 Samantha Teran got the ball rolling by defeating Aisling Blake. But the straight games win for the Mexican belied the fact it was a very close tussle that ran 43 minutes. Teran prevailed 13-11, 11-8, 12-10, and will play World No 1 Nicol David in the Main Draw.

Next to win a place in the Main competition was Australia's Donna Urquhart who upended a higher-ranked opponent in Englishwoman Sarah Kippax. A late surge by Kippax was not enough to prevent her from going down 11-3, 11-4, 11-9. Urquhart lines up against Malaysian Open runner-up alison Waters.

Then came the five-game thriller between Hansen and Wee, and what a contrast in styles. Hansen's power game worked a treat in the opening game, with an easy 11-3 win. But back came Wee who started mixing up her shots, taking the ball high, and making effective use of the back court volley drop. And she levelled the match at one-game each.

The pair traded the next two games to take the match to a decider. Hansen shot to an early 3-0 lead only to see Wee coming back. And after looking tired in game four, Wee found her second wind to seize a decisive lead at 8-7. And she went on to win 11-8 and Hansen's composure frayed.

It was easily the quality match of the evening and afterwards,

A relieved Wee, who will meet Rachel Grinham in the Main Draw, said: "Line's tough to play, and I knew I needed to start playing the trickier shots. The risk paid off and I'm glad I'm through to the Main Draw. I felt I wanted it a bit more tonight and I hope the draw will be kind to me."

Match four was also close affair as rising star Joey Chan of Hong Kong gave a fright to Malaysia's Delia Arnold who's ranked 13 places above her. Chan took the first game 11-9 but Arnold came back to take the next two 11-6, 11-7.

Chan fought back to take the fourth game 11-9 to force the decider. But the Hong Konger ran out of steam, giving away cheap points with unforced errors while Arnold stayed steady to win 11-7 and earn a meeting with World no 9 Laura Lengthorn-Massaro in the Main Draw.

Said Arnold: "My past matches with Joey have always been close affairs. I am dead tired after this match. But I'm really looking forward to meeting Laura whom I've never played before. I hope to put up a good show and and learn as much as I can from the experience of playing a world top ten player."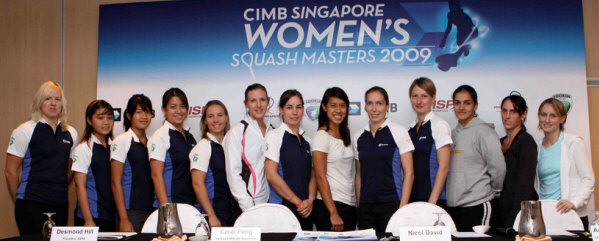 03-Aug, Qualifying Round One:
Things go to form
on day one of qualifiers ...

The seeded players are safely through to the second qualifying round at the CIMB Singapore Women's Masters 2009.

A late pullout by Egypt's Raneem El Weleily due to visa issues resulted in a mini-reshuffle. Samantha Teran gained a bye, going through to Round two without effort.

In the remaining seven ties, only one went beyond a 3-0 scoreline, and that was the evening's highlight. A 60-minute tussle between World no 28 Line Hansen and Malaysia's Low Wee Wern who's ranked 5 places below the Dane.

Line took a 2 game lead (11-8, 12-10) only to see the 19-year-old from Penang coming back to take the next two. Hansen found it hard to keep her composure, tossing her racket in frustration on several occasions, and drawing a stroke from the umpire.

Game five was nip and tuck as the duo exchange points, but Hansen's court command paid off, taking the decider 12-10.

Despite the loss, Low was upbeat with the result: "Line played two great shots at the end of Game five and she deserve the win. I knew I had to hang in there and if I could get her to the fifth game, I would have a chance. I've been training well in the past three months in Penang, so this is an improvement to the 3-0 loss to Line the last time we met."

Sharon Wee accounted for local lass Jerryca Teo and will meet Hansen tomorrow for a place in the Main Draw.

Delia Arnold brushed aside Singapore's Mao Shi Hui in 28 minutes (11-4, 11-6, 11-2) to set up a meeting with Joey Chan from Hong Kong. Chan disposed of Malaysia's Hooi Wei Lin 11-3, 11-3, 11-4 ( 12 mins).

Donna Urquhart ended Singapore's hopes of sending a second player into the Main Draw by defeating Koh Kar Yan 11-8, 11-4, 11-4 and will meet England's Sarah Kippax, who beat India's Joshna Chinappa.

And Ireland's Aisling Blake ended the hopes of Japanese veteran Yuko Ikeda.


2008

Nicol bids for Singapore hat-trick

In one of the busiest months on the 2009

W

ISPA tour

, the world's leading players are set to compete in this week's

CIMB Singapore Masters, the fifth

WISPA Gold

event of the year which will be staged at the

Kallang Squash Centre

from 05-8 August.

It is the third year of Singapore's premier squash tournament - and Malaysia's world number one Nicol David is seeded to win the title for the third time in a row!

"The CIMB Singapore Masters is one of my favourite tournaments," said the 25-year-old from Penang who successfully defended her Malaysian Open title last week. "The fans have never failed to make me feel at home and that always lends me the advantage as I face up to the stiff opposition that shows up at this first-class tournament.

"I look forward to returning to Singapore for the CIMB Masters in this very important year for squash as we make a concerted bid to place Squash in the 2016 Olympics."

Andrew Shelley, Chief Executive of WISPA, echoes David's thoughts: "Two years ago, we were delighted with the return of top-notch squash to Singapore with the CIMB Singapore Masters. We have now been able to build upon this by welcoming back the New Zealand Open after 16 years.

"The Asia-Pacific swing - which takes in Kuala Lumpur, Singapore, and this year Tauranga in New Zealand - will surely become a real focal point of the WISPA calendar as we continue to grow our sport.

"This year, we will also be holding our WISPA Annual General Meeting in Singapore, as we look forward to the outcome of our bid to enter Squash into the Olympic Games for 2016. And the continual success of the CIMB Singapore Masters is as crucial to the global growth of squash, as much as it is important for Singapore squash."

The Grinham sisters, Natalie and Rachael, who are ranked third and fourth in the world, will be back to deny David her hat-trick - and as always, the strong British representation of Jenny Duncalf, Alison Waters, Laura Lengthorn-Massaro, and Madeline Perry from Ireland, make this one of the most star-studded squash events in the region.

Singapore Squash Rackets Association President Desmond Hill welcomes the continued support of the title sponsor: "For an event like ours to take off, we cannot do without the strong support of our sponsors. And CIMB Bank has proven its commitment to squash not only in its home country Malaysia, but also in the region with its sponsorship of the Singapore Women's Masters for a third year running.

"Our tournament has also been a window into the future as we welcome the emerging youngsters in Kasey Brown of Australia, Mexico's Samantha Teran and Raneem El-Weleily of Egypt. We also welcome the delegates to WISPA staging its AGM here in Singapore for the first time, which gives us a shot in the arm that Singapore squash is heading the right direction," added Mr Hill.

Singapore will be represented in the $53k tournament by top local player Pamela Chua in the main draw, while Mao Shi Hui, Koh Kar Yan and Jerryca Teo are entered in the qualifying competition.

USA's world number two Natalie Grainger, who missed the World Games due to a foot injury, will also not be in Singapore - but hopes to return next week in New Zealand.