Join us on our 2013 Junior Squash trip to Santiago de Compostela, Spain, from July 16th until July 27th!!

The highest quality squash camp for juniors of different levels, including: technical, tactical, fitness training and match-play.


Squash In Spain is a high detailed, diverse squash program, that has a great level of focus in all campers, with a ratio of one adult for every two participants.

It has been organized since 2001, in the director's family's facilities of Squash Club Santiago, a highly esteemed club that is reference to Spanish squash, as it has produced almost a dozen national champions over the years in different individual and team age groups.

Players like Borja Golan, Carlos Cornes and his brother Iago(director of the trip) are a product of this prolific squash program.
SQUASH IN SPAIN 2013

l 12 days of the highest quality Squash Camps

l Detailed focus on each camper, with our ratio of one adult
for every two kids, covering technical, tactical and fitness
aspects as well as match play

l Spanish lessons every day

l Camps take place at the director's family's great facilities
of Squash Club Santiago

l Cultural trips that include visits to Santiago de Compostela
and surrounding towns

l The highest possible quality you can find in Junior Camps.
An unforgettable travel experience!!
On a normal day, campers train an average of 5 total hours each day, including not only squash technique, tactics and match-play training, but also fitness training with the experienced Diego Rojo.

A fitness instructor that works with several professional athletes. As well as going through different squash specific fitness drills, he advises the juniors on how they should approach their pre-season and in-season training.

We offer a wide variety of activities outside of squash, and a ratio of 1 adult for every 2 kids, on a trip designed to be more than just a squash experience! A great opportunity to improve your Spanish, through interaction with local coaches and kids, as well as Spanish lessons that take place for an hour each day.

The juniors will get to visit the beautiful historical city of pilgrimage, Santiago de Compostela. We will also visit beach towns in the region of Galicia.

The trip will depart from the US on July 16th, and return on July 27th. Although the base of the group will depart for the trip from the US, campers do not have to necessarily be from this country to participate.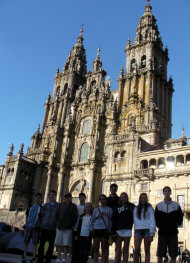 Visit our website www.squashinspain.com

Also see the webpage for our amazing tours of Spain for adults www.inspaintours.com

Contact information:
Iago Cornes
tours.in.spain@gmail.com
+1-484-319-5002
Coaches/organizers include:

l Iago Cornes
trip director/coach:
Squash Professional at
the Missouri Athletic Club.

l Carlos Cornes
coach: Top 3 in Spain.

l Diego Rojo,
Fitness coach: conditioner
of professional athletes.

l Beatriz Dorado
Spanish teacher.