07-Aug, Final & Playoffs:

Final: Egypt 2-1 Pakistan

Amr Khalid Khalifa 3-0 Danish Atlas Khan
11/3, 11/9, 11/3
Ali Farag 2-3 Nasir Iqbal
8/11, 11/6, 7/11, 11/2, 8/11
Marwan El Shorbagy 3-1 Farhan Zaman
11/5, 4/11, 11/9, 11/9




3rd/4th: Canada 2-1 England
5th/6th: India 2-1 New Zealand
7th/8th: France 2-0 Germany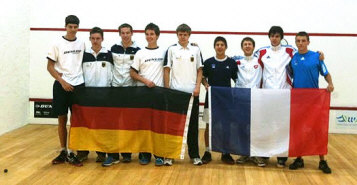 9th/10th: Australia 2-0 Mexico
11th/12th: Wales 2-0 USA
13th/14th: Korea 2-0 Colombia
15th/16th: Netherlands 2-0 Venezuela
17th/18th: South Africa 2-0 Ireland
19th/20th: Japan 2-1 Ecuador
21st/22nd: Kuwait 2-1 Guatemala
23rd/24th: Brazil 2-0 Cayman Islands
Egypt Reclaim World Junior Team Title In Quito

In a dramatic climax to the 2010 Men's World Junior Team Squash Championship in Quito, top seeds Egypt beat defending champions Pakistan 2/1 to win the title for the third time since 1994.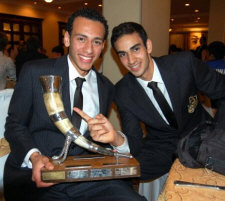 New world individual champion Amr Khaled Khalifa put the favourites into a commanding position in the tie after beating Pakistan number one Danish Atlas Khan 11-3, 11-9, 11-3 in a victory which marked his tenth successive win in the two-week-long championships.

But second seeds Pakistan charged back into contention when Nasir Iqbal ended Ali Farag's unbeaten run in the team event by overcoming the individual championship runner-up 11-8, 6-11, 11-7, 2-11, 11-8 in a 65-minute encounter to level the tie.


But it took a further nail-biting 50 minutes before the destination of the title was resolved - when 17-year-old Marwan El Shorbagy repeated his individual championship bronze medal win over Farhan Zaman to beat the 18-year-old Pakistani 11-5, 4-11, 11-9, 11-9.

It was a glorious conclusion to the championships for Egypt - who not only claimed all the medals in the individual championship, but now hold all four main world team titles, the men's and women's senior and junior crowns.


Fifth seeds Canada celebrated their best finish in the championship since 1992 after upsetting third seeds and former champions England 2/1 in the bronze medal play-off for third place.

India also claimed a 2/1 victory in the fifth place play-off - but it proved a notable conclusion for runners-up New Zealand, the 11th seeds whose 6th place is their best finish for 18 years.

There was further cause for celebration in the Korea camp when the 16th-seeded team, in only their second appearance in the championship, beat Colombia in the play-off for 13th place - thus finishing 16 places higher than in their 2000 debut.
Canada wins Bronze
Louis Daugnault reports

Fifth-seeded Canada concluded an impressive run at the men's world junior squash championships on Saturday with a thrilling 2-1 victory over number-three England to win the bronze medal in the team event.

The third place result equals Canada's best-ever finish at the men's world juniors. The Canadians were also third in 1992 and in 1979. This week's tournament was the ultimate fitness test in a city sitting at 10,000 feet above sea level. Every match was a heart bursting, lung busting challenge for the players.

"I can't say enough how proud I am of our team," said Jonathan Hill of Calgary, the head coach of Canada's national junior team. "The key to our success was our preparation. We put four weeks of hard work and training together with the goal to win a medal. Our players were ready for this tournament."

After Andrew Schnell of Calgary lost the opening match to Charles Sharpes, Nick Sachvie of St. Catharines, Ont., tied the match at 1-1 defeating Nathan Lake in five games with the fifth match going 11-9.

Arjun Gupta of Toronto won the third and deciding match in another five-game thriller with the fifth game going to 12-10. Gupta had squandered match ball in the fourth game and blew a 10-7 lead late in the fifth.

"It was very difficult mentally," said Gupta. "I knew that bronze medal was on the line and this was what we had worked so hard for. I didn't want to let it slip away. I just had to keep really focused."

Schnell was still on a high after receiving his medal.

"This is unbelievable," he said. "Canada came through and this tournament really showed how much we've prospered in this sport. The altitude was especially difficult in the individual tournament last week but by the team event we were pretty use to it. Our preparation really paid off."

Canada opened the tournament winning its two round robin matches earlier this week then defeated Mexico and fourth seed India in the round of 16 and quarterfinals respectively. They put up a strong fight against number-one Egypt on Friday in the semifinal but lost 3-0.

The 1992 Canadian team, the last one to earn a world junior podium finish, included world champion Jonathon Power of Toronto. It launched a golden period for Canadian squash.

"This week's performance will inspire many of our top players back in Canada to try and attain the same kind of success on the international stage," said Hill.

England 1-2 Canada
Charles Sharpes 3-0 Andrew Schnell 11/5, 11/7, 11/9
Nathan Lake 2-3 Nick Sachvie 6/11, 3/11, 11/5, 12/10, 9/11
James Earles 2-3 Arjun Gupta 9/11, 11/6, 11/3, 11/3, 10/12
Ravi & Ramit secure 5th for India
Cyrus Poncha reports

India defeated New Zealand at the World Junior Men's Squash Championships to secure the 5th position.

In the first tie, a pumped up Paul Coll defeated Aditya Jagtap. After winning the first game in the tiebreaker Paul kept the pressure on Aditya and did not give him a chance to get into the match winning the next two games comfortably.

The first game of the second tie was a 21 min duel with Ravi going down to his opponent Lance 15-17. That game seemed to drain out the energetic Lance and fleet footed Ravi took control of the match thereafter by continuously moving him to all corners and levelled the score for India.

In the decider, Ramit Tandon once again gave a solid performance wrong-footing Bryce on numerous occasions to win the match in straight game and the tie for India.
India attained the 5th position and New Zealand 6th. This has been the best performance for New Zealand since 1992.

Earlier India had lost to Canada in the quarterfinals. Canada finished in 3rd position ahead of England.

India's performance at the World Junior Men's has been consistent for the past 5 events. Our best performance was in 2008 when we finished 4th. In 2006 – 6th; 2004 – 5th; 2002 – 5th.

INDIA 2 - 1 NEW ZEALAND
Aditya Jagtap 0-3 Paul Coll 10/12, 6/11, 5/11 (27m)
Ravi Dixit 3-1 Lance Beddoes 15/17, 11/5, 11/8, 11/3 (50m)
Ramit Tandon 3-0 Bryce Redman 11/9, 11/5, 11/5 (26m)
06-Aug, Semis:
Top Two to contest Teams final

Egypt and Pakistan will line up in the World Junior Team final for the fourth time in a row since 2004 after the two top seeded teams won their semi-finals in contrasting styles.




Favourites Egypt - with a squad featuring the players who won the gold, silver and bronze medals in the earlier individual completion - defeated surprise opponents Canada, the fifth seeds, 3/0.

New world individual champion Amr Khaled Khalifa recovered from a game down to beat Canadian number one Andrew Schnell 7-11, 11-7, 11-7, 11-4 before bronze medallist Marwan El Shorbagy took out the third string Canadian Arjun Gupta 11-13, 11-6, 11-3, 11-9.

Ali Farag, individual championship runner-up, ensured maximum points for Egypt by despatching Nick Sachvie 11-1, 11-8 in the best-of-three dead rubber.

The win takes Egypt, champions in 1994 and 2006, into the world final for the eighth time since 1994.




Title-holders Pakistan had a harder time claiming their anticipated place in the climax, having to fight back from a match down to beat former champions England, the third seeds, 2/1.

England number one Charles Sharpes raised England's hopes with a battling 9-11, 11-5, 4-11, 11-5, 13-11 win over Pakistan's Danish Atlas Khan in the opening clash. Farhan Zaman restored order for the second seeds when he beat James Earles 11-7, 9-11, 11-9, 11-4.

The decider was a dramatic 55-minute affair which lasted four games - but it was the Pakistan number two Nasir Iqbal who prevailed, defeating Nathan Lake 11-8, 11-5, 11-13, 11-7 to put the four-time champions into the final for the eighth time since the inaugural championships in 1980.
[1] Egypt 3-0 [5] Canada
Amr Khaled Khalifa 3-1 Andrew Schnell
7/11, 11/7, 11/7, 11/4 (43m)
Marwan El Shorbagy 3-1 Arjun Gupta
11/13, 11/6, 11/3, 11/9 (46m)
Ali Farag 2-0 Nick Sachvie
11/1, 11/8 (17m)

[2] Pakistan 2-1 [3] England
Danish Atlas Khan 2-3 Charles Sharpes
11/9, 5/11, 11/4, 5/11, 11/13 (72m)
Farhan Zaman 3-1 James Earles
11/7, 9/11, 11/9, 11/4 (36m)
Nasir Iqbal 3-1 Nathan Lake
11/8, 11/5, 11/13, 11/7 (55m)

5/8: France 1-2 India, Germany 1-2 New Zealand
9/12: Mexico 3-0 USA, Australia 3-0 Wales
13/16: Colombia 2-1 Netherlands, Korea 3-0 Venezuela
17/20: Ireland 3-0 Ecuador, Japan 0-3 South Africa
21/24: Cayman 1-2 Guatemala, Brazil 1-2 Kuwait

05-Aug, Quarters:
Canada Crash into Semis

Canada upset fourth seeds India in the quarter-finals to ensure a top four finish for the first time since 1992.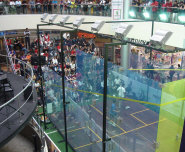 Squad number one Andrew Schnell, 18, from Calgary, put the fifth seeds into the driving seat with a commanding 11-5, 11-9, 11-4 win over India's Aditya Jagtap. Team-mate Nick Sachvie clinched Canada's place in the semi-finals by beating Ravi Dixit 11-7, 11-7, 11-4.

"I knew all along our team was good enough to reach the semifinals," said Sachvie, who clinched the match. "It's an honour for us to do so well. When I got to match ball, I got a huge adrenaline rush after thinking one more point and Team Canada is in the semifinals. I was ecstatic and glad I could finish it off for the team."

"I feel this will be a great motivator for our junior squash players," said Jonathan Hill, head coach of the men's national junior team. "They now have a group of players they have watched for many years achieve success on a world stage. A top-four finish will inspire many of our top players back in Canada to try and attain the same kind of success on the international stage."

"Egypt has been dominating junior squash for a few years now, so our players will have to be at the top of their game for us to win," Hill added. "They play a very attacking style of squash and move the ball around the court very well. Our players are very fit and are up for the challenge to counter the attack."

India gained a consolation point when third string Ramit Tandon dismissed Canadian Arjun Gupta 11-2 11-1 in the 'dead' third rubber.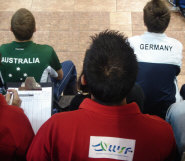 Canada now face favourites Egypt for a place in the final. Fielding the players who won the gold. silver and bronze medals in the earlier individual completion - Amr Khaled Khalifa, Ali Farag and Marwan El Shorbagy, respectively - Egypt brushed aside seventh seeds France 3/0.

Defending champions Pakistan and former champions England will line up in the other semi-final. Pakistan, the second seeds, crushed Germany 3/0, while four-time champions England, the third seeds, defeated outsiders New Zealand 3/0 - but only after Nathan Lake survived a dramatic second string battle against Lance Beddoes, coming back from two games down to beat the 17-year-old Kiwi 10-12, 7-11, 11-3, 11-9, 11-5.
05-Aug, Quarter-Finals

Quarter-finals:
[1] EGYPT bt [7] FRANCE 3/0
Amr Khaled Khalifa bt Lucas Serme 11-3, 11-2, 11-0
Ali Farag bt Arthur Moineau 11-9, 11-0, 11-3
Marwan El Shorbagy bt Alexandre Cogno 11-4, 11-1

[5] CANADA bt [4] INDIA 2/1
Andrew Schnell bt Aditya Jagtap 11-5, 11-9, 11-4
Nick Sachvie bt Ravi Dixit 11-7, 11-7, 11-4
Arjun Gupta lost to Ramit Tandon 2-11, 1-11

[3] ENGLAND bt [11] NEW ZEALAND 3/0
Charles Sharpes bt Paul Coll 11-5, 11-5, 11-8
Nathan Lake bt Lance Beddoes 10-12, 7-11, 11-3, 11-9, 11-5
James Earles bt Bryce Redman 11-8, 11-6

[2] PAKISTAN bt [9] GERMANY 3/0
Danish Atlas Khan bt Rudi Rohrmuller 11-7, 11-5, 11-0
Nasir Iqbal bt Sven Lemmermann 11-6, 11-5, 11-0
Waqas Mehboob bt Johannes Thurauf 11-6, 11-7

9th - 16th place play-offs:
[8] USA bt [15] COLOMBIA 3/0

[6] MEXICO bt [14] NETHERLANDS 3/0
Miled Zarazua bt Rick Penders 11-6, 11-6, 11-5
Ricardo Lopez bt Tim van der Pluijm 11-4, 11-7, 11-4
Mario Yanez bt Marc ter Sluis 11-13, 11-2, 11-8

[13] WALES bt [17/24] VENEZUELA 3/0
David Haley bt Daniel Prato 11-6, 11-3, 11-3
Nyall Driscoll bt Alejandro Suarez 11-2, 11-4, 11-3
Sam Huxtable bt Wilfredo Arcia 11-4, 11-6

[10] AUSTRALIA bt [16] KOREA 2/1
Jacob Alexander bt Go Young-Jo 11-9, 11-7, 14-12
Sam Fife bt JaeJin Yoo 12-10, 11-7, 11-1
Jack Molloy lost to Jeong Dae-Hoon 10-12, 9-11

17th - 24th place play-offs:
[17/24] IRELAND bt [17/24] CAYMAN ISLANDS 3/0
Gary Power bt Cameron Stafford 11-6, 7-11, 11-8, 10-12, 11-9
Rory Birtwistle bt Alex Frazer 11-5, 11-2, 11-6
Conor O'Shea bt Matthew Mudeen 11-6, 11-2

[17/24] ECUADOR bt [17/24] GUATEMALA 2/1
Ernesto Davila bt Bryan Bonilla 11-2, 11-9, 11-6
Santiago Sevilla lost to Luis Pedro Flores 9-11, 7-11, 9-11
Alejandro Castro bt Antonio de la Torre 11-9, 5-11, 11-7, 11-9

[12] SOUTH AFRICA bt [17/24] KUWAIT 2/1
Paul Rodrigues bt Hasan Al-Taqi 8-11, 11-3, 11-6, 11-5
Athan Page bt Nasser Al-Rashid 10-12, 2-11, 11-8, 11-9, 11-3
Craig Stephens lost to Yousef Saleh 5-11, 1-11

[17/24] JAPAN bt [17/24] BRAZIL 2/1
Ryosei Kobayashi bt Josimar Silva 11-9, 5-11, 4-11, 11-4, 14-12
Tomotaka Endo lost to Pedro Veiga 5-11, 11-5, 5-11, 8-11
Taiki Kaido w/o[/b]
04-Aug, Knockout Round One:

After two days of pool matches it's down to the knockout stages of the world junior teams in Quito. Most of the top sixteen seeds made it through to the main draw, the exception being 12th seeds South Africa, who lost out to Venezuela in the final round of pool matches, by default after the South Africans played their team in the wrong order.

New Zealand scored an upset win over sixth seeds Mexico to top pool F, and they followed it up with a comfortable win over Venezuela to gain a place in the quarter-finals against third seeds England, who eased past Wales.

Top seeds Egypt and defending champions Pakistan, who have contested the last three finals, both progressed comfortably enough, and they now meet France and Germany, respectively.
Last sixteen round:
[1] EGYPT bt [15] COLOMBIA 3/0
Zahed Mohamed 3-0 Simon Martinez 11-5, 11-4, 11-5
Amr Khaled Khalifa 3-0 Juan Vargas 11-4, 11-7, 11-9
Marwan El Shorbagy 2-0 Alfonso Marroquin 12-10, 16-14

[7] FRANCE bt [8] USA 3/0
Alexandre Cogno 3-0 Ash Egan 12-10, 11-4, 11-7
Lucas Serme 3-0 Brandon McLaughlin 11-1, 11-5, 12-10
Damien Volland 2-1 Dylan Murray 11-6, 3-11, 11-8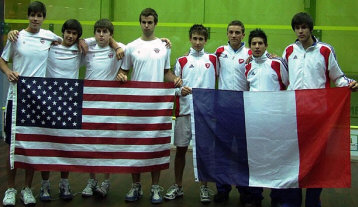 [4] INDIA bt [14] NETHERLANDS 3/0
Mahesh Mangaonkar 3-0 Tomas de Paauw 11-3, 11-4, 11-7
Aditya Jagtap 3-2 Rick Penders 11-7, 10-12, 8-11, 12-10, 11-6
Ravi Dixit 2-0 Tim van der Pluijm 11-3, 11-3

[5] CANADA bt [6] MEXICO 2/1
Arjun Gupta 3-2 Luis Quintal Valdiva 11-9, 11-5, 9-11, 8-11, 11-9
Andrew Schnell 3-0 Miled Zarazua 11-7, 11-7, 11-8
Nick Sachvie 1-2 Mario Yanez 11-8, 4-11, 0-11

[11] NEW ZEALAND bt [17/24] VENEZUELA 3/0
Bryce Redman 3-0 Wilfredo Arcia 11-4, 11-2, 11-6
Paul Coll 3-1 Daniel Prato 11-6, 11-5, 10-12, 11-6
Lance Beddoes 2-0 Alejandro Suarez 11-0, 11-1

[3] ENGLAND bt [13] WALES 3/0
James Earles 3-0 Nyall Driscoll 11-2, 11-4, 11-4
Charles Sharpes 3-0 David Haley 11-2, 11-8, 16-14
Nathan Lake 2-0 Sam Fenwick 11-1, 11-4

[9] GERMANY bt [10] AUSTRALIA 2/1
Sven Lemmermann 3-0 Walter Koteka 13-11, 11-8, 13-11
Rudi Rohrmuller 3-1 Jacob Alexander 11-1, 9-11, 11-4, 11-5
Valentin Rapp 1-2 Sam Fife 11-8, 5-11, 9-11

[2] PAKISTAN bt [16] KOREA 3/0
Farhan Zaman 3-0 Daegil Her 11-6, 11-7, 11-6
Danish Atlas Khan 3-0 Go Young-Jo 11-6, 11-3, 11-5
Nasir Iqbal 2-0 Jeong Dae-Hoon 11-4, 12-10

Places 17/24
Irlande 3-0 Iles Caïmans
Équateur 2-1 Guatemala
Afrique du Sud 2-1 Koweït
Japon 2-1 Brésil
Quito Time:

Clips from the individual final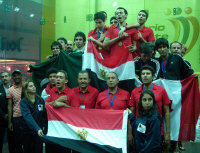 any more blogs?
let us know