Women's World Team Champs 2012

12-17 November, Nimes, France
Full "from the couch" report on the final

16-Nov, Day Six, Final:

[2] Egypt 2-1 [1] England

Nour El Sherbini 2-3 Alison Waters
5-11, 11-8, 11-9, 3-11, 5-11
Raneem El Weleily 3-1 Laura Massaro
3-11, 12-10, 11-4, 12-10
Omneya Abdel Kawy 3-2 Jenny Duncalf
7-11, 11-8, 11-4, 6-11, 11-8


Egypt take the title in a thriller

In a repeat of their dramatic home victory over England in the 2008 final, Egypt once again beat the top seeds to claim the Women's World Team title in a thrilling climax in Nimes.

England were appearing in their tenth successive final, but their last victory was in 2006, and today they fielded the same three players as in the 2008 Cairo climax.

Alison Waters, who had lost the decider in Cairo, weathered a mid-match storm from Nour El Sherbini to give England the lead, but Laura Massaro couldn't quite handle a similar barrage of winners coming from Raneem El Weleily's racket as the Egyptian reversed the result of their 2008 match.

That left Jenny Duncalf versus Omneya Abdel Kawy for the title. In 2008 they had played the first match, which Kawy won, and she did so again, coming from 6-8 down in a tense deciding fifth game to take it 11-8 and give Egypt another world title.

Full "from the couch" report on the final
16-Nov, Day Five:


Top seeds through to final in Nimes

Semi-Finals:

[1] England 2-1 [3] Malaysia

Laura Massaro 0-3 Nicol David 5-11, 6-11, 8-11
Jenny Duncalf 3-0 Delia Arnold 11-7, 11-9, 11-9
Alison Waters 3-1 Low Wee Wern 11-6, 7-11, 11-9, 11-5

[2] Egypt 3-0 [6] Australia

Raneem ElWeleily 3-1 Rachael Grinham 11-7,14-16,11-9,11-9
Nour El Tayeb 3-0 Melody Francis 11-6, 11-2, 11-5
Nour El Sherbini 2-1 Donna Urquhart 12-10, 6-11, 11-8

Full schedule and complete results

Egypt ease into the final
as England deny Malaysia

Australia's Rachael Grinham came into the first match of the semi-finals with a plan, the veteran former world number one giving the ball a lot of air at every opportunity.

It worked well for the first three games as current world number two Raneem El Weleily made numerous errors as she tried to put the ball away, but having edged the third the Egyptian went 10-4 up in the fourth, finally putting paid to Grinham's attempted comeback on her sixth match ball.

Nour El Tayeb put the 2008 champions into another final as she beat Melody Francis in three quick games to end the defending champions' reign, leaving it to Nour El Sherbini to apply the finishing touches.

In the second semi-final Nicol David extended her unbeaten run in the event to 26 matches as she beat England's Laura Massaro in straight games to put Malaysia 1-0 up against the top seeds.

Jenny Duncalf levelled the match for the English, winning three close games against Delia Arnold to set up a decider.

Alison Waters started the final match against Delia Arnold well, went through a sticky patch in the middle, but after edging the third game powered ahead to close out the fourth and put England into a TENTH successive final (and tomorrow it will be three of the last four against Egypt)

WWT Nimes, Last 16 Playoff Draw Full scores and draws
Round One
14 Nov
Quarters
15 Nov
Semis
16 Nov
Finals
17 Nov
[1] England 3
Wales 0
England 3
Ireland 0
England 2
Malaysia 1
Egypt 2
England 1
[7] Ireland 3
[9] France 0
Malaysia 2
New Zealand 0
Egypt 2
Australia 0
Malaysia 3
Australia 0
[3] Malaysia 2
Czech Rep 0
Hong Kong 1
Australia 2
Ireland 2
New Zealand 1
India 2


Ireland 1

[5] New Zealand 2
Canada 1
Egypt 3
India 0
India 2


Hong Kong 0

New Zealand 2
Hong Kong 1
[6] Australia 3
USA 0
Wales 1
France 2
France 3
Canada 0
France 2
Netherlands 0

[4] Hong Kong

2
South Africa 1
Czech Rep 0
Canada 2

Netherlands 2


South Africa 1
South Africa 2
Canada 0
[10] India 2
[8] Netherlands 1
USA 1
South Africa 2
Wales 1
Czech Rep 2
USA 2
Czech Rep 0
[2] Egypt 3
Mexico 0
Netherlands 3
Mexico 0

USA

3
Mexico 0
Wales 2
Mexico 1

Lilac = main draw, Grey = playoffs WWT by SquashSite Full scores and draws

17-26 playoff matches (played in three pools with the pool winners going into another pool)

Pool 1: Scotland 3-0 Namibia Pool 2: Korea 2-1 Austria POOL WINNERS (17-19 pool):
Pool 1: Scotland 0-3 Japan Pool 2: Korea 3-0 China 17th Korea, 18th Japan, 19th Germany
Pool 1: Japan 3-0 Namibia Pool 2: Austria 1-2 China 20-22 Pool
20th Colombia, 21st Scotland, 22nd China
Pool 3: Germany 3-0 Colombia Pool 3: Spain 2-1 Argentina 23-26 Pool
Pool 3: Colombia 2-1 Argentina Pool 3: Germany 3-0 Spain 23rd Spain 24th Austria
Pool 3: Germany 2-1 Argentina Pool 3: Spain 0-3 Colombia 25th Argentina, 26th Namibia

Full scores and
friday schedule

15-Nov,Day Four:


Aussies stun HK as top three seeds
reach the semis in Nimes ...

Defending champions Australia stormed through to the semi-finals after beating fourth seeds Hong Kong in the first quarter-final in Nimes.

Rachael Grinham gave them a great start as she beat Annie Au in the top string and Donna Urquhart delivered the final blow as she beat Joey Chan in straight games.

"I just can't believe it," said Urquhart, "I've been extremely nervous over the last couple of days, playing for your team is so different from playing for yourself but today I had to forget about all that.

"We didn't expect to get this far - but I didn't want to let everybody down," concluded Donna.

"We came her to make our seeding - so to be in the semis is just amazing," said Aussie team manager Vicki Cardwell, "it's heartening for our kids back home."

It wasn't a walk in the park, but nevertheless it took second seeds Egypt just six games to end the Indian run as wins from Raneem El Weleily and Nour El Sherbini took the 2008 champions into the semi-finals.

Third seeds Malaysia were next through as Nicol David and Low Wee Wern took them 2-0 up against New Zealand, and top seeds England were just as ruthless as Laura Massaro and Alison Waters gave them an unassailable lead over Ireland.

"It was another strong performance from the team," said coach David Campion. "Laura's got a good record against Madeline so we were confident there - and Alison closed it out for us. We're happy to get through unscathed."

[1] England 3-0 [7] Ireland
Laura Massaro 3-1 Madeline Perry 7-11, 11-2, 11-8, 11-9
Alison Waters 3-0 Aisling Blake 11-7, 11-3, 11-3
Jenny Duncalf 2-0 Breanne Flynn 11-3, 11-2

[3] Malaysia 2-0 [5] New Zealand
Nicol David 3-0 Joelle King 11-5, 11-7, 11-4
Low Wee Wern 3-1 Jaclyn Hawkes 11-3, 11-5, 11-13, 11-9

[6] Australia 2-1 [4] Hong Kong
Rachael Grinham 3-1 Annie Au 11-3, 11-8, 4-11, 11-8
Donna Urquhart 3-0 Joey Chan 11-5, 11-6, 11-8
Sarah Cardwell 1-2 Liu Tsz-Ling 9-11, 11-6, 7-11

[2] Egypt 3-0 [10] India
Raneem El Weleily 3-0 Dipika Pallikal 16-14, 11-4, 11-7
Nour El Sherbini 3-0 Joshna Chinappa 11-7, 11-6, 11-9
Nour El Tayeb 2-0 Anaka Alankamony 11-6, 11-3

Full scores and friday schedule
14-Nov, Day Three:
India gatecrash the top eight as
HK hang on in Nimes ...

After two days of Pool matches it was down to the knockout/monrad stage with the first round of the last 16 draw.

There were just two upset results in the pool matches with France and India, seeded #9 and #10, beating #7 and #8 seeds Ireland and Netherlands. Because of the way the draw works those two wins effectively cancelled each other out as those teams met today.

First up was India versus the Dutch. India took the lead but Natalie Grinham levelled for the Dutch, and in the decider Joshna Chinappa came from 2-1 down against Orla Noom to put India into the quarter-finals for the first time.

"It's awesome to be part of the team which has got into the world's top eight for the first time - but I'm looking forward to taking it one step forward," said Joshna.

Then hosts France took on Ireland, but they were unable to emulate the Indians to produce a second upset as Laura Mylotte and Madeline Perry - both with tough 3-2 wins - took the Irish 2-0 up and into the last eight.

Meanwhile defending champions Australia won 3-0 against the USA while New Zealand versus Canada went to a decider with Jaclyn Hawkes clinching it for the fifth-seeded Kiwis to make it a down-under double.

Second and third seeds Egypt and Malaysia made quick work of their matches against Mexico and the Czech Republic, but Hong Kong were made to fight hard against South Africa with their top pairing of Annie Au and Joey Chan both winning 3-2 to secure a comeback 2-1 win.

Not only did Annie have to come from 0-2 down to keep HK in the match, but Joey was then two points away from defeat before reeling off six points in a row to clinch her match!

"It was bad enough when we dropped the first match, but when Annie then went 2/0 down, I thought 'we're finished'," admitted Hong Kong coach Faheem Khan. "South Africa played really well - and I must say that I think we were lucky to get through," he added.

The quarter-final lineup was completed when top seeds England cruised to a 3-0 win over Wales.
13-Nov, Day Two:
Down to the playoffs

It was the final sets of pool matches today in Nimes, on the second day of the Women's World Teams.

Pool A: Mexico 2-1 Korea Pool B: Wales 3-0 Scotland

Pool C: Malaysia 3-0 Spain South Africa 3-0 China
Pool D: Hong Kong 3-0 Namibia Czech Rep 2-0 Colombia

Pool E: USA 2-1 Japan Pool F: Canada 3-0 Austria
Pool G: India 3-0 Argentina Pool H: France 3-0 Germany

Complete Results and Playoff Draw

England, Egypt, Malaysia, New Zealand and Australia were able to sit back and watch, having already finished top of their pools, while Malaysia and Hong Kong had one final pressure-free match to confirm their places as pool winners.

India and hosts France had the tasks of beating the third seeded teams in their pools to consolidate yesterday's upset results and both achieved that with solid wins over Argentina and Germany respectively.

"It's huge," said Indian National Coach Cyrus Poncha. "Our aim was to top the pool - and making the quarter-finals is our goal."

"It's good to be in the last 16 of course," said French coach Philippe Signoret. "But our main aim is to finish in the last eight."

That settled the eight pool winners, but elsewhere there were plenty of decisive matches to determine who finished second in their pools to guarantee a place in the last sixteen.

USA, Mexico, South Africa and Wales won their crucial final matches in the earlier play, and Canada and the Czech Republic grabbed the final two spots in the evening session.

US coach Chris Walker was happy: "The beauty of having this young squad is that they are gaining important experience and learning all the time."


---

12-Nov, Day One:
Top seeds take charge on day one
as France and India produce the goods ...

It was a good start for the top eight seeds, with each of them registering 3-0 wins in their opening matches.

Hosts France, seeded #9, produced a minor upset in the first evening session when they edged past the Netherlands, seeded #8, to go top of pool H.

Elsewhere top seeds England, Egypt and Malaysia all notched up their second wins to finish top of pools A, B and C.

In the final set of evening matches fourth seeds Hong Kong scraped home against the Czech Republic with Liu Tsz-Ling coming from 0-2 down in the decider, while 10th seeds India produced the upset of the day with a 2-1 win over Ireland, seeded #7, to take control of Pool G.

09-Nov:
Hosts aim for another best in Nimes

Hosts France, who recorded a best-ever sixth place in the previous championship yet are seeded ninth, are bidding to reach the last eight again next week in Nimes.

France will be led by Camille Serme, the 23-year-old world No14 from Paris who will be making her fourth successive appearance in the event since making her debut in 2006 in Canada.

The former world No7 will be joined in the squad by world No41 Coline Aumard and championship debutantes Maud Duplomb and Laura Pomportes, ranked 71 & 63, respectively.

French team coach Philippe Signoret is looking forward to the championship: "Two years ago, in New Zealand, France achieved its best ranking with sixth place. The fact that the competition is organized in France adds an additional pressure for the team.

"It will be a pleasure to watch the girls progress in front of a French audience, which is rare for internationals events."

Signoret admits that France will face some stiff opposition:

"England will have a great team with players ranked in the top 10. Malaysia will also be strong, with Nicol David, the world number one and her compatriot Low Wee Wern (the world No11)," said Signoret.

"Egypt also has a strong potential. However, there are other teams that could surprise us, I am thinking about Ireland, who beat us in the European Championship.

"Our first goal is to achieve the quarter-finals and, only at this moment, we could think about the podium."

Pool line-ups:

Pool A: [1] England, [16] Mexico, [23] Republic of Korea
Pool B: [2] Egypt, [15] Wales, [24] Scotland

Pool C: [3] Malaysia, [14] South Africa, [19] China, [26] Spain
Pool D: [4] Hong Kong China, [13] Czech Republic, [20] Colombia, [25] Namibia

Pool E: [5] New Zealand, [12] USA, [22] Japan
Pool F: [6] Australia, [11] Canada, [18] Austria

Pool G: [7] Ireland, [10] India, [17] Argentina
Pool H: [8] Netherlands, [9] France, [21] Germany


30-Oct:
England top seeds

England, runners-up in the previous two championships, have been named as top seeds in the 2012 WSF Women's World Team Championship next month in Nimes, France.

A record 26 nations will take part in the biennial World Squash Federation to be staged in France for the first time in its 33-year history.

The championship in Nimes will be held at the La Parnasse Arena - where action will take place on three new state-of-the-art all-glass show courts - as well as at the eight-court Club des Costières.

England, six times champions since 1985, finished as runners-up to hosts Egypt in 2008 and to Australia in 2010 in New Zealand. Led by world number two Laura Massaro - and including Jenny Duncalf and Alison Waters, both in the world top eight - England are expected to face rivals Egypt in the final.

Second seeds Egypt will be led for the first time by Raneem El Weleily, the world No3 from Alexandria. The squad also features teenagers Nour El Sherbini and Nour El Tayeb, ranked 5 and 20 in the world, respectively.

Hosts France, appearing in the event for the 14th successive time since 1987, have been named as ninth seeds - and will line up against European rivals Netherlands and Germany in Pool H.

Third seeds Malaysia, led by long-time world No1 Nicol David, will be bidding to win the title for the first time after three successive third-place finishes.

Hong Kong China are seeded to record their best ever finish in 11 appearances since 1985. Seeded fourth, the team will be led by Annie Au, the world number six.

Defending champions Australia, record nine-time winners of the title, are the sixth seeds, behind fifth seeds New Zealand.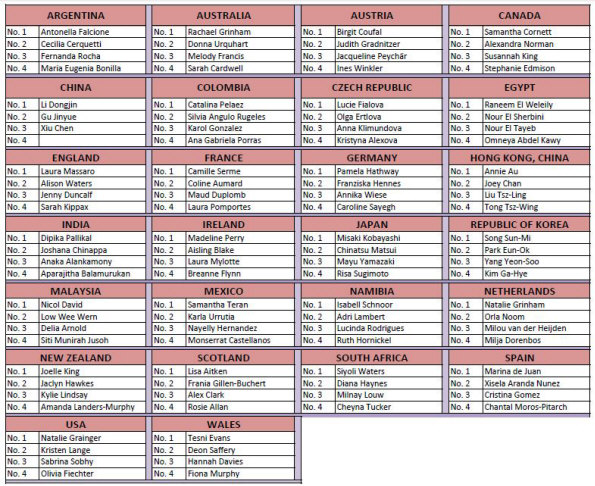 25-Sep:
Three debutantes for WWT in Nimes

Argentina, Korea and Namibia will compete for the first time in the 2012 WSF Women's World Team Championship in November in Nimes, France, where a record 26 nations will take part in the biennial WSF event.

In a further unique development for world squash, initiated by hosts the Fédération Française de Squash, action will take place on three new state-of-the-art all-glass show courts.

Staged in France for the first time in its 33-year history, the championship will be held at the La Parnasse Arena and the eight-court Club des Costières, in Nimes, from 12-17 November.

Whilst Argentina has two world-ranked players, Korea and Namibia will make their debuts on the world stage with unranked players – but will be determined to make their mark.

Asian entries will be boosted by China, making only their second appearance, alongside championship regulars Hong Kong, Japan and India, and bronze medallists in the past three events, Malaysia.

Defending champions Australia will be looking to extend their nine-title record – while 2008 champions Egypt and six-time champions England, winners in 2006, will undoubtedly be going for gold again.

Meanwhile, hosts France – appearing in the event for the 14th successive time since 1987 – will want to improve on their best ever finish in sixth place at the last staging in New Zealand.

Team Announcements

Canada & Australia

Who's Who:
full squads