After a decade's absence, squash is set to move back to its most iconic venue as the Al Ahram International returns to the Pyramids of Giza - one of the seven Wonders of the World - this September.

The Pyramids were the setting for the 2006 World Champs, and following an agreement between the PSA, Egyptian Squash Federation and promoter Amr Mansi [Managing Director of I Events], the sport's top stars will once again compete in front of the iconic structures.

The 16-main draw will see the world's elite compete for a share of a $100,000 prize fund for men and women.

Amr Mansi said: "Bringing squash back to the Great Pyramids of Giza has been an ambition for me over the past few years and Al Ahram international squahs open was the first inspiration to me to start this career of promoting squash events in Egypt.

"I would like to take this opportunity to thank Egyptian squash federation and PSA for working together to make the return of the Al Ahram international possible."

On behalf of the Egyptian squash federation Mr Assem Khalifa the president of the federation said:

"We are glad to announce that we will once again be hosting one of the most distinguished squash events in the world here in Egypt. this event is the reason the Egyptians excelled in the sport as Al Ahram tournament in the past has shown them that dreams can come true.

"We are truly looking forward to bring back this event and guarantee to make it an unforgettable one."

Eng Khaled Abdel Aziz - Minister of Youth and Sports - has given the venture his full support, is happy to bring one of the biggest and most prestigious squash events in the world back to the Pyramids and is looking forward to create such pronounced success in line with the reputation of Egypt in the international global championships.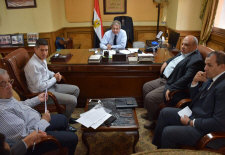 the Agreement is made in Egypt