Preview from Squash Victoria

The Australian Open is Australia's most prestigious singles squash tournament that attracts players from nations around the world, and will this year be held in Melbourne at the Mulgrave Country Club from August 1-5.

Underlining the esteemed status the Australian Open is held in is the list of legends on the tournament's honour role. Among those to have Australian Open titles within their trophy cabinet are Geoff Hunt, Jahangir Khan, Rodney Martin, Vicki Cardwell, Michelle Martin, Sarah Fitz-Gerald and Susan Devoy [plus Ramy Ashour, Nick Matthew, David Palmer, Jonathon Power, Rodney Eyles, Brett Martin, Nicol David, Rachael & Natalie Grinham, Leilani Joyce amd more!]

Aiming to join those famous names in 2018 will be Victorian pair Rex Hedrick and Christine Nunn, who enter this year's Australian Open as the number one seeds in the Men's and Women's Open draws respectively.

Hedrick will face stiff competition in the Men's draw from fellow top Australian players in Josh Larkin (Australian Open finalist in 2017) and Rhys Dowling, who both sit inside the top 100 in the world, while Tamika Saxby, Jessica Turnbull and another Victorian hopeful in Sarah Cardwell will be among the local stars expected to contend for the Women's trophy.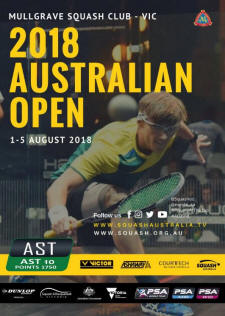 NEW PSA TOUR STRUCTURE STARTS HERE ...

The Australian Open marks the start of the new PSA Tour structure for 2018/19, with
no qualifying and 24 (or 48) player draws.

There are eight Round One matches with the winners going through to face the top eight seeds in round two.

While there are eight [9/16] seeds, we'll just be placing them in the draw rather than declaring them.

For larger events the 48-draws will have 16 round one matches, the winners going on to meet one of the top 16 seeds.