BTMI / TDC Barbados Open 2017
27-30 Jun, Christ Church, Barbados, $5k
30-Jun, Final:

[1] Eddie Charlton (Eng) 3-0 [2] Juan Vargas (Col)
13/11, 11/5, 11/5 (45m)



Top seed Charlton takes the title

Eddie Charlton, the top seed from Nottingham, England fully justified his ranking in this year's PSA BTMI / TDC Barbados Squash Open as he outplayed his Colombian opponent, Juan Vargas, to win another PSA tour title in the final of the 2nd Barbados Open which was contested on Friday at the Barbados Squash Club.

This was a high quality squash match, played with great sportsmanship and flair, between two excellent and athletic players who both made every effort to get to and play the ball and kept the enthusiastic spectators captivated throughout. The 20 minute first game was very close as neither player led by more than two points at any stage.

The tall 28-year old Englishman Eddie Charlton played patiently, hitting good length and width with not too much pace on the ball and once again used high cross court lobs to try to keep the nimble Vargas in the back of the court as much as possible. Vargas, the #2 seed, was a bit more attacking, and volleyed everything within reach, and tried to force his opponent into error by attacking into the front corners.

This first game was very close, with the scores locked from 2-all right up to 9-all. A fortunate dead nick backhand winner from Vargas then gave him a slim 10-9, game ball advantage, but Charlton maintained his composure, and extended the rallies by keeping the ball tight to the side walls. This pressure forced Vargas into error and Charlton won 4 of the last 5 points to snatch the crucial first game 13-11.

Charlton never trailed again in the match and rushed to a 6-0 lead as Vargas started the second game a bit flat. But when the Chicago based Englishman tried to finish off his 23 year-old Colombian opponent by attacking into the front court Vargas was able to reach those shots and counterattack for outright winners and recovered to 4-6 down.

Charlton immediately responded by returning to the steady patient game that had brought him so much success up to this point and closed out the second game without further drama at 11-5. At two love up in games Charlton was now in complete control and stormed to a decisive 9-0 advantage.

Vargas bravely tried his best and saved three match balls before another backhand winning drop shot sealed the victory for Charlton, who looked both relieved and elated to win 13-11 11-5 11-5 in 45 minutes to claim his 8th PSA tour title.

When interviewed afterwards the champion Eddie noted that as the top seed he was under additional pressure as he would have been expected to win, and he was happy he was able to clinch another title. He had played and defeated his opponent previously but this match was also very close.

It was mainly down to a few key points, especially late on the first game, and he was glad he was able to stay focused and win those. Runner-up Juan Vargas also noted that he was glad to be able to play so well after suffering an hand injury a few months previously. He had lost to a very tough and experienced opponent but was looking forward to coming back next year to participate and to try to claim the Barbados Open title then.

In the brief trophy presentation ceremony held afterwards Tournament Director, Terry Millar, thanked the players, officials and the main sponsors of the event: the Barbados Tourism Marketing Inc. (BTMI), the Tourism Development Corporation (TDC), the Barbados Squash Association and the Barbados Squash Club.
Barbados Open 2017
27-30 Jun, Christ Church, Barbados, $5k
Round One
27 Jun
Round Two
28 Jun
Quarters
28 Jun
Semis
29 Jun
Final
30 Jun
[1] Eddie Charlton (Eng)
bye
[1] Eddie Charlton

11/5, 11/6, 11/6 (34m)

Ahad Raza
[1] Eddie Charlton

11/4, 11/7, 11/2 (32m)

Edgar Ramirez

[1] Eddie Charlton

11/4, 9/11, 11/5, 11/9 (64m)

[8] Spencer Lovejoy

8th PSA title for Eddie

[1] Eddie Charlton

13/11, 11/5, 11/5 (45m)

[2] Juan Vargas

Zaki Williams (Bar)
11/2, 11/3, 11/6
Ahad Raza (Can)
Edgar Ramirez (Col)
11/6, 11/1, 11/7
Gavin Cumberbatch (Bar)
Edgar Ramirez

11/7, 11/6, 11/4 (36m)

[6] Joe Chapman
[6] Joe Chapman (Bvi)
11/2, 11/2, 11/2
Chemar Burnham (Bar)
[8] Spencer Lovejoy (Usa)
11/2, 11/5, 11/3
Khamal Cumberbatch (Bar)
[8] Spencer Lovejoy

11/3, 11/3, 11/4 (18m)

Bryant Cumberbatch
[8] Spencer Lovejoy

11/7, 11/3, 11/3 (26m)

[3] Kale Wilson

Mark Sealy (Bar)
11/5, 11/6, 5/11, 11/3
Bryant Cumberbatch (Bar)
Nicolas Caballero (Par)
w/o
Rhett Cumberbatch (Bar)
Rhett Cumberbatch

13/11, 11/8, 11/9, 11/6 (36m)

[3] Kale Wilson
[3] Kale Wilson (Tri)
bye
bye
[4] Cameron Stafford (Cay)
[4] Cameron Stafford

11/7, 11/6, 11/5 (31m)

Sunny Seth
[4] Cameron Stafford

11/7, 11/8, 11/3 (30m)

[7] Timothy Lasusa

[4] Cameron Stafford

13/11, 11/4, 11/9 (34m)

[2] Juan Vargas

Shawn Simpson (Bar)
11/8, 11/8, 10/12, 11/9
Sunny Seth (Guy)
Armando Olguin (Mex)
11/3, 14/12, 11/7
Don Benn (Bar)
Armando Olguin

11/3, 11/3, 11/3 (18m)

[7] Timothy Lasusa
Elroy Leong (Mas)
8/11, 12/10, 7/11, 11/8, 14/12
[7] Timothy Lasusa (Usa)
bye
[5] Thomas King (Can)
[5] Thomas King

15/13, 11/9, 11/13, 13/11 (84m)

Cory McCartney
[5] Thomas King

11/5, 11/7, 11/5 (32m)

[2] Juan Vargas

Cory McCartney (Can)
11/8, 11/9, 13/11
Tony Mackenzie (Bar)
Zachary Harris (Bar)
w/o
Joshua Seale (Bar)
Joshua Seale

11/2, 11/5, 11/3 (17m)

[2] Juan Vargas
bye
[2] Juan Camilo Vargas (Col)
29-Jun, Semis:

[1] Eddie Charlton (Eng) 3-1 [8] Spencer Lovejoy (Usa)
11/4, 9/11, 11/5, 11/9 (64m)
[2] Juan Vargas (Col) 3-0 [4] Cameron Stafford (Cay)
13/11, 11/4, 11/9 (34m)





28-Jun, Round Two/Quarters
Three of four top seeds through to semis

Three of the top four seeds made it through to the semi-finals as the Barbados Squash Open continued at the Barbados Squash Club.

With both the second round and quarter-finals being played on Wednesday there was plenty of squash to be enjoyed but the drama was mainly confined to the afternoon's encounters in the 2nd round.

The three local players that had advanced from the 1st round all lost with Barbados' second ranked player, Rhett Cumberbatch, putting up a gallant fight against the #3 seeded Trinidadian Kale Wilson, and after dropping the first two games managed to snatch the third game to the delight of his vocal supporters on the junior national squash team.

But it was not to be as Wilson proved to be the steadier player and closed out the fourth game to win 13-11 11-8 9-11 11-6 in 36 minutes which was the second longest contest for the day. The other Barbadian players both lost 3-0 to superior opponents.

Rhett's younger brother Bryant Cumberbatch was defeated by the very promising young American #8, Spencer Lovejoy, 11-3 11-3 11-4 while local junior player Joshua Seale was defeated by the #2 seed from Colombia, Juan Vargas 11-2 11-5 11-3.

The only upset in the 2nd round was caused by Vargas' unseeded Colombian compatriot, Edgar Ramirez Bautista, who is an attacking shot maker and pounced on anything loose from Joe Chapman, the #6 seed from the British Virgin Islands. The Colombian never allowed Chapman to settle into the steady rhythm that he prefers and won in straight games 11-7 11-6 11-4.

The longest match of the tournament thus far was contested between two Canadians with the # 5 seed, Thomas King just outlasting Cory McCartney in four games 15-13 11-9 11-13 13-11 in an 84 minute marathon that was dominated by long, punishing rallies and steady measured squash, mainly played in the back of the court.

By way of contrast there was much more attacking squash player by two of the Caribbean's top players with the #4 seed, Cameron Stafford (Cayman) defeating Sunny Seth (Guyana) in straight games with a blistering array of attacking kills 11-7 11-6 11-5 in 31 minutes.

The evening's quarterfinal encounters were all won in straight games in around half an hour as the better players who had managed to keep their earlier matches short were fresher for the evening contests. The tall top seeded Englishman, Eddie Charlton, was too steady for the exciting Colombian Edgar Ramirez Bautista, and won 11-4 11-7 11-2 in 32 minutes.

Yale University student Spencer Lovejoy the #8 seed was too quick for the Trinidadian #3 seed Kale Wilson and won 11-7 11-3 11-3.

Another American, Timothy Lasusa, #7 had no answers for the blistering attacking shots unleashed by only Caribbean player left in the draw, Cameron Stafford (Cayman), the #4 seed who won the third game easily after claiming the first two games that were much closer 11-7 11-8 11-3.

The #2 seeded Colombian Juan Vargas had no problems with Canadian 6th seed Thomas King and also won in straight games 11-5 11-7 11-5.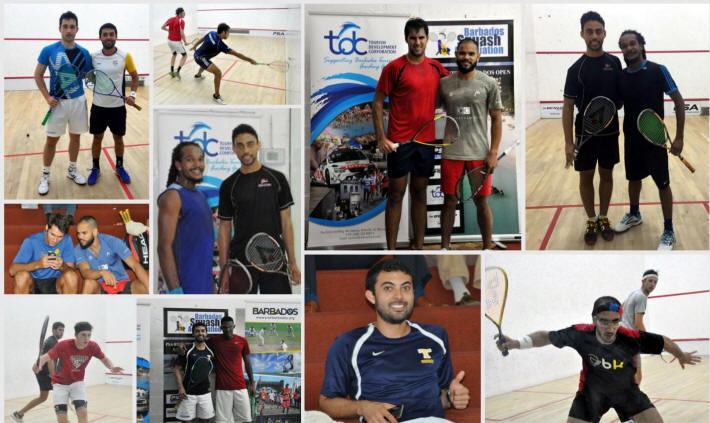 27-Jun, Round One:
Three Barbadians through as Simpson falls just short

Three local players made it safely through the first round as exciting squash action commenced in the second annual PSA TMI / TDC Barbados Squash Open.

Barbados' second ranked player, Rhett Cumberbatch, received a walkover as his Paraguayan opponent did not arrive in Barbados while Rhett's younger brother, Bryant Cumberbatch defeated the local and Caribbean Masters champion Mark Sealy in four competitive games. Promising local junior player Joshua Seale also benefitted from a late withdrawal by his opponent, the Barbados' junior boy's team captain, Zachary Harris, who withdrew with a hand injury.

In one of the matches of the first round Barbados' top ranked player and 9-times and reigning National Champion Shawn Simpson put up a fantastic fight against the 4th ranked player in the Caribbean, Sunny Seth from Guyana, but lost in four pulsating games which were of great quality.

The local spectators were treated to a match full of long rallies, great shots and stunning recoveries, which was played at a high tempo. The left handed Simpson led 7-5 in the first game and 8-7 in the second game but Seth reeled him in each time to win both for the loss of 8 points. Simpson again established a 7-5 lead in the close third game and then held a slim 10-9 advantage before Seth pulled back to 10-all deuce. Two excellent winners gave Simpson the third game 12-10, to the delight of the home crowd and he seemed to have the early edge in the fourth game, building a quick 6-2 advantage.

But Seth claimed the next 8 rallies to take a commanding 10-6 advantage. Simpson put in a big push and clawed back three points to 10-9 but Seth just had enough left to take the last point to win 11-8 11-8 10-12 11-9 in 45 minutes.

The longest match of the evening was a 55 minute shoot out between the #7 seed Timothy Lasusa (USA) who came back from 1-2 down in games to outlast the left handed Malaysian Elroy Leong in a top encounter that went the full distance. Leong took the first game at 8 and then held a 10-8 advantage in the second which Lasusa was able to overcome to restore parity at 12-10.

Leong swept through the third game for the loss of 7 points but started to make a few more mistakes as he began to tire as Lasusa took the fourth game 11-8. The fifth was very close but the tall American was just a bit steadier from 9-all onwards and eventually won in five games 8-11 12-10 7-11 11-8 14-12 in five minutes short of an hour.

The remaining matches were all 3-0 victories to the overseas players but local players Don Benn, Gavin Cumberbatch, Tony Mackenzie and Zaki Williams all gave a good account of themselves against Armando Olguin (Mexico), Edgar Ramirez (Colombia), Cory McCartney (Canada) and Ahad Raza (Canada) respectively.

Top local juniors Khamal Cumberbatch and Chemar Burnham also went down in straight games gained valuable exposure versus the #8 seed Spencer Lovejoy (USA) and the #6 seed, Joe Chapman (BVI) respectively ahead of the Junior Caribbean Squash Championships to be held in Guyana next week.

The BTMI / TDC Barbados Squash Open gets underway at the Barbados Squash Club on Tuesday June 27th and four days of exciting and competitive squash action is eagerly anticipated.

Following the success of the inaugural event held last year this second edition of the Open, which is a PSA world tour event, has attracted even more interest from professional squash players from around the world.

Players from the following twelve countries, as well as Barbados, will be here to participate: British Virgin Islands, Canada, Cayman Islands, Colombia, England, Guyana, India, Malaysia, Mexico, Paraguay, Trinidad and Tobago and the USA.

There are now 30 participants with 18 players flying in from overseas who will pit their skills against the 12 local entries. These PSA players will be coming here to finish as high as they can, in order to earn ranking points and hence improve on their respective world ranking. They will also get to experience some of our warm and vibrant Barbadian hospitality along with their guests.

Top seeds are England's Eddie Charlton and Juan Camilo Vargas of Colombia, but there's plenty of home interest in the 32-man draw.

Nine-time and reigning National Champion Shawn Simpson will play the # 4 seed, Andres Herrera, and our second ranked national player Rhett Cumberbatch, will play Nicolas Caballero, the top ranked player from Paraguay, in the first round. This will be Shawn and Rhett's second experience in playing in a PSA tournament and they will certainly benefit from the experience of interacting with the various professional squash players, as will all the other local players.

The Barbados Squash Association (BSA) is managing the event which has a greater number of higher ranked players as compared to last year, so spectators will witness some exciting and very competitive squash over the four days of competition.

There is no admission charge for the public so it is expected that Barbadians will come out in their numbers to watch some of the world's top squash professionals battle it out.

The main sponsors of this event are the Barbados Tourism Marketing Inc. and the Tourism Development Corporation Inc. and without their support this event would not have been possible.

The Barbados Squash Association is very thankful to all sponsors, the Organizing Committee, volunteers and the Barbados Squash Club (BSC) for making its facility available. The BTMI / TDC Barbados Squash Open will be held at the BSC, which is located in Marine Gardens, Christ Church.