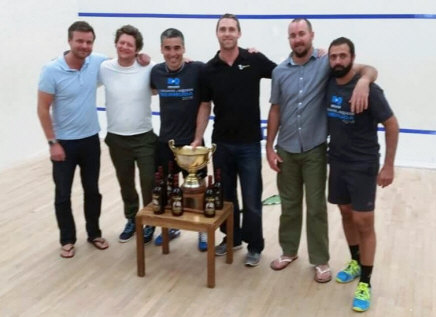 Palmer wins Legends in Bermuda

On the fourth day of the Bermuda Legends it was David Palmer who won the deciding match against John White to claim the title.

Day One, Wednesday April 13
Thierry Lincou 2-0 Lee Beachill 12/10, 11/9
David Palmer 2-0 Jonathon Power 14/12, 11/9
John White 2-1 Amr Shabana 10/12, 11/3, 11/6

Day Two, Thursday April 14
Thierry Lincou 2-0 Jonathon Power 11/8, 11/7
David Palmer 2-1 Amr Shabana 9/11, 11/2, 11/9
John White 2-1 Lee Beachill 8/11, 118, 11/7

Day Three, Friday April 15
John White 2-1 Jonathon Power 4/11, 11/7, 11/8
Amr Shabana 2-1 Lee Beachill 12/10, 8/11, 11/4
David Palmer 2-1 Thierry Lincou 12/10, 4/11, 11/8

Day Four,Saturday April 16
David Palmer 2-1 John White 10/12, 11/7, 11/8
Thierry Lincou 2-1 Amr Shabana 11/9, 8/11, 11/9
Lee Beachill 2-0 Jonathon Power 11/9, 11/4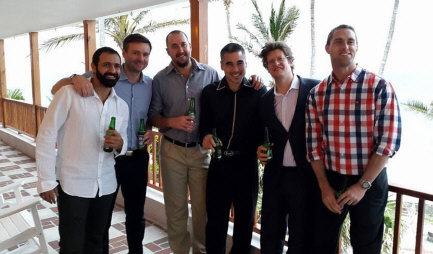 The Randall & Quilter Legends of Squash Bermuda now in its third year, will see four time World Champion Amr Shabana join an all-star draw featuring Thierry Lincou, Jonathon Power, David Palmer, Lee Beachill and John White.
After holding major events like the PSA Masters and World Open in the early 2000's Bermuda had enjoyed a small break from top class squash before the Legends of Squash proved to be a massive success back in 2014.

The tiny remote island now is home to an annual event for the Legends attracting sellout crowds and all the top retired players every year.

Bermuda, which for those who don't know is in the North Atlantic, situated about two hours flying time from New York, Toronto and Miami. Due to its position in the warm Gulf Stream it enjoys tropical climate year round despite its northerly position.

The ideal back drop for a great squash event in a beautiful place which is just 21 square miles of mostly golf courses and beaches, it easy to see why the players are keen to return year after year.

The last two years saw repeat finals featuring David Palmer and Thierry Lincou who shared the spoils which one win each. This year's addition of Amr Shabana will definitely make the road to the title a little more difficult!
"We are delighted to have all the players back in Bermuda again and especially excited to welcome Amr to the Legends fun.

"It's such a pleasure to get the chance to see these players relive old rivalries battle hard on court as well as on the putting green!

"Of course the players spend a lot of time on court through the week with our junior players and club members as well which is just a fantastic experience for all involved.

"Looking forward to a great Legends 2016."

Patrick Foster
Streaming at : www.islandstats.com