CFO Consulting Services Women's Squash Week 2018
06-11 Mar, Calgary, Canada, $15k
11-Mar, Final:
Hany wins big at Calgary Women's Squash Week

This year was a well weighted final, the best we've seen in the five years hosting the Calgary CFO Consulting Services Women's Squash Week. There was really no predictable outcome all the way through the match.

Fiona Moverley, the top seed was really feeling the pressure put on by fourth seed Mayar Hany.

They played a clean and fast length game, with killer boasts to move each other up to the front.

Both Fiona and Mayar's execution was so strong, it came down to who could hit tighter, lower, and quicker. They had both put their efforts this week on playing the very best fundamental squash they could. It worked to their advantage against their other opponents leading up to the final round. Against each other, however, their similar strategy proved to be more difficult and they both really had to grind this one out.

Neither one of them were willing to give in to one another's game. They pushed each other to their limits, and really fought it out. Never letting up or giving up, they were both determined to play each point to the fullest.

Mayar really cracks the ball. All of her drive's and cross courts are hit quite low, it's really remarkable how she manages to get them so deep in the back.

Mayar also had strong mental determination all week. The focus was written on her face. She definitely managed to stay in the zone. Her pressure in this match was slightly greater than Fiona's and it forced Fiona into making a few more mistakes than her.

Just barely losing the first two games, it was really tough for Fiona to push through and try to win the third. The advantage at that point was with Mayar, and she was fortunate to steal the match 3/0.

We really commend these two players for their solid performances this week and a huge congrats to Mayar for claiming this year's title!

Thanks so much to all of the sponsors, billets, volunteers and refs. You all make this week a huge success. Your time, commitment and support are truly appreciated.

Thanks to all of the professional and amateur players who entered this event. We hope to see you all back again next year!



Calgary Women's Squash Week 2018
06-11 Mar, Calgary, Canada, $15k
Round One
08 Mar
Quarters
09 Mar
Semis
10 Mar
Final
11 Mar
[1] Fiona Moverley (Eng)
11/8, 11/4, 11/6 (21m)
[Q] Milnay Louw (Rsa)
[1] Fiona Moverley

11/5, 11/9, `11/7(29m)

[6] Amanda Landers-Murphy
[1] Fiona Moverley

12/10, 11/7, 11/9 (32m)

[3] Rachael Grinham

[1] Fiona Moverley

11/9, 17/15, 11/8 (45m)

[4] Mayar Hany

[6] Amanda Landers-Murphy (Nzl)
11/3, 11/3, 11/6 (21m)
[Q] Nouran El Torky (Egy)
[7] Danielle Letourneau (Can)
11/9, 11/4, 11/8 (28m)
[Q] Anna Kimberley (Eng)
[7] Danielle Letourneau

11/8, 9/11, 9/11, 11/8, 11/8 (50m)

[3] Rachael Grinham
[3] Rachael Grinham (Aus)
121/7, 11/6, 11/6 (31m)
Menna Hamed (Egy)
Catalina Pelaez (Col)
11/5, 11/5, 11/7 (26m)
[4] Mayar Hany (Egy)
[4] Mayar Hany

9/11, 11/5, 14/12, 11/9 (48m)

[5] Nadine Shahin
[4] Mayar Hany

11/9, 11/3, 11/4 (27m)

[2] Jenny Duncalf

[Q] Diana Garcia (Mex)
11/4, 11/8, 11/8 (32m)
[5] Nadine Shahin (Egy)
[wc] Maria Toorpakay (Pak)
11/8, 11/3, 11/1 (18m)
[8] Nikki Todd (Can)
[8] Nikki Todd

9/11, 11/3, 11/8, 11/9 (37m)

[2] Jenny Duncalf
Alexandra Fuller (Rsa)
4/11, 7/11, 11/6, 11/8, 11/4 (47m)
[2] Jenny Duncalf (Eng)
Qualifying:

Finals, 07-Mar:
Nouran El Torky (Egy) 3-2 Nicole Bunyan (Can) 8/11, 11/6, 8/11, 13/11, 12/10 (57m)
Milnay Louw (Rsa) 3-1 Jackie Moss (Can) 11/0, 8/11, 11/8, 11/6 (33m)
Diana Garcia (Mex) 3-1 Alison Thomson (Sco) 9/11, 11/3, 11/7, 11/5 (40m)
Anna Kimberley (Eng) 3-2 Emilia Soini (Fin) 12/14, 7/11, 11/8, 11/9, 11/5 (64m)

Round One, 06-Mar:
Jackie Moss (Can) 3-2 Laura Tovar (Col) 11/4, 11/7, 4/11, 6/11, 11/7 (46m)
Alison Thomson (Sco) 3-1 Erin Roberts (Can) 11/5, 5/11, 11/2, 11/5 (31m)
Diana Garcia (Mex) 3-0 Bethany Churchill (Can) 11/5, 11/4, 11/2 (22m)
Anna Kimberley (Eng) 3-0 Nour Elhendawi (Egy) 11/6, 11/8, 11/7 (26m)
10-Mar, Semis:
Moverley and Hany through to final

It was a bit of an upset for the Rachael Grinham fans down at the courts Saturday evening in the first semi final match. Rachael was defeated a straight 3-0 against Fiona Moverley, but she still managed to impress the crowd and put on an incredible show for everyone.

Rachael commented that all of the players from the quarter final onward are strong and would be tough opponents to play regardless. So, she's "just happy to have made it to the semis this year".

Nonetheless, she plays impressive squash and any player who ends up against her seems to be quite uncertain going into their match.

Fiona stated that she now understands why Rachael is considered to be such a challenge to play: "She is completely unreadable…you have no idea where the ball is going, and it really can go anywhere."

"She also hits winners and you kind of have to accept that she will get a lot of points off them… " With that said, Fiona knew that with Rachael constantly going for the winners she would also make quite a few errors as well. "She has a high-risk way of playing."

When asked what her strategy was to counteract Rachael's style of play, Fiona said it was to "play basic squash and not to open the court up, keep hitting my targets and limit what Rachael could do. If I give her too many openings and angles she can be really dangerous"

In commenting on Rachael's deceptive play, Fiona confirmed that "it's scary deceptive…every shot! You really have no chance to settle, no time to relax. You have to be constantly reading her."

Fiona also had difficulty retrieving some of Rachael's short game, even when she got to the ball in time.

"She puts a lot of cut on the ball, and her floating boasts are really effective. She feathers the ball and it just dies at the front."

Even up against Rachael's intricate and deceptive game, Fiona's attentive and conservative approach is what put her in a better position to win this round. She was well prepared for the challenging squash ahead and knew what she had to do to own the match. Her 'basic' strategy proved to be extremely effective against her tricky opponent and she was highly deserving of this win. With that said, she was still relieved and very happy to have won the match in only 3 games.

Mayar Hany was also really happy to win her match in 3 games against her higher ranked opponent Jenny Duncalf.

"It's my first time playing a 15k event [let alone final] so I'm super excited about it!"

Although Jenny managed to slow Mayar's pace down slightly from Mayar's previous matches this week, it wasn't enough to throw Mayar off her strong performance.

Jenny was down by quite a bit in all three games and attempted to make a few comebacks throughout the match, but she was unable to pull herself out of this one. Mayar was just too steady and consistent and she made the solid effort to stay ahead in points.

Her plan against Jenny was to play good length, deep in the back, and then put the ball away up front, keeping it as far away from her at all times. She knew that Jenny was able to move really well and it would be hard to use her fast game to her advantage in this case.

In asking Mayar about her approach for playing Fiona next, she said that she has not yet played her and doesn't really have a set strategy at this time. She will have to quickly figure it out when she meets her abilities firsthand on Sunday.

Best of luck to both Fiona and Mayar in the final. It will likely be an intense match as these two battle it out for the title!

09-Mar, Quarters:
Top seeds advance to semis

Last year, Danielle Letourneau and Rachael Grinham met in the semi final round. Danielle put on a brilliant show beating Rachael 3-0. A year later, Rachael came into this quarter final match more aware of Danielle's strength and determination on court and thus better prepared to keep up with it. Even so, it still proved to be another grind for Rachael and she came really close to another defeat. The games were close (11-8,9-11, 9-11, 11-8, 11-8). Danielle played a very clean game, Rachael made quite a few surprising errors.

Danielle can get to a lot of winners and is really good at claiming her spot on the T. She is constantly ready to deliver her next shot. She read Rachael well in this match and kept the pressure on her. Danielle knew if she stayed focused and played steady she would be able to give Rachael another solid run.

Rachael did play smart as per usual but was hitting quite a few loose shots, forcing her into a position to scramble more often than necessary. That being said, when Rachael is that good at retrieving balls, having to scramble from time to time doesn't seem to matter. Rachael plays a clever and 'rockstar-esque' game, only the few who've made it to the very top are able to showcase this type of talent. It's the 'World #1' advantage that seems to continue to stick with her even later on in her career. Rachael's squash is so much fun to watch and it has made her a fan-favourite in this tournament.

Fiona Moverley and Amanda Landers-Murphy played a match of endurance, drawing out each rally with crisp clean length, and then battling it out up front, with their equally refined short game. Fiona subtly dominated by having better control over the pace of the rallies. Although Amanda made a solid effort in keeping up with Fiona's execution, she often left herself open and in vulnerable positions for Fiona to put away winners. Fiona took the match 3-0.

Fiona will play Rachael in the semi-final round on Saturday. It will be interesting to see how their different styles hold up against one another's. Given Fiona's refusal to give up control over any rally, Rachael may have to up her focus drastically and play even smarter in order to throw Fiona off her game.

The two Egyptians Mayar Hany and Nadine Shahin really put on an incredible performance in their Friday night match together. Wow, do they ever hit the ball fast! They both fought for each point and played their shots with high intensity; hitting everything early, hard and fast. They also both demonstrated confidence in their abilities. There seemed to be no hesitations on either end, and they just went for it. Mayar did deliver a stronger performance overall and took the win 3-1. She just seemed to be one step ahead of Nadine throughout the match.

Jenny Duncalf gave up her first game to Nikki Todd, but then upped her intensity to claim the win 3-1. Her full potential has yet to be reached in this event. She seems to be able to deliver a stronger performance under a bit more pressure, so her match against Mayar tomorrow will be an exciting one!

Nikki really gave Jenny a good fight however and used any loose shots to her advantage. She was quick to the ball, consistent in her play and was able to read Jenny's movement quite well. Nikki plays a light and fun game and always looks like she's enjoying herself out there, no matter the outcome.

08-Mar, Round One:

It's always such a pleasure spending International Women's Day down at the courts with a great group of fierce female squash players from around the globe.

The first match of Round 1 was highlighted by long rallies and very tight squash between Rachael Grinham and Menna Hamed. The first rally was a thing of beauty with many perfectly executed shots, great movement, very little player contact, and ended with Rachael winning the rally via a deceptive forehand drive down the wall. Rachael continued this clever play throughout the match, but Menna kept her cool and fought for every point.

Most of the big rallies in this match ended with Rachael hitting perfect shots to width and length, using deception, hitting unreturnable skids (a shot you rarely see) and forcing mistakes. Menna played tough but she just could not get Rachael off of her game. Menna was forced to go for shots and play even tighter to the tin. When you have to play that style, errors are bound to creep in. Menna played impressively but Rachael used her experience. Games 2 and 3 were clinical displays by Rachael as Menna was pushed to her limits. Rachael was a deserving 3-0 winner, but hats off to Menna for continuing to play tough.

The second match of the day featured a well rested Danielle Letourneau vs Anna Kimberley who had played a tough match the night before against Emilia Soini. Anna came out the winner of a 3-2 match after being down 0-2. It was a long and tough 64 minutes against Emilia, which leads you to wonder how much was left in Anna's tank to feed into Thrusday's match against Danielle.

Both Anna and Danielle played tentative squash at the beginning and it seemed as if they were both rushing their shots. There were many short rallies, shots that were loose, a fair amount of referee involvement and lots of tin by both players. Nervousness was a factor and it showed. Anna and Danielle had their best rally of the 1st game at 10-9 and it was a well played rally with both ladies not giving an inch and playing solid squash. Danielle prevailed in this terrific rally by hitting a downright winner and nabbed the first game 11-9.

The second and third game reflected the better squash that these girls are capable of and there were more consistent and structured rallies. Danielle started to execute flawlessly by hitting better length, being more aggressive, making less mistakes and showing more confidence. Anna seemed to struggle more and one could only think of the incredible effort that she had put in the night before. It was a steadier Danielle who closed out the match 3-0. Kudos to Anna for putting up a good battle. She is applauded for her consistent efforts – there's no quitting in this player!

Although Nouran El Torky managed to impress us with her intense performance against Nicole Bunyan on Wednesday night, Amanda Landers-Murphy seemed to play another level up tonight, beating Nouran 3-0. Amanda kept control over the court and Nouran just couldn't keep up this time. We're looking forward to watching Amanda play top seed Fiona Moverley in Friday's semifinal round.

Fiona Moverley also had a solid 3-0 win tonight against Milnay Louw. She made sure to put her shots away, delivered perfect length and pace on the ball, and made it really difficult for Milnay to retrieve.

The level of intensity and speed in the match between Catalina Pelaez and Mayar Hany was very high. Both players really attacked the ball. It was a fast-paced game, with incredible plays above the tin, making for some very impressive rallies. Catalina played with intensity and held her own, but Mayar was incredibly strong and focused, and played with confidence. Her short game was spot on, and her drives were crisp and clean. The precision in her technique won her the match 3-0.

Nadine Shahin played smart against Diana Garcia, also winning 3-0. She dominated the rallies with nice deception, strong cross courts and amazing follow through. We'll see how her approach stacks up against Mayar's in Friday's match.

Alexandra Fuller came out super strong in the first two games against Jenny Duncalf and really put the pressure on. Alexandra's flawless delivery and assertiveness seemed to throw Jenny off her game. She was making a lot of unforced errors. Being down quite a bit, Jenny still used the final rallies of the second game as an opportunity to play out each shot with intent, enabling her to regain her focus and poise going into the third.

It was a smart move on her part, as she spun the match around, forcing Alexandra into defensive mode in the 3rd, 4th and 5th game. It was an unfortunate loss for Alexandra but a great mental come back from Jenny! We are pleased to see her advance through to the quarterfinal round against Niki Todd.

Last match of the evening, Niki Todd had an effortless win against Wild Card Maria Toorpakai Wazir. Coming off court, it was quite clear that Maria was disappointed in her overall performance. Squash is definitely a tougher sport to sustain, both physically and emotionally, especially at the elite level that these pros are playing. We are hoping to see Maria keep up the battle and return next year to make a solid comeback.

07-Mar, Qualifying Finals:

Nicole Bunyan and Nouran El Torky's match was a great opener to Wednesday evening's qualification finals.

Both players covered the court really well, and claimed their space, keeping the ball away from each other at every opportunity. Nouran read her opponent well and had great strategic placement of her shots throughout the match. She made really good use of the court. Nicole had really good reach and was quick to get into good position, forcing Nouran to scramble and move around a lot. Nicole is a very level headed strong player and pleasant to watch.

It was Nouran's intensity and determination that stole the 5th game (13-11). Otherwise it could have gone either way.

Jackie Moss didn't manage to get a point in her first game against Milnay Louw, but she gained her ground in the second and held her own throughout the rest of the match. Both Jackie and Milnay played a consistent low and hard game, with hardly any shots above the service line. Their movement was very similar, with minimal interference, keeping the match going at an even pace. Milnay's overall endurance seemed to win out in the end, beating Jackie 3-1.

Although Alison Thomson came out strong and won the first game against Diana Garcia, Diana upped her performance just a bit, forcing Alison into a more reactive position for the remainder of the match. Diana has solid technique and high athleticism.

Her strengths are subtle but have proven to be quite effective. She makes minimal errors, plays a good short game and manages to pick up everything. So far in this event she's played strong and very consistent. We're looking forward to seeing how she does against Nadine Shahin in tomorrow's first round of the Main. Good luck, Diana!

Emilia Soini came out really steady in the first two games against Anna Kimberley. She was making immaculate shots in all corners. Winning boasts, winning drops, winning length. Her serves were also really strong. All around, she had solid technical skills and good anticipation.

Anna held her own in each of the rallies but couldn't seem to put it away in the beginning. She did however make a final push towards the end of the third game and stole it, ultimately turning the match around in her favour. Emilia ended up losing her strength and started to make more mistakes in the 4th and 5th, giving up the win 3-2.

Wednesday was another intense round, we're wishing all of the winning qualifiers the best of luck in the Main Event.

To top off a great night of squash, the Sponsor-Player meet and greet was yet another huge hit. A big thanks to Enzo DiPietro and Elizabeth Laborde for hosting this year, and all of those involved in putting together such a wonderful evening!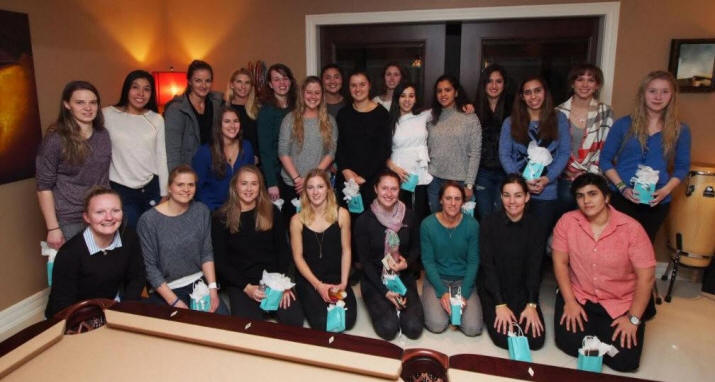 06-Mar, Qualifying Round One:

Kicking off our 5th annual Calgary CFO Consulting Services Women's Squash Week, we had a great turnout to watch Tuesday night's matches and a strong first group of qualifiers.

Local player Kelsey Souchereau had to pull out of the event, so the first match of round 1 qualifications was unfortunately a withdrawal. Nouran El Torky will advance to round two of qualifications and will play Nicole Bunyan on Wednesday.

The second match between Laura Tovar and Jackie Moss was the most intense of the evening. Jackie's fitness this season appears to be on point. She's determined to go far in this event and it was apparent in the fast and steady pace she played throughout her first match.

Jackie forced Laura to play defensively in the first two games and Jackie's intensity seemed to tire Laura out by the end of game two. Despite looking drained, Laura found a good groove in the third and 4th game. Her shots were more precise and she was less readable in her movement. She also slowed her pace down which seemed to throw Jackie off quite a bit.

However, Jackie managed to turned it back around in the 5th, pulling herself out of the lull and putting the pressure back on. She will now advance to play Milnay Louw in the next round on Wednesday. Good luck Jackie!

Local Erin Roberts also gave Alison Thomson a good run in the 3rd match of the evening. With fast footwork to the front and good retrieval overall, Erin didn't make things easy for her opponent. Still, Alison played a smart game, with crisp shots and good deception, which earned her a 3-1 win.

In the final two matches of the evening, Diana Garcia had a solid win against Bethany Churchill and Anna Kimberley came out strong against Nour Elhendawi, both winning 3-0. Diana will advance to play Alison Thompson and Anna will be up against Emilia Soini.

Thanks to all of the sponsors and spectators who came out to watch the first round of qualifying. It was a great start to the week, and we hope to see you all down at the courts again Wednesday evening!

Back to Calgary for WSW

The 2018 Calgary CFO Consulting Services Women's Squash Week is kicking off at the Calgary Winter Club March 6-11th, 2018.

We are happy to welcome back the top seeds Fiona Moverley, Jenny Duncalf and Rachael Grinham, all incredibly talented players. Last year, Jenny was seeded first but had to pull out of the tournament early due to injury, so we're hoping to get to see more of her skills in this year's event.

We have two Canadians in the Main Draw this year, Danielle Letourneau and Nikki Todd. Danielle Letourneau made it all the way to the finals last year, but lost to Sam Cornett, also from Canada. We're looking forward to seeing Danielle push through the main draw again this year.

Sending out a warm welcome to all of the new and returning players. Hope your stay in Calgary is another great one! We're looking forward to watching all of you play!

Main draw matches start Thursday with noon and 12:45pm matches, and 6 matches in the evening from 4:30pm onward.

Also running alongside the PSA event is a Women's Squash Week Amateur Tournament, Thursday through Sunday. We have 74 amateur women signed up to play! Looks like it's going to be another fantastic week of Squash!