Bahl & Gaynor Cincinnati Gaynor Cup 2018
07-10 Feb, Cincinnati, Usa, $25k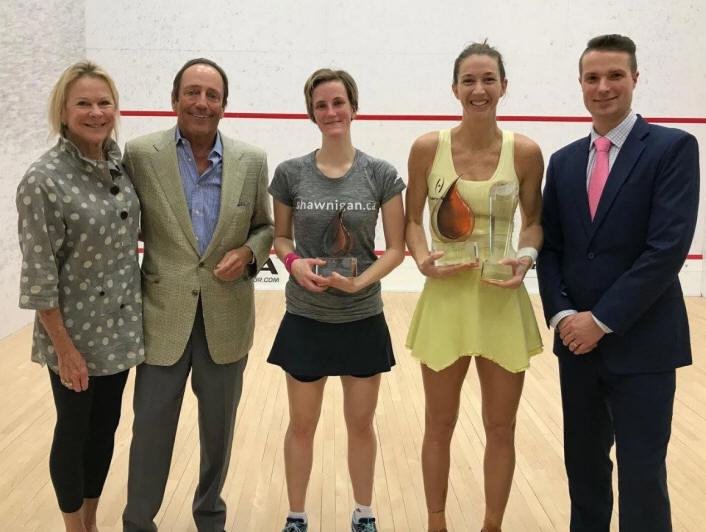 10-Feb, Final:
Donna's dream week in Cincy ends in triumph
Nathan Dugan reports

Donna Urquhart picked up her 11th PSA tour title in Cincinnati, winning the Gaynor Cup $25k event.

FINAL: [2] Donna Urquhart (Aus) 3-0 [2] Victoria Lust (Eng)
11/9, 13/11, 11/5 (36m)

The 3-0 score line against second seed Victoria Lust didn't reflect the intense physical of the game or how close the first two games really were.

Both players looked a little edgy at the start of the match, not surprising as the typical result between the two players has ended in five games and they sit at 15 and 16 in the world rankings.

Donna produced some great flicks to clinch games one and two in big pressure points which left Vicky with a mountain to climb trailing 2-0.

Donna's week of consistency and fantastic shot making continued in the third and despite a resilient display from Vicky, Donna was able to take home the prize.

"You dream of weeks were it all comes together and you keep playing at the top of your game, I just can't believe it happened here, I am so happy," Donna said in her acceptance speech.

Vicky didn't really do too much wrong, it was just Donna's week.

Cincinnati Gaynor Cup 2018
07-10 Feb, Cincinnati, Usa, $25k
Round One
07 Feb
Quarters
08 Feb
Semis
09 Feb
Final
10 Feb
[1] Emily Whitlock (Eng)
11/7, 11/5, 11/6 (26m)
Rowan Elaraby (Egy)
Rowan Elaraby

11/9, 11/5, 11/7 (26m)

[6] Millie Tomlinson
Rowan Elaraby

11/5, 11/5, 11/7 (26m)

[3] Donna Urquhart

11th PSA title for Donna

[3] Donna Urquhart

11/9, 13/11, 11/5 (36m)

[2] Victoria Lust

[6] Millie Tomlinson (Eng)
11/7, 7/11, 11/5, 11/9 (36m)
Zeina Mickawy (Egy)
[7] Hollie Naughton (Can)
11/5, 11/5, 11/6 (21m)
[wc] Weenee Low (Mas)
[7] Hollie Naughton

11/4, 11/9, 11/3 (29m)

[3] Donna Urquhart
[3] Donna Urquhart (Aus)
11/6, 11/8, 11/6 (33m)
Danielle Letourneau (Can)
Sivasangari Subramaniam (Mas)
11/5, 9/11, 9/11, 12/10, 12/10 (57m)
[4] Mariam Metwally (Egy)
[4] Mariam Metwally

13/11, 5/11, 11/9, 12/10 (48m)

[5] Sam Cornett
[4] Mariam Metwally

11/9, 11/8, 8/3 rtd (30m)

[2] Victoria Lust

Sarah Cardwell (Aus)
11/9, 11/1, 11/6 (26m)
[5] Sam Cornett (Can)
Misaki Kobayashi (Jpn)
11/2, 6/11, 12/14, 14/12, 11/5 (44m)
[8] Samantha Teran (Mex)
Misaki Kobayashi

9/11, 11/5, 11/4, 11/6 (30m)

[2] Victoria Lust
Haley Mendez (Usa)
11/9, 11/6, 11/4 (26m)
[2] Victoria Lust (Eng)
09-Feb, Semis:
Five star Donna sets up a Lusty final…
Nathan Dugan reports

Donna Urquhart produced a un-Donna like performance as she played a flawless match again teenage sensation Rowan Elaraby in the Semifinals of the Gaynor Cup in Cincinnati.

With her attacking style of play, Donna is used to riding a rollercoaster each match, as purple patches where she can't miss blend with lapses and errors. Not tonight, right from the first rally she made her shots and simply never started missing.

Rowan looked a little edgy compared to her first two rounds, but it would have taken something really special to have taken down the Aussie the way she played.

The 3-0 score line didn't flatter Donna, rather emphasized her quality tonight.

Second seed Victoria Lust reached her 23rd PSA tour final in a physical match with Mariam Metwally.

Referee Jon Geekie, a PSA tour player on the men's side, did a great job controlling the match as right from the first point Mariam ran into the back of her opponent resulting in a no let call.

Bumping continued for the duration of the match but Vicky's superior agility enabled here to come out on top despite some excellent racquet work from the Egyptian.

At 8-3 in the third and the match running away from her, Mariam retired due to a recurring ankle injury, setting up and intriguing final between the world numbers 15 and 16.


08-Feb, Quarters:
Elaraby marches on in Cincinnati
Nathan Dugan reports

Two nights in a row, it's the Elaraby show!

Rowan Elaraby continued her giant killing run in Cincinnati by claiming the scalp of world number 25, Millie Tomlinson, in her second clinical performance in two nights.

Rowan, the conqueror of top seed Emily Whitlock yesterday, controlled the match from the start.

Millie made a valiant comeback in the first game which may have dented the seventeen year olds confidence had she clinched it, but once Rowan held her nerve to close it out, she never looked like losing the match.

Rowan's victory set up a semifinal with Australian, Donna Urquhart. Donna, still to drop a game in Cincinnati, was a convincing winner in her quarterfinal with Hollie Naughton.

Hollie aided in her own demise this evening by finding the tin with too much regularity, as an edgy performance prevented her from showing the crowd what she is capable of.

Donna joined the 'tin tin' train herself for a spell in the second, before finding the tracks and finishing the job off. The semifinal with Rowan will be a rematch of the Monte Carlo semi that Donna prevailed in last year, but the form Rowan is showing here this week, could mean it will be even money with the betting.

The top two seeds in the bottom half both prevailed in their quarterfinals but they reached the semis in contrasting fashion.

Victoria Lust let a 9-7 lead in the first game slip through her fingers, but that just encouraged her to step up her level and she was able to control the following three games, moving smoothly and controlling the center of the court.

Misaki Kobayashi pulled off some entertaining attacking shots but not enough to force a fifth.

It was not as smooth sailing for Mariam Metwally in the final quarter as she joined Vicky tomorrow's semi.

A close match had been predicted between Mariam and Samantha Cornett with only two places separating the two players in rankings, 21 and 23 respectively.

Samantha looked to have won the first as she took a 10-6 lead but Mariam, who got through last night after saving a match ball, never game up the fight and she won it 13-11. Samantha steamrolled through the second which showed how crucial the first ended up being, as a two game lead would surely have been an insurmountable task.

The third game stayed tight the whole way with Mariam winning and the celebratory shrieks getting louder from the Egyptian. Everyone in the crowd readied themselves for the first five setter of the night as Sam held a 10-7 lead in the fourth, but lightning struck the Canadian twice as two good shots and lucky nick off the back wall levelled the scoring at 10-10.

With the semifinal now just two points away, Mariam gave one final piercing battle cry and the players shook hands as the match ended in four. Vicky will certainly have the fresher legs for tomorrow's match but will that be enough for her to reach her 23rd tour final?



Before the matches last night losing first round players entertained Cincinnati juniors with an opportunity to play the pro, thank you to those players who inspired these future stars.

07-Feb, Round One
Elaraby masterclass as top seed tumbles in Cincinnati
Nathan Dugan reports

Rowan Elaraby produced a stunning performance to knock out the number one seed, Emily Whitlock, in the first round of the W25 Gaynor Cup in Cincinnati, Ohio.

Rowan, the reigning World Junior Champion, showed incredible composure winning 3-0 and giving her a first victory against a top 20 player.

Emily struggled to find her form from the start and the young Egyptian never took her foot off the gas to let her back in.

Play started earlier in the day with Cincinnati based Malaysian pro, Weenee Low, opening up proceedings in front of a packed home crowd at the second annual Gaynor Cup. Her opponent, seventh seed Hollie Naughton, proved too consistent for the home player as Weenee succumbed in three competitive games.

Hollie will face Australian, Donna Urquhart tomorrow after the world number 15 dispatched of Danielle Letourneau without dropping a game. The match was good quality with both players using the height of the court well but Donna had just too many tricks up her sleeve as she flicked and held her Canadian opponent into submission.

Zeina Mickawy reached the final last year from the eighth seeded position but there is to be no fairytale run this year as she crashed out in a tough match with Millie Tomlinson. Both players produced some great attacking squash but Millie's movement and pace of play proved to be the difference. Millie will next unexpectedly play Rowan Elaraby for a place in the semis.

The rally of the tournament so far happened at 9-9 in the 5th game between Mariam Metwally and Sivasangari Subramaniam. Siva picked up several shots that looked like they were surely winners before sending Mariam the wrong way with a delightful flick, not for the first time of the evening. She was unable to convert the match ball though and it was Mariam that snuck the victory and place in the quarters. Siva showed patched of sublime squash but it was the experience and gamesmanship of the Egyptian that prevailed.

Samantha Cornett showed she is past any injury problems that kept her off the tour for a year, beating Sarah Cardwell in fairly straight forward fashion, after a close first game which Sarah needed to take.

Once Sam had the lead there was no way back for the Aussie which sets up an encounter with Metwally in the quarter finals.

The bottom quarter final will be between Victoria Lust and Misaki Kobayashi. Victoria looked to be in control of her own game as she eliminated the only American in the draw, Haley Mendez, in three straight games.

Misaki's path to Thursday was not as straight forward, having to save five match balls in the fourth game against Samantha Teran. Misaki took the momentum into the fifth game, racing into a convincing lead which she was able to see across the line with Samantha looking bewilder and wondering how she was still on the court.