Under way in Prague
Tomas Forter reports
After two days of play in two clubs and glass court in Metropole Zlicin shopping mall we know the finalists.

Jan Koukal will try to get his 17th title. He was tested in his semifinal by Daniel Mekbib who played really well. Martin Svec caused upset in the second semifinal when he came back from 0/2 against second seed Petr Martin.

Olga Kolarova (nee Ertlova) will play her 10th final (she won 3 titles) against top seeded Anna Klimundova who will be trying hard to get her first womenś title.
Menś semis:
[1] Jan Koukal 3-1 [3/4] Daniel Mekbib
9/11, 11/3, 11/8, 11/7 (56m)
[3/4] Martin Svec 3-2 [2] Petr Martin
5/11, 8/11, 11/8, 11/9, 11/7 (61m)

Womenś semis:
[1] Anna Klimundova 3-0 [3/4] Tereza Svobodova
11/6, 11/1, 11/7 (20m)
[3/4] Olga Kolarova 3-1 [2] Zuzana Kubanova
11/4, 11/9, 8/11, 11/9 (56m)

Menś quarters:
[1] Jan Koukal 3-0 [7/8] Ondrej Uherka
11/6, 11/9, 11/5 (44m)
[3/4] Daniel Mekbib 3-1 [5/6] Jakub Solnicky
11/8, 11/5, 8/11, 12/10 (47m)
[3/4] Martin Svec 3-1 [5/6] Michal Jadrnicek
11/6, 8/11, 11/5, 11/9 (49m)
[2] Petr Martin 3-0 [7/8] Ondrej Ertl
11/7, 15/13, 11/3 (41m)

Womenś quarters:
[1] Anna Klimundova 3-1 [7/8] Veronika Gaultier
7/11, 11/6, 11/8, 11/9 (31m)
[3/4] Tereza Svobodova 3-2 [5/6] Denisa Peleskova
10/12, 15/13, 8/11, 11/8, 11/9 (55m)
[3/4] Olga Kolarova 3-0 [5/6] Eva Fertekova
11/4, 11/6, 11/5 (26m)
[2] Zuzana Kubanova 3-0 [7/8] Marika Doubravova
11/7, 11/7, 11/3 (28m)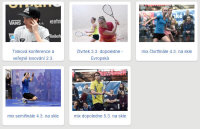 Photo Galleries from SquashPage.net