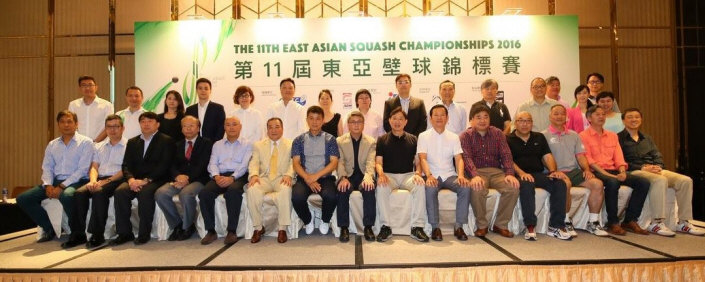 11th East Asian Squash Champs 2016
01-03 Jul, Macau

03-Jul, Day Three:

Hong Kong 5-0 Japan
Korea 4-1 Macau
China 3-2 Taipei

Hong Kong clean sweep retains title

Defending champions Hong Kong met Japan in the title decider in Macau and emerged 5-0 winners.

Alex Wan reports

The final round of the 11th East Asian Squash Championships had all the fanfare that was expected, with defending champions Hong Kong playing Japan for the title, which they won after a highly entertaining tie.

Korea and China both won their ties to ensure a third and fourth place finish. Hosts Macau, thanks to China beating Chinese Taipei, finished fifth and Chinese Taipei came out sixth after losing all their encounters.

It was a fitting finale after three days of competition as the two nations are clearly well and above the others in terms of standards. Hong Kong retained the title (Hong Kong won both men's and women's last year when it was contested separately) after beating a very determined Japan team.

First on was the men's third match, Chris Lo playing for Hong Kong in place of higher ranked Lau Tse Kwan, who is presumably rested after his marathon the evening before, and Masaki Suzuki for Japan. As how the previous matches were, Suzuki started in a ferocious pace, leading Lo to play in that momentum.

Despite that, Lo started first game better, opening up a 2-point lead to 2-0 and 4-2 and later, from 5-5, he opened up a 3-point gap to 9-6. Lo snapped his strings in the next rally and was lucky enough to have it ended with a let decision. However, that break allowed Suzuki to recoup and take five points in a row to close the game out.

Suzuki played very well in the first. While he was striking the ball hard as always, it just seems there is a purpose for it rather than how it looked the previous times. His body language was also very positive and determined.

The second kicked off with a backhand kill into the nick from Suzuki, followed by a lucky mishit that got him to 2-0. He maintains the 2-point cushion right up to 3-1 thanks to a tin from Lo. However, it was all downhill from hereon. Seven tins, a winner, a stroke and a no let against him clinched the game for Lo.

In the next two games, Lo had gotten used to the pace he was trying to slow down and was in total control for most of the parts. The third was still competitive to an extent, but in the fourth, the Suzuki from the day before showed up again, hitting every ball as hard as he could, which resulted in a lot of inaccurate shots that came right back to Lo who would clinically finish it.

"I'm quite satisfied with how I played today. In the start, the game was a little aggressive (not in a physical way), it was very high paced which he likes a lot. I lost a lot of points at the front from his volleys.

After the first, my coach Anson (Kwok) told me to slow down and vary the pace, which I did, and it worked. I kept the pace slower, tighter, and paid more attention when he had the chance to volley", Chris Lo said later, who now holds a 1-0 record against Suzuki.

Hong Kong senior team debutant Lui Hiu Lam maintained her 100% winning record in the competition after she defeated 22-year old Risa Sugimoto over three closely contested games. The start of the first was point for point between two of the shortest women in the competition. At 5-4 up, Lui wins a string of three points to go 8-4 before Sugimoto responds with a string of five points herself, leading 9-8 now.

She gets to game point at 10-9, then 11-10 and 12-11, but fails to convert either of them. At 10-11 game ball down, Lui plays a brave kill off the serve to draw level, then Sugimoto does the same to go game ball up again 12-11, which Lui does exactly the same to draw level, completing a hattrick of kills of the serve between them. Lui finishes the game on her first game ball 13-12 and Sugimoto will be very disappointed not doing so over the three opportunities she had.

The second was also close like I the first, but rallies were lengthier now. Sugimoto managed to nudge ahead to 7-5, but she gave it all away too easily the next four quick points and it pretty much put her off, and the game. 11-8 to Lui who now led 2-0.

The third finished with the same score line and similar fashion, Sugimoto losing four straight points once again in the end, from being 8-7 up to 8-11. Overall, Lui had a much better front game than Sugimoto and her attacking boasts from the forehand side clearly trouble the Japanese.

The top men from both nations, Hong Kong's Yip Tsz Fung and Japanese teenager Ryunosuke Tsukue have thus far, not been tested much in the competition. Today, both played an entertaining match much to the delight of the crowd. While the world number 49, Yip came out victorious, it was the speed and agility of Tsukue that drew the most cheers from the crowd.

In the first game, it was all Yip's as the Japanese national champion was totally disoriented with the slow pace of the rallies. From being 3-4 down, Yip won eight straight points in a very short time to take the lead. It was evident that Tsukue prefers a much faster pace that allows his zippy self to run from corner to corner without the need for stopping much. In the last few points, he simply gave up trying and went very hard in trying to kill the ball, which resulted in multiple mistakes.

The second game was somewhat totally the opposite. Yip would take a 2-0 lead and then Tsukue manages to inject some pace and draw Yip into it, and it would win him six out of the next seven points.

Yip does recovers from the slump and even went head at 9-8, but that was cancelled out with a forehand drop winner from the back. Tsukue rallies on to win 11-9 and draw level.

The first half of the third had both players trading points, with Yip just inching ahead at 5-3. The lead changes hands after Tsukue gets a run of four points, with a backhand kill into the nick in between, to go 7-5 up and then 8-6. Yip somehow manages to turn things around once again with five straight points to take the lead once again.

In the fourth, it was Yip on overdrive, going to 6-0 in a matter of minutes. Tsukue looked tired and at 0-6 down, it would be hard to blame the young man for not looking determined. Just as many would've brushed him off at this point, there was a second wind coming from him. He gets those rallies going again and manages to go close to 7-5.

But the next rally would be a very long one with Tsukue on the defensive, running all four corners of the court and eventually losing it. That took the toll on him as he next went to match ball down 6-10.

At this point, the delegates of the East Asian Squash Federation annual general meeting walked into the venue after their meeting and was treated to a feast from the young Japanese. He came back once again with some great retrieving, and forced the tie break, but Yip had the final say, and with that, kept the title in Hong Kong for another year.

Just like the top men's tie, Liu Tsz-Ling and Satomi Watanabe gave an entertaining performance despite the tie already being decided. Liu, the world number 31 from Hong Kong, just manages to edge a young and hungry Satomi Watanabe in five games, having forced to come back from 1-2 down.

The first game started with some high paced rallies, with the Japanese quicker to find her range in court, and was rewarded with the first two points. Liu then extends the rallies and wins a streak of four straight points to go 4-2 up and maintains her 2-point cushion up to 8-6 and then 9-6. The Japanese teenager tightened her game and slowly went up to game ball at 10-9.

A no let decision at 10-9, which cancelled out her game ball might have affected Watanabe, who questioned the referee's decision. In the next two rallies, her concentration was not as evident as two backhand flicks from Liu would send her the wrong direction. Game, 11-9 to Hong Kong.

In the second game, Liu won the first two points but then was always behind throughout the game. A run of errors, four tins in five points somewhere in the middle of the game did most of the damage, allowing Watanabe to come out tops in the second game 11-5.

Watanabe continues her good form in the third, crafting out her rallies beautifully. At some points in this game, Liu seemed to look very tired and did not even chase down some returns which she could and would normally do so. But given the nature of Liu, who does not show much emotion in her game, it was hard to tell. Watanabe wins the third to lead 2-1 and was a game away from her biggest scalp.

Perhaps it was wrong to think any lesser of Liu, as she came back very strongly in the next 2 games to win convincingly 11-4 in both games.

In the final match of the tie, Hong Kong completed the clean sweep with Yuen Tsun Hei beating Taiki Kaido in four games over 33 minutes of play.

In the other two ties, China edged Chinese Taipei 3-2 and Korea beat Macau 4-1.



the tournament team

02-Jul, Day Two:

09.30 matches 16.00 matches

Hong Kong 5-0 China Hong Kong 4-1 Korea
Korea 4-1 Taipei Macau 3-2 Taipei
Japan 5-0 Macau Japan 4-1 China

after four rounds, Hong Kong and Japan are on four wins each,
and meet in Sunday's final round top decide the title ...

Afternoon: Hong Kong and Japan set up final showdown

Hong Kong dropped their first point in the first match of their tie against Korea. Yoo Jae Jin, who has been playing brilliantly throughout the event, the 22-year old continued his good run when he edged Lau Tsz Kwan in, up to the time of writing, match of the tournament.

The game started with some very cautious rallying from both players trying to get their ranges and it was point for point, up to the Korean leading 6-5, when he called his own shot down for Lau to draw level at 6-a piece. His honestly must've been good karma as he did not drop another point from then to finish 11-6.

Lau draws level in the second game but in the third, he played a series of tins, six to be exact, including four consecutive ones at the end, to hand Yoo the lead. In the fourth, Yoo was in override and was waltzing around the court, picking up virtually everything from the world number 240. Yoo gets to game ball 10-6 after yet another tin from Lau.

With 4 match balls in hand, Yoo nearly blew them away after he allowed Lau five points in a row to 11-10. The next few rallies were very tensed, both players clearly not fully relaxed, making mistakes on shots that could've been winners. At 15-16 down, there was a dubious pickup from the Korean, much to the disgust of Lau, but the referees did not think so. After a brutal rally, Yoo gets to match ball and is gifted by yet another tin and Hong Kong drops their first point.

The second ladies tie took place next, with 15- year old Lui Hiu Lam taking on Yura Choe. The favourites could've been 2 matches down in the tie had Korea's Yura Choe not blow a 2-0 lead away. The Korean surprises the crowd by sneaking past the first two games, 11-9 and 11-7.

A determined Liu came back convincingly to take the next 11-6 and the following two games went neck to neck. The 15-year old played with maturity beyond her age and eventually manages just enough to go through in 39 minutes.

"I'm quite satisfied overall. I have never played her so I didn't have much expectations. In the first two games, I was a little too casual with my game. After losing the first two, I felt a little distracted because we had already lost one match in the tie. But I told myself to relax and I felt much better as the third game progressed. That gave me a lot of confidence and the belief to carry me through", said a relieved Lui.

Yip Tsz Fung played his toughest match of the event so far, but was still head above shoulders against his opponent, winning against 36-year old Lee Geondong in straight games 11-2, 11-5, 11-1.

Korea's Park Eun Ok's discomfort which forced her to retire earlier in the day was still bugging her and decided to give a walkover to Hong Kong, who remain unbeaten at this point after an unassailable 3-1 lead in the tie.

In the final match of the tie, which was also the last match of the day, Yuen Tsun Hei took out a stubborn Lee Seung Jun in three competitive games.

While Hong Kong dropped their first point, Macau chalked up their first win in the event after edging out Chinese Taipei 3-2. Manuel Chan Gassmann of Macau started very well against Chen Chieh-Ming.

Playing a very patient game, the teenager waiting for the right times to attack. His patience earned him a well-deserved first game 11-8.

However, just like the previous day, the confidence he had after taking the first game caused him to lose his focus as from the second game onwards, he was playing in a flashy demeanour that would cause him the match. Gone was the patient and prudent Manuel Chan Gassmann, who tried from every angle for a flashy winner. His game plan was out of the window, his body language was not calm and that allowed the far more composed Chen to take the following three games comfortably 11-3, 11-4, 11-6.

Little Yeung Weng Chi next took to court against fellow teenager, 17-year old Lu Yung-Chi and did well to win in four. Both girls were not playing the most beautiful squash, but given the level of infancy of the sport in their countries, it's understandable.

Yeung took the first game 11-6 before a string of errors allowed Lu to draw level with an 11-4 win. She manages to get things in check in the next two games to win 11-6, 11-7 to draw things level for Macau.

Steven Liu, the Macau number one chalked his win of the event when he beat Taiwan's Chen Cheng Kai in straight games. The first game was close, with both players still fresh. There were a lot of physical rallies with both players having to put a lot of work in.

That seem to have taken the toll on the Taiwanese player as he was a shadow of himself of the first game in the next two, losing 11-3, 11-2 to put Macau ahead in the tie.

Steven's elder sister, Ivy Liu was on court next and had the pportunity to seal the tie against her opponent, 19-year old Lee Yi-Hsuan. The first game was a game of tins as most points were not earned, but given away by both the players. Lee took the first two rather close games 11-8 and 11-9, before closing out the third 11-4 to bring the tie level.

The Van Keng Hei and Taiwan's Chen Ching Han would have been an interesting finale, but the latter would play the first game without a fight and then forfeit the match due to a back injury to hand Macau their first win.



Japan also remained unbeaten after defeating China 4-1. Masaki Suzuki started the ball rolling with an emphatic 25-minute win over China's Yang Tian Xia, the 17-year old student of the Shanghai Sports Institute.

Like all the previous matches, Suzuki enjoys a monotonous pace in his game – fast and furious. This is not something which Yang is accustomed to given the way he was scrambling all over, and given Suzuki is not a natural with killing off the rally, it was torturous watching the Chinese running all over. He did a respectable job in the first, which he lost out narrowly 11-9.

But that took its toll and the former badminton trainee fizzled out in the next two, winning just another eight points in total.

China's Gu Jin Yue, who has been surprising better known opponents in the last few ties, once again did so and this time, went further to claim a win for China. The first two games were the closest, with each player taking a game each, Japan first and then China, who clinched the game after a no let decision was given against Risa Sugimoto, which surprised the Japanese camp and some in the crowd, who thought it could even be a stroke.

The third was a one sided affair as Gu was in total control in the 11-2 win. But the gutsy Sugimoto crawled back to take the fourth 11-7, helped by a very loud Japanese camp, whom I must commend is the team that seems to be most united, judging by the volume of the cheering and encouragement from outside the court.

Gu started off well in the decider, going to 4-2 and then a string of points to 7-2, followed by shouts of "yes" after each point. The Chinese sensed victory and was now very pumped up, and maintained her 5-point lead up to 9-4, and eventually winning 11-5.

"I'm quite happy with how I played today, the way I fought out there. Never was I sure about winning at any point of the match, but I'm glad I came through", said Gu, through the kind assistance of interpreter Monica Lan, a squash fan who had travelled from Shanghai to support the team.

The top men's tie was quick, Ryunosuke Tsukue not giving any chance for Wang Jun Jie to settle, winning in just 19 minutes for the loss of four points.

Li Dong Jin of China maintained her consistency of playing a game before retiring due to her back injury, which makes it a wonder why doesn't she just gives a walkover. It is so apparent that she is not trying or is not able to play at all.

The last match between Taiki Kaido and Shen Jia Qi was entertaining, with some good rallies all around.

Ever the entertainer, Kaido was ever smiling in demonstrating his stretching abilities in his retrieving once again. Three games to Kaido, with the last two being very close affairs 12-10 and 11-9.

Japan and Hong Kong will play their final round-robin match against each other which would determine the winner of the event.

Morning: Hong Kong and Japan make it three
Alex Wan reports

Korea and Chinese Taipei started the ball rolling on the second day of play on the centre court. First up was the second men's match between Yoo Jae Jin and Chen Chieh-Ming. The former, who played brilliantly the previous day against Japan, continued with good run as he outplayed his opponent.

After winning the first two games comfortably 11-6 and 11-4, he continued to dominate in the next, leading from 2-0 and then 10-4 with some crafty wrist play that often wrong footed the Taiwanese. A string of unforced errors had Chen closing the gap to 10-8 before a backhand into the tin ended the match in 26 minutes.

Yura Choe and Lu Yung-Chi played the shortest match of the tournament so far, lasting just 13 minutes. It's a very big mismatch amongst the two players, with Choe racing halfway through the game through a series of points in each of the three games. The final score of 11-3, 11-1, 11-2 certainly was a true representation of how the game went.

Next on court was the top men's tie, Korea's Lee Geondong taking on Chen Sheng-Kai. The much taller Lee was in control throughout the three games, sending Chen chasing all around in every rally. The first two games ended in identical scores of 11-5.

In the third, Lee took the first two points and then went up to 8-6. He did not drop further point and wrapped up the match convincingly to seal the tie for Chinese Taipei.

The fourth match, between the top women, was not played as Korea's Park Eun Ok, was having trouble on her right knee, possibly from the bruising encounter the day before against Satomi Watanabe.

The last match of the tie also went Korea's way, Lee Seung Jun beating the left handed Chen Ching-Han rather easily in three games over 18 minutes.

Japan maintained their unbeaten run, claiming their third straight win over hosts Macau in ruthless fashion. All the five matches ended in 3-0 and more convincingly, none of them went over the 20-minute mark.

Macau's reserve player, the lanky Leung Teng Chi was first on court Masaki Suzuki, who was in no mood for mercy as he raced through the first game 11-1. The pace of Suzuki was simply too much to handle for Leung, who was just retrieving for the most parts of the game. As Leung got more settled, he fared better in the next two games, winning 4 points in each of them.

Risa Sugimoto had a similar game, sending the 15-year old Yeung Wing Chi sprawling all around the court, taking advantage of her pint sized opponent, taking her space to shut her out. 11-2 in the first game and then racing to 7-3 with a nick at the back of the court, and closing out 11-3.

The third was even more dominant as Sugimoto went seven points ahead no response with Yeung. She dropped just two more points to seal victory and a 2-0 lead for Japan in 18 minutes.

Macau's Steven Liu played against Ryunosuke Tsukue, the 18 year old Japanese. He fared the best amongst his peers, gaining a respectable scoreline of 11-6, 11-5, 11-8 in his 16-minute loss.

Top woman Ivy Liu was no contest for the Malaysia-based Satomi Watanabe. The 17-year old was simply a class above Liu. The pace of the ball would force Liu to the back each time, to which she will hit a weak return for Watanabe to further punish her. That is pretty much the same scenario in most of the points in the first two games, which Watanabe won 11-2, 11-1.

The third was a little more respectable, with the rallies going on a little longer. However, it was inevitable that Japan would also take this tie, after Watanabe closed out the match 11-4.

Taiki Kaido, the Japanese number two, completed the sweep for Japan with a 11-5, 11-5, 11-6 wih over Manuel Chan Gassman.

Favourites Hong Kong also maintained unbeaten after seeing off China 5-0.

Chris Lo played at number three in place of Lau Tsz Kwan for Hong Kong, and faced Yang Tianxia. Like the many times, I have seen Lo played, he does no favours and takes every match seriously.

14 minutes is all it took for Lo to complete his job, who raced to a 6-0 lead in the first before his 17-year old opponent won a point. Lots of points were won on the backhand front corner and there were far too many tins from the Chinese youngster, very often shots made out of desperation.

15-year old Lui Hiu Lam, one of Hong Kong's brightest juniors, was taken the distance by her lanky opponent, Gu Jinyue, a masters student at the Shanghai Sports Institute. The match was an interesting one, Gu using her height advantage and Lui trying to get round her. Squash-wise, Lui was well ahead of her badminton-turned- squash player opponent, but give Gu anything loose to volley, and it would be punished.

The first two games went Lui's way, whose drives were a few inches deeper than Gu's in general, which I feel pretty much made the big difference.

The third saw Gu deployed a strategy where she would draw Lui to the front with a boast and force a volleying opportunity, to which her badminton skills would come to good effect. It worked on many occasions and Gu was rewarded with a game, just about scrapping through 13-11.

The fourth was close, point for point, but Lui manages just about to win 11-9, after a backhand from the back caught Gu off guard.

China forfeited the top women's tie, with Li Dongjin still injured. She did however, warm up, but decided against playing at all.

Yip Tsz Fung continued having an easy competition as he brushed aside Wang Junjie without having to play at full throttle in the top men's match.

In the final match of the tie, China's Shen Jiaqi came close to stealing a game off his Hong Kong opponent. After losing the first two games, the Shanghai-based Shen led 9-6 in the third. His urgency in closing out the game cost him, as a few tins from shots he should've played better saw the game swing Hong Kong's Yuen Tsun Hei's way.

Anson Kwok, Hong Kong's coach said, "Even though we are a notch higher in terms of standards, we still need to be ready to face anything that is thrown at us. We have a junior lady with us, so it's tougher for her than the others, as you saw today. It's her first senior team event, so it's good for her exposure."

01-Jul, Day One:

09.30 matches 16.00 matches

Japan 5-0 Taipei Japan 3-2 Korea
Korea 5-0 China China 4-1 Macau
Hong Kong 5-0 Macau Hong Kong 5-0 Taipei

The 11th edition of the East Asian Squash Championships kicked off at the three-court national squash facility at Centro de Bowling, with all the morning session's ties ending in 5-0 scorelines while Hong Kong and Japan made it two wins out of two in the afternoon matches.

Morning Matches
Favourites off to flying start in Macau
Alex Wan reports



Hosts Macau took on the mighty favourites and defending champions Hong Kong. The hosts, fielding the youngest team with an average age of only 19 years of age, rested top men player Steven Liu.

First on court was 15 year old Leung Teng Chi, who was clearly nervous against the much more experienced Chris Lo. Dropping only four points in his 3-0 victory, the Hong Kong player was gracious in his match as he played on many points who could've easily been strokes.

A pair of 15-year olds took to court in the next tie, Hong Kong's Lui Hiu Lam against the petite Yeung Weng Chi. Like her compatriot, Yeung started off in a nervous state but manages to give a much more composed performance after the first half of the first game. Still, Lui was simply a class above and Hong Kong would now lead the tie 2-0.

Macau's top women's player Ivy Liu was the best performer of the day, stretching world number 31 Liu Tsz-Ling in the first game before losing out 9-11, and eventually running out of steam in the next two games, losing in identical 1-11 scores.

The other two men ties were very one-sided affairs. Yip Tsz Fung, the newly crowned Hong Kong national champion, and Yuen Tsun Hei outplayed younger opponents in similar fashion.

"We faced the strongest team and defending champions and most of my players are 15 years old, so really, there was no high expectations from them. It's good they have the opportunity to get this experience at such a young age," said Lim Chee Ming, head coach of Macau.



At the other end of the complex, Japan saw off Taiwan 5-0. All won their matches 3-0, except for the ever-smiling second ranked man, Taiki Kaido, who dropped the first game in his 8-11, 11-7, 11-3, 11-6 in the last tie. It was also by far the most entertaining match of the tie, with Kaido entertaining the crowd with his retrieving skills.

Earlier, Masaki Suzuki had opened accounts by beating Chen Chieh-Ming in convincing fashion 11-4, 11-5, 11-5. Japan's national champion Ryunosuke Tsukue was given a test in patches by Chen Sheng-Kai in the top men's tie. The 22-year old Tsukue took the first 11-8, then waltzed through the next 11-2, before squeezing in the third 11-9.

Both the women's tie were lopsided, with the Japanese pair of top junior Satomi Watanabe and Risa Sugimoto each handing out a bagel each to their opponents. The Taiwanese simply had no answer to the pace the Japanese women were playing at.

Taiwan's coach, Wu Chia Hui, however, was pleased with her charges.

"I'm pretty happy with how they did. Japan is a strong team, a class above us in all the ties. It's different in Taiwan because we do not have a training base like many do. They are all students and we don't even train everyday."



On the centre court, the most competitive matchup took place with Korea coming out winners against China. An interesting fact about the Korean team is that their top players, both the men and women, are over-35.

Korea's coach, Koo Ryun Hoe, when asked why is there an age gap between the top players and the rest, simply said, "There's no reason for it really. We had a selection in our national camp and the more experienced players simply came out tops."

In the opening match, Korea's Jae Jin Yoo saw off Yang Tianxia 3-0 with relative ease, before compatriot Yura Choe took to court against China's Gu Jinyue. The pair of 23 year old ladies fought tooth and nail, especially in the second and third games.

After the Korean raced to a 9-3 lead in no time, something within Gu came alive as she fought back strongly, which threw the Korean off a little. It was 9-3, then 10-7 before Choe manages to just squeeze through.

The next two games were competitive, with both times, Choe just scrapping through. The win would be Choe's first over the Chinese number two. A clearly delighted Choe said afterwards, "I'm happy with my win. She was nervous in the first game and it made things easy for me. When she settled, it was different then."

The top women's tie was short lived as a clearly injured Li Dongjin of China was not able to move. She tried to play in the first game against Park Eun Ok, but even after the first two points, it was evident there was not going to be a match.

The top two men's tie were the most closely matched games of the morning. The Chinese men gave a good account of themselves against the far more experienced Koreans.

Despite the loss, China's team coach, Wong Wai Chung, was not disappointed: "It's a results as I had expected. My players gave their best. We have our best team here and we aim to do similarly well as last year, where we finished fourth. But with an injured player, it will be tougher this time."

Evening Matches:
Hong Kong continues to dominate, Japan edges Korea, hosts Macau ttill winless



The Japan and Korea matchup started with a ferocious pace with Masaki Suzuki and Yoo Jae Jin playing a power game where both players struck the ball hard from start to end. It was a "loud" game in comparison to the other two matches being played in the same venue.

Yoo had the best possible start when he took a remarkable 5-point lead 7-2 before his Japanese opponent staged a comeback to 6-7. Yoo recomposed and manages to wrap the game up 11-9. Yoo continued his good run in the next game to take a 2-0 lead. The East Asian Championships debutant ensured Korea had the lead, winning the third game 11-8 after Suzuki sent a forehand into the tin.

The second tie featured Risa Sugimoto of Japan and Korea's Yura Choi, a match which would feature quite a few traffic problems between the two ladies. It was apparent right from the start that the taller Korean is not a happy camper with the way Sugimoto moves around, which is by no mreans, aggressive.

It is simply the Korean getting agitated and annoyed Sugimoto would be making every possible effort to the ball more than anything. In the fourth, the Korean has had it and gave the Japanese a very evident shove after the point had ended, to which the referee disappointingly did not issue a conduct warning.

The Korean was clearly the more skilful player on court, but Sugimoto more than made up for the disadvantage with her nippy movements all over. Fitness wise, the Japanese was ahead too, evidently in the third and fourth games.

After taking a 2-0 lead, Sugimoto dropped the third, before fatigue took over Choi, as she allowed the Japanese to race to a 8-0 lead. She did well to get back to 6-9, but the effort came too late and the tie was now level.

Korea's Lee Geondong next took to court against Japan's national champion Ryunosuke Tsukue, whom at 18, is half of Lee's age. Tsukue plays with a very unorthodox swing, which has nearly no backswing and employs his wrist in all his shots. He has thunder quick reflection and given the pace he enjoys playing, and the age difference between the pair, the Korean did not have much of chance. This was the case in the first two games, Tsukue sending Lee sprawling all around the corners, wearing him out and winning 11-5, 11-4.

But Lee surprised in the third when he led most of the time, forcing the Japanese to come from behind 6-8, before winning four points in a row to match point 10-8. A determined Lee saved two match balls, pulled back to 10-10, then saved another match ball, before going down 13-11.

Satomi Watanabe next faced Korea's Park Eun Ok, who at 38, is the oldest player in the competition. With Watanabe aged 17, there is a 21 year age gap between the two. Just like her compatriot earlier, Park gave the youngster a very good run for her money.

After losing a very close first game 12-10, Park seemed to have ran out of steam as Watanabe won the next much easier 11-6. But the Korean veteran, who was ranked as high as 56 in the world rankings, pulled a game back 11-7. Watanabe knew she needed to win to guarantee the win for Japan and she duly completed her job, winning 11-5 in the fourth.

"I'm happy with the results, that I won. But I am definitely not pleased with the quality of my game. I couldn't play what I wanted to. Park is very experienced and (despite her age) she is still a very good player. I feel I could've played much better. I was on the defensive most of the time and her volleys are very accurate. I think it was my stamina that won me the match," said a relieved but somewhat disappointed Satomi Watanabe.

The last dead runner between Japan's Taiki Kaido and Lee Seung Jun was won by the Korean 3-0.



Macau's 15 year old Manuel Chan Gassmann gave a far better account of himself after a nervous performance in the morning. The 15-year old did well to win the first game 11-9, despite being caught a couple of times by 17-year old Yang Tianxia's attacking boasts. He was clearly a different player and there were rallies lasting more than 10 shots, unlike in the morning.

In the next three games however, he seemed to look out of steam, particularly in the third game. On many occasions, he was not chasing returns he would earlier. Macau's number two lost the next three games but can walk with his head held high.

"I had a strategy to start with a slow pace. It worked in the first and I got more confident, so I tried to up the pace, which worked against me. I wasn't feeling tired. I am happy with how I played, but I think I could've done better," said Manuel Chan Gassman.

China took a 2-0 lead through Gu Jinyue who took out Yeung Wing Chi, the petite Macau teenager who looked half the size of her opponent. The match was much closer than the score line of 111-8, 11-7, 11-6 would suggest, with Yeung's accurate and deceptive volleying often catching the Chinese off guard.

Wang Junjie and Macau's only men's professional player, Steven Liu, ranked 225 in the world, would then play the match of the day. The duo battled for nearly an hour before the Chinese came out victorious 12-10, 11-9, 7-11, 13-11.

Liu did not start very well as his choice of shots were far from ideal, allowing Wang top open a 3-0 lead. Given that the game ended 12-10, things could have been different had he not allowed that to happen in the start of the game. But credit to both players who gave the small crowd plenty to cheer for throughout the match.

As expected, the top women's tie was a one sided affair as China's top player Li Dongjin is injured. Like the morning match, she played a game before forfeiting the match to Ivy Liu, elder sibling to Steven.

Shen Jiaqi won the final match of the tie 3-1 against Macau's Van Keng Hei to give China a 4-1 overall win.



Favourites Hong Kong, as expected, did not face much resistance against Chinese Taipei. Like the morning tie, they were the first to get off court after maintaining their clean sheet of not dropping a game in the competition.

Lau Tsz Kwan, the 20 year old world number 240, who took to court first, had the toughest match of the tie, seeing off Chen Chieh-Ming 11-4, 11-6, 11-7.

Both the Hong Kong women did not have to sweat much in their matches, with Liu Tsz-Ling and Lui Hiu Lam dropping just 13 and 9 points respectively in their matches. It was a similar case with the other two men's ties, Yip Tsz Fung, who is at a career high ranking of 49, and Yuen Tsun Hei, who was earlier rested, winning in very convincing scores of 3-0.

Hong Kong would seem to have another easy morning tomorrow, facing China, and later in the day Korea, before their sternest test comes on Sunday morning through Japan.


The annual team event, played on a 3 men and 2 women's per team format, will employ a M3, W2, M1, W1, M2 format throughout the three days. Matches will be played on a round robin format with all six countries in a single group.

23-Jun:
Six set to battle it out in Macau
Preview from Alex Wan

Six nations are set to compete in the 11th edition of the East Asian Squash Championships in Macau from 1st to 3rd July 2016 - apart from the hosts, the event will feature defending champions Hong Kong, Korea, Japan, Chinese Taipei and China.

East Asian powerhouse Hong Kong swept both the men's and women's titles in the last edition held in Chinese Taipei in 2015 and will once again start as favourites despite not fielding their top men and women's players.

Yip Tsz Fung and Liu Tsz Ling, who both reached career high rankings this year, will be spearheading the defending champions' challenge.

Yip will be coming into the event on a high after capturing his maiden national title earlier this month, beating favourite Max Lee in the final.

After failing to capture the Asian Team Championships as top seeds in both the men's and women's event last month, Hong Kong should be eager to make amends in this event, albeit a less major one, which features a new format - this edition will be a combined team event; 3 men and 2 women with the six countries playing each other in a round-robin.

Japan, runners up in the women's event last time, will be led by top juniors Ryunosuke Tsukue and Satomi Watanabe, both who are having a good season.

Hosts Macau will be led by siblings Steven and Ivy Liu, while top junior, 15-year old Yeung Weng Chi will make her senior team debut, play second fiddle in the women's.

Korea, Chinese Taipei, and China - who have just submitted a bid to host the 2018 Women's World Team Squash Championships - complete the line-up of the event.

While there have been ten previous editions, the event remains relatively unknown to the audience outside the East Asian circle.



"The East Asian Squash Championships has been an annual event that is not new, but not many squash fans are aware of the event and we hope to change that by putting in a little more effort in publicising it," said Macau head coach and also Championships Director, Mr. Lim Chee Ming.

"We are grateful to our sponsors Sports Bureau of Macao SAR Government, Melco Crown Entertainment and Aquarius for supporting our event."

Lim added: "As some teams are not fielding their strongest line up, this creates a more level playing field in the competition. With the round-robin format being used in this event, all teams will be facing each other and we should be getting some good competition all around."

The draw and schedule was released today at a press conference attended by 30 people.

Amongst those present were Macau's top sports officials Mr. Wu Lao Ut and Mr. Chao Kuok Wai, both of whom head the Sports Association Development and Sports Development units respectively, and Macau Squash Association President Mr. William Kuan.


Seated l-r : Wu Lao Ut (Head of Sport Association Development Unit) , Chao Kuok Wai ( Head of Sport Development Department ), William Kuan Vai Lam ( (Chairman of Macau Squash Association), Kenneth Lei ( Vice Chairman of EASC Organizing Committee)

Standing l-r : Antony Leong (Comm. Member Macau Squash Association), Armando Amante (Secretary General of Macau Squash Association), Lim Chee Ming (Championships Director), Macau players Leung Teng Chi, Yeung Weng Chi and Ivy Liu.


All matches will be played at the Centro De Bowling in Cotai and entry to the event is free of charge.

Along with the championships, the Annual General Meeting of the East Asian Squash Association will be also be held in Macau, where the association is based.