A Special Bloke for a Special Book
Stafford Murray was for years a well known figure of England Squash success. He used to be around with us on the PSA/WSF Tour, recording data, analysing them, and allowing the English Players to always have a little bit of an advantage, tactically and scientifically ...

Then one day, he sort of disappeared, bless him. His sense of humour, his discretion, kindness and knowledge were bleeping missed, and it was with great pleasure I received his book a few months ago: he was alive and well, and living on the Other Side....


I had a little chat with him, first, to find out what the heck happened to him, and also, to introduce to you his book, The Science of Sport: Squash, that I personally recommend to everybody.

From coaches, to players without forgetting fans and officials, you will learn everything you didn't know you needed to know about the Scientific aspect of our sport....

For those who do not know you, please a few words about yourself?

Having been an international junior player, I focused on science side of squash and studied Analysis of Sport and Coaching Science at Cardiff Metropolitan University.
And as you know, from 1998-2011, I worked for England Squash as firstly Team Analyst and finally Team Manager at the Commonwealth Games in Delhi where we beat Australia for the first time in the medal table.

During this time I attended 4 commonwealth games, 9 European teams championships and 5 world championships, working with 6 world individual champions along the way.
Then what happened?

Well, At this point my job changed and my focus became on Olympic sports as Head of performance Analysis at the English Institute of Sport.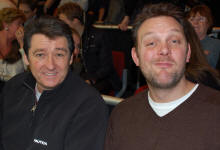 This was very hard for me as my first sporting passion is very much in squash and I owe a great gratitude to the coaches that helped teach me my trade in this game and sports science in general – in particular David Pearson along with Paul Carter and all the wonderful players over the years – to many to mention all the names – but they know who they are.

And it was the beginning of a new venture, wasn't it...
Yes, I felt at the time it was time step out for a while and spread my wings.

From there I managed 40+ staff culminating in the success GB had on the London 2012 and Rio 2016 Olympic and Paralympic Games.

After Rio High Performance Sport New Zealand contacted me to see if I was interested in the job as Innovation Manager within New Sport – I went through the very vigorous interview and successfully got the job last November starting here in January 2017.


Must not have been easy to leave England for you...

You can say that again. This was a hard decision for me and my family as we are very English - as you know having witnessed our battles with France and Australia over the years!

But if there was a country that I would have chosen to move to away from England at this stage it would be NZ – given their wonderful culture and people, proud sporting history and world leading approach to sports science.

This job entails managing all the HPSNZ Innovation Projects – looking at how sports technology and novel ideas can improve sporting performance.
Link to the publishers website

Also available on Amazon, Waterstones, etc.
BBC: Listen to Stafford
on the Team GB's
Olympic Software secrets


THEY SAID ABOUT IT

Nick Matthew

"Stafford and his team have pulled together the most comprehensive book on the Science of Squash in history.

"This is a must read for all academics, coaches, players and squash fans alike"


Laura Massaro

"I have probably tried everything in this book!

"I would recommend it to anyone that wants to learn more about squash, or simply improve their own game"


Jonah Barrington

"This book encompasses all that is currently relevant to our wonderful game and so much pertains also to those other most testing sports.

It sets out, with forensic analyses and fascinating case studies from a litany of highly regarded experts, to give the most excellent must-have guide for the players, coaches and of course academics, and reaches into the very core of squash"