Another Serme on PSA Tour,
Mrs Lucas Serme
...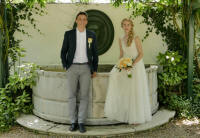 Not many people knew those two love birds were about to tie the knot - mind you, why wouldn't they, I'm having trouble keeping up with all the weddings this summer.

But they did. Sunday 10th July, not far away from the Bride's natal region, Zamek Radun Castle, not far away from Ostrava, in the Czech Republic.

"Not many guests, we wanted to do something small, just a few friends and close family", Lucas confides.

"Anna invited some friends from the Squash Tour and also from the Conservatoire. As for myself, I had former French player Lucas Vauzelle as my best man, and also "the Piaf", Antoine-Camille Petrucci [nickname coming from the fact he never ever shuts up...] not to mention a few friends from Bristol."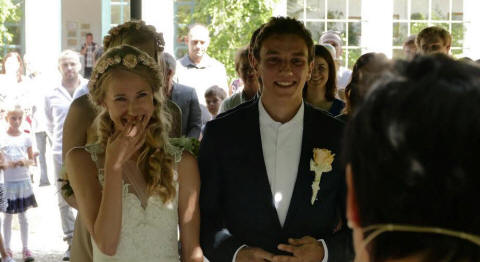 What Lucas had to say about his Bride?
"I'm not sure what to say really, if only that I'm mighty proud to have a wife so accomplished in so many fields, whether squash, music, or in her studies in the Sorbonne in Paris. She makes me so happy, and she made me discover the world that I know see through her eyes. "

Awhhhhhh....

Discreet, brilliant, calm and contended: they form a resplandissant couple, and I am utterly sure their union will only help them mature and develop in their respective careers.

And yes, they are young to get married. But as Montaigne would have stated: "Because it was her. Because it was I."